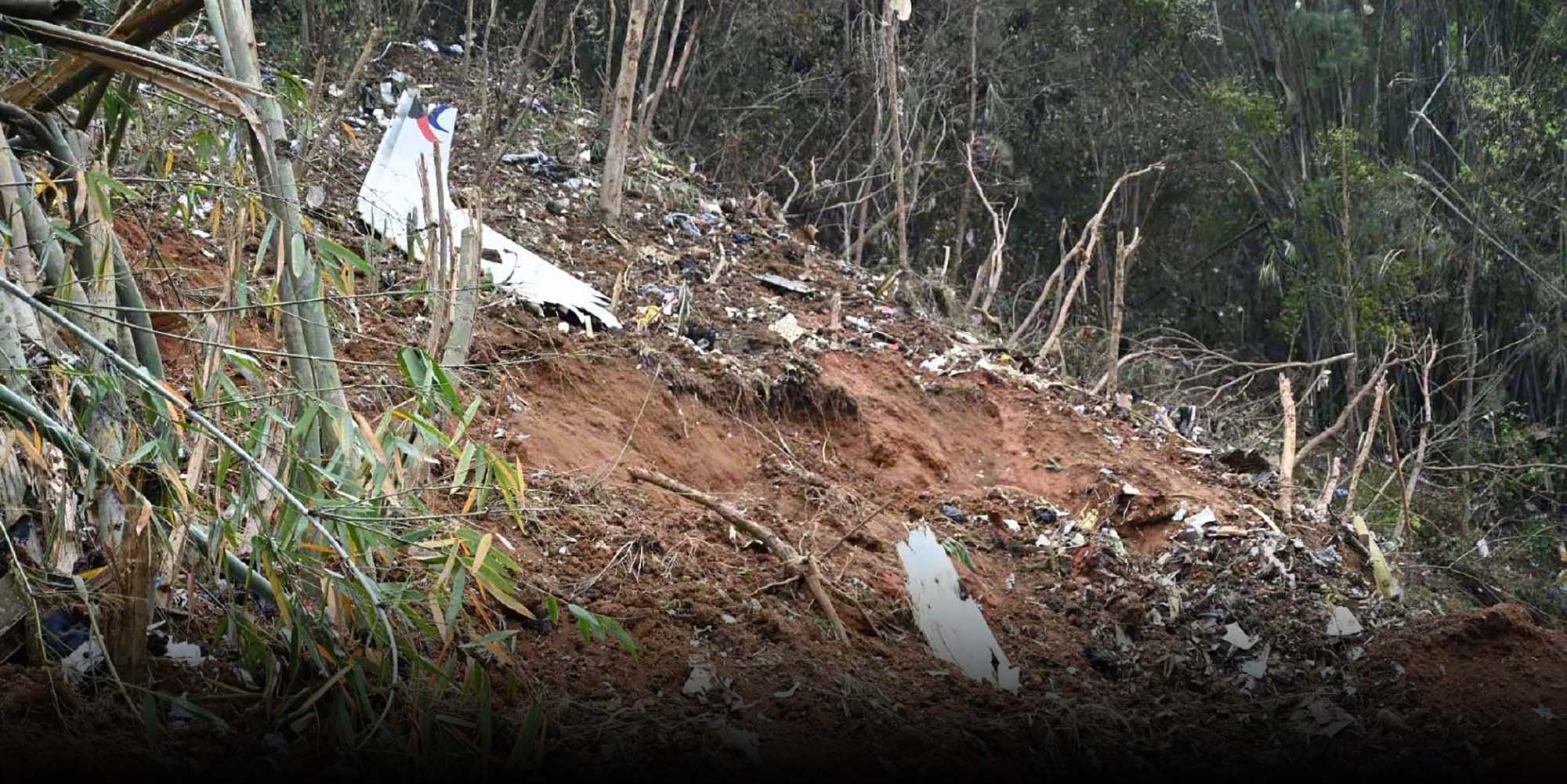 NEWS
Search Continues for Survivors After China Eastern Airlines Crash
The Boeing 737-800 was en route from Kunming to Guangzhou and carrying 132 people on board.
Hundreds of rescue and emergency workers continued to comb through the mountainous terrain in the southern Guangxi Zhuang Autonomous Region on Tuesday, hoping to find survivors a day after a passenger plane carrying 132 people crashed.
A rescue team including police officers, firefighters, and medical personnel arrived in Teng County late Monday, hours after the China Eastern Airlines aircraft crashed. The cause of the crash and number of casualties remain unclear.
Flight MU 5735 was en route from the southwestern city of Kunming to Guangzhou in the south. Information from civil aviation data provider VariFlight showed the Boeing Next-Generation 737-800 dropped from an altitude of 29,100 feet to 4,375 feet in just minutes, with experts citing the steep fall as "very abnormal."
Video footage from a mining company's surveillance camera near the crash site — verified by Sixth Tone's sister publication The Paper — showed the plane diving to the ground almost vertically in seconds. Another video shared by local residents showed a fire breaking out after the crash, which authorities said was doused hours later.
Rescue efforts were hindered by unfavorable topography, domestic media reported. The crash site is surrounded by hills on three sides that are only accessible through a narrow road, making access difficult for large rescue equipment.
Videos from the crash site circulating on social media showed pieces of wreckage from the plane. Search teams also found remains of wallets, ID cards, and other paper documents.
On Monday, Chinese President Xi Jinping said he was "shocked" by the news, ordering to spare no efforts in the rescue and investigation of the crash, as well as ensure aviation safety.
The China Eastern crash was the first in nearly 12 years since August 2010, when a Henan Airlines plane hit the ground while approaching the runway and caught fire. Forty-four of the 96 people on board were killed.
The Chinese aviation regulator urged all regions and units to strengthen checks into hidden safety dangers in the civil aviation sector "immediately and comprehensively" following Monday's crash. Meanwhile, China Eastern has grounded all of its Boeing 737-800 planes after the accident.
Boeing has delivered nearly 5,000 of the Next-Generation 737-800 planes worldwide, according to the company. The aircraft is different from the 737 Max planes, which China's civil aviation authority, in December, said would resume operations almost three years after being grounded following two deadly crashes in Indonesia and Ethiopia.
Just two days before Monday's crash, an official from Civil Aviation Administration of China had cautioned the industry against operational oversights amid pandemic-related travel disruptions. China's commercial airline sector has suffered losses of over 210 billion yuan ($33 billion) since the early days of the pandemic in 2020.
"Risks derived from the pandemic are accumulating, with safety investment and capabilities to guarantee security declining," the official, Xiong Yanhua, said during an online seminar.
Amid online scrutiny, China Eastern Airlines dismissed speculations that slack aircraft maintenance to save costs might have led to the crash. The airline said its annual maintenance costs had increased by 12% last year compared with 2019.
Editor: Bibek Bhandari.
(Header image: Wreckage of the crashed plane is cordoned off near the city of Wuzhou, in the Guangxi Zhuang Autonomous Region, March 21, 2022. From @人民日报 on Weibo)