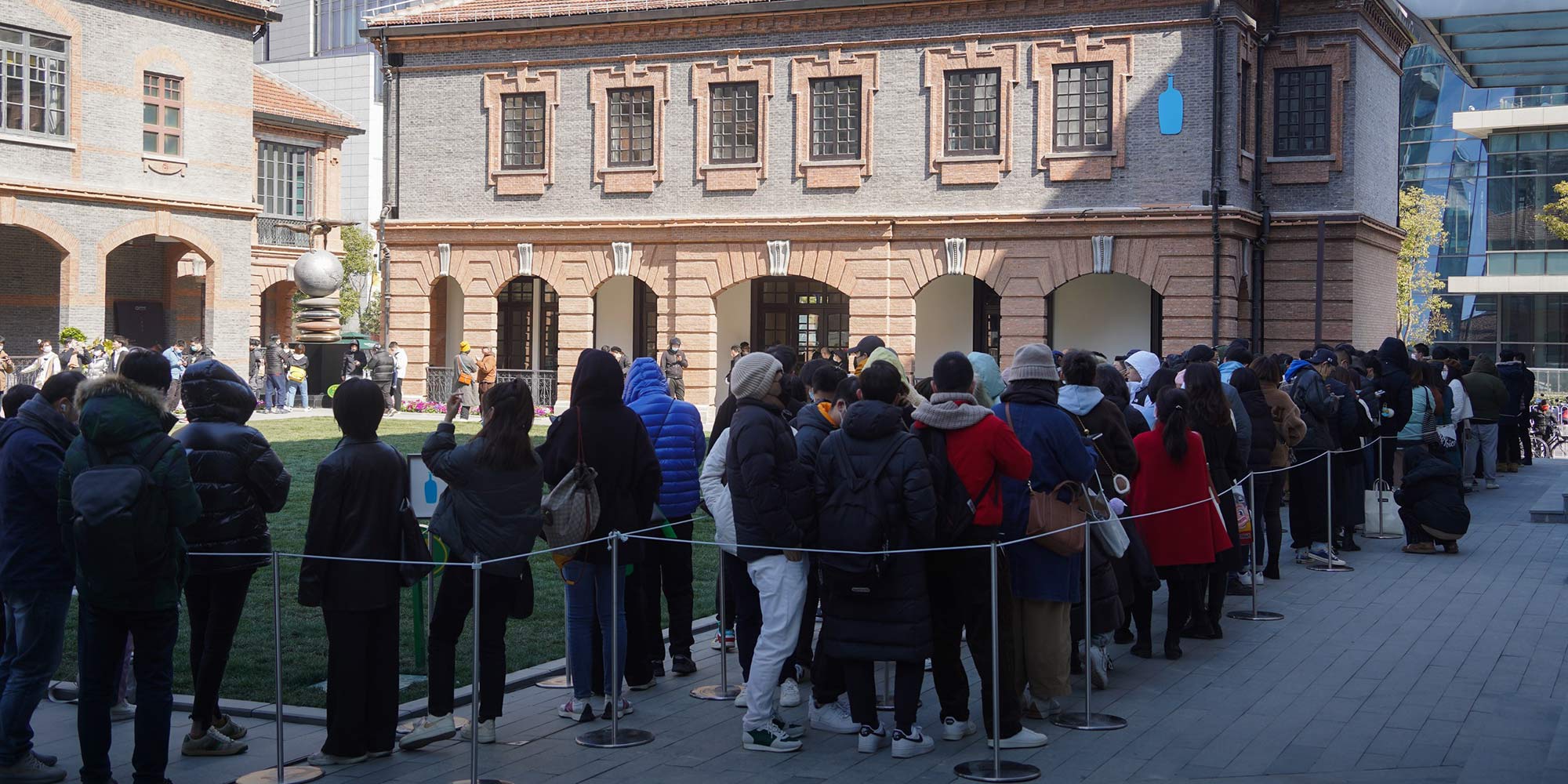 VOICES & OPINION
In a New Coffee Shop, Traces of Pre-Gentrification Shanghai
The grand opening of Shanghai's first Blue Bottle café last month was celebrated with fanfare and long lines. Just 30 years ago, the spectacle would have been unthinkable.
On Feb. 25, the 20-year-old California-based coffee chain Blue Bottle opened its first location on the Chinese mainland along Chang'an Road in Shanghai. That evening, I scrolled through the crazed reactions to the store on social media: pictures and videos of people queuing for eight hours to buy a cup of coffee, while scalpers offered to sell them cups for 300 yuan ($47).
Then I saw a message from my mother. It consisted of a short video made by a vlogger who had visited the store and an even shorter note: "Our old house on Chang'an Road."
For its first shop on the Chinese mainland, Blue Bottle Coffee seems to have gone out of its way to integrate itself into the city's historical and cultural landscape. The location is officially known as the Yutong Café — a tribute to a famed factory that once dominated this section of Chang'an Road. In the late 19th century, Zhu Youhong, a merchant from the nearby province of Anhui, founded the Yutong Yarn Factory on the south bank of the Suzhou River in Shanghai. In 1904, he started a flour business, expanding it in 1926 after the yarn factory burned down. After Zhu's death that same year, two merchants, also from Anhui, bought the flour business from Zhu's remaining family and renamed it the Yutong Fufeng Flour Mill.
Zhu Youhong's textile and flour businesses were intertwined with China's early modernization and industrialization efforts. Zhu's father, Zhu Hongdu, was a successful businessman with ties to the late-Qing dynasty (1644-1912) chancellor and reformer Li Hongzhang as well as the businessman Sheng Xuanhuai, who founded China's first domestically funded machine textile factory in Shanghai in 1894. All three were proponents of "Westernization": They wanted to use the power of capitalism to transform China from a weak agricultural country into a powerful industrial one, and thereby protect it from colonial predation.
According to the official history books, that transformation wouldn't happen until after the founding of "New China" in 1949. Starting in the 1950s, Shanghai's private enterprises were converted into "public-private partnerships" and integrated into a new planned economic system.
It was during this period that my grandfather joined Yutong. In 1962 he was assigned a residence at the mill's worker dormitories on Chang'an Road: a single, small room for him, his wife, and their two daughters and newborn son. The worker dormitories were located in what used to be the Zhu family's private residence. Built for wealthy merchants, rather than proletarians, they were characterized by a mix of traditional Chinese elements alongside baroque flourishes like Western-style crown molding.
By the time my grandfather entered the mill, Yutong's transformation from a symbol of rising Chinese capitalism into a socialist work unit was well underway. A year later, the factory was renamed the Shanghai No. 3 Rice Mill, and one of its three dormitories was converted into the Shanghai No. 3 Rice Mill Children's Primary School. The factories, residences, and school formed the kind of self-contained community common in China's planned economy era. My mother was born in 1964, and together with her sisters and brother, they attended school just steps from their front door.
More than 30 years later, my mother occasionally took me to see my aunt's family, who still lived in the Yutong dorms. What I remember most about those visits was the dark staircase, the winding corridor stuffed with residents' excess belongings, and the smell of cooked food. Although it had been a staff dormitory for the socialist working class, the living spaces were not allocated evenly, and my grandfather had only a small, cramped room for his family of six to share. As a child, I was fascinated by the ladder leading to an attic so cramped none of the adults could stand upright in it. How could my cousin have grown up there?
Nevertheless, whenever my father talks about calling on my mother during their courtship, he always emphasizes that hers was "one of the better houses in the neighborhood." The rest of the Suzhou riverbank — which back then was considered the city's outskirts — was far less luxurious. "It was all shanties and garbage," he told me.
Locals used to call this part of Shanghai "Forked Bag Corner," a reference to a nearby curve in the Suzhou River said to resemble the large hemp sacks known as forked bags. It first became a shantytown around the time when Zhu opened his factory, as a wave of immigrants flooded Shanghai to staff its booming industrial plants. The shanties grew in number after the Japanese invasion in 1937, when more people crossed south over the Suzhou River for refuge in the foreign concessions, forming a belt of shanty towns from north to south. In this crowded slum, most families were barely getting by. In the words of a popular folk ditty from the era: "Forked Bag Corner, stinky ditch, garbage like city walls. Flies and mosquitoes darken the sky, rats running through the streets, bedbugs and cockroaches all lined up."
With the advent of "reform and opening-up" in the late 1970s, controls on the internal movement of people were relaxed and Forked Bag Corner again became a popular landing spot for migrants looking to make their fortunes in the city. According to both my aunt and my mother, their onetime primary school was converted into a hostel to house the newcomers. It's hard to imagine what their first impression of the city must have been like, disembarking from the then Shanghai North Station with little more than hope to sustain them, and finding themselves surrounded by slums.
The chaos of that era — with all its promise and peril — is now wholly absent from Chang'an Road, lost to the tides of gentrification. The marketization of housing, increasingly stringent building standards, and state-led redevelopment campaigns have uprooted the shanty towns of Forked Bag Corner and replaced them with shopping malls, office buildings, and trendy cafés. Beginning in 2015, the Yutong dormitories that housed generations of factory workers, migrants, and their families were demolished and rebuilt almost from the ground up. Today, they're home, not to ordinary families, but hip commercial establishments like Blue Bottle and a high-end mall.
Earlier this month, I accompanied my mother to see the new Blue Bottle Coffee — and with it, what's left of her former home. The line to get in was as long as social media said it would be, and filled with hipsters, influencers, and other aspiring wanghong celebrities. My mother decided to skip the wait. Moving to the front of the line, she asked the security guard at the door if she could take a picture inside what used to be her elementary school. He assented.
Order, neatness, fashion, and good taste are the things that matter to the kind of young people willing to spend hours waiting in line for a cup of coffee. Blue Bottle and the other trendy consumer venues being built across Shanghai are merely responding to this perceived need. Still, it would be a shame if we forgot the stories of people like Zhu Youhong, of my grandfather, and of all the people who once called Forked Bag Corner home. They're Shanghai's true legends.
Translator: Matt Turner; editors: Cai Yineng and Kilian O'Donnell; portrait artist: Zhou Zhen.
(Header image: Customers line up outside the Chinese mainland's first Blue Bottle coffee franchise in Shanghai, Feb. 25, 2022. IC)