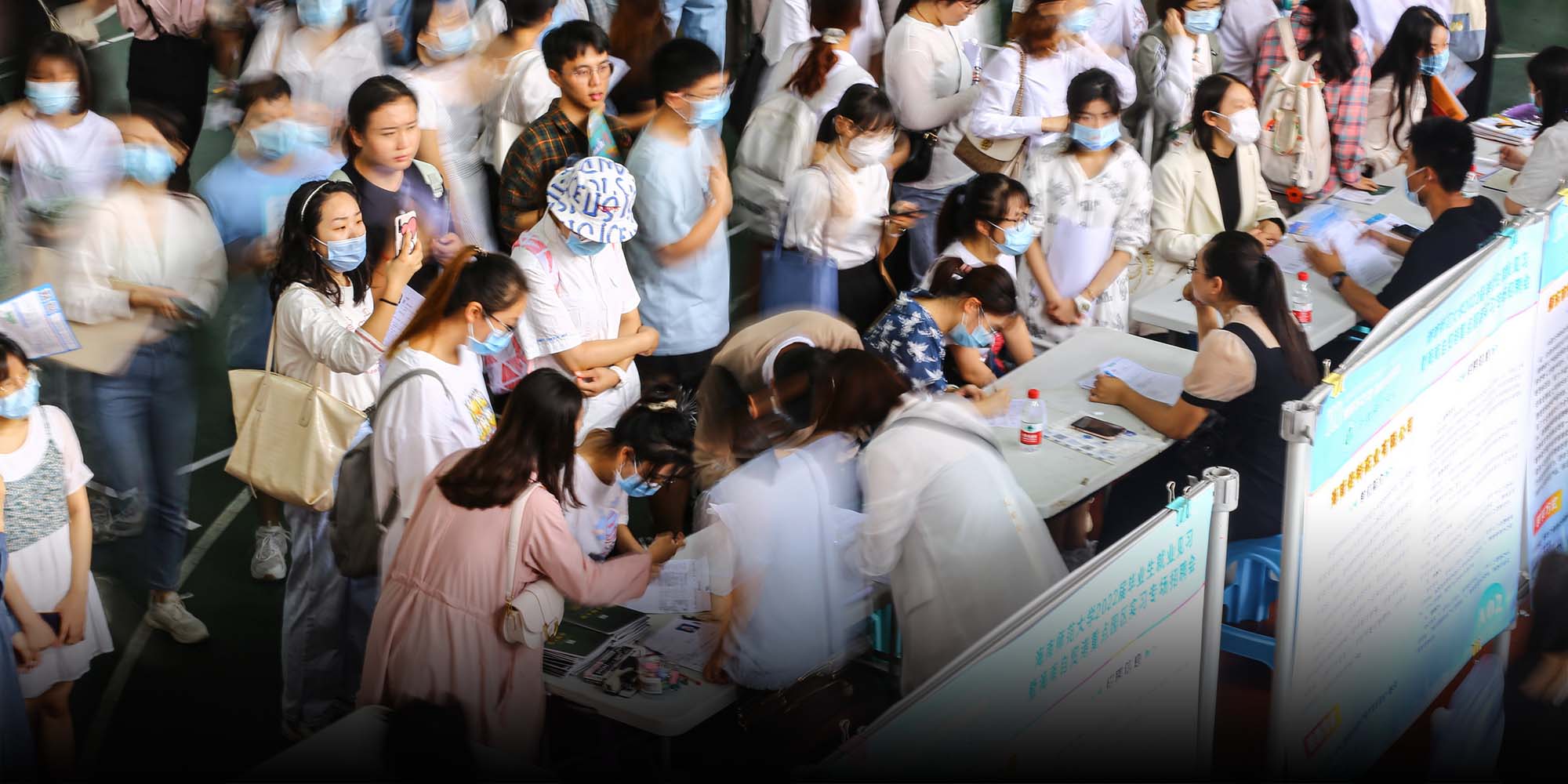 NEWS
China Announces 1 Million Internships to Tackle Unemployment
Positions are available for fresh graduates seeking to work at government offices or state-owned enterprises.
Chinese authorities are planning to make 1 million internships available in the public sector for those still unemployed after graduation, in an attempt to curb the country's unemployment problem.
Known as jianxi, the government-arranged internships are monthslong assignments working at either government offices or state-owned companies. The decades-old initiative plans to recruit unemployed individuals aged 16 to 24 or those graduated within the last two years, and promises interns with basic living expenses and personal accident insurance.
"(The plan aims to) help more young people, such as university graduates, to gain experience and get employed at an early stage through internships," read the joint announcement by 10 ministries and government departments published on March 15.
China is likely to see a record number of about 11 million students graduate by June, a year-on-year increase of 1.67 million. However, the country's job market has been affected by the pandemic, with the "zero COVID" strategy leading to frequent lockdowns and travel restrictions.
The number of job openings dropped 4.5% year-over-year immediately after the Lunar New Year holidays — a prime time for university seniors to apply for jobs — with each job post receiving about twice as many résumés as last year, according to a report by recruitment platform Zhaopin. Massive layoffs at several companies last year and reports of possible dismissals at several top tech firms have shaken the employment sector.
Amid uncertainties, many young graduates and mid-career professionals are gravitating toward the prospects of stable government jobs and sitting for the highly competitive civil service exam in record numbers. Many fresh graduates see internships as getting a foot in the door.
Liu, a 23-year-old from Cangzhou City in the northern province of Hebei, has been interning at a department within the Development and Reform Commission for six months. She receives a monthly salary of 1,570 yuan ($250) per month — slightly lower than the city's minimum salary of 1,580 yuan — and plans to apply for a full-time position after her internship.
"I didn't want to work there initially because I wanted a well-paid salary," she told Sixth Tone. "But I realized the job was stable, had good benefits, and provided me with experience of working for the government."
However, lack of concrete laws on internships in China has time and again raised discussions about interns' labor rights, with companies exploiting fresh graduates with long work hours and minimum or no pay. A 2015 academic report on government internships in the northwestern province of Shaanxi said government interns were not allowed to ask for leave at work.
Editor: Bibek Bhandari.
(Header image: People apply for jobs at a recruitment fair in Haikou, Hainan province, Oct. 31, 2021. VCG)