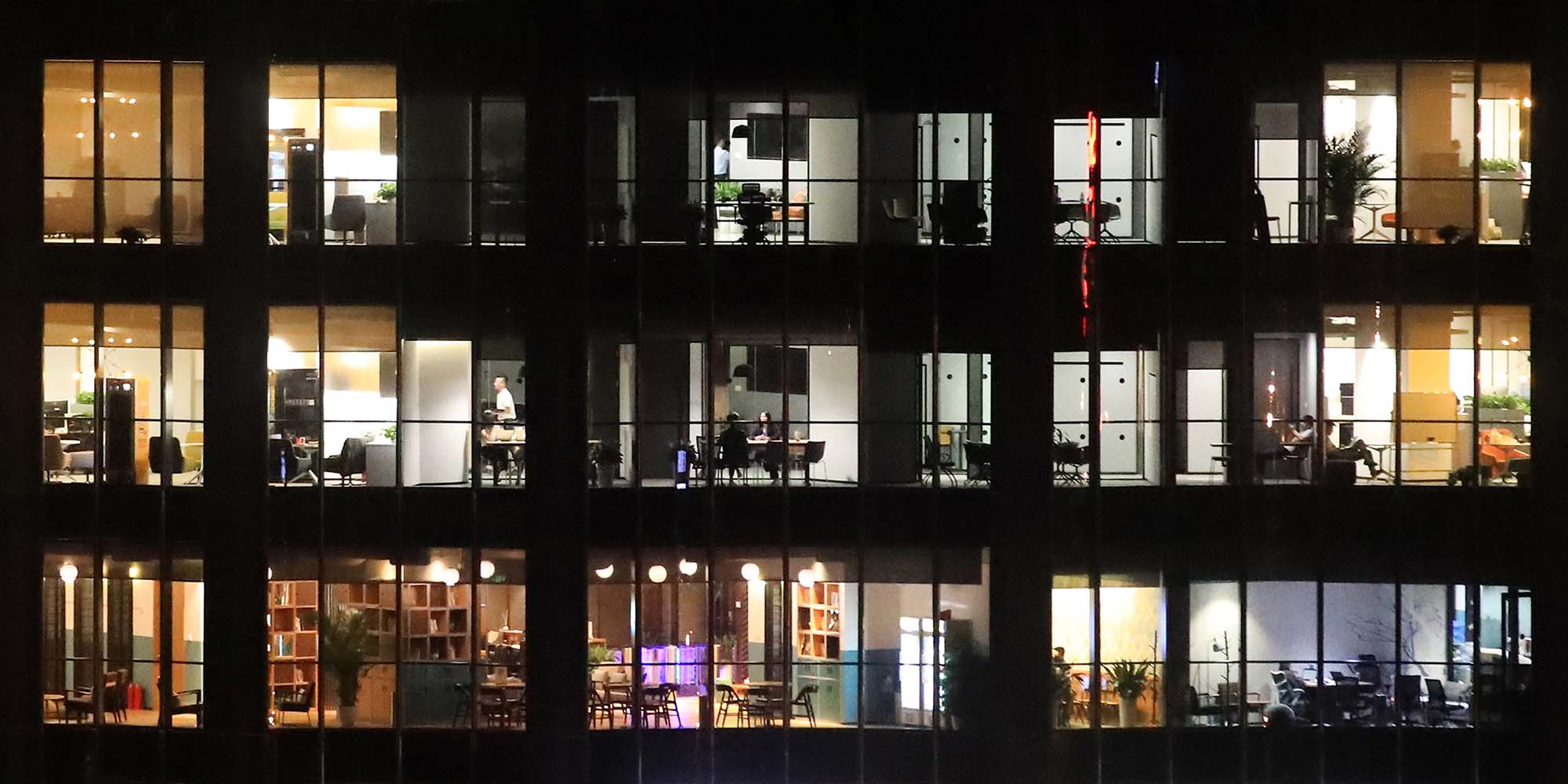 NEWS
Beijing Launches Drive to Regulate '996' Work Culture in City
Overtime culture has been blamed for several deaths in the country's tech sector.
The city of Beijing has launched a two-month campaign to regulate rampant overtime work culture in key industries and enterprises. The move comes following the deaths of several tech workers linked to unhealthy work schedules, causing public outcry.
The Beijing Municipal Human Resources and Social Security Bureau said it would strengthen monitoring of how employers scheduled their work hours, breaks, and vacation days, as well as overtime and compensation-related issues, according to an announcement published Tuesday. 
Authorities said the move was aimed at "effectively protecting the legitimate rights and interests of workers … and building harmonious labor relations." The city is home to several leading Chinese internet companies.
The campaign will mostly target sectors notoriously known for their overtime culture, including internet companies, research and development-driven and technology-intensive enterprises, and labor-intensive manufacturers and service providers, the announcement said. Violators would be subject to "administrative punishments," though details of the penalties were unclear.
Overtime culture, widely known as the "996" working schedule — 9 a.m. to 9 p.m., six days a week — has been a persistent issue at Chinese tech firms, despite authorities deeming it illegal and companies pledging to end such unhealthy practices. Earlier this year, a viral resignation post slamming overtime work to meet output requirements added to a growing backlash from employees over the past few years.
A Beijing-based employee, surnamed Feng, from the short video platform Kuaishou told Sixth Tone that he wasn't aware of the city government's campaign targeting overwork culture and doubted its actual effects. He works from 10 a.m. to 9:30 p.m., Monday through Thursday, clocking three and a half hours of overtime daily.
"I have low efficiency at night and often fall asleep after 1 a.m.," said the 34-year-old software engineer. "There is a lot of work, and we just have this kind of company culture."
This year alone, the deaths of two young employees at video site Bilibili and ByteDance, parent company of short video app Douyin, have reignited online discussions on overtime culture, once again shedding light on the intense pressures China's tech workers face.
Prior to Beijing, other cities have also launched similar initiatives to better regulate work hours. Last year, the southern Guangdong province and the southwest province of Sichuan conducted investigations on overtime work, though the findings are yet to be released publicly.
Editor: Bibek Bhandari.
(Header image: VCG)