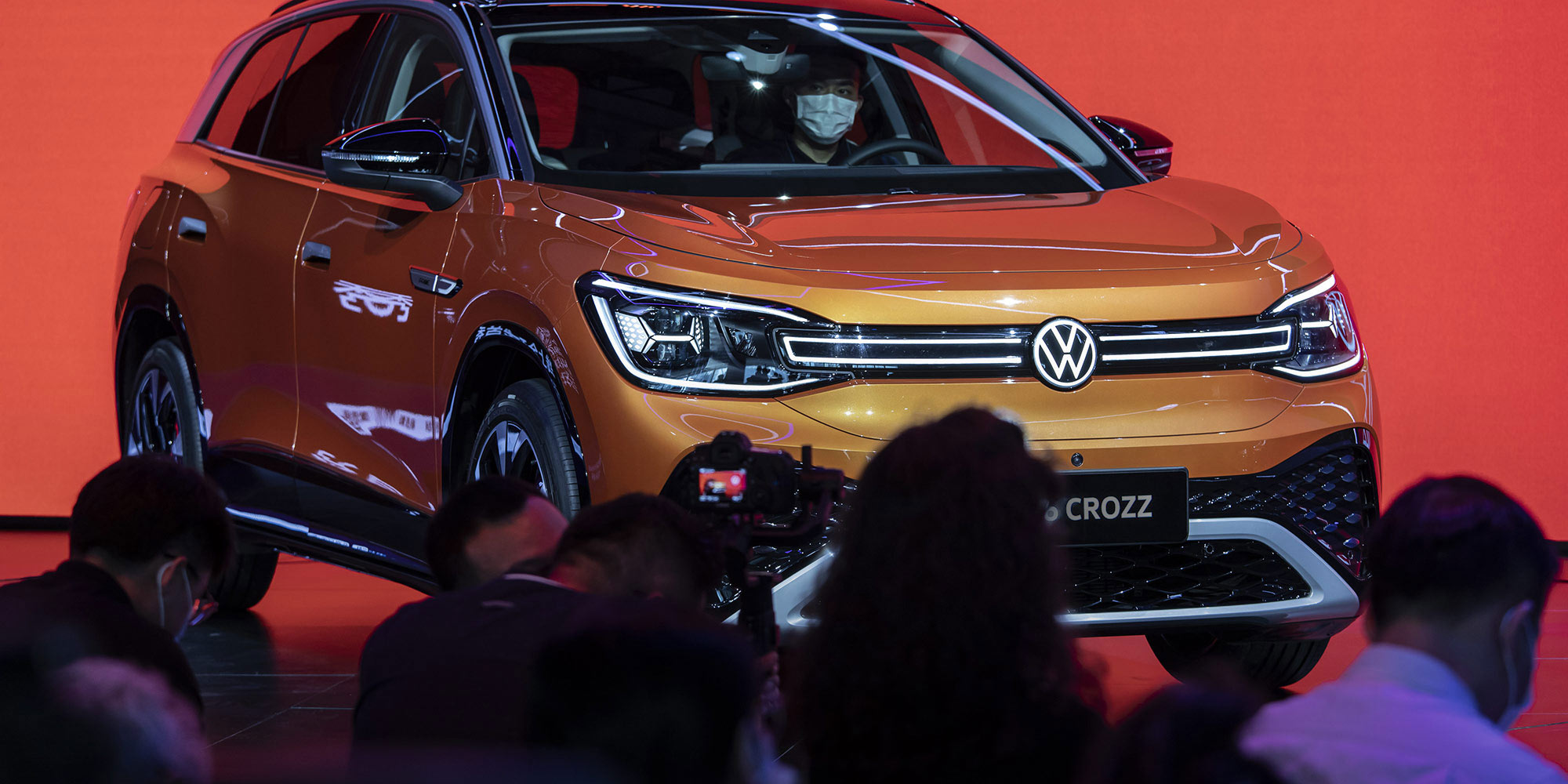 SIXTH TONE ×
Volkswagen's EV Missteps in China
Once a leader in helping China create its modern auto industry, the German auto giant is stumbling with its electric transition in the world's most dynamic EV market.
Volkswagen once acted as leader and educator to help China create its modern auto industry. Its Santana sedan was the beginning of learning about cars for many of China's first generation of car owners. For decades since Volkswagen entered China in the 1980s it was the top seller almost every year.
Now as the German auto giant initiates a radical shift toward electric vehicles, it faces declining sales in the world's largest auto market amid shrinking demand for mid-priced vehicles and fierce competition from Tesla and local Chinese EV brands.
Under a bold transition plan, the group aims to make battery-electric vehicles account for 50% of its output by 2030 and almost 100% by 2040.
Volkswagen sold 4.23 million cars in China in 2019. But in 2020, the total declined by 9.1%. In 2021 as China's passenger vehicle market grew 6.5%, Volkswagen's sales fell by a further 14.1%. That was also the year Volkswagen started selling its first electric car model, the ID.4, in China.
"This decline is difficult to reverse in the short term, and if Volkswagen does not adjust soon, the decline could accelerate in 2022," said Zhou Lijun, chief analyst at Yiche Research Institute. Volkswagen has failed to keep up with changes in mainstream consumers' demand in China, he said.
China is VW's biggest market, contributing 40% of sales and half of profits. Through two joint ventures — SAIC Volkswagen Automotive Co. Ltd. and FAW-Volkswagen Automobile Co. Ltd. — the group sells locally made models including Audi, Škoda and Jetta. It also imports Porsche, Lamborghini and Bentley vehicles.
Changing consumer demand
In the early years, when most people were buying cars for the first time, consumers tended to prefer durable models. In recent years, there has been a significant increase in demand for higher-end cars. Some of these consumers would choose luxury brands such as Mercedes-Benz and BMW, while others seek specific features such as off-road performance. Volkswagen with its solid and moderate brand image has lost out among these consumers.
Volkswagen used to be proud of its "better understanding of China." A prime example was a long-wheelbase version of the Audi A6 launched in 1999, a model designed exclusively for China. The car provided more leg room in the backseats because Volkswagen learned that Chinese executives are usually driven to work by chauffeurs. Other luxury brands such as BMW and Mercedes Benz initially resisted such a feature and only later followed suit.
Compared with 30 years ago, the Chinese market has undergone dramatic changes, from consumer demand and competition to industrial policy. Volkswagen found its advantage in conventional-fuel vehicles fading while it experienced setbacks in the switch to electric cars.
Since 2015, China has been the world's largest market for new-energy vehicles. As part of its electric car strategy, Volkswagen built three factories in China to produce its MEB platform, for modular electric driving matrix, a platform for electric cars. It set out to sell 80,000 – 100,000 ID series electric cars in China last year, but it delivered only 70,000. Some of the cars were sold to employees or suppliers at a discount, according to people close to the matter.
When consumers see the ID, they feel "it's another Volkswagen car," not an electric car, said a tech executive at an automobile company who studied Volkswagen's ID series. The vehicles fail to break through Volkswagen's brand image in design and lag behind Tesla and Chinese brands in smart features, he said.
The ID products should better cater to the needs of the Chinese market, especially in software functions, a Volkswagen board member recently suggested. For example, German consumers may not care whether there is karaoke in the car, but Chinese consumers would be disappointed without it, the board member said.
China's electric car market is polarized at the budget and luxury ends, known as a "dumbbell-shaped" pattern. The best-selling models are mainly cheap mini-sized EVs of domestic brands, priced below 80,000 yuan ($12,654), and pricey ones from Tesla and Chinese brands like BYD, Nio, Li and Xpeng. Tesla's cheapest Model 3 sells for about 265,600 yuan.
Volkswagen's ID series targets the mid-priced mainstream market. Its ID.4 sells for 200,000 — 280,000 yuan. But the price is still higher than for mainstream gasoline models, which usually sell for between 150,000 yuan and 200,000 yuan.
Volkswagen's China CEO Stephan Wöllenstein called the dumbbell-shaped pattern "abnormal" and "unsustainable." If it continues, it will be difficult for China to achieve its goal for new-energy vehicles to account for 40% of total car sales by 2030, Wöllenstein said.
Battle for control of joint ventures
Volkswagen's business in China relies mainly on the SAIC and FAW joint ventures. Volkswagen has a 50-50 venture with SAIC and holds 40% of its venture with FAW. As the auto industry is in a transition period, automakers need greater flexibility to respond quickly to market changes. The checks and balances between joint-venture partners put them at a disadvantage in the new competition situation.
In 2018, the Chinese government lifted its cap on foreign ownership of joint ventures producing fully electric and plug-in hybrid cars, altering a decades-long policy that required foreign carmakers to set up joint manufacturing ventures with local partners in which the foreign companies could hold no more than 50%. In 2020, the government removed the foreign ownership limit on all kinds of commercial vehicle manufacturing. On Jan. 1, it scrapped the foreign ownership lid on joint ventures making all kinds of passenger cars.
Multiple foreign auto makers have adjusted their stakes in Chinese ventures. Last month, BMW increased its ownership in a venture with Brilliance Auto Group to 75% from 50%. Volkswagen has also sought to increase its control of the JVs with SAIC and FAW, but it ran into opposition from the Chinese partners.
Wöllenstein said Volkswagen welcomes China's policy of opening up to foreign investment, but there will be no major changes in Volkswagen's joint ventures with FAW and SAIC.
Volkswagen will instead focus on the two EV ventures it controls — Volkswagen (Anhui) Automotive Co. Ltd. and Audi FAW New Energy Vehicle Co. Ltd. Volkswagen took majority control of its electric vehicle production joint venture JAC Volkswagen in 2020 and renamed it Volkswagen (Anhui).
Yiche Research analyst Zhou said Volkswagen most likely is waiting for a good timing to increase its stake in the ventures with FAW and SAIC.
Controlling ownership can undoubtedly increase a company's decision-making efficiency in a joint venture, but whether it can reverse Volkswagen's disadvantage in China remains to be seen. One startup auto company executive said he thinks controlling ownership will not change the situation. Volkswagen's ID series is clearly designed for Europe, detached from the needs of Chinese consumers, the executive said. Once local Chinese EVs win the domestic competition, they will enter the European market, he said.
Bold but uneasy transition
Some analysts said Volkswagen's setbacks in China prove that traditional automakers can't achieve disruptive innovation.
In a traditional auto company, developing new products the way Tesla did would face opposition from a lot of insiders, said the tech executive at an automobile company. Problems in the ID series result from compromises within the company, he suggested.
Decision-making within Volkswagen requires a clear explanation of the business model, which requires a lot of communication and discussion, Volkswagen CEO Herbert Diess said in an interview in January. "You can't make a lot of gut decisions," he said.
To avoid conflict and increase efficiency, Chinese auto companies usually set up a separate NEV unit that runs independently from the traditional car business.
Unlike the U.S. market, where Tesla dominates electric vehicle sales, and the European market, where Volkswagen is the leader, competition in China's EV market is fierce, crowded with Tesla, Volkswagen, new EV-makers and traditional Chinese car companies.
Such a competitive situation requires auto companies to have a high degree of flexibility and rapid response ability.
In April 2020, the Chinese government revised its subsidy policy for new energy vehicles, excluding electric vehicles priced above 300,000 yuan. Tesla immediately announced a price cut to below the threshold to be eligible for subsidies. Such response speed is almost unimaginable in joint ventures, analysts said.
In the medium and long term, Volkswagen's scale capability should not be underestimated, Yiche analyst Zhou said.
In July 2021, Volkswagen issued its "New Auto" strategy, heavily emphasizing software, EV development, connected services, and mobility as a service over the next few years. Instead of simply selling vehicles, Volkswagen expects revenue and profit to shift to EVs and also to software and services, to be boosted by autonomous driving technology.
Volkswagen is in talks with Huawei to acquire Huawei's autonomous driving unit for billions of euros, German media reported last month.
The race for smart electric cars has just begun, and the next few years will be critical to startups, said William Li, chairman and CEO of Chinese EV startup Nio. Volkswagen will remain the most formidable rival once it has passed the transition period, Li said.
Reporters: An Limin and Denise Jia.
This article was originally published by Caixin Global. It has been republished here with permission.
(Header image: The Volkswagen AG ID.6 Crozz electric SUV on display at a news conference in Shanghai, April 18, 2021. Shen Qilai/Bloomberg via VCG)