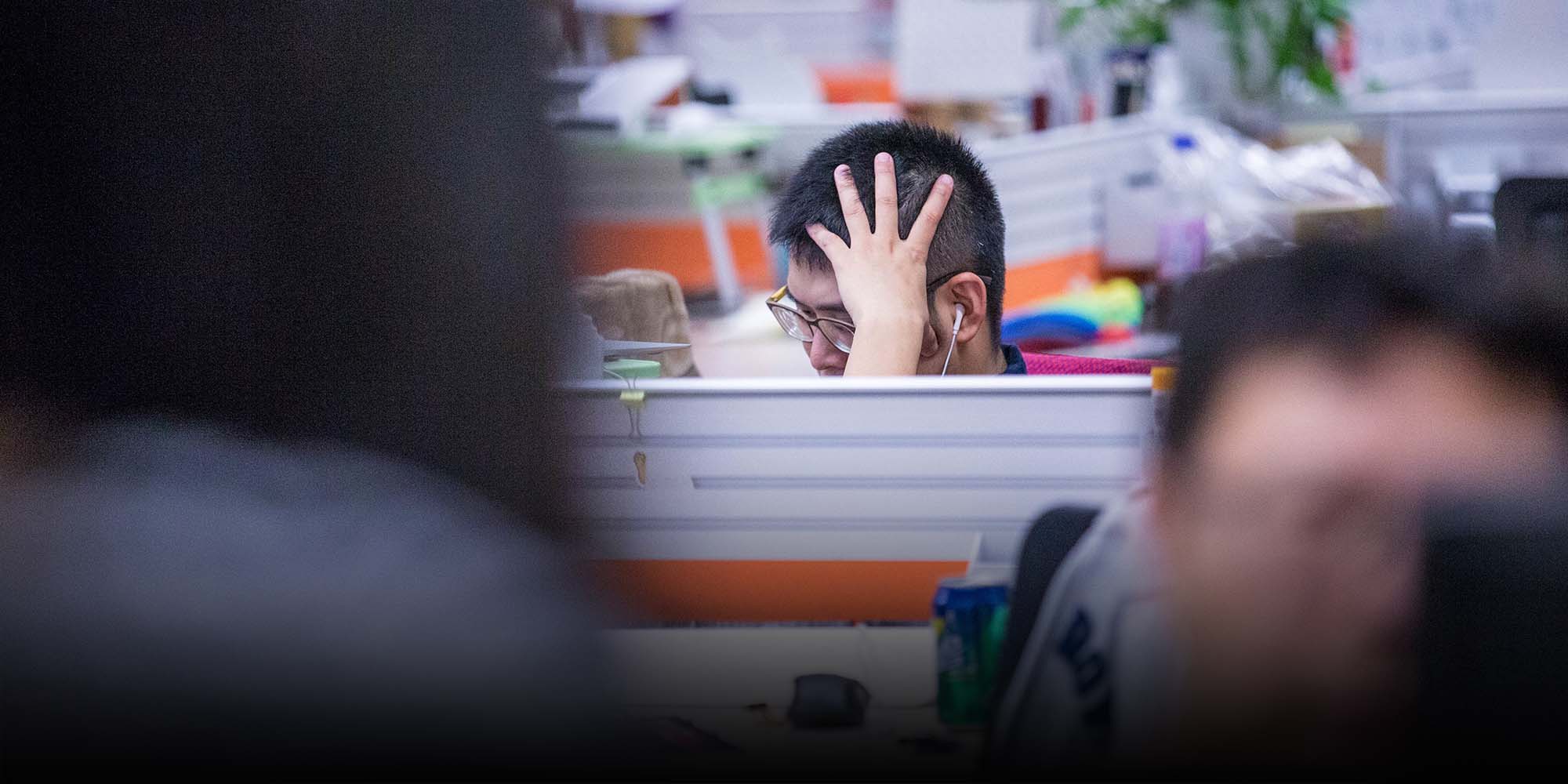 NEWS
Tech Workers Are Resigned to Layoffs
Repeated rumors of tech layoffs since this year have made those in big tech companies psychologically prepared.
After months of rumors, many staff at China's largest tech companies are resigned to a potential wave of layoffs.
Tens of thousands could be laid off in the coming months at internet majors Alibaba and Tencent, Reuters reported on Wednesday, in what would be one of the companies' biggest rounds of layoffs ever.
Half a dozen tech workers at Tencent, Alibaba, and ByteDance told Sixth Tone that they're not sure if the reports are accurate, but they've been expecting downsizing. All requested anonymity, because they are not authorized to talk to the press.
For years, China's tech giants have been the default option for ambitious college graduates — known as the "big factories" to job seekers. But under pressure from regulators, workers unhappy about overtime, and a weak economy, that could be changing.
Alibaba "could ultimately ax more than 15% of its total workforce, or about 39,000 staff, estimated one of the sources with knowledge of the company's plans," Reuters reported.
"Its local consumer services segment, which includes food delivery business Ele.me and other groceries delivery and mapping services, intends to lay off up to 25% of its employees, said the second source," Reuters wrote.
Tencent also plans to cut staff in several business units, according to the same article.
In a story making similar claims, domestic financial outlet Caixin reported Wednesday that "Multiple Tencent insiders told Caixin the redundancies were mainly focused on the Cloud and Smart Industry Group and Platform and Content Group, but the scale is less than the 30% claimed by the rumor on the market."
Some company insiders said the staff cuts are routine.
"In a company with over 100,000 people like Tencent, there is normally a turnover of several thousand people every year," a "Tencent insider" told Caixin.
Neither Alibaba nor Tencent responded to Sixth Tone's request for comment by the time of publication.
Rumors of upcoming cuts have been flying on Chinese social media for a week. Netizens were shocked that the best group of tech workers in China are facing layoffs.
One of Sixth Tone's sources said the tech majors are moving on from a period of limitless spending in a race for market share. "The war is over," a tech worker at ByteDance told Sixth Tone. "Anxiety is something that happens when you are still fighting a war. As the momentum has gone, everyone is looking for a decent end."
Belina Tian, a senior headhunter at headhunting firm Bo Le Associates, told Sixth Tone that she saw significantly more resumes from tech giant employees over the past year.
"More and more tech workers are trying to pivot to other industries, such as securities research," Tian said.
After a year-long effort to more strictly enforce regulations on big tech by the central government, the headlines have predicted layoffs at major tech companies repeatedly since the beginning of this year. However, market expectations are up this week, with Hong Kong-listed tech stocks including Alibaba and Tencent jumping more than 20% Wednesday after a central government meeting sent encouraging signals.
In February, domestic media reported that the country's biggest ride-hailing company Didi Chuxing plans to lay off nearly 20% of its staff across the company. In a since-deleted article, online outlet LatePost reported that the layoffs are the results of the platform's ban from China's app stores and its shrinking market share in community group buying, citing company insiders. Didi's app has been closed to new users for over half a year over a data management probe.
In the same month, domestic media reported that local services platform Meituan started to cut the workforce in its community group buying unit.
And in January, Sixth Tone's sister publication The Paper reported that the short video platform Kuaishou laid off around 15% workforce in the e-commerce team, 25% in the internationalization team, and 30% in the algorithm team.
Neither Didi, Meituan, nor Kuaishou responded to Sixth Tone's request for comment by the time of publication.
ByteDance and Weibo have also recently denied rumors they're planning layoffs.
Some working for tech giants even said they were contemplating the prospect of being laid off, seeing it as a chance to start their lives over. They said they don't like tech company cultures but have put up with it for high salaries.
"I have always felt that the internet is illusory, not creating actual economic value. While the high salary makes me feel surreal, no one is doing things for social good," an Alibaba employee said. "As long as I don't get laid off, I will still go to work and get paid. If I get laid off, I will resign myself to destiny and do something more down to earth. The feeling of floating in the air is really bad."
Editor: David Cohen.
(Header image: A man works at an office at Alibaba Xixi Park in Hangzhou, Zhejiang province, Nov. 6, 2015. VCG)