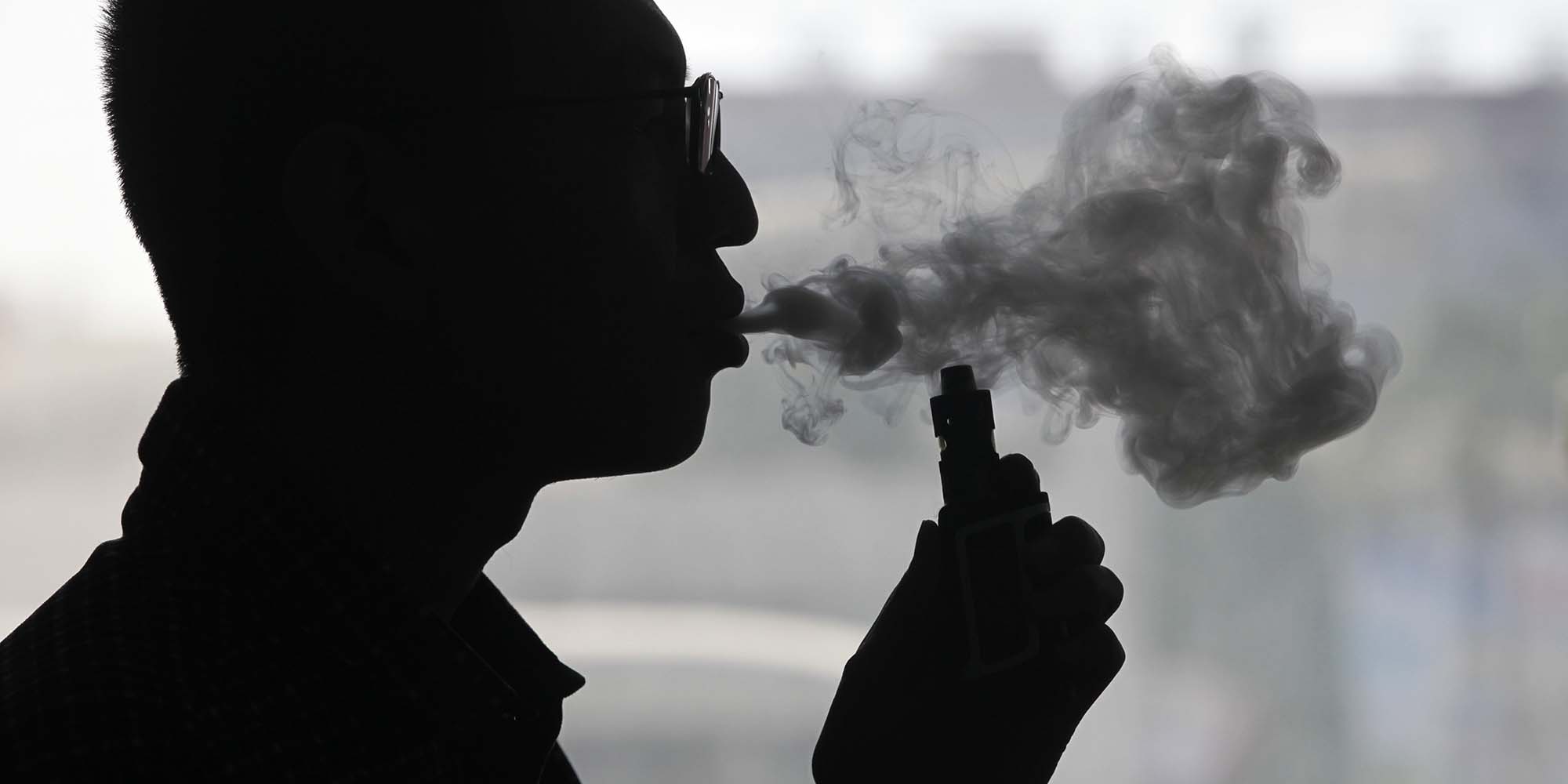 NEWS
Smokers Rush to Stock Flavored E-cigarettes Before China Bans Them
A new policy prohibits the sale of flavored vapes, other than tobacco flavor, from May 1.
SHANGHAI — While many Shanghai residents shopped for groceries and other essentials, fearing a snap COVID-19 community lockdown, Wu battled the rain on Thursday afternoon to stock something he considers more important: grape-flavored e-cigarette pods.
Wu, who only gave his last name for privacy reasons, told Sixth Tone that he didn't want to take any chances before China's new regulation on e-cigarettes goes into effect on May 1. Last week, the country's Tobacco Monopoly Administration announced it would "prohibit the sale of flavored e-cigarettes, other than tobacco flavors, and e-cigarettes to which users can add their own atomized substances."
Industry insiders say the new regulation will mark "a strong regulatory era" for China's domestic e-cigarette industry and strengthen supervision on products that have seen massive popularity among smokers in recent years. The new regulation will consolidate the rules governing the sale of e-cigarettes and other new tobacco products in line with those for ordinary cigarettes, requiring manufacturers and sellers to acquire licenses from the government.
Though Wu read about the regulation early this week, the 30-something said he couldn't venture outside until Thursday because he was quarantined in his apartment amid surging coronavirus cases in the city. By the time he reached his regular Relx outlet, the leading domestic e-cigarette brand, in Huangpu District, the grape-flavored pods were already sold out.
"I knew they might be out of stock, but didn't expect it to be so fast," Wu said before quickly venturing out to other shops.
Over recent years, e-cigarettes have turned into an alternative for young smokers, with many claiming vaping is less harmful than smoking cigarettes — though growing evidence suggests it too poses health risks. Wu said he traded cigarettes for a vape three years ago because he considered it to be less harmful, and it was more convenient to smoke indoors.
The popularity among young users and the perceived notion of e-cigarettes being less toxic than cigarettes helped turn vaping into a lucrative industry both domestically and abroad. China is now the world's largest e-cigarette producer, with the major southern manufacturing hub of Shenzhen accounting for around 90% of the global market share.
China is currently home to more than 1,500 e-cigarette manufacturers and brand enterprises and has over 100,000 e-cigarette supply chains and related service enterprises, providing employment to nearly 5.5 million people, according to market research firm Forward Industrial Research Institute. In 2021, the domestic e-cigarette sales totaled about 19.7 billion yuan ($3 billion), with an annual growth of 36%.
But growing demand and supply of e-cigarettes has also invited the watchful eyes of officials on a mission to curb vaping in the country. In recent years, both the central and local governments have taken drastic steps to tighten the leash on the industry. They include banning online sales of e-cigarettes, fining shops for failing to display anti-smoking warnings, and selling products to minors, with some cities even prohibiting vaping in public.
Other governments around the world have also been taking measures to curb the use of e-cigarettes among young users, with the United States banning the sale of flavored vapes in 2020. However, a 2021 study from Yale School of Public Health found that the regulation might have a reverse effect, as it could make teenagers switch to conventional cigarettes.
Meanwhile, in China, users have flocked to e-cigarette stores before the new regulation takes effect. A staff at Relx in Shanghai told Sixth Tone that they've seen an increased demand for flavored pods since the government announcement, with grape and cola-flavored varieties selling out almost instantly. Amid soaring demand, the shop has raised its product prices, even though the company said they wouldn't be doing so on Tuesday.
"We sold over 10,000 boxes of flavored pods on March 11, the first day when details of the new regulation was released," the staff told Sixth Tone, adding that each box contains three pods.
But for Wu, the search for this favorite flavored e-cigarette continues. As he headed to another shop, he said he wouldn't consider purchasing the tobacco flavor.
"It tastes disgusting," he said. "I might consider switching to (conventional) cigarettes when I run out of flavored ones."
Editor: Bibek Bhandari.
(Header image: VCG)