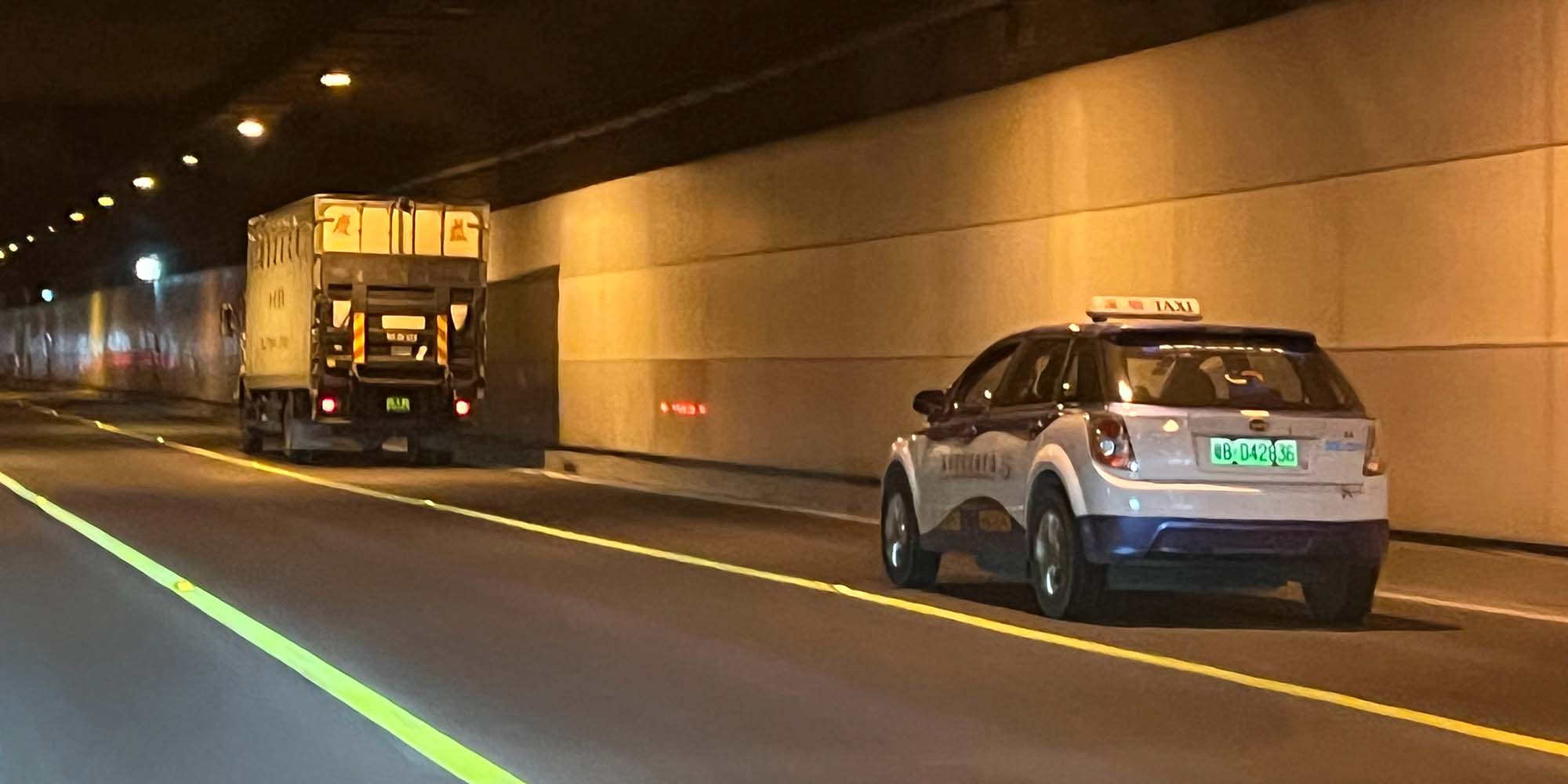 NEWS
Shenzhen Taxi Drivers Are Now Escorting Trucks From Hong Kong
Their job is to ensure vehicles and drivers follow a predetermined route and don't make unnecessary stops or come in contact with locals.
Taxi drivers in Shenzhen are providing a novel service amid its COVID-19 outbreak — escorting truck drivers from across the border.
Taxis in the southern tech hub follow cargo trucks coming into the city from neighboring Hong Kong, ensuring that the vehicles and drivers follow a predetermined route and don't make unplanned stops or come in contact with local residents, financial outlet Jiemian reported Tuesday. Their main task is to ensure the truck drivers stay in "closed-loop management" — China's bubble-like system implemented to prevent possible virus spillover.
The taxi drivers turned truck "escorts" come as both cities experience a surge in COVID-19 cases. While Hong Kong has reported record-high five-digit daily cases over the past weeks, over 17.5 million people in Shenzhen were placed in a weeklong lockdown Sunday as infections climbed in the city.
Official data showed that at least 17 cross-border truck drivers tested positive for the coronavirus at Shenzhen port on Sunday, adding to the total of more than 480 since Feb. 4.
Trucks moving across the border are an important link between the Chinese mainland and the Hong Kong Special Administrative Region. Shenzhen authorities said on Feb. 14 that about 8,000 cross-border trucks were engaged in the transportation of supplies, including fresh food, between Shenzhen and Hong Kong daily.
It's unclear if specific taxi drivers choose to escort the trucks or are instructed to do so by city officials. Over a dozen taxi companies and government bureaus Sixth Tone called Wednesday went unanswered or declined to disclose any information.
A Shenzhen-based automobile insider, surnamed Chen, told Sixth Tone that taxis labeled as "cross-border transportation escort" wait for trucks with Hong Kong license plates at major highway intersections in the mainland city. He added that such taxis are barred from picking up passengers and receive a 500 yuan ($80) daily allowance from the government.
Shenzhen strengthened its virus control measures for cross-border truck drivers in early February, instituting strict rules at port entry points, operational facilities, and accommodation sites. Shenzhen transport authorities said last month that they had punished 882 truck drivers for violating the government's COVID-19 regulations by either suspending their exemptions from quarantining upon entry for 60 days or having them permanently canceled.
Editor: Bibek Bhandari.
(Header image: A taxi escorts a truck in Shenzhen, Guangdong province, March 13, 2022. From @深圳情怀车工作室 on Weibo)