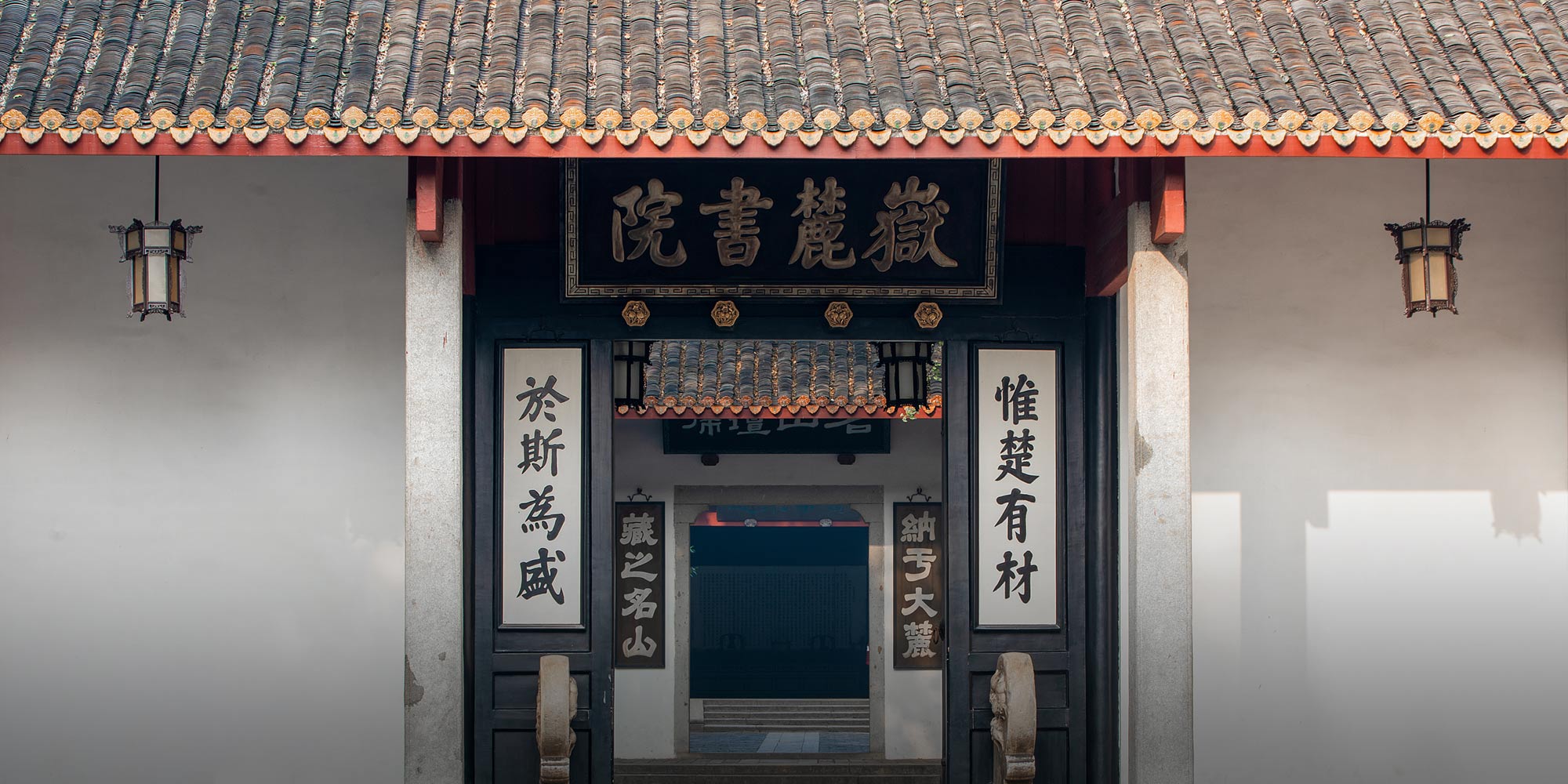 VOICES & OPINION
A Onetime Confucian Academy Balances Past, Present, and Future
The Yuelu Academy in Central China was once one of the country's top educational institutions. Can its latest incarnation strike a balance between Chinese tradition and today's globalized outlook?
Situated at the foot of Mount Yuelu on the west bank of the Xiangjiang River in Changsha, the capital of Hunan province, is one of China's oldest cultural and educational institutions: the Yuelu Academy. One of the "four famous academies" of imperial China, its modern-day incarnation consists of school buildings, a Confucius Temple, and a newly built museum.
My own office is located in the Hall of Victory, designed by one of modern China's pre-eminent architects, Liu Shiying, and finished in 1948. Even after the past two years brought new pandemic-related controls, a steady stream of tourists files past my door almost every day. They're drawn by the Academy's buildings and gardens, long history, and cultural significance. Yet, few see the Academy as more than just a living fossil, a curious holdover from China's Confucian past. That it could not just carry on that tradition — and actively seek to evolve it — rarely seems to cross their minds.
"Academy" here is a translation of shuyuan, a Chinese term that literally means "courtyard of books." It refers to a type of ancient Chinese educational institution, usually financed by local gentries, wealthy merchants, and scholars. The first shuyuan, always located in secluded scenic spots, were established in the eighth century; they became widespread during the Song dynasty (960-1279).
Yuelu Academy was founded in A.D. 976, and it rose to prominence in the early 11th century when the Zhenzong emperor gave its headmaster a plaque with the four characters of its name written in the emperor's own calligraphy.
At the time, China's civil service examination was flourishing. The development of woodblock printing helped stimulate a rise in literacy and the formation of an educated class. The resulting intellectual ferment produced the Confucian revivalist movement known as "Neo-Confucianism." Rejecting the idea that learning is merely a means for pursuing political advancement, Neo-Confucian thinkers turned their attention to the relationhip between humans and the cosmos.
Academies like Yuelu soon became hotbeds of Neo-Confucian learning. One of the most prominent Neo-Confucians, Zhu Xi, took a special interest in the academies. In 1167, Zhu held a series of public forums at Yuelu in which he debated the tenets of Neo-Confucianism with Yuelu teacher Zhang Shi. The debates, a clash between Zhu Xi's Fujian school of Neo-Confucianism and Zhang Shi's Hunan school, attracted more than a thousand spectators and had a lasting influence on the intellectual trajectories of both Zhu and Zhang.
They also marked a turning point in the development of Yuelu. The forum gave the Academy a reputation for cross-regional scholarly exchange and helped entrench public lectures as part of the academy system.
Originally, the Academy's curriculum focused solely on readings on the Confucian classics and Chinese history. But toward the end of the Qing Dynasty (1644-1912), the Yuelu Academy began introducing more modern curricula. Under the leadership of Wang Xianqian, the last Yuelu headmaster of the imperial period, Yuelu introduced subjects such as mathematics, geography, and translation. Wang also ordered newspapers and collected books imported from the West in order to broaden students' perspectives.
In 1903, after almost a millennium of existence, the Yuelu Academy was renamed the Hunan Institute of Higher Learning, part of a nationwide movement to modernize the country's educational institutions. A group of local activists eventually secured permission to found a university in Hunan province, and in 1926 Hunan University was established with Yuelu as its first institution. That same year, Hunan University opened its doors to female students. For the first time in its long history, women were allowed to partake in the discussions within Yuelu's hallowed halls.
After the chaos of the 1960s and '70s, Yuelu Academy was restored as a cultural research institute within Hunan University in the 1980s — a sign to Chinese around the world that China was changing. It began recruiting postgraduate students in 1990 and undergraduate students in 2009.
Yet, Yuelu Academy is not just one other institution of higher learning. Its history and tradition make it an experimental laboratory of sorts: a place where academics from around the world can explore how Chinese educational institutions can retain their distinctive qualities in a globalized era.
To that end, the Academy seeks to both carry on and evolve its unique traditions. For example, every year, we hold a ceremony in honor of Confucius' birthday, while the student union prepares aromatic herb sachets and the rice dumplings known as zongzi to commemorate the local intellectual Qu Yuan (340-278 BC) every summer. Our students have the same worries about grades and job prospects as students elsewhere, but by the time they graduate, many seem to have embraced what sets Yuelu apart, and identify closely with the school's mission.
This mission is not limited to the Yuelu student body. Indeed, Yuelu has always had a certain evangelist bent. To borrow a concept stressed by Zhang Shi, part of the school's aim is to "transmit the 'way.'" That goes both ways: Continuing the tradition of the Zhang-Zhu debates, Yuelu invites scholars from all over the world to give lectures on their work; many of these lectures are streamed for audiences outside the academy.
Despite Confucianism's reputation in the West for insularity, the importance of being exposed to and engaging with diverse schools of thought is perhaps the most lasting legacy that Zhu Xi and Zhang Shi left us.
It's a tradition that continues to grow in unexpected ways. The last Confucian ceremony I attended on campus took place on an unseasonably warm day in September. Nevertheless, we all held our breath as we stood solemnly in the Confucius Temple. When it came time to bow, one of my colleagues, who prefers Mozi — an intellectual rival of Confucius — chose not to perform the obeiscance. Meanwhile, two members of the faculty, one Korean, the other American, struck up a conversation. "I am surprised that we are not required to stand according to the seniority of our positions," said the former. "I thought this kind of ritual would be more hierarchical."
I was equally surprised by his comment, as that informality was something I took for granted about life at the Academy. We may come from different backgrounds, but we are all part of the same family.
Editors: Wu Haiyun and Kilian O'Donnell; portrait artist: Wang Zhenhao.
(Header image: A view of Yuelu Academy's gate in Changsha, Hunan province. 500px/VCG)