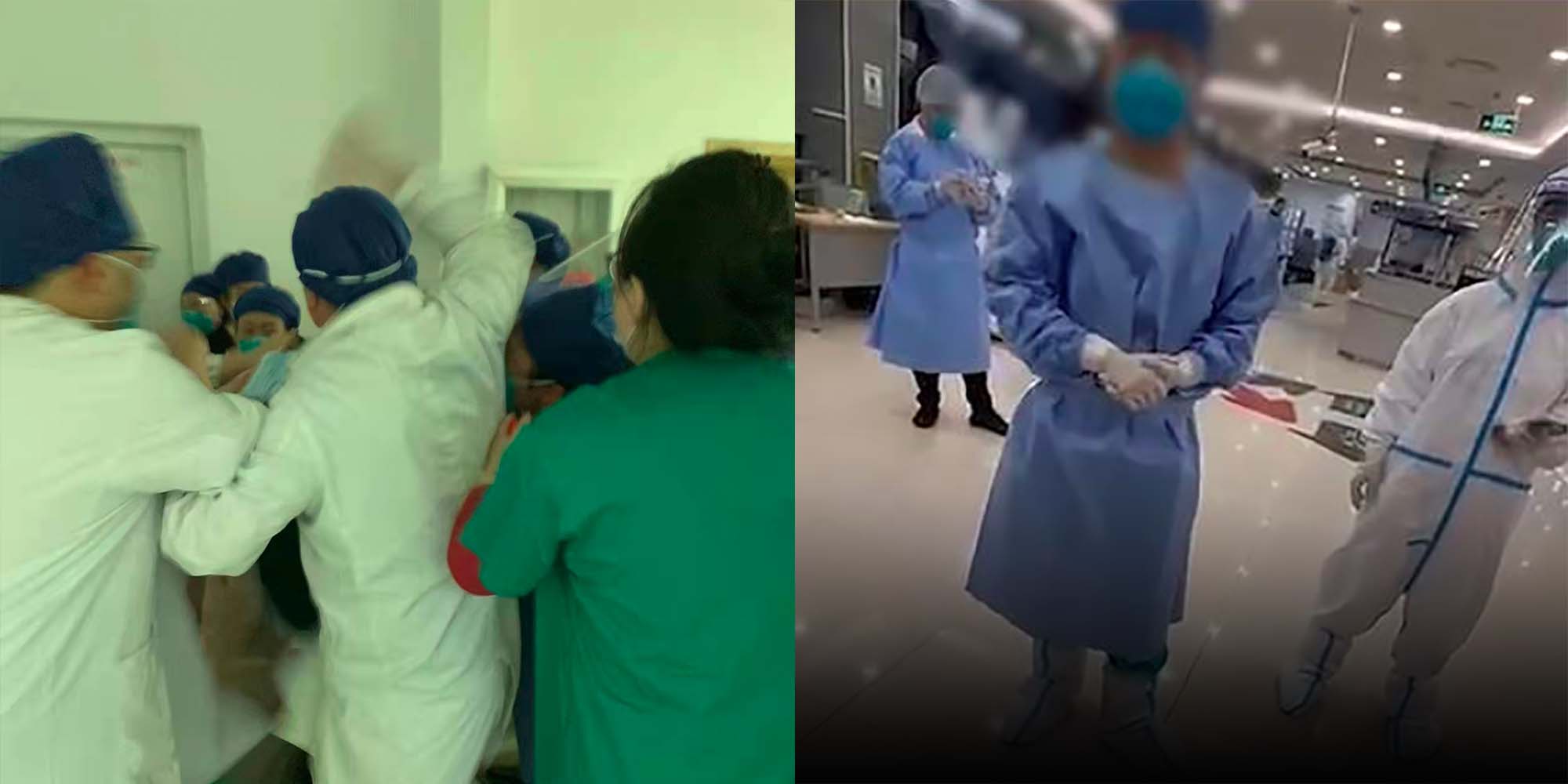 NEWS
COVID-19 Cases at a Shanghai Hospital Lead to Chaos, Lockdown
Video footage from inside the emergency unit of Shanghai Sixth People's Hospital shows distressed and underprepared staff.
A viral video showing chaotic scenes from inside a top Shanghai hospital as the city battles its worst COVID-19 outbreak has once again raised questions about operational challenges and access to healthcare at times when medical institutions are sealed and services are temporarily suspended.
The Shanghai Sixth People's Hospital was immediately locked down on March 6 after detecting an "abnormal" nucleic acid test, with thousands of medical workers, patients, and their families stuck inside. It wasn't until Sunday that video footage — reportedly filmed by a medical worker and posted on microblogging site Weibo — provided a glimpse from that day, with distressed nurses and others complaining of a situation reminiscent of what other cities experienced during previous outbreaks.
"We're not trained to deal with infectious diseases, and we don't have the proper quarantine supplies to enter a highly-risky area," a nurse from the emergency ward is heard saying in the video, refusing to move to the floors with COVID-positive patients and their close contacts. "We don't have a safe place to bathe or sleep, and no adequate time to rest."
As part of the virus control measures, hospitals nationally usually suspend emergency and out-patient services for 48 hours for mass testing and disinfection when they detect an infected patient or a close contact. However, some medical facilities in areas with local outbreaks have required incoming patients to show proof of a negative nucleic acid test before being treated, resulting in delays in accessing health care services.
Between December and January, a man died and two women miscarried after facing delayed treatment in the locked-down city of Xi'an in the northwestern Shaanxi province. City authorities then promised to do better following a public outcry over the seemingly preventable tragedies, while China's vice premier, Sun Chunlan, demanded that hospitals "should not turn away patients under pretense during COVID-19."
On Monday, Wang Xingpeng, director of the Shanghai Hospital Development Center, which administers the city's top-tier hospitals, said that the Sixth People's Hospital was sealed after a patient from outside the city tested positive for the virus. He added "five positive environment samples" were found inside the hospital, but didn't disclose the exact number of infections.
"The entire facility has been disinfected, and there are enough quarantine supplies now," he said. "People inside the hospital will be tested and separated based on the results."
As Shanghai started noticing a surge in coronavirus infections since the start of March — the city logged over 800 cases as of Monday — hundreds of residential complexes with individuals who have tested positive or close contacts have been placed on lockdown. Amid such circumstances, the city's health authority said that it would "fully support" the needs of residents who are indoors.
"There are designated hospitals to satisfy the needs of critically ill patients, pregnant women, children, and patients going through chemotherapies or hemodialysis," authorities said. "They'll be sent to hospitals by ambulances in a closed loop."
Some Shanghai residents Sixth Tone spoke with said though they were eventually able to visit hospitals, it wasn't as easy as before. A few of them complained they didn't have adequate information on ways to access hospitals during outbreaks.
A 76-year-old man who developed a fever after surgery last week said many of the medical facilities in his neighborhood were under a 48-hour lockdown. Therefore, he had to call his surgeon, who directed him to a fever clinic at a downtown hospital.
Wang Yi, a parent from Pudong New Area, said that she was initially unwilling to take her son to the doctor after he contracted a fever. But when the high temperature hadn't subsided by Monday, she drove to a hospital 30 kilometers away — she waited for six hours with her sick child to get a flu medication.
"If the situation was not bad enough, we wouldn't have taken him to a hospital during such a time," Wang said. "It's not just my child — a few of his classmates also had a high fever. Some have chosen not to visit a doctor for fear of possible cross-infections."
Editor: Bibek Bhandari.
(Header image: Left: A screenshot shows a scuffle between medical workers at Shanghai Sixth People's Hospital; right: A screenshot shows hospital administrators talking to the nurses. From Weibo)