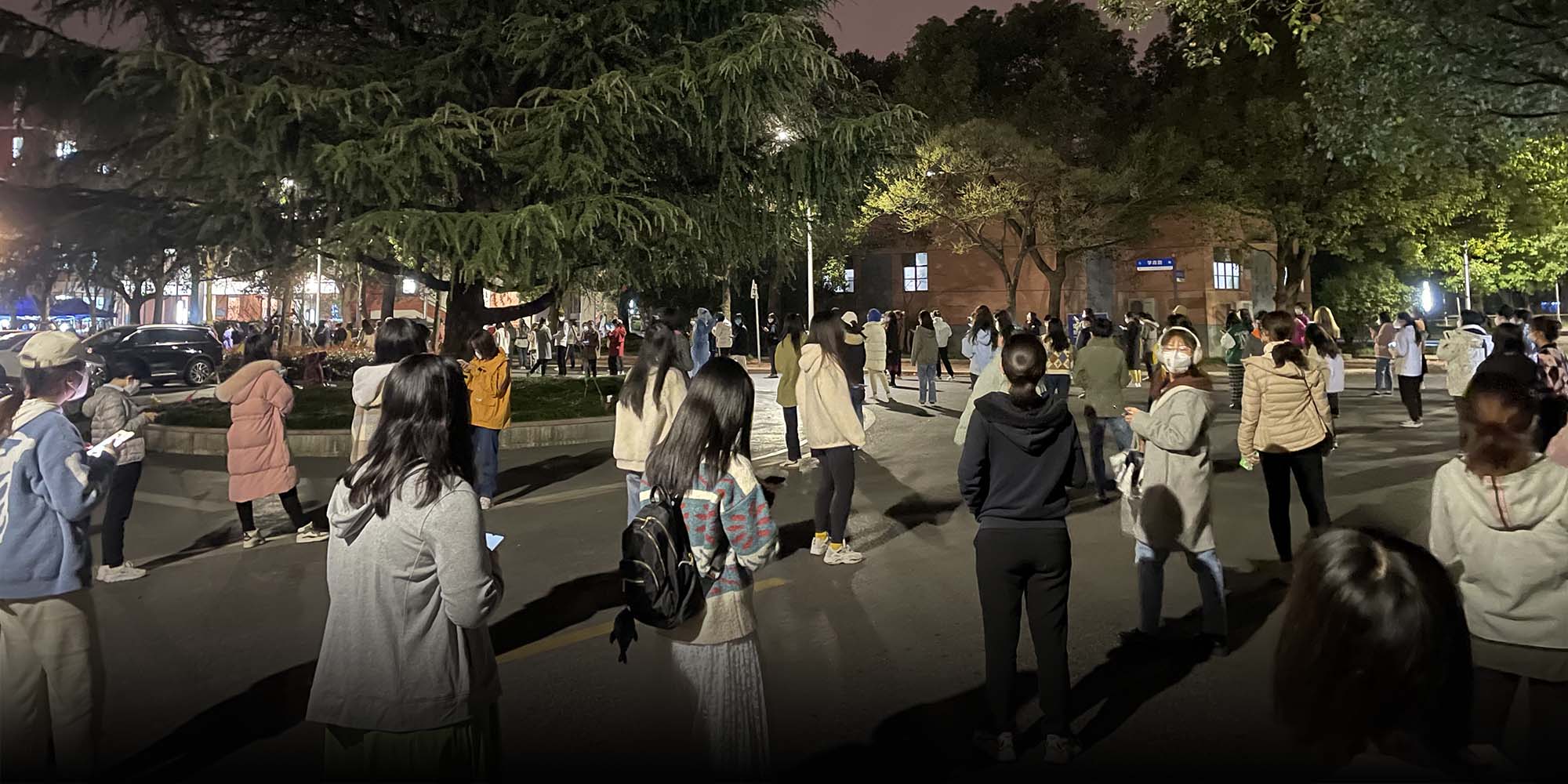 NEWS
One Hundred Thousand Students Likely Locked Down in Shanghai
As the city battles an outbreak of COVID-19, at least 18 colleges and universities have confined students to campuses.
SHANGHAI — On Monday noon, students at Fudan University crossed campus in single file, walking to lunch between rows of monitors. They had an hour to pick up food and get back to their dorms.
When the students crossed a road, volunteers held up isolation lines to guide students, each with a lunch box in hand. Security guards occasionally called out, "put your phone down!"
Except for three trips a day to pick up food, Fudan's students are stuck in their rooms, taking online classes, playing board games, and chatting with roommates while waiting out a tentative 14-day campus quarantine.
The renowned university is adopting what it calls "bubble management," as Shanghai has put at least 18 local universities and colleges in lockdown, mostly over the weekend, in citywide efforts to curb its worst COVID-19 outbreak since early 2020.
With larger schools home to tens of thousands of students at a time, the lockdown likely affects well over 100,000 students.
Students and staff at universities and colleges, including Fudan University, Tongji University, and East China Normal University, have been banned from leaving campuses while the schools conduct mass nucleic acid tests.
Shanghai, which contains over 60 universities and colleges, recorded five "confirmed," or symptomatic, cases and 197 asymptomatic cases on Tuesday, bringing total local infections this month to over 1,000. The megacity currently has declared nine "medium-risk area" hotspots.
The Shanghai International Studies University was one of the first campuses to lock down in early March. It's done at least seven rounds of mass testing so far.
Students confined to their dormitories organized sing-alongs — first on dorm balconies, then in a virtual karaoke room in an app due to virus prevention concerns.
Zhao Yao, a doctoral student at the university's Institute of Linguistics, told Sixth Tone that over 200 students, mainly at graduate schools, sang and listened to each other online for about two hours on Monday night.
"It's been a long time since I sang. After I entered the online room, I had to wait for others to sing first, just like what we do offline," said Zhao. "I played what other students sang the rest of time as background music… the energy of music provides relief and entertainment during the outbreak."
At least 33 infections were detected in Shanghai Jiao Tong University's Minhang District campus as of Tuesday, making it the hardest-hit campus in the city. Students there were banned from exiting the campus on March 9, and have been prohibited from leaving their dormitories since Saturday.
Before the lockdown, students at Jiao Tong could freely enter and leave the campus with a digital pass, amid sporadic COVID-19 flare-ups.
Several students at the Minhang campus told Sixth Tone they were caught off guard.
"The lockdown came all of a sudden last Wednesday morning," said Chen Jiaxin, a 21-year-old junior student majoring in business. "I was anxious at first, and frequently checked our school forum and an online document created by fellow students for updates."
Lin Jiayi, a graduate student who used a pseudonym for privacy, said she was panicked to see almost all instant noodles, cookies, and bread were sold out at convenience stores on the campus last Wednesday morning.
"We did not have enough mental preparation, as well as enough time to stock up resources," Lin said. Students are allowed to receive parcels, but not food delivery.
Xu Zi'ang, a 19-year-old sophomore at the School of Mechanical Engineering, served as a student volunteer in the initial days of campus lockdown, helping maintain order at testing sites and prepare supplies for students.
"The situation soon got worse than we expected, with more cases and close contacts detected among students," said Xu. He was identified as a close contact of a confirmed case on Saturday and is currently in a quarantine hotel. "I can't believe the outbreak is so close to me."
Over 30,000 students at the Minhang campus have been sealed inside their dormitories since Saturday. Faculty and staff have volunteered to deliver necessities like food and water to the dorms.
Some students described a shortage of manpower on the first day of the complete lockdown. Xu said his roommates received dinner at around 10 p.m. on Saturday, though the delivery of meals was on time in the following days.
After Lin's roommate came down with a fever, Lin was taken to a classroom to wait for nucleic acid testing on Sunday afternoon. The results turned out negative Monday night, after she spent over 24 hours waiting anxiously.
"The school provided a mattress and quilt, and I laid them down at the front of the classroom. I couldn't fall asleep for the whole night," said Lin.
Meanwhile, in dormitory buildings where cases were reported, students are requested to stay inside their room, with a few student volunteers on each floor distributing packed lunches, water, and Lianhua Qingwen Granules, a Chinese medicine used as a treatment for COVID-19.
"A lot of changes have taken place these days," said Xu Yunshu, a 20-year-old junior student who serves as a volunteer. "Every day we hear sirens, and we have gotten used to it… Some students who are suspected to be COVID-positive after batch tests are quarantined in hotels outside campus."
"I haven't showered for about six days because we have only a shared bathroom," said Lin. "I just hope our campus can detect no cases, and we can take a bath soon."
Editor: David Cohen.
(Header image: Students at Shanghai Jiao Tong University line up for nucleic acid tests on Monday, keeping one meter social distance in Shanghai, March 15, 2022. Courtesy of Xu Yunshu)