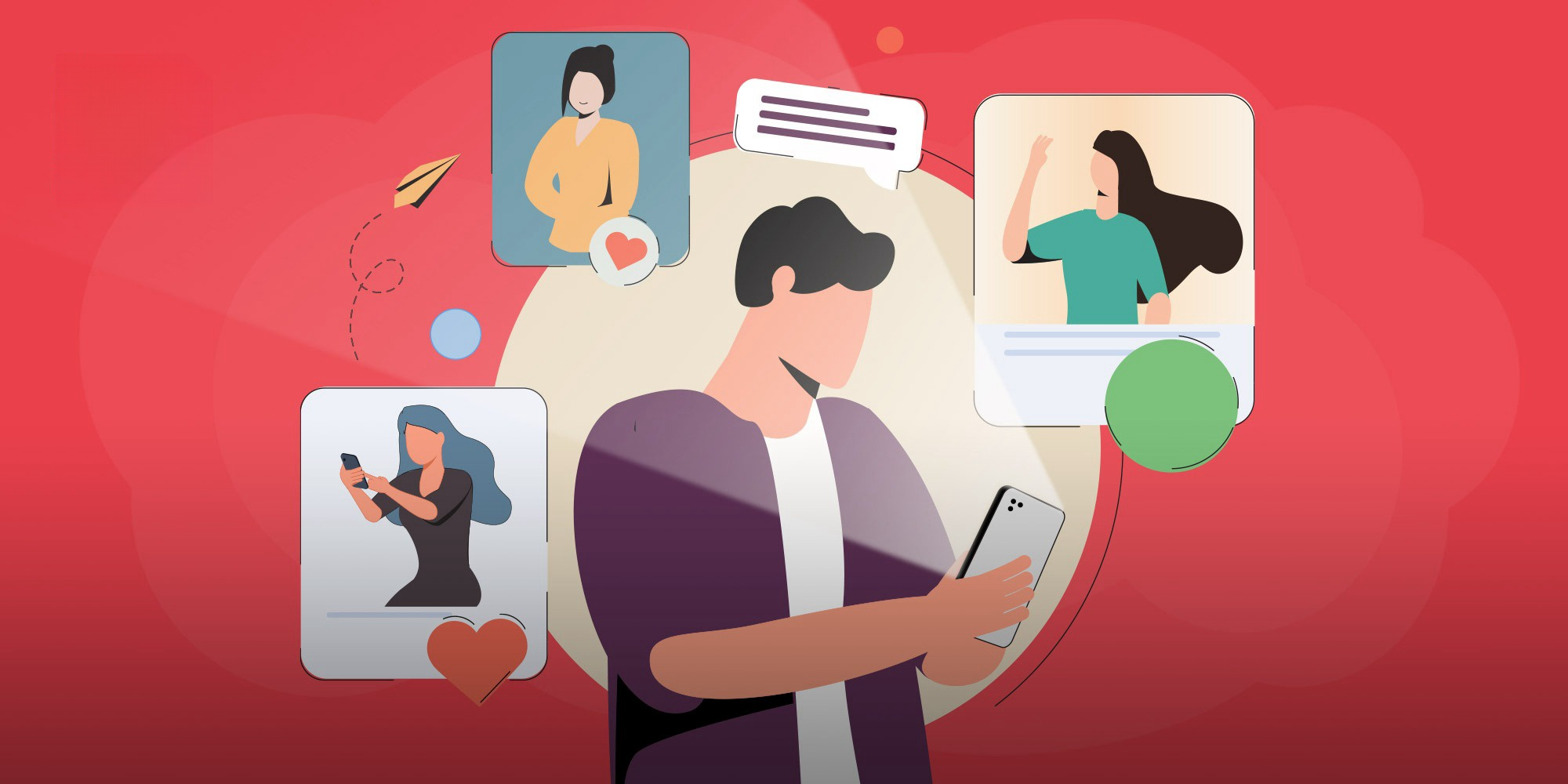 FEATURES
China's Instagram Wants More Male Users. It's Using Women as Bait.
Lifestyle platform Xiaohongshu used to be a rare safe space for Chinese women online. Then, the company began marketing itself to men as a place to meet "beautiful ladies."
When Wang Yue bought a new pair of pantyhose last week, the 19-year-old decided to do what many young Chinese women do: share her experience on the lifestyle app Xiaohongshu.
For years, the Instagram-like platform has been the go-to place for women in China to swap tips on fashion, beauty, and travel. Around 140-180 million female users are active on the platform every month.
Wang thought her review might help other shoppers thinking of buying the same product. She posted a few photos of her and her college friends wearing the pantyhose, along with a brief message:
"Me and my roommates are all wearing these pantyhose ... They feel great and look so natural. Trust me, sisters, go buy them!"
The response horrified her.
Within hours of hitting send, the student's inbox had filled with sexually aggressive messages from men she didn't know. "Can I see more of your legs?" "Have you had sex?" "Are you very wet when you have sex?"
Wang had no idea her post would be seen by so many male users: she only has around 100 followers on the platform. The incident has left her feeling hurt and upset.
"Those messages made me feel sad for the entire day," Wang tells Sixth Tone. "The idea of those men using my pictures to fulfill their sexual fantasies just made me sick."
Many women have suffered similar experiences. Xiaohongshu used to be considered a rare female-friendly space on the Chinese internet, a place where women could express themselves freely without worrying how male users would react. But in recent months, that has changed.
Users say the atmosphere on the platform has gotten much uglier. Sexual harassment and misogynistic comments, once relatively scarce, are becoming increasingly common. And for many, Xiaohongshu's own policies — or lack thereof — have directly contributed to the rise.
The company has adopted a new growth strategy that prioritizes attracting more men to join the platform. In some cases, it has run advertising campaigns claiming Xiaohongshu is a place for men to meet "beautiful ladies."
Though the company later disavowed those ads, Sixth Tone has found that its algorithms effectively work to fulfill this promise, filling the feeds of new male users with photos of young women.
Many of these women are ordinary Xiaohongshu users like Wang, who often have no idea the platform is sharing their images in this way.
A pivot to men
Founded in 2013, Xiaohongshu — whose name means "little red book" in English — initially built its success on appealing to Chinese women. It began as a content-sharing platform for people to give tips on shopping overseas, before evolving into a social app that combines elements of TikTok and Instagram. Users are able to follow other accounts, make in-app purchases, and see recommended posts by users they're not connected with on their feeds.
Because of its focus on fashion and beauty trends, Xiaohongshu's user base was overwhelmingly female: a 2021 report estimated that 90% of Xiaohongshu users were women. But the company was still able to achieve massive scale. Last November, Xiaohongshu reportedly raised $500 million from shareholders at a $20 billion valuation, making it one of China's top internet companies.
For its millions of female users, Xiaohongshu was a unique space: a major social platform where men were almost entirely absent. This made it easy for women to share their lives without worrying about opening themselves up to harassment or abuse.
"Sometimes, a woman would share a story about having a fight with her boyfriend, and other women would show her compassion and encourage her," says Zhu, a long-term Xiaohongshu user from Shanghai. "There used to be this kind of sisterhood."
Many women flocked to Xiaohongshu to escape the toxic atmosphere on other Chinese social media. Weibo, China's closest equivalent to Twitter, has faced particularly strong criticism in recent years for the rising level of misogyny and anti-feminist activism on its platform.
"Weibo makes me sick," says Zhu, who declined to give her full name for privacy reasons. "Many men on Weibo will call Chinese feminists degrading terms."
Xiaohongshu, for its part, has sought to play up its image as a friendlier, more communal online space. Ke Nan, the company's chief operating officer, has styled the platform's users as "residents," and said in January that "everything that happens in the Xiaohongshu community is a reflection of real life offline."
But in reality, the platform stopped being a safe haven for women some time ago, users say.
In 2020, Xiaohongshu reportedly adopted a new corporate strategy that focused on attracting more male users. Xinshang, a Chinese tech news platform, interpreted the move as a sign the company had hit a user bottleneck in its core demographic of young women, and that pivoting to men was its only way to maintain its growth.
Soon after, Xiaohongshu announced it would promote content by male creators, and began ramping up advertising on male-dominated online outlets. The company also began distancing itself from its reputation as being an app for women: In a recent interview, Ke Nan said the idea that Xiaohongshu was a "female community" was a misunderstanding.
Last September, Xiaohongshu was found to have run an ad campaign on Hupu — a sports news platform popular among Chinese men — that read: "Beautiful ladies are all here on Xiaohongshu, free to see, without spending any money!" Another Xiaohongshu ad, posted on forum site Baidu Tieba, said: "Sexy, beautiful car models and stylish beauties are waiting for you."
The report sparked fury among Xiaohongshu's female users. Yu, a 22-year-old student from the northwestern city of Xi'an, says the controversy made her question whether the platform was still a safe environment for women.
"This was totally humiliating to female users," says Yu, who also declined to give her full name for privacy reasons.
Xiaohongshu later apologized, saying the ads had been created by an external advertising agency. It added that the company no longer did business with the agency.
However, the following month, Xiaohongshu faced a wave of complaints from users about an uptick in harassment from men on the platform.
"There have been so many annoying comments from e'chou men on Xiaohongshu recently," one user wrote, using a slang term that refers to men who harass women verbally. "Any suggestions for a real female-friendly app?"
It's unclear exactly how many male users have signed up for Xiaohongshu in recent months, but a company representative told Sixth Tone that 30% of users on the platform are now male. The platform's success in broadening its user base was a major factor behind Xiaohongshu's sky-high valuation in its latest financing round, analysts say.
But the large influx of male users has caused "the environment on Xiaohongshu to get worse," Zhu says. She adds that she no longer feels comfortable sharing her personal life on the platform, as she worries male users may judge or harass her.
"Before, when a female user posted their outfits, the comments were often very harmonious," says Zhu. "But things changed after the male users flooded in. One time, I saw a comment under a girl's post containing a selfie — a guy asking, 'How much do you cost per night?' How gross is that?"
Feeds full of women
In recent months, Xiaohongshu has faced more serious accusations that its algorithms are pushing photos of women — and, in some cases, underage girls — into the feeds of men using the platform.
In December, reporters from Chinese state broadcaster CCTV found that when they signed up for Xiaohongshu as a 20-year-old male user, the app would recommend large numbers of sexualized images of young women and girls.
Some videos were posted by minors and included footage of their "sensitive parts," according to CCTV. Many comments under these videos were posted by male users and included sexual innuendo.
Xiaohongshu was fined 300,000 yuan ($47,300) following this investigation. The company blamed the issues on a glitch in the platform's algorithms, and said it was strengthening its supervision of content featuring teens.
"We would like to clarify that some of the content mentioned in those reports was already recalled and dealt with in subsequent rounds of moderation," a Xiaohongshu representative told Sixth Tone. "Offering a safe and positive environment for our users is our top priority, and it is particularly important for us to protect the safety of our younger users. We have already rolled out a series of measures to enhance the safety of younger users on Xiaohongshu."
Yet underlying issues remain. This week, Sixth Tone repeated CCTV's experiment and registered a new Xiaohongshu account as a 25-year-old male, selecting four interests, namely: relationships, university, arts, and life vlogs.
The feed immediately filled almost entirely with photos of young women. Only two of around 30 photos included a man. Sixth Tone found no evidence that any of the women appearing in the photos were underage.
After clicking on a few women's photos, Xiaohongshu began recommending more — and more sexualized — images. The comment sections under several of these posts contained derogatory messages posted by male users.
Sixth Tone asked Xiaohongshu to clarify why the feed displayed so many photos of this nature. A company representative said only that "our algorithm recommends content based on interest tags selected by the user during registration."
Wang, the woman who was abused after posting about her pantyhose, is uncertain whether Xiaohongshu recommended her post to men on the platform. It's also possible the users found her post by searching for keywords such as "pantyhose," she says.
However, the fact that female users cannot control who sees their posts on Xiaohongshu is a cause for concern, says Wang. She added she'd feel safer if she could choose for certain posts "not to be recommended to male users" — especially now that more men are joining the platform.
"I've always enjoyed Xiaohongshu, as the majority of users are female — they are usually very nice and positive," says Wang. "However, every time you post things like pantyhose or high heels, the comment sections become hard to look at … After this experience, I'll never post any content like that again."
Though the incident last week was the most serious, Wang added that she had experienced similar harassment on multiple previous occasions on Xiaohongshu.
For Zhu Jie, a professor of communications at Hainan University whose research focuses on Xiaohongshu, the company's commercial goals are not aligned with the interests of its female users.
"Even if Xiaohongshu were dominated by women, the marketing strategy of Xiaohongshu is often based on the objectification of women," says Zhu. 
When asked what policies the platform has to protect female users from harassment, a Xiaohongshu representative said that it does not allow any kind of "unfriendly" comments, including harassment, abuse, or attacks "that negatively impact the community experience." 
"We are committed to increasing our efforts to maintain a safe environment, including fine-tuning the technology for automated removals of content and improving our moderation capabilities," the person said. "We also encourage all our users to proactively report any content that they believe violates our community guidelines."
The platform's moderation system, however, appears to be hit or miss. Wang says she reported eight users who had harassed her to Xiaohongshu. The platform only took action against three of them.
Though Wang says Xiaohongshu responded quickly to her messages, she feels the reporting mechanism is inadequate. As a victim, it is emotionally exhausting to have to report every abusive message to the platform manually, she says.
"At first, I insulted them back and reported them to Xiaohongshu, but the disgusting messages just kept flooding in," she says. "I really can't report and answer every single one of them."
Editor: Dominic Morgan.
(Header image: Mykyta Dolmatov/iStock/VCG, reedited by Sixth Tone)