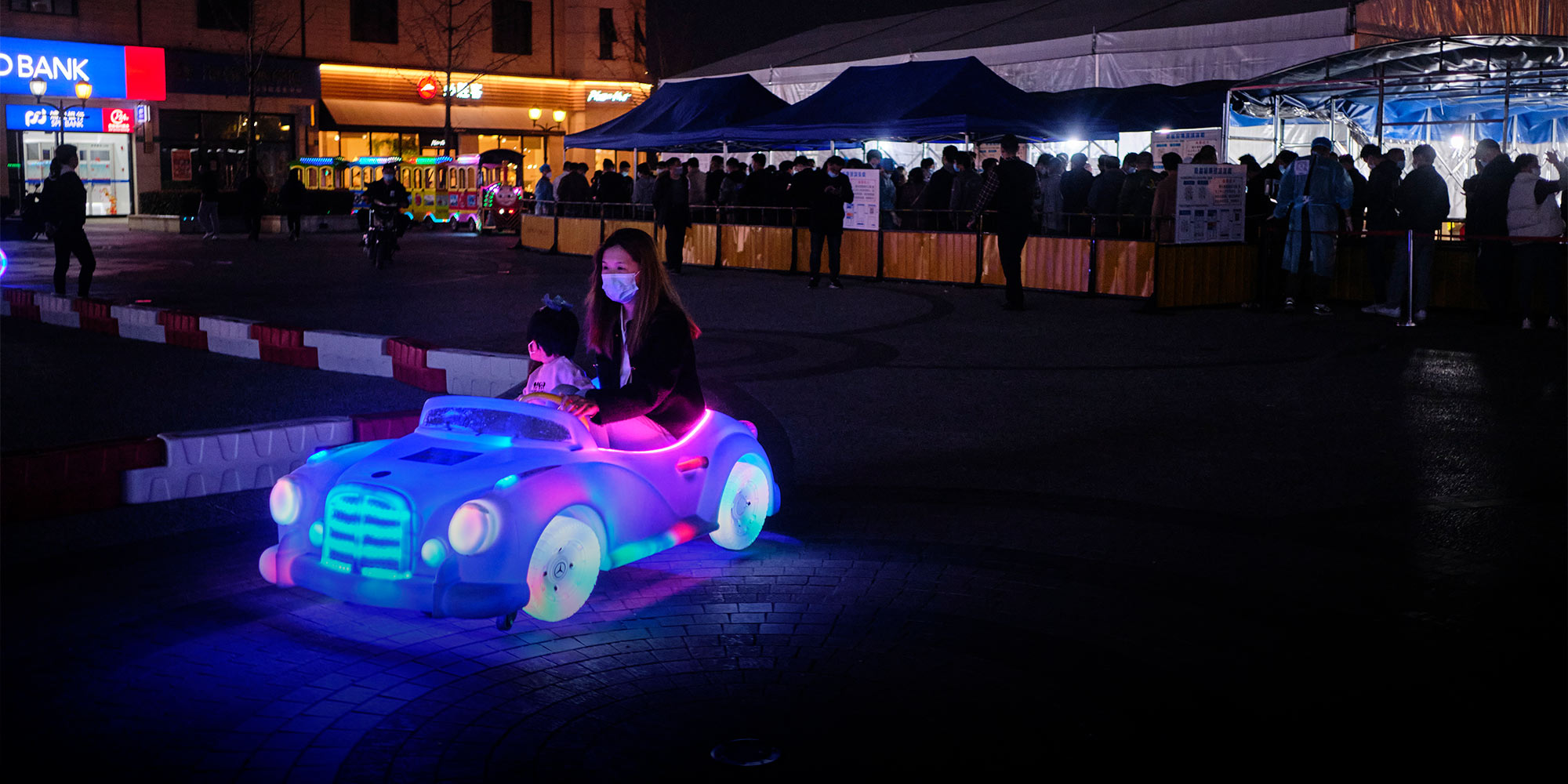 NEWS
Shanghai Slows Down to Curb COVID-19 Spread
The city of 24 million has shut schools and entertainment venues and placed thousands in quarantine as it scrambles to contain its worst virus outbreak.
SHANGHAI — Shanghai has suspended long-distance bus services, shut down entertainment venues, and placed hundreds of residential compounds, university campuses, and office buildings on lockdown as the city grapples with its most serious COVID-19 outbreak since the pandemic started two years ago.
China's financial hub has logged over 700 infections — 89% of them asymptomatic — since the first case in the current wave was detected on March 1, according to local health authorities. On Friday, local authorities admitted that management loopholes at a downtown quarantine hotel accommodating returnees from overseas had led to the local outbreak. 
The city of over 24 million people wore a deserted look during the weekend — traffic was sparse, and malls and metro stations were relatively quiet amid a lack of locals and tourists. The city's epidemic control unit urged residents to limit unnecessary travels, while travelers required a negative virus test 48 hours before leaving the city or after arrival.
Shanghai's education authority also suspended in-person classes at schools starting Saturday and ordered citywide COVID-19 tests for all students after some were found to be infected with the virus. This is the first time classes have moved online since they resumed in mid-2020 following a monthslong break at the height of the pandemic in China.
"The crowd inside the school and outside the school gate when the kids were dismissed after testing was really worrying," one father standing outside a school in the Pudong New Area told Sixth Tone. "I never felt the virus could be so close to me, not even in 2020."
Shanghai's health authorities have attributed the uptick in cases to the BA.2 sublineage of the highly transmissible Omicron variant of the coronavirus. The city, previously touted for keeping the virus at bay with few disruptions during occasional flare ups, now has infections in 15 of its 16 districts, barring Chongming Island.
As the city swiftly moves to identify suspected infections and their close contacts, authorities have placed hundreds of thousands of residents on lockdown since last week. Most residential complexes with an infection have instituted a 14-day lockdown, while those with close contacts who didn't test positive for the virus are sealed for 48 hours.
Wang Qianwen, who lives in Pudong District, said two buildings in her neighborhood are currently sealed. She also found that nearly all businesses beside her mother's residence in Minhang District were shut when she visited to deliver her groceries.
"Buying food online isn't convenient for elderly people," she told Sixth Tone. "My mother is in her late 70s and lives alone, and she doesn't use a smartphone. Currently, there aren't enough volunteers to help in my mother's neighborhood. I'm afraid she might have trouble accessing daily necessities."
Jia Mingming, another Pudong resident, said she had previously experienced 48-hour lockdowns in November and January, but wasn't expecting a 14-day stay-home order after a neighbor tested positive for the virus. Though she was grateful to work from home and be with her daughter, Jia said, "losing my freedom made me upset."
Across China, tens of millions of people have been barred from movement — major cities such as the northeastern city of Changchun in Jilin province and the tech hub of Shenzhen in the southern Guangdong province have imposed citywide lockdowns amid surging virus cases. On Sunday, China reported 2,125 COVID-19 cases, of which 1,026 were in Jilin.
Many cities across the country have announced mass testing amid sporadic outbreaks, though Shanghai is yet to announce such a measure. Instead, the city had adopted concentrated testing, prioritizing residential complexes and neighborhoods with confirmed or suspected infections.
"I've received one nucleic test daily in the past four days," a local resident, surnamed Shen, in downtown Xuhui District told Sixth Tone. "The situation is a bit chaotic. It's safer if all people could just stay at home for a week or two."
The rising number of infections in Shanghai have, however, spooked its neighbors, with some nearby cities announcing stringent measures to prevent possible transmissions.
For example, Hangzhou in Zhejiang province requires all travelers arriving from Shanghai to undergo three-day home quarantine and 11 days of health monitoring. A district in the city of Nantong is offering 200 yuan ($30) rewards for reporting anyone arriving from Shanghai or other "medium or high-risk" areas, if they haven't already been identified by local virus prevention units.
Meanwhile, health experts in Shanghai said that the current wave would not break the city's defense system against the virus. A top virologist acknowledged the city lagged behind in its response, as it was caught off guard by the sudden explosion of the Omicron variant.
"But in the long fight against the virus, we should not lose our confidence," Zhang Wenhong, the infectious diseases expert tasked with managing Shanghai's coronavirus response, wrote on his personal Weibo microblog Monday. "To stick to the 'zero-COVID' policy, Shanghai has slowed down its pace, and once the city's pace becomes slow, the virus won't spread fast."
Editor: Bibek Bhandari.
(Header image: People line up to get tested for COVID-19 at a testing site in Baoshan District, Shanghai, March 12, 2022. Wu Huiyuan/Sixth Tone)