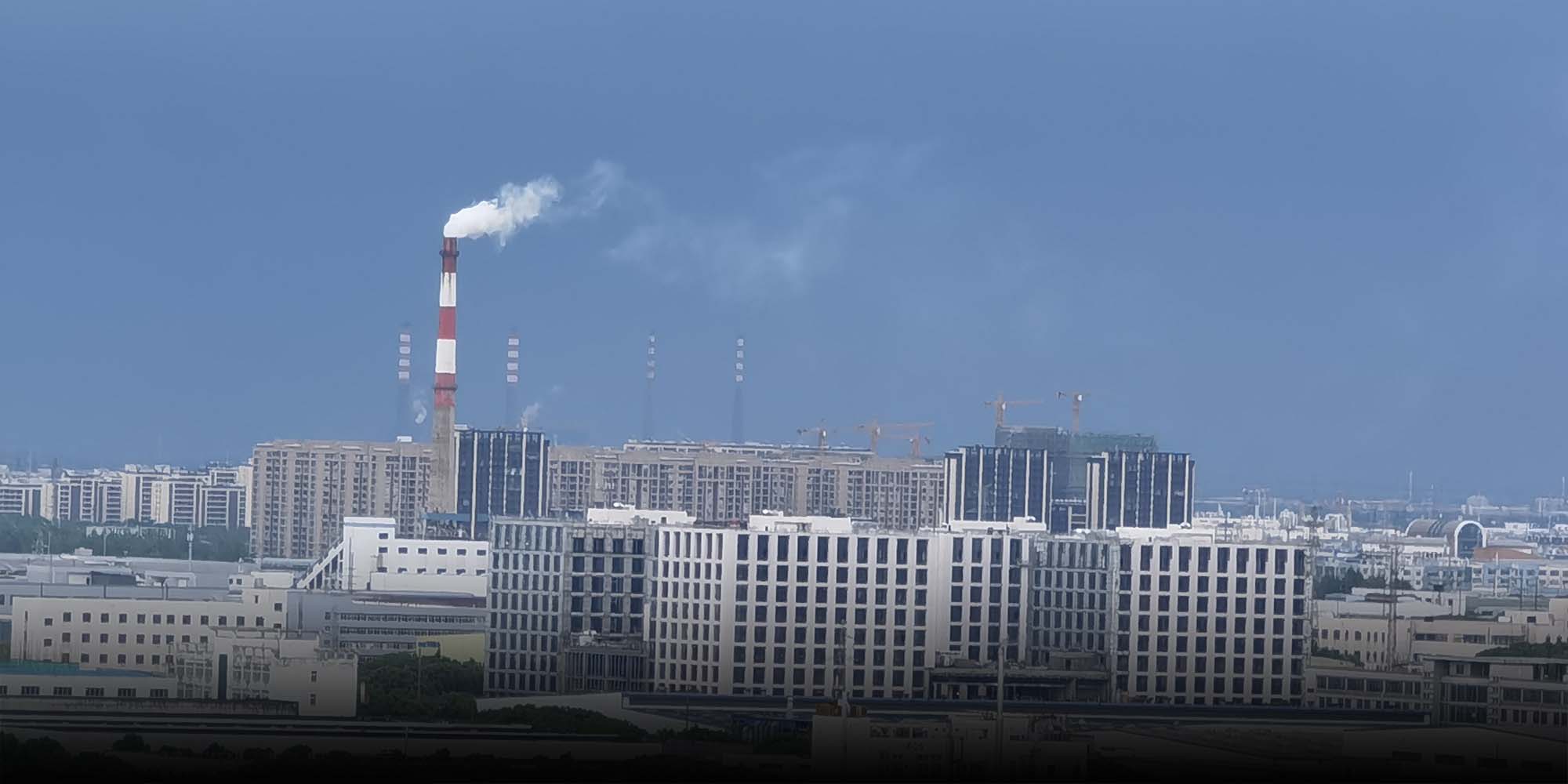 NEWS
China's Climate Goals Are Ambitious. Are Its Provinces Up to the Task?
China's provinces each have their own reasons why they can't kick their coal reliance.
During this year's "two sessions," the annual gatherings during which the Chinese government announces its plans for the upcoming year, the country's climate ambitions had to take a backseat to energy security.
China, the world's largest greenhouse gas emitter, is still committed to peaking its carbon emissions by 2030 and reaching carbon neutrality by 2060, but last year's energy shortages reminded the country how much it still relies on coal. As a result, policies announced during this year's "two sessions" gave local governments more leeway in greening their economies.
However, analysts were already worried Chinese provinces weren't doing enough to shrink their carbon footprints. Though at least eight provincial-level regions have published their decarbonization roadmaps so far, most lack details.
The most recent such plan, announced in February by eastern China's Zhejiang province, pledged only that "some sectors" would peak their emissions in 2025 before the entire province would hit peak carbon in 2030.
China is the world's largest greenhouse gas emitter, with carbon emissions growing by 5.5% between 2019 and 2021. Coal remains the dominant electricity source, and its consumption has kept rising. The country burned 4.6% more coal last year than it did in 2020.
Regional climate mitigation efforts are essential for China to meet its climate goals. Top-down directives say to phase out coal, but provinces have been slow to make progress due to systematic barriers in the energy sector, experts told Sixth Tone. Varied in geographic and economic conditions, provinces each face their own conundrum in cutting coal.
"Every family has their own skeleton in the cupboard," said Shi Xunpeng, researcher at the Australian-China Relations Institute of the University of Technology Sydney.
Energy security
In a speech to the Inner Mongolia Autonomous Region's delegation during this year's "two sessions," Chinese President Xi Jinping reiterated the importance of energy security, saying that green transformation is a process instead of "something that can be done overnight."
The comment came after the power crisis, which started last summer, disrupted businesses in dozens of Chinese provinces and caused the authorities to reconsider their priorities, with some in China concluding carbon reduction efforts last year had been too strong.
In this year's government work report, Premier Li Keqiang mentioned last year's shortage of coal-fired power and asked local governments to exit coal "orderly" and promised to "leave certain flexibility" for assessing regional performance in the country's energy transformation.
"I think rationality has returned, a realization that the Great Leap Forward can no longer be advocated," Shi said, referring to an overzealous campaign during the late 50s and early 60s that aimed to transform China's economy but ended in mass famine.
However, more flexibility may also create room for some provinces to build more coal-fired plants to improve local GDP and employment figures under the guise of strengthening energy security, especially since coal remains the most reliable power source in the eyes of policymakers, said Shi.
The power sector, dominated by coal-fired plants, is China's single largest greenhouse gas contributor. Though China has built many wind and solar facilities, several factors have hindered renewables from playing an even bigger role.
While sunshine and wind are free, the integration cost of adding renewables such as solar PV and wind power onto local grids is not competitive with coal-fired power due to an immature power market, according to Shi. China's national emissions trading scheme helps increase the cost of coal-fired power, but the market is too immature to have a significant effect, he added.
Supporting infrastructure and technologies are also lagging behind. Energy storage, key to compensating solar and wind energy's volatility, is not yet cost-effective for large-scale deployment, said Yang Muyi, a senior electricity policy analyst at the think tank Ember based in Sydney.
China's energy system is also characterized by fragmented authority and balkanized policymaking. Every province looks out for its own benefits above all, and this lack of cooperation makes it harder to phase out coal. In South China's Guangdong province, for example, a lack of viable alternative supply options and energy security concerns have posed major challenges to decarbonization efforts, Yang told Sixth Tone.
In the coastal province, which has shown strong ambitions to peak its carbon emissions before 2030, coal-fired power still accounts for the largest share of its power mix. Though the province has been diversifying its power sources for several years, turning to gas or renewables, finding clean power sources to replace coal-fired power capacity is challenging, Yang said.
In the densely-populated province, prone to extreme weather events, land is in tight supply, discouraging large-scale wind and solar power projects. Wind farms are also difficult to get approved because they can conflict with areas that have been designated as ecologically fragile. Nuclear plants are controversial in China, and rooftop solar is difficult to install on residential buildings due to red tape involving the ownership of roofs. One solution is to install panels on industrial buildings, and Guangdong cities like Foshan are currently analyzing whether that would be feasible, said Yang.
Such impediments are representative of coastal regions with limited land sources and high power demand, he said.
Regional equity
According to several independent reports, more affluent provinces farther along with restructuring their industry and energy sectors have performed better at climate mitigation. Leading provincial-level regions include Beijing, Shanghai, and Guangdong, while provinces in the northwest are toward the bottom of the list.
Beijing reportedly hit peak carbon emissions in 2012 after moving away from burning coal as part of its fight against air pollution, according to party newspaper People's Daily. The city now plans to become carbon neutral in 2050 — ten years ahead of the national deadline — through decarbonization in the power sector and deeper electrification.
Shanghai, which ranked first in terms of GDP among Chinese cities last year, has started to "decouple" economic growth from carbon emissions, according to China Dialogue.
But researchers at University College London have noted that these regions' relatively good climate performances are partly the result of outsourcing their energy production and its environmental stress. Beijing, for example, shut all of its local coal-fired power plants and imports 70% of its power from neighboring Inner Mongolia. The leading energy source for the imported power, however, remains coal.
On the other hand, Inner Mongolia, the second-largest coal producer in China after neighboring Shanxi province, did "very poorly" in promoting the local supply of non-fossil fuels, even though it produces a lot of wind and solar power which is then exported to other regions, according to the researchers' study, published last year in Communications Earth & Environment, a Nature journal.
At present, provinces that are highly reliant on energy-intensive industries, including Inner Mongolia and bordering Gansu province, haven't laid out their local timelines for peaking their carbon emissions.
Shi told Sixth Tone that it may not be realistic for every province to peak its carbon emissions by 2030. He added that reinforcing interprovincial cooperation and an emission offset system would be important in China's "national game of playing chess," a term coined by the central government to describe the country's decarbonization strategy.
Sometimes a shrinking economy can also help with climate mitigation, according to the report authored by the non-profit Institute of Public and Environmental Affairs and the Chinese Research Academy of Environmental Sciences. Citing carbon monitoring data, the report noted that Jilin and Heilongjiang, provinces in China's rustbelt in the northeast whose local economies used to rely on heavy industry and energy, saw their emissions plateau in 2012 and 2016, respectively, due to declines in industrial activity and population.
Editor: Kevin Schoenmakers.
(Header image: VCG)