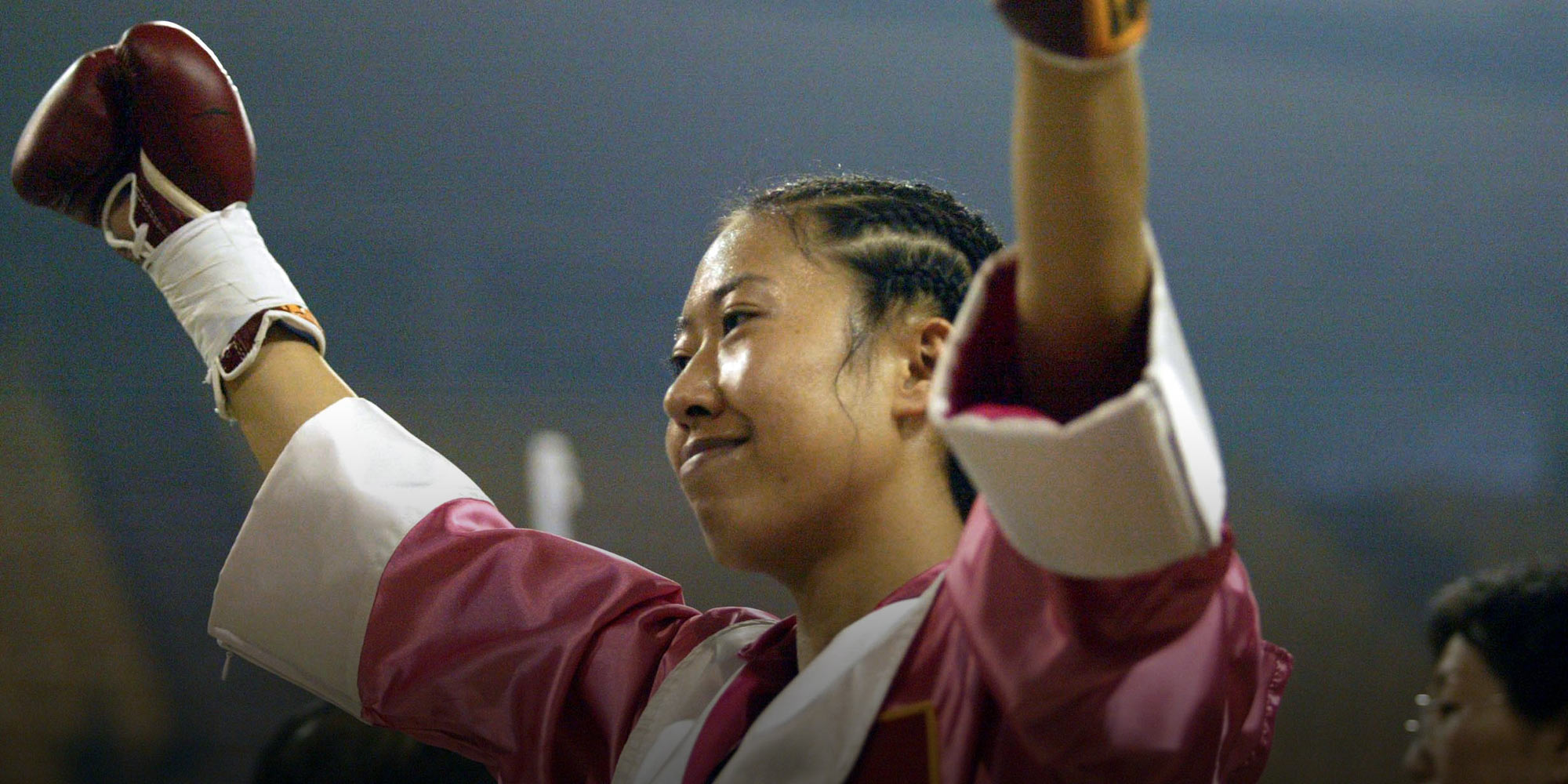 FEATURES
The Three Women Who Won China's First World Professional Boxing Titles
Almost ten years before a man, three Chinese women made it to the top of the professional boxing world. Few Chinese fans know their names today.
This the first article in a three-part series on the history of Chinese boxing. You can read the second article by clicking here.
If you ask a Chinese boxing fan about China's first pro boxing world champion, they'd probably tell you it was a coal miner from Yunnan called Xiong Chaozhong, who won the World Boxing Council (WBC) minimumweight title in 2015. They'd be wrong. Almost a decade before Xiong, three Chinese women — Gao Lijun, Zhang Xiyan, and Wang Yanan — were crowned world champions within a couple years of each other. Their achievements are now mostly forgotten.
The pioneer
Gao Lijun, China's first champion, still moves with the power and confidence of an athlete eight years after retiring from the sport.
During the interview in a Shanghai café, the 40-year-old is an articulate and entertaining storyteller. She comes across as open and warm, but steely notes break into her voice as she tells her story.
Gao, born in the northeastern industrial city of Dandong, says that her fighting career started with sanda, a Chinese form of kickboxing in which kicking, punching, and throwing are allowed.
At 15, Gao won a place on Liaoning's provincial team, and was recruited into China's state sport system in the first year it admitted female sanda fighters. Three years later, she was scouted by Shanghai's city team and was offered a place at a sports boarding school.
Not only was representing Shanghai a big step up the professional ladder, it was also a chance to enter the prestigious Shanghai University of Sport.
"I was an 18-year-old girl from Dandong, arriving on my own in Shanghai on a slow train, pushing all my possessions in my luggage," recalls Gao.
She became a national sanda champion, but then a blocked kick left her arm so badly broken that it was in a cast for half a year. Gao kept training, striking with two legs and one arm and earning the nickname "Three-Quarters Gao."
Unable to compete, Gao lost out on the extra points awarded to high-performing athletes in China's university exam system. She had a lot of studying to do.
"An athlete's career is short," she told Sixth Tone. "I needed to use the advantages I gained from sport and pursue knowledge."
In her last year of high school, daytime was spent training. Nights were spent studying. "The lights in the dormitory were switched off at 9 p.m., so I went to the toilet, which had a light bulb, and studied there till 3 a.m."
She got into the Shanghai University of Sport. Then, while still a student, she decided to become a professional boxer.
At that time, sanda was a China-centered sport with few international tournaments and limited commercial possibilities. "I needed a new vision and platform, and I wanted to see the world. I was also very curious and wanted to experience, in the flesh, the professional and commercial sides of sport," says Gao.
In the 2000s, professional boxing was in its infancy in China and no Chinese fighter had won a world title. Moreover, Gao had no amateur boxing background and had to learn the fundamentals.
"I stopped being an elite athlete and became a beginner." Gao told Sixth Tone. Her coach would tie her feet with skipping rope and Gao would practice moving in boxing stances for hours.
In 2006, after only one professional fight, Gao was offered a shot at the vacant World Boxing Association (WBA) super-featherweight (up to 59 kg) world title. Her opponent was Kim Ha-na of South Korea, and Gao would have to fight on Kim's home turf. The Korean's handlers likely thought that the inexperienced Gao would add an easy victory to Kim's record.
"She was brought to Korea to lose," says Michele Aboro, a fellow pioneer of female professional boxing. Now living in Shanghai, the Brit retired as undefeated world champion in 2001.
"It is an unwritten rule — if you go to someone's back garden, you knock them out. Chances are, if it goes to points, you are going to lose."
Aboro explains that many female professionals brawled rather than boxed back then, relying on toughness and power to overwhelm their opponents. This brute force approach would not work on Gao. Not only did she have vast ring experience and discipline as an elite sanda fighter, but she was also well schooled in technique.
Old, low-resolution footage of the fight shows Kim, a pressure fighter, brawling and busting Gao's nose. But Gao then outboxes the Korean. Operating behind a high guard and showing textbook technique, southpaw Gao buckles the legs of the onrushing Kim again and again with well-timed counters, scoring two knockdowns.
In the 10th round, after a straight left sends Kim stumbling, the referee stops the fight. Gao became China's first ever professional boxing world champion.
"I fulfilled a promise I made to myself. I made my goal a reality. I can do this!" she says, describing her feelings at that moment.
But after her win, Gao decided to leave pro boxing for business, because it was clear that she could not make a living. "At that time, the commercial and professional side of boxing were not yet mature in China," she explained.
Gao boxed again in 2015, beating Thai fighter Sunan Panpracha. She then retired from professional boxing with a 3-0 record.
In 2014, Gao opened a mixed martial arts (MMA) and boxing gym in Shanghai called Plan Bee. Times have changed since her fighting days; boxing and MMA are gaining popularity in China, says Gao. She is planning to open more branches.
The technician
The second champion, Zhang Xiyan, was born in Harbin in 1980. Zhang started amateur boxing at the age of 15. She declined an interview, but her career is recorded in the interviews Zhang has given Chinese media.
When Zhang was 18, her mother died. Shortly afterward, a brain hemorrhage left her father half paralyzed. Unable to afford hospital care, Zhang took her father home.
For the next two years, Zhang did not put on her boxing gloves once. She had to earn money for her father's medical treatments. She worked as a cleaner, in a laundry, and in a dental hospital, earning a few hundred yuan a month.
Then, in 2001, a former coach suggested Zhang return to the ring and fight in the upcoming national championships. Zhang took silver and was able to return to boxing full-time. As a national medalist, she was eligible for an allowance and other benefits. The money wouldn't have been much better than working odd jobs, but it let her focus on sport.
The following year, Zhang was away training when her father suddenly died. She never got to say goodbye. Three months later, she won the world championships gold in Turkey. Standing on top of the podium, Zhang cried her eyes out.
She later told China Central Television that she cried both because she became world champion and because her father did not get to see it.
Zhang won every major title she could in amateur boxing — national, Asian, and world championships. She told China Central Television that winning an Olympic gold was her dream. But at the time, only men's boxing was an Olympic sport. She turned professional in 2005.
Transitioning to the pros was smooth for world champion Zhang, a highly skilled boxer with great footwork and sense of timing.
Within a year, in just her third fight, she challenged the reigning WBC flyweight (up to 50.8 kg) world champion Stefania Bianchini in Monte Carlo. Zhang fought the Italian to a draw.
In 2007, in Chengdu, in her eighth fight, Zhang became China's second world champion when she outpointed Gao Lijun's old victim — Korea's Kim Ha-na, for the WBA super flyweight (up to 52.2 kg) world title.
Two months after her triumph, Zhang lost to Ukrainian Viktoria Oliynyk and took two years out of the ring.
In 2009, Zhang returned, challenging Japan's Tenkai Tsunami for her old WBA super flyweight belt. The bout was held in Japan, and Tsunami looked mightily relieved when she was declared a split decision winner after a 10-round war. Zhang then left professional boxing with a record of seven wins, two losses, and a draw.
After female amateur boxing became an Olympic sport in 2009, Zhang re-entered the amateur ring. She won the national championships and looked set to go to London 2012, but having previously fought as a professional, was judged ineligible. Zhang retired as a competitor and now coaches a provincial amateur boxing team.
The fighter
Wang Yanan was born in 1984 in a village near the city of Dalian in northeast China. She started her fighting career at 14, persuading her parents to send her to a sanda boarding school.
"There were no girls in the school," the jovial, powerfully-built Wang told Sixth Tone, in a broad northeastern accent. "I was living in one room with 20 boys, my hair was short, nobody could tell I was a girl. I was strong, everyone liked me. We lived and fought together."
She won every sanda title in China, including four consecutive national championships. Then she ran out of opponents and switched to amateur boxing in 2001. Within two years, she won the heavyweight division in the Asian Championships and then the World Cup. As a boxer, Wang also ran out of competition at home: "No woman could take me on. I could end it in one round if I wanted."
She decided to turn professional.
Wang would now have to fight for 10 rounds, compared to four in amateur boxing. This requires much greater endurance and pro fighters spend a lot of time skipping rope and running.
"I did not like skipping and running — I like fighting," laughed Wang during the interview. "I told my coach once, if I were a professional rope skipper, I would skip, but I am a fighter."
Fighting over 10 rounds did not prove to be a problem. Wang knocked her first opponent, a Dutch boxer, out in the 10th round. In her third fight, Wang went 10 full rounds with an American, winning on points.
In her fourth bout, in January 2008, Wang outpointed American Janaya Davis in the Venetian Casino in Macau, and took the WBC middleweight (up to 72.6 kg) world title.
As the belt went around her waist, "I thought — it is not only foreigners that can win professional world boxing titles; Chinese can do it too!" she told Sixth Tone.
The world title did not make her rich. The most Wang ever earned for a fight was $2,000. "I must be the lowest paid WBC world champion in history," she laughs. At one point, Wang says, she supplemented her income working in a restaurant.
"At that time, many coaches did not see the value of working with a female boxer. There were no big promoters who wanted to sign women," says Aboro.
There were no lucrative endorsements either: "Before my world title fight, I got some last-minute sponsors — just clothes and things you use," said Wang.
"I never cared about money," she added. "I became a professional boxer to prove that I could be the best in the world."
The peak of Wang's career was in 2008, when the legendary American promoter Don King staged a professional boxing show in Chengdu. King hoped to capitalize on the success of China's amateur boxing at the Beijing Olympics.
Wang, China's only world champion at the time, was one of the main attractions. She shared the card with Mexico's Marco Antonio Barrera, one of the greatest boxers of all time.
Wang successfully defended her world title, earning a hard-fought majority decision against the undefeated American Akondaye Fountain.
Female boxing was now an Olympic sport, and Wang went back to amateur code, but, like her friend and former roommate Zhang, was denied the opportunity to go to the Olympics as a former pro.
Wang bowed out of boxing in 2009 as a reigning WBC world champion with an 8-0 record. In 2014 she got invited to join Kunlun Fight, a Chinese MMA organization, but her MMA career was over before it started after she tore a knee ligament sparring against a man.
'A pure journey of belief'
Gao, Zhang, and Wang had just 20 official professional fights between them, but eight of these were for world titles, and their combined record contains just two losses.
One of the reasons behind their success as professional boxers, says Aboro, is their previous tournament fighting experience: "Wang, she probably had hundreds of amateur fights. When you bring this to the plate, it is not like you are going into your first fight as a pro."
Also, the sanda fighters Gao and Wang grew up sparring with men. "After always fighting against men, you can crush women like a steamroller," said Gao.
Fifteen years since the fighting days of the three champions, female boxing and combat sports have gone mainstream. The UFC fighter Zhang Weili is a superstar in China.
But, Aboro says: "Gao, Zhang, and Wang, women who were paid nothing, who pushed, who fought — they paved the way. These women should be honored."
Few people understand the reality of female professional fighters, adds Aboro. "The majority are full-time workers, full-time mothers. Nobody is backing them — they are on a pure journey of belief."
Editor: David Cohen.
(Header image: Gao Lijun during a match in Dandong, Liaoning province, Nov. 9, 2007. Chen Hao/VCG)