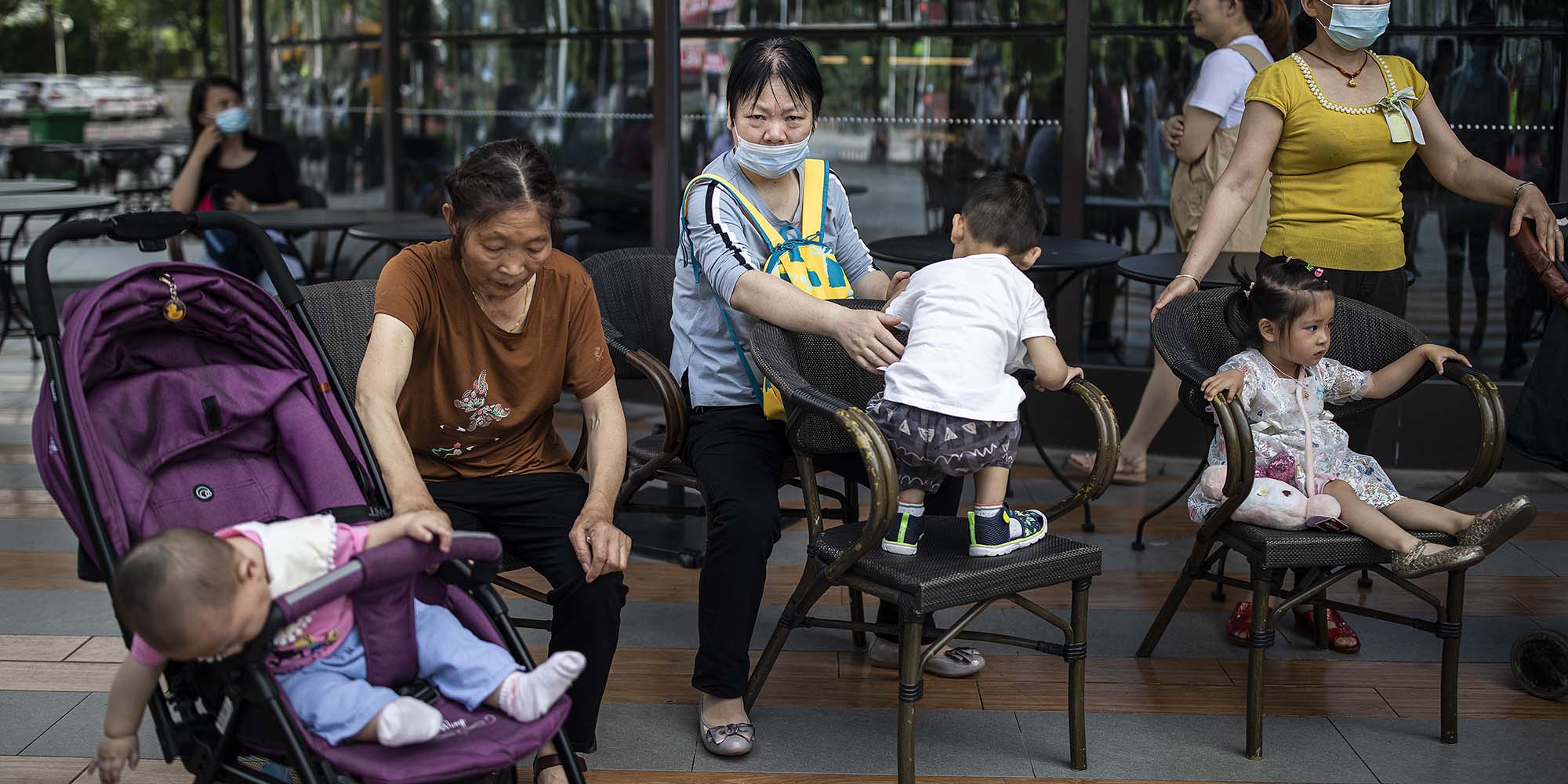 NEWS
Better Childrearing Incentives Proposed at China's 'Two Sessions'
Suggestions included free kindergarten, affordable housing for families with three kids, and protection against sexual violence.
Members of China's top political advisory body, the Chinese People's Political Consultative Conference (CPPCC), and delegates from the country's top legislature, the National People's Congress (NPC), kicked off the annual "two sessions" political meetings Friday, submitting proposals and discussing a range of issues.
Proposals related to marriage, childbirth, and childrearing have been of particular interest this year amid the country's historically low birth rate. People are also paying close attention to topics relating to anti-sexual harassment measures and better protection for women in the wake of the "chained woman" case that shocked the nation this year.
Sixth Tone lists some of the motions and proposals involving women and children that have received widespread online attention.
Free kindergarten for third child
CPPCC member Zhang Junting suggested that cities should work toward lowering the cost of childbearing by offering free kindergarten education for families' third child. Until then, Zhang, a surgeon at Beijing Tiantan Hospital, proposed that both private and state-run companies provide childcare services for employees until their children reach the age of 3.
Childbearing is expensive in China. A study published last month said the average cost of raising a first child until the age of 18 was 485,000 yuan ($76,760) in 2019 — costlier than in countries such as the United States, Germany, and Japan.
"When their child is still a baby or a toddler, families may need to spend more," Zhang said. "Families need to hire yuesao, or maternity matrons, and nannies, or send them to private childcare centers in the absence of public resources."
Affordable housing to families with three children
NPC delegate Zhang Zhao'an proposed housing incentives to provide support and boost confidence among young couples looking to raise three children, adding that such families should be prioritized in cities with real estate purchase restrictions.
"In cities where there is no restriction in property trade, such families should be offered a discounted price when they try to buy a home," said Zhang, a researcher from Shanghai Academy of Social Sciences.
CPPCC member Zhai Meiqing added that families with three children should have better access to affordable housing — government projects offered at below-market rates.
"Housing pressures definitely grow when there are more members in a family," she said. "However, the cost of housing has been continuously growing, and many families are in urgent need of support."
Compulsory anti-sexual violence education
NPC delegate Liu Li proposed courses about sexual harassment and assaults be added to the country's nine-year compulsory education program.
There were 223 publicly-reported cases of sexual assault involving children last year — the lowest in the past eight years — according to domestic nonprofit Girls' Protection. Of them, 18.8% involved boys, and as many as 80.8% of the perpetrators were familiar with the abused child.
The report said over 90% of their interviewees believed it was necessary to include sex education to prevent abuses among children. Currently, China doesn't have a standardized national sex education course.
"Such education will be of great significance because once the harm is done, it could potentially result in irreversible physical injuries and severe mental harm," said Liu, also a psychological therapist.
Heavier punishments for traffickers
The case of a woman found chained to the wall in the eastern province of Jiangsu earlier this year has heightened calls to protect women and children from trafficking.
NPC deputy Zhang Baoyan, also the founder of a website publicizing information on trafficked children, proposed that both parties involved in human trafficking — traffickers and buyers — should be handed the same punishments. Under current Chinese law, traffickers receive prison sentences of between five and 10 years — or more depending on the severity of the crime and the number of people trafficked — while buyers face a maximum of three years in prison, or criminal detention.
"Buyers should be punished equally because it's them who inflict long-term harm on children and women," she said. "And it's because of their needs that this market exists," said Zhang.
CPPCC member Xie Wenmin added that trafficking of women and children can lead to crimes such as rape, intentional injury, or other forms of mistreatment. She said it was often challenging to collect evidence in such cases, and called for stricter punishments.
"I suggest the crime of trafficking women and children should be punished more heavily — up to the death penalty so that criminals are deterred and similar crimes prevented," she said.
Editor: Bibek Bhandari.
(Header image: People tend to their children at a community square in Wuhan, Hubei province, May 31, 2021. Getty Images/VCG)