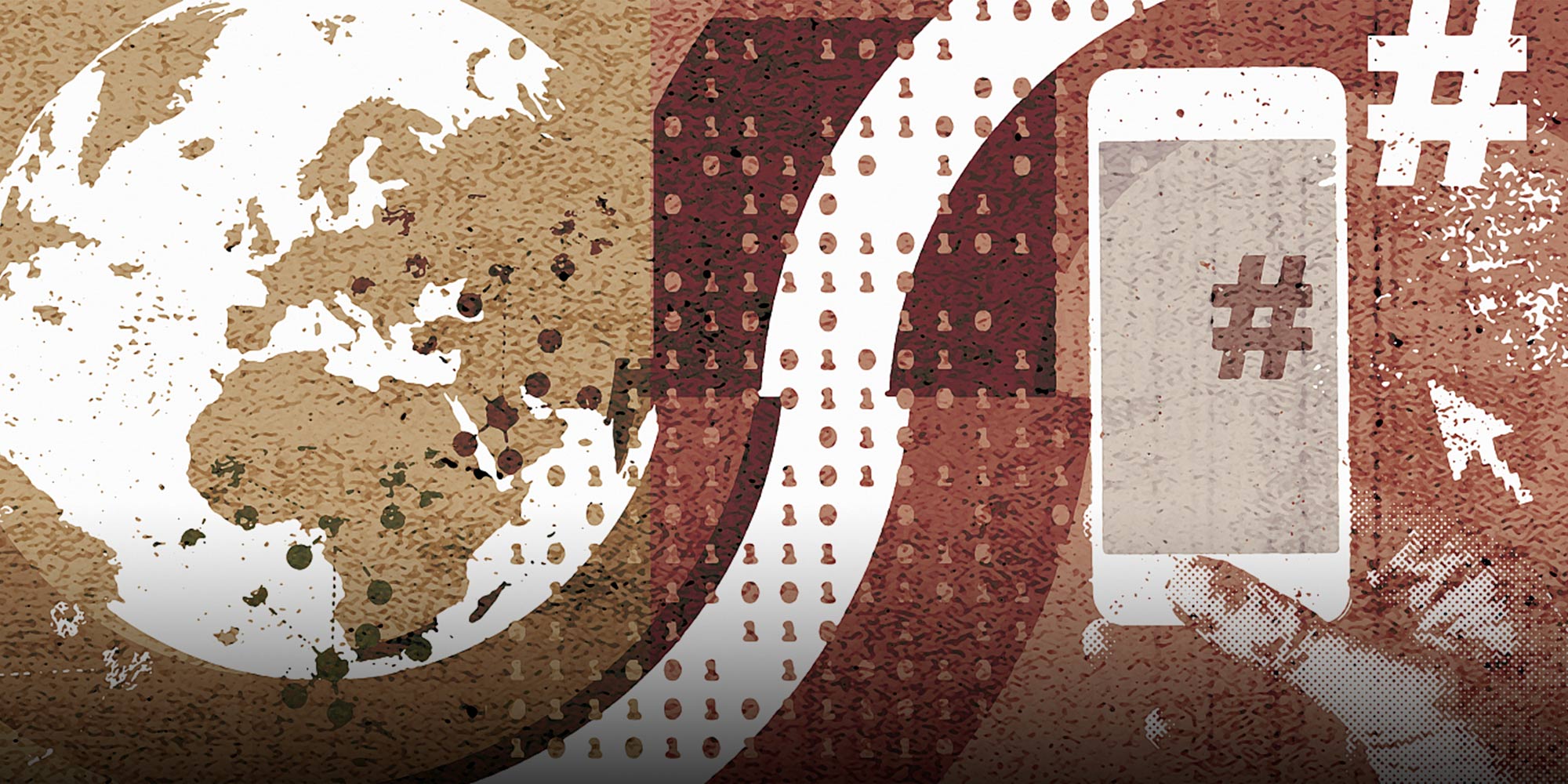 VOICES & OPINION
How Weibo Became a Diplomatic Battlefield
Diplomats and lobbying groups from around the world are increasingly active — and combative — on the platform.
On the afternoon of February 15, an official social media account belonging to British Prime Minister Boris Johnson issued the following warning to his 1.25 million followers: "We are on the edge of a precipice, but there is still time for President Putin to step back and think. We are urging everyone to engage in dialogue — the Russian government should avoid making a decision that would be a disastrous mistake for the country."
The reaction among the intended audience of Johnson's post was one of surprise and bemusement, not at the message itself, which was in line with other proclamations emanating from European capitals last month, but the medium: Chinese microblogging platform Weibo.
Johnson's warning — which had been translated into Chinese — quickly racked up views, comments, and shares as it spread across the platform. Some replies were on topic, like the commenter who asked why a British Prime Minister had "come running to China to shout at the Russian president on Weibo." The majority, however, were not. Currently, the most-liked comment under Johnson's post is a request for a new season of the British drama "Sherlock."
Nevertheless, the official Weibo account of the Russian Embassy in Beijing felt it necessary to reply with two posts of its own, to the further amusement of Chinese social media users. The most-liked comment under the first reads: "I never dreamed the war would start on Weibo."
Perhaps we shouldn't be so surprised. Over the past year, Weibo has gradually become an important battleground for public diplomacy, as politicians, embassies, and advocates from around the world take to the platform to discuss global affairs. This battle seemed to reach a fever pitch on February 22, when Russian President Vladimir Putin signed presidential decrees recognizing the Donetsk and Luhansk People's Republics and ordered the Russian army to begin military operations in Ukraine.
That same day, the Beijing embassies of Ukraine, Russia, France, the United Kingdom, and Germany, among others, all posted official statements regarding the attack to Chinese social media, and the hashtag "Ukraine Releases Statement on a Weibo" briefly topped the platform's trending topics list.
For their part, users of the Chinese platform seem to enjoy being the focus of global attention for once. They joked: "The whole world loves to speak Chinese," and, "Given the serious global pandemic situation, World War Three will be fought on Weibo." One suggested that the platform had become the "Weibo Branch of the International Court of Justice in The Hague," while another wondered if "Weibo may well be the biggest winner" of the conflict.
The concept of public diplomacy as we know it today was first formulated after World War Two, as American diplomats sought to influence global opinion during the Cold War. According to the "Dictionary of International Relations Terms," published in 1987 by the U.S. State Department, "public diplomacy" is defined as "government-sponsored programs intended to inform or influence public opinion in other countries. The chief instruments of public diplomacy are publications, motion pictures, cultural exchanges, and radio and television."
That definition is perhaps showing its age. Over the years, the primary media used in public diplomacy has shifted from radio to television, then to the internet, and now to mobile devices and platforms like Twitter, Facebook, and Weibo. International diplomats have long made use of the first two, but now they are starting to invest more time in their Chinese counterparts.
Indeed, diplomats aren't just active on Weibo. Any online space frequented by young Chinese, such as Bilibili, Douyin, and Xiaohongshu, can be an important arena for public diplomacy, and they have all been used to varying degrees in officials' attempts to engage with and influence the Chinese public. Yet Weibo remains the most important, in part because embassies can use their verified accounts to make more formal statements, and in part because the platform's users tend to be more politically inclined.
Non-governmental organizations, too, are starting to engage in public diplomacy on Chinese social media. American lobbying groups have also taken to Chinese platforms to advance the interests of their clients and members. Sometimes these interests overlap with those of the United States government, but sometimes they merely reflect the goals of multinational corporations or business leaders.
That so many government and non-government actors are engaged in public diplomacy on Chinese social media hints at the country's rising importance in international affairs. Everyone — from political leaders to CEOs — hopes to engage with and influence Chinese social media users.
China itself was actually somewhat late to recognize this trend. Although the country's Ministry of Foreign Affairs has long maintained an active account on Weibo, until recently, its branding was more off-beat than official. It wasn't until this month, after an explosion in international diplomatic activity on the platform, that the Ministry changed its account handle from the cutesy "Foreign Affairs in Your Palm" (waijiao xiaolingtong) to the more serious and authoritative "Ministry of Foreign Affairs."
The growth of public diplomacy within China also poses a challenge to the country's internet regulators. On the one hand, any attempt to make social media friendlier for public diplomacy should be tempered by Chinese national interests and security. On the other, the growing prominence of foreign diplomatic missions on Chinese platforms is not necessarily a bad thing. If anything, it is a reminder that Chinese new media sites are about more than just fan clubs, idol wars, or the controversy du jour; they're also important conduits for other countries to understand and engage with China and its people.
Thus, rather than see China's new media platforms solely as a problem in need of tighter oversight, regulators would be better served by recognizing that these sites are a key driver of China's rising global influence and start working to nurture their development. The more prominent a role China plays on the global stage, the more importance other countries will attach to Chinese views and ideas — and the more accustomed Chinese social media users will become to international attention and scrutiny.
The Ministry of Foreign Affairs' new Weibo account name suggests that China is finally awakening to the reality that digital public diplomacy is no longer limited to Twitter and Facebook. Moving forward, the country will likely need to adopt a more diverse, practical, and comprehensive approach to diplomatic messaging, both at home and abroad. Weibo might never be a wing of the International Court of Justice, but in the court of international public opinion, its moment has finally come.
Translator: David Ball; editors: Wu Haiyun and Kilian O'Donnell.
(Header image: Lee Woodgate/Ikon images/VCG)