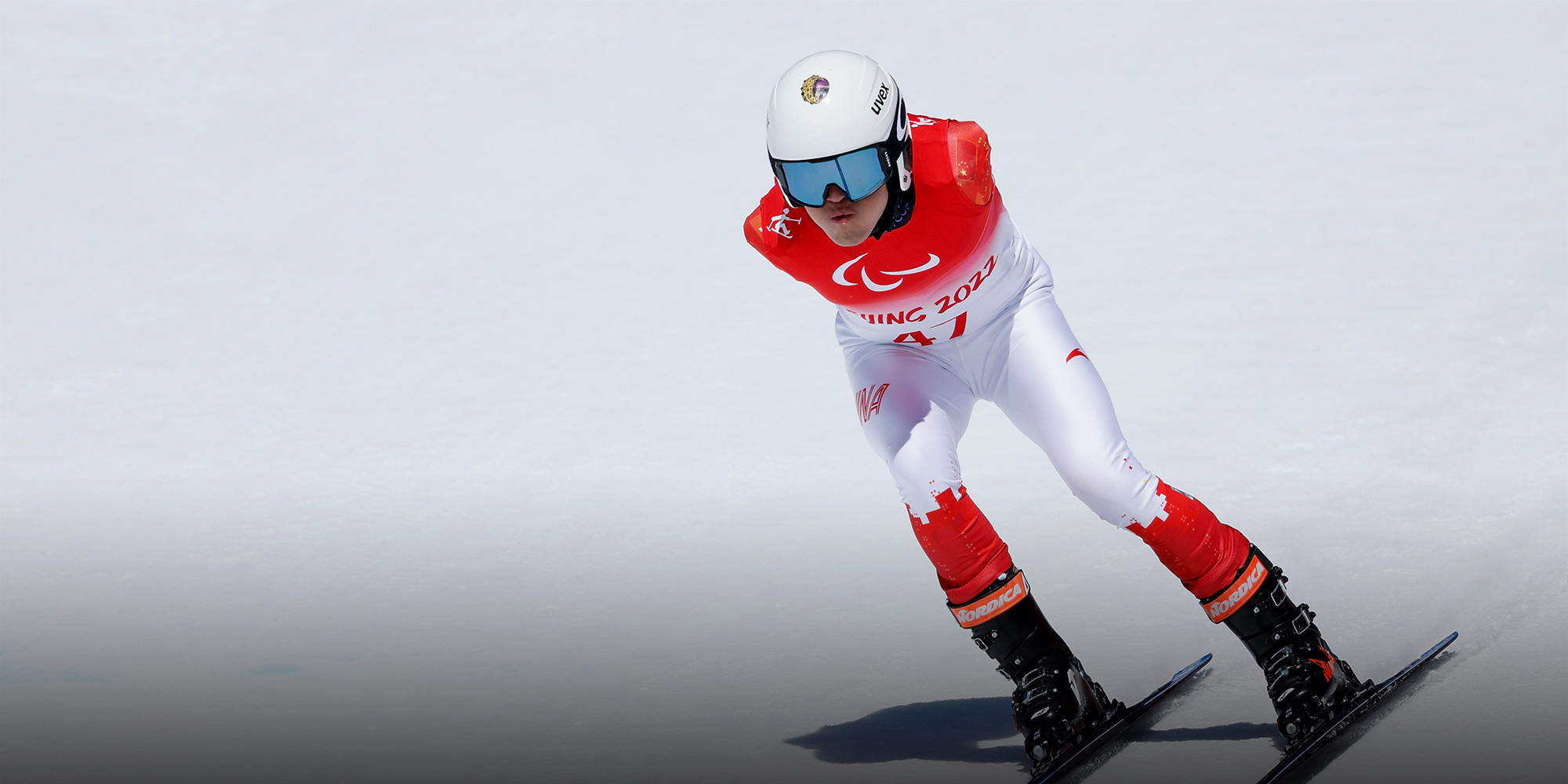 NEWS
Why China Is the Team to Watch at the Winter Paralympics
China has only ever won one medal at the Winter Paralympics. But the country is going into its first home Games with a huge team that looks ready to spring a surprise.
At last month's Winter Olympics, China announced its arrival as a winter sports powerhouse by winning nine gold medals and finishing third in the medals table, defying expert predictions. The Paralympic Games start on March 5, and a look at the Team China roster shows that another surprise is on the cards.
China has only ever won one medal at the Winter Paralympics — a gold in the wheelchair curling at PyeongChang 2018. This isn't surprising: China had launched its winter Paralympic sports program only a year previously.
But things have changed dramatically since then. China's sports authorities, determined to achieve a breakthrough at the country's first home Winter Paralympics, have begun diverting part of their vast pool of elite para-athletes into winter disciplines.
China has long been dominant in the Summer Paralympics. At Tokyo 2020, China won 96 gold medals — more than double that of second-placed Great Britain.
"There are 84 million people with disabilities in China, so we have a lot of elite para-athletes," Wang Jiachao, a former Paralympic swimming gold medalist, told Sixth Tone.
Starting from 2017, China has offered elite para-athletes in every sport the chance to convert into skiers, biathletes, curlers, and snowboarders, according to Wang. The process is intense. Athletes in the program have to move to training bases in China's northeast and undergo "fengbi xunlian" — full-time training without leaving the base — for at least one year, Wang says.
But there is no shortage of para-athletes willing to sign up, according to Wang. Summer Paralympic sports are extremely competitive in China, while winter sports are a "blank sheet of paper," meaning athletes have a much higher chance of being selected for provincial and national teams, he says.
For many people with disabilities in China, an athletic career is attractive as it offers a chance to "make something of yourself," says Wang. Most elite para-athletes "are from the countryside and got injured as children," he adds.
China provides state support for its Paralympic sports program, with athletes receiving a steady income. Medal winners receive rewards and support after they retire from competition.
"You can be allocated a good job, for example as a teacher," says Wang.
But most Chinese athletes aren't just motivated by material concerns, Wang stresses. Patriotism also plays a big role. "Your country needs it," says Wang.
At Beijing 2022, there will be 96 Chinese Paralympians competing — China's largest-ever delegation. They will compete in all 78 events in the six main para-sports: alpine skiing, snowboarding, biathlon, cross-country skiing, ice hockey, and wheelchair curling.
Here are some of the top athletes and teams to watch out for.
Liu Sitong — women's sitting para alpine skiing
Liu lost a leg in a car accident as a child and later became a national handcycling champion. Four years ago, she was China's only representative in the para-alpine skiing at PyeongChang. Balancing in her mono-ski at the top of the slalom slope, Liu — who had only been skiing for a year — was terrified of messing up. Her worst nightmare came true: she missed a gate, but then clawed her way back up the slope to finish the course.
But after PyeongChang, the Chinese para alpine skiing team came under the charge of Dario Capelli. The veteran Italian coach became a father figure and psychologist to his athletes, and their performances improved dramatically. During the 2019-2020 Para Alpine Skiing World Cup season, Capelli's team shocked their rivals by winning six gold, nine silver, and three bronze medals. Liu won gold, silver, and bronze.
Zhang Mengqiu — women's standing para alpine skiing
Zhang had quite an international debut. In the opening race of the 2019-2020 World Cup season, she beat two Paralympic champions — France's Marie Bochet and Canada's Mollie Jespen — to win China's first ever gold medal in para alpine skiing. She went on to claim another three golds and three silvers during the season. Zhang, who competes in the giant slalom, is also coached and mentored by Capelli.
Men's sledge hockey
The blue-ribbon event of the Paralympics. Sitting on single-bladed sledges, players use two sticks to move, maneuver, and control the puck. China's rise in the sport has been meteoric. Founded in 2017, the Chinese team won Pool C in the 2018 world championships and finished third in Pool B a year later. In 2021, they won every Pool B game at the world championships, beating Poland, Finland, Japan, Sweden, and Germany. This promoted them to the elite Pool A and qualification for Beijing 2022.
At the time of its founding, China's sports authorities set the team the target of "staying in sixth, fighting for third" in Beijing — meaning they should aim to at least preserve their spot in Pool A, and see if they could get a bronze medal. Those goals must surely have been upgraded since then.
Sun Qi — men's banked snowboard slalom
As a child, Sun dismantled a firework and lost a leg when it exploded. He trained as a para-cyclist until the age of 16 and then switched to snowboarding. Sun finished 11th at PyeongChang 2018, but a breakthrough followed.
In 2019, he became the first Chinese athlete to win world championship gold in his sport. Last November, Sun made a statement by winning the Para Snowboard World Cup, beating Finland's two-time world champion and Paralympic silver medalist Matti Suur-Hamari by more than a third of a second — a massive margin.
Wheelchair curling
The gold won by China's wheelchair curling team at PyeongChang is China's only medal — of any color — at the Winter Paralympics. It's likely that China will retain the title: the team is coming into its home Games as reigning world champions. In 2021, Wang Haitao, Chen Jianxin, Sun Yulong, Yan Zhuo, and Zhang Mingliang beat Sweden in a closely contested final at Beijing's Ice Cube stadium, where they will soon play again.
China's wheelchair curlers practice at the state-of-the-art training facilities in Beijing's Shunyi District, and have nutritionists and psychologists on their staff. Another reason for their deadly accuracy on ice is that Zhang Mingliang is a former elite shooter.
Liu Zixu and Liu Mengtao — men's sitting para-biathlon and sitting para cross-country skiing
The two Lius both became para-athletes after losing legs in car accidents as children. Liu Xizu, 24, comes from the northwestern city of Xi'an, while Liu Mentao, who is 21, is a native of northern China's Hebei province. In 2017, Liu Zixu transitioned from archery to the biathlon, swapping his bow for a rifle.
The pair were in dominant form at the Para Cross Country Skiing Europa Cup in Finland this past December. Liu Zixu won China's first ever gold in the para-biathlon, with Liu Mengtao taking silver behind him. In the cross-country skiing, Liu Zixu won the men's 7.5-kilometer gold, while Liu Mengtao came second in both the 5-kilometer and 10-kilometer races.
In the women's events, 21-year-old Shan Yulin — a Europa Cup champion — is also expected to challenge for several gold medals in both cross-country skiing and the biathlon.
Editor: Dominic Morgan.
(Icons: From Beijing Organising Committee)
(Header image: Sun Hongsheng of China trains for the men's downhill standing ahead of the Beijing 2022 Winter Paralympics in Yanqing, March 1, 2022 Christian Petersen/VCG)