After graduating from one of China's best universities with a degree in microelectronics, Adam got a job as an engineer on one of China's most advanced chipmaking lines in Shanghai. Every day, he woke up at 7 a.m. or 2 p.m., changed into a brightly colored full-body suit, put his phone in a locker, and started a nearly 10-hour shift.
Adam was pretty much the ideal young person for China's economic planners: As China seeks to break free from its reliance on imported chips, it's counting on trained specialists like him to master the sophisticated techniques needed to build up its homegrown semiconductor supply chain.
You can listen to an audio version of this article via "China Stories," a SupChina-produced podcast sharing the best writing on China.
But after years of hard work, he turned down an in-house promotion and switched to a nearby chip design company last winter. His new employer offered him a large raise, and he could say farewell to the assembly line and the night shift and sit back in a swivel chair like a typical white-collar worker. "Now I am a little junior in the office after changing my career path, but I do not regret it," said Adam, who can use his phone any time he wants. He spoke to Sixth Tone anonymously because he is not authorized to speak to the press.
He's one of many. As China doubles down on its pursuit of domestic chipmaking, the industry is losing experienced specialists like Adam, according to industry experts and executives.
Chips are hard
If you're reading this story on an Apple or Huawei product, the chip powering it was designed by the company itself. It's a challenging task mostly performed by specialized companies, or in-house by a few of the world's largest electronics makers.
But it pales in comparison to running an advanced semiconductor fabrication plant, often called a "foundry" or "fab." For years, the components on chips have been getting smaller, allowing companies to print more in a smaller space and creating computers that work faster.
The sizes of key components on advanced integrated circuits (IC) have gone below 10 nanometers — only about 100 times the size of an atom. Only a few companies in the world — the Taiwan Semiconductor Manufacturing Company (TSMC), the U.S.'s Intel, and Korea's Samsung — are able to manufacture chips close to the cutting edge. Generations of chip technology are named after their approximate sizes — 22 nanometer dates to 2012, 14 nanometer to 2014, and the current, 5 nanometer, was first made commercially by TSMC in 2020.
While China has hundreds of competitive chip design companies, including units at phone makers Huawei and Oppo and internet giant Tencent, it has only a few major semiconductor makers, most notably Shanghai's Semiconductor Manufacturing International Corporation (SMIC) and Huahong. They're several generations behind TSMC and Intel.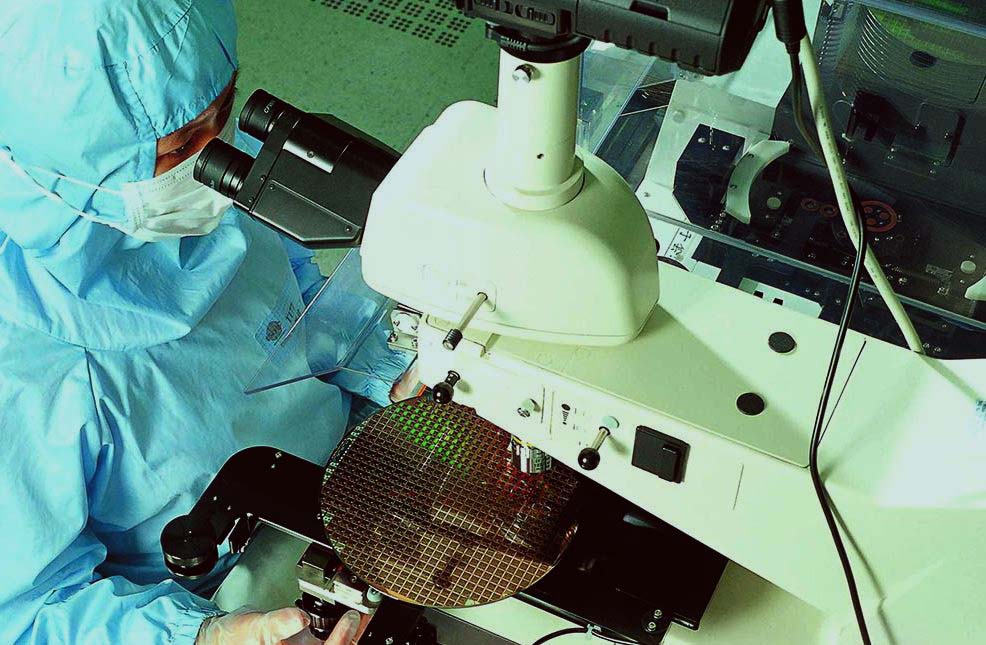 A man works at a TSMC 8-inch wafer fab. Courtesy of Taiwan Semiconductor Manufacturing Company, Limited.
China's leaders have worried about the country's reliance on imported semiconductors for years, but the issue spiked in priority in 2019, when the United States banned sales to Huawei, one of China's leading technology companies. The company has struggled to find key components in the wake of the ban, expecting its 2021 revenue to decrease by 28.9% compared with a year ago, as U.S. sanctions continue to hit the company.
In response, China has accelerated efforts to develop domestic capacity. Over the past 20 years, Beijing has subsidized China's chipmakers about $50 billion, according to the Semiconductor Industry Association. In addition, from 2020, China will waive income taxes for chip manufacturers with process technology under 28 nanometers for 10 years, and allow chipmakers to import equipment and materials tax-free until 2030. China's national semiconductor investment fund, established in 2014, has raised an overall $56 billion to date. The "Big Fund," as it's called, has invested $39 billion, of which nearly 70% has gone into the IC manufacturing sector, according to research by the Semiconductor Industry Association.
'Serious brain drain'
Chip manufacturing workers were listed in the top 100 occupations most in demand by the Ministry of Human Resources and Social Security in 2021. But companies are having more trouble holding on to their trained engineers.
"Though building domestic production lines has become China's priority, manufacturers, especially foundries, are facing a serious brain drain now," said a foundry executive, who spoke anonymously as he was not authorized to speak to the media.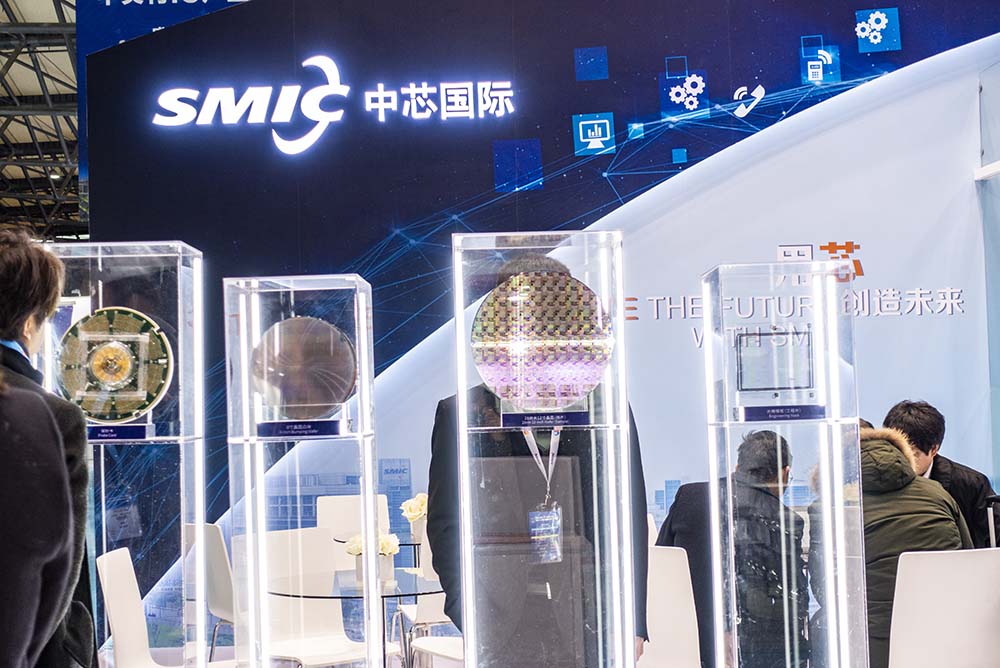 SMIC wafers on display at the First Global IC Enterpreneur Conference in Shanghai, Dec. 11, 2018. VCG
As the IC industry expands rapidly, semiconductor talent is also in increasingly short supply. As corporations crave semiconductor backgrounds and experienced talents, it's easy to hop from manufacturing to a better-paid, less arduous job in design.
A survey by MooreElite, an IC design service provider, found that for every 100 people employed by chipmakers at the start of 2021, 14 quit their jobs in the first half of the year. Furthermore, China will still face a talent shortage of over 200,000 semiconductor professionals in 2023, according to a white paper on "Talent in the Integrated Circuit Industry 2020-2021" released by a group of industry associations.
Even China's biggest chip manufacturer, SMIC, faces high staff turnover. In 2020, SMIC lost 17% of its employees. Among those who quit from SMIC, almost 70% were from the company's Shanghai headquarters and Beijing offices, according to its 2021 corporate social responsibility report. Most of SMIC's fabs are located in Shanghai and Beijing, including its three most advanced plants.
"In the past two years, it has become increasingly obvious that chip manufacturing engineers are leaving fabs and pouring into IC design houses," said Wen Ge, a chip professional who is active on the question-and-answer website Zhihu. He told Sixth Tone that he has received hundreds of messages seeking career advice on Zhihu from students and experienced chip engineers. Most of them are interested in finding a better offer in IC design.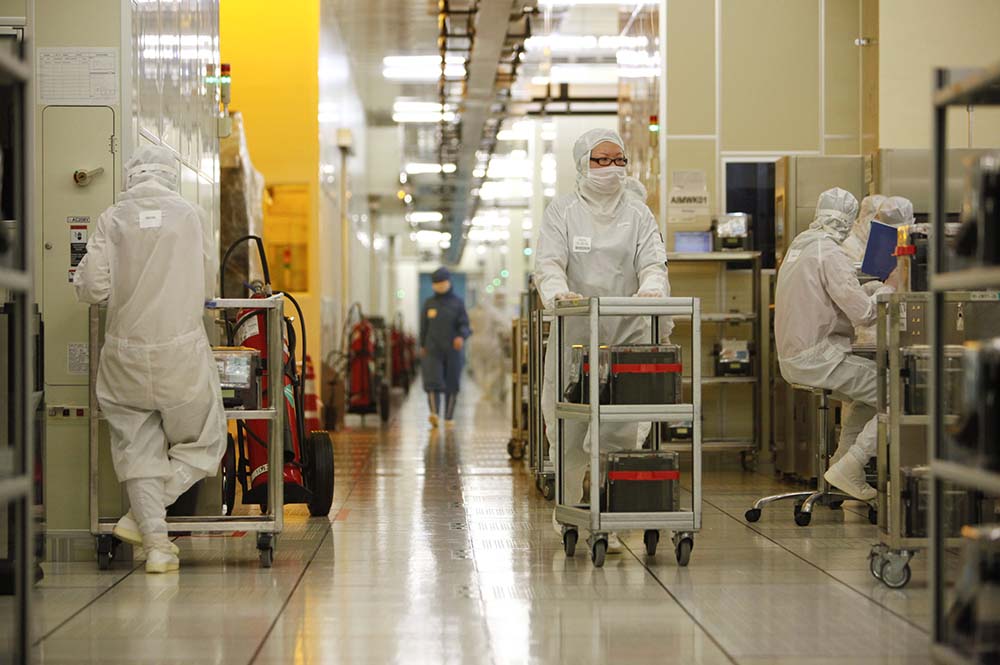 Employees at the Semiconductor Manufacturing International Corp. (SMIC), in Shanghai, Feb. 18, 2011. Shen Qilai/Bloomberg via Getty Image/VCG
Where the money is
They're often changing jobs to earn more money. Adam's career pivot from fab to IC design house, was worth almost an 80% salary rise. As a newlywed keen to settle down in Shanghai, he found the offer irresistible.
Despite strong support from central and local governments, China's foundries are working with very constrained budgets. They're facilities that require enormous up-front investment, and take years to recover costs. Some projects have failed. The most famous example is Hongxin Semiconductor Manufacturing in Wuhan, which still owes contractors and investors billions of yuan. 
A semiconductor fund manager told Sixth Tone that apart from the government and state-owned enterprises, almost no one is capable and willing to invest in foundries. Largely dependent on state funding, fabs operate frugally. This means spending on equipment and materials to run and expand production lines, while scrimping on human resources.
The pay gap between engineers at fabs and other chip companies keeps widening. A survey of leading semiconductor companies by recruitment platform 51job.com in 2021 shows that earnings growth for manufacturing employees is almost half that of different semiconductor sectors, at 10% to 15% every year.
"Many colleagues of mine also cannot refuse such a tempting salary increase," said Adam, "we put aside our passion and the mission to break through the chokehold sanctions of the U.S. We are all just normal people."
The different working environments of fabs and design companies also simplified talents' decision-making. Fabs usually operate around the clock on three shifts, surrounded by noisy machines and stifling air, but Adam's new job has him working a regular 10 a.m. to 6 p.m. shift in a bright and comfortable office.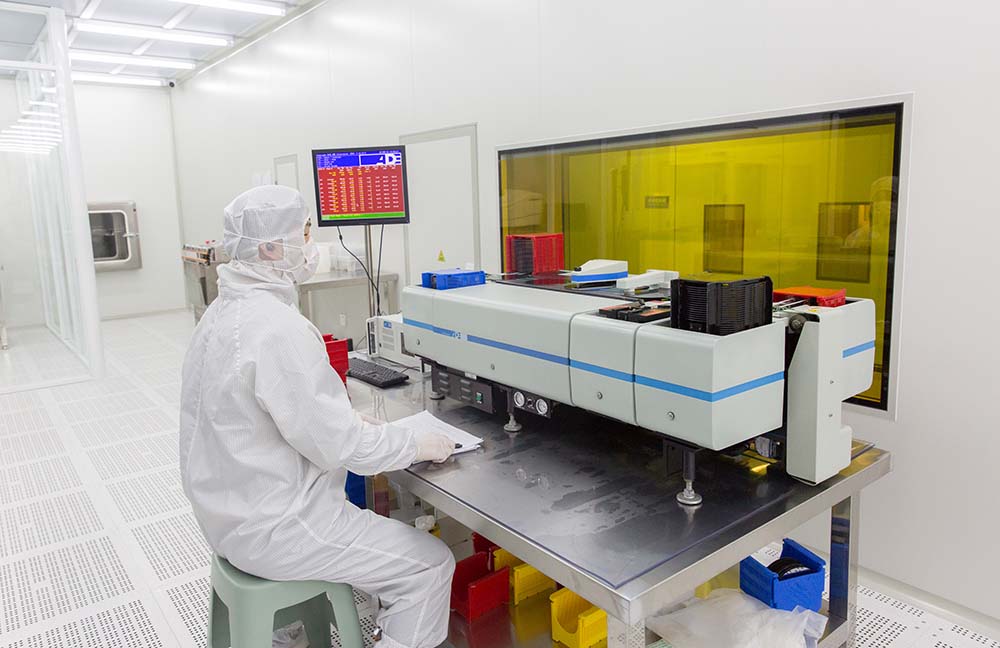 An employee works at a semiconductor fab in Rugao, Jiangsu province, Nov. 29, 2021. VCG
Block on the road
The talent shortage is a big obstacle on China's road to a self-reliant chip supply chain.
In a meeting in Shanghai last November, Richard Chang Rugin, founder and former chief executive of SMIC, said that "capital and policy support is not the problem" anymore, but the industry's lack of talent. Staffing is the most significant, and trickiest, issue for China to increase semiconductor self-sufficiency, he said.
Talent "was simply not a topic … until China turned more vocal to drive chip industry self-sufficiency from mid-2010s," said Szeho Ng, head of Semiconductor Research at financial firm China Renaissance, who added that China already fell short of achieving its goal of 40% chip self-sufficiency in 2020. IC Insights, a research firm, predicted that chips produced in China will only account for 19% of its semiconductor market in 2025, far from Beijing's goal of 70%.
Sandy, an engineer who works on advanced Chinese chipmaking lines, said it could be shortsighted to spend budgets mostly on machines. With imports of advanced machines limited, she says, they're working on techniques to use machines designed for 28-nanometer processes to make more advanced chips. Devising techniques like this will take committed and talented engineers, she said. She spoke anonymously since she was not authorized to speak to the press.
Where is the next generation?
The shortage of manufacturing talent is not likely to abate soon. Wen said that college students avoid working fabs when seeking internships and post-graduation jobs. In addition, the high costs of experimental sites and equipment prevent many universities from providing teaching manufacturing lines. Wen, who often receives career inquiries from students, said that engineering students either keep away from professionals who specialize in manufacturing or prepare to switch into IC design or coding for internet companies by self-study and taking training courses before graduating.
Increasing benefits for individuals in the chipmaking industry could alleviate the problem, "such as offering hukou and reducing or exempting employees' taxes," according to the foundry executives mentioned above. Hukou is a household registration system that gives access to regional social services and other benefits.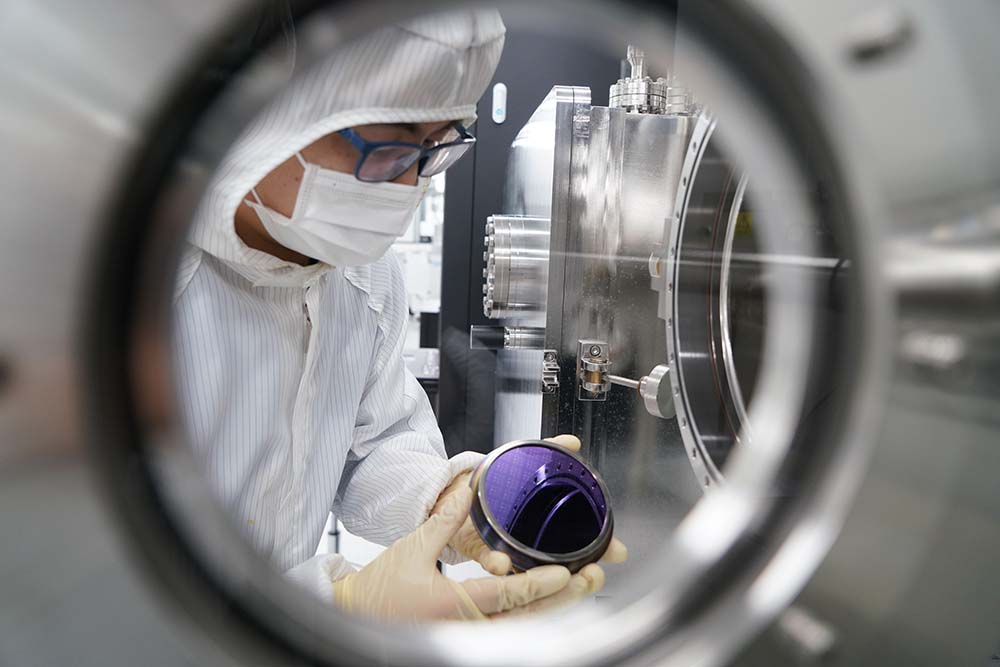 A researcher performs electron beam evaporation coating for carbon nanotube wafers at a lab at Peking University, May 20, 2020. VCG
Neil Shah, a technology analyst at research firm Counterpoint, suggested that countries with semiconductor manufacturing ambitions must formulate a holistic strategy to upskill the existing talent pool, including moves like investing in higher education PhD programs and forming cooperation, partnership, and exchange programs with industry-leading companies and global universities. "It is going to be a marathon and not a sprint."
Many engineers in the fabs are pinning their hopes on leading companies to reinvent the field. Huawei is currently working with IC manufacturer Huahong to build at least one fab. Sandy hopes the major company's backing will allow it to offer competitive salaries.
"When I heard that Huawei would start working on chip manufacturing, I was excited. Huawei's employees suffer, but they get a considerable sum of money," said Sandy. "If the company provides wages and incentives like that, the smartest brains will quickly gather around."
Editor: David Cohen.
(Header image: A woman works at a semiconductor fabrication plant in Binzhou, Shandong province, Jan. 9, 2022. VCG)