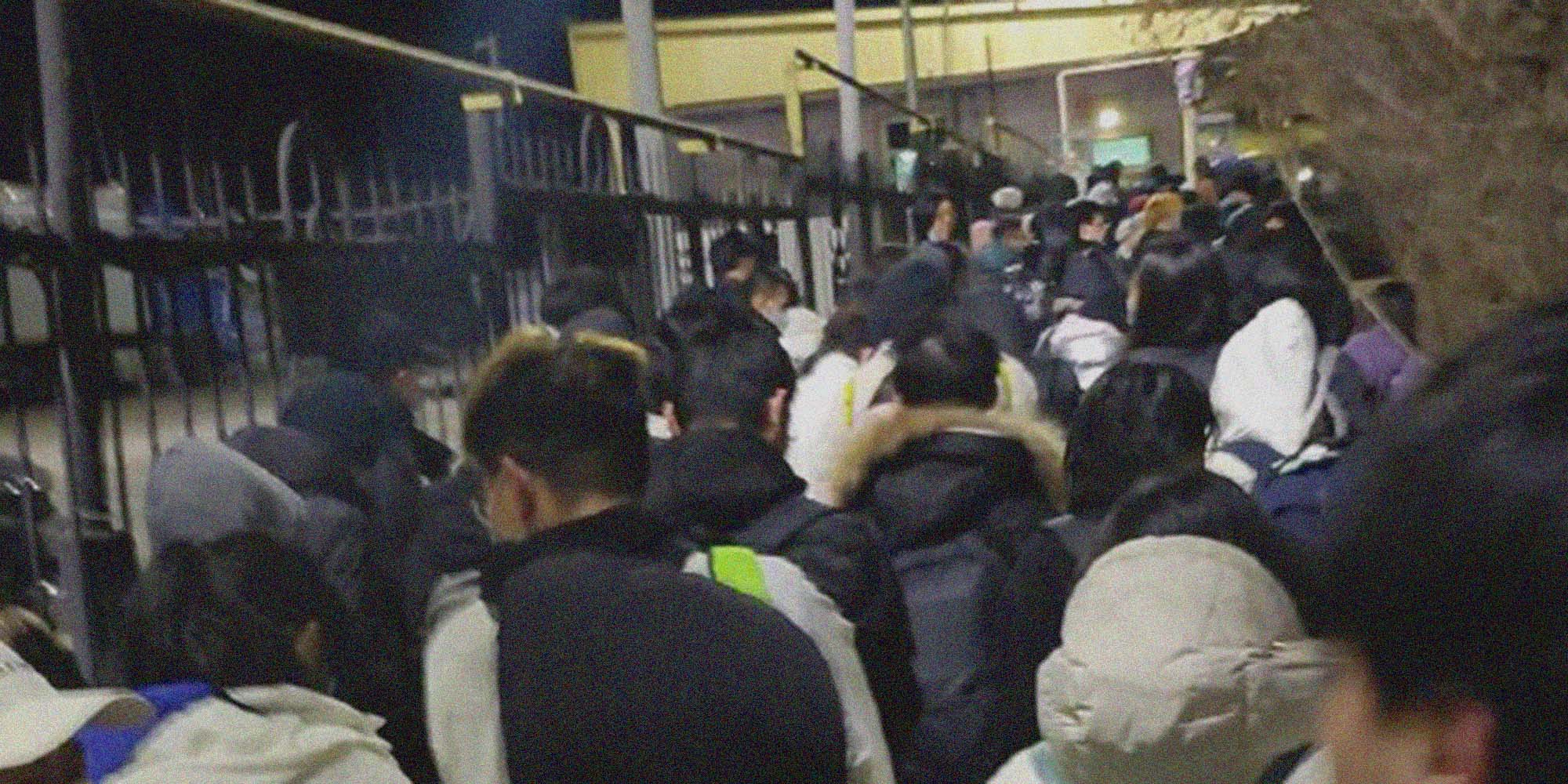 NEWS
First Chinese Citizens Evacuated From Ukraine
China is relying on ground transportation to evacuate its citizens as Ukraine's airspace remains closed.
Update: On Wednesday morning, the Chinese embassy in Ukraine announced plans to evacuate any remaining citizens in Kyiv, as well as non-citizen close family. In a WeChat post, it directed Chinese citizens and their spouses, parents, and children to gather at Teremky metro station by noon to meet a bus to Moldova. The embassy also promised to issue travel documents to people with pending applications, starting from 9 a.m.
China evacuated the first group of its citizens from Ukraine on Monday, including over 400 Chinese students from Odessa and 200 from Kyiv.
They traveled by bus to neighboring Moldova. A bus from Kyiv arrived at the Ukraine-Moldova border on Tuesday morning, heading to its capital city Chișinău, according to CCTV's National Defense and Military official channel on Weibo, China's Twitter-like platform.
Nearly 1,000 more Chinese citizens will today be sent to neighboring countries, including Poland and Slovakia, according to the Global Times.
Last Friday, the Chinese embassy in Kyiv said they were in the process of arranging charter flights to evacuate Chinese citizens from Ukraine, asking those who wish to leave the country to register by Sunday.
Within half an hour after the announcement, over 4,500 people registered. There were over 6,000 Chinese citizens in Ukraine before the war, according to a spokesperson from the Chinese embassy, including staff at Chinese-owned enterprises and overseas students in Ukraine, mostly in Kyiv, Lviv, Kharkiv, Odessa, and Sumy.
But since Ukraine's airspace has been closed by the war, the embassy has had to find ground transportation. The Chinese Embassy in Ukraine told the Global Times Sunday that it's working hard to seek multiple other ways to help Chinese citizens leave Ukraine.
On Monday, Moldova, together with Romania, Slovakia, Hungary, and Poland, opened the borders to those who leave Ukraine with a valid Chinese passport. Poland limits stays to less than 15 days for those without a visa. The other countries have not specified.
Current evacuation plans only cover people with Chinese passports. This puts anyone with family members who don't have one in a difficult situation.
In a reply to a WeChat post from People's Daily, a person identifying herself as Xie Lifeng, a Chinese student in Odessa, says she has been unable to travel with her 2-year-old son, who has only a Ukrainian birth certificate, and is desperately trying to get him a passport.
"Since the outbreak of the war in Ukraine, I have been calling the relevant departments and emailing the required materials to the Chinese embassy in Ukraine. So far, I have not received any reply for assistance in applying for my baby's passport or tourist visa," Xie wrote. "My classmates in Odessa have all evacuated to Moldova. What should I do?"
The comment was taken down a few hours later. Sixth Tone's repeated attempts to reach the Chinese embassy in Ukraine were unsuccessful.
Tents and simple toilets have been set up at the Moldovan border to provide drinking water and food, according to the Chinese embassy in Moldova. Meanwhile, the embassy is trying to arrange shelter for Chinese refugees in a stadium.
The Chinese embassy in Ukraine also suggested today that Chinese citizens take trains to neighboring countries.
However, the train tickets are hard to get, CCTV reported Monday.
Meanwhile, for those who are attempting to leave Ukraine by car, queues at the borders are long. Thousands of Ukraine refugees — mainly women and children — had as of Monday been waiting for two days to cross the border to Poland, Xinhua News Agency reported.
Editor: David Cohen.
(Header image: The first group of Chinese citizens from Ukraine enter Moldova, Feb. 28, 2022. From @央视新闻 on Weibo)