Zhao Xiuwei opens the door to the brick kiln lining the back of her small studio and lets out a shout of dismay. The plate she has spent hours crafting has cracked in the heat.
"Opening a kiln is like opening a mystery box," she says. "You never know what'll happen next."
The 23-year-old is one of thousands of young Chinese artists who are striving to eke out a living in a seemingly unlikely setting: the remote, blue-collar city of Jingdezhen.
Located in east China's Jiangxi province, Jingdezhen is famous for one thing: ceramics. For centuries, the city produced fine china for the Chinese imperial court. The Song dynasty emperor, Song Zhenzong, loved the local pottery so much that he renamed the city after his own court, Jingde, in 1004 A.D.
But Jingdezhen's luster has long since faded. During the 19th century, Western ceramics firms began using industrial mass production techniques, and Chinese artisans struggled to compete. Though the city remains a hub for pottery firms, with brick chimneys clogging the skyline, it's no longer a prosperous place.
In a 2020 study measuring the economic competitiveness of Chinese cities, Jingdezhen ranked 199th among 291 cities. The city center is largely low-rise and rundown — a stark contrast from the bright lights of Beijing and Shanghai. Rent is often dirt-cheap.
Young creatives share their living experiences in Jingdezhen. By Huang Sha and Li Jinrui for Sixth Tone
For young Chinese, however, Jingdezhen's low cost of living and artistic heritage make it an ideal haven. Around 30,000 independent artists have set up shop here, turning the formerly unfashionable city into a bona fide creative center.
These young creatives have come to be known as Jing piao — or "Jing drifters" — a term that echoes the label given to artists who migrated to Beijing during previous decades, Bei piao. The name implies they're on the margins of Chinese society. Like most internal migrants in China, Jing drifters don't enjoy the same access to public health care and education services as locals.
Yet Jing drifters are often happy to be on the margins. For many, Jingdezhen represents an escape from the "involution" of life in China's major cities, where there is constant pressure to earn money.
Jiao Congyue moved to Jingdezhen after graduating from Beijing's Central Academy of Fine Arts in 2017. She now makes a living mainly by selling handmade ceramics, which she creates in her own apartment-cum-studio in the city.
The 27-year-old chose to settle in Jingdezhen because it's much easier to survive as an independent artist, she says. Her 130-square-meter home costs just 1,000 yuan ($155) a month in rent — less than one-eighth of what she'd have to pay in Beijing, she estimates.
"It's also very convenient for me to buy raw materials here, such as glaze and heavy earthenware molds," says Jiao. "If you're not in Jingdezhen, the delivery fees can be very expensive."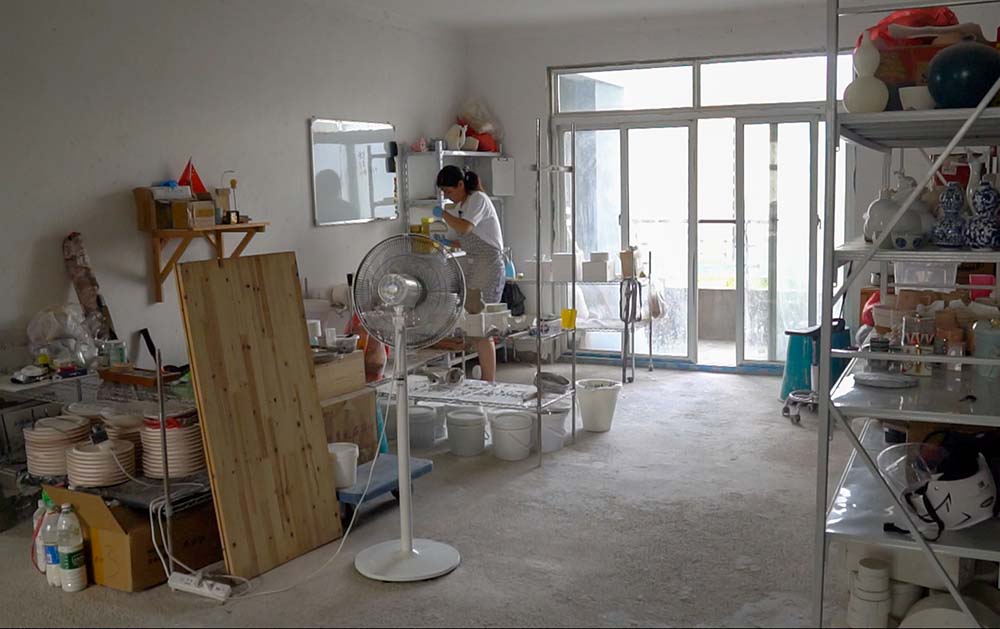 Jiao Congyue works at her ceramic workshop in Jingdezhen, Jiangxi province, July 26, 2021. Huang Sha and Li Jinrui for Sixth Tone
Working in Jingdezhen can also be inspiring, Jiao tells Sixth Tone. On the one hand, she frequently finds new ideas from chatting with other Jing drifters, who work on a wide variety of art forms. On the other, she finds it exciting to be in a place with such a long history of ceramics production.
"This is an awesome place for young artists," she says. "Making porcelain in Jingdezhen makes me feel like I can have a cross-century conversation with ancient people … It's very touching."
Jingdezhen's reputation has become a key factor in attracting young Chinese to move here in recent years, according to Liu Ruoxi, a PhD student at Cambridge University who researches migration in the city. Unlike other cultural hubs like Beijing and Shanghai, the artists who move to Jingdezhen aren't generally motivated by ambition; they're often searching for a certain romantic lifestyle.
"The people who went to Jingdezhen at the beginning of the 21st century created a fantastic artistic atmosphere, which in turn led to more artists following suit," says Liu.
A band plays in Jingdezhen, Jiangxi province, July 23, 2021. Huang Sha and Li Jinrui for Sixth Tone
But the reality of life as a Jing drifter is tougher than many expect. Chinese media often hype up the Jingdezhen lifestyle, claiming that artists in the city earn as much as white-collar professionals in Beijing while avoiding the stresses of big-city life. The young people who move here, however, soon realize this is a fantasy.
Jiao says her first year in Jingdezhen was difficult. She arrived in the city as an idealistic young graduate determined to stay true to her art. The result: She hardly sold anything, and often barely made enough money to eat.
"I was too self-centered in the beginning, and I didn't care about the feedback from the market and consumers," says Jiao. "No matter how good a product is, it doesn't work if it can't be sold."
Jiao managed to adapt and survive, but many others are unable to do so. Huang Liping, a graduate of the Jingdezhen Ceramic Institute, says she knows several artists who were forced to give up on their dreams of living off their work.
"The media always exaggerates how easy it is for young people here to make money, but the truth is that many of my classmates failed to stay," says Huang.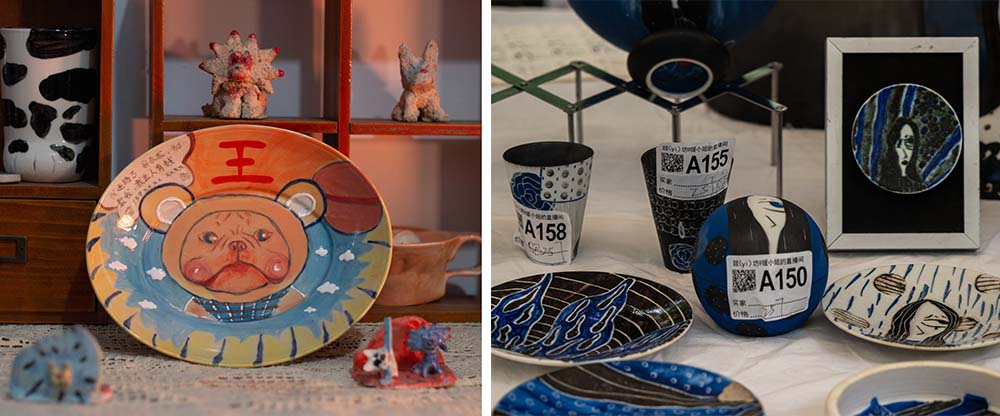 Left: A plate made by Zhao Xiuwei, a ceramic artist living in Jingdezhen; right: products that have been sold by livestreamers in Jingdezhen, Jiangxi province, July 31, 2021.
Even after two years as a professional artist, Huang sometimes struggles to sell her work. Customers often don't understand why her products are more expensive than the mass-produced items they see in the supermarket, she says.
"For every excellent cup I make, I have to go through several failed ones … but most customers only see the excellent one," says Jiao. "They always complain that the price of my products is pretty high."
Things have become even more difficult during the pandemic. Cash-strapped consumers are spending less on ceramics nationwide. There are fewer tourists coming to Jingdezhen to browse the city's pottery stores. The local government, meanwhile, was forced to temporarily shut down Taoxichuan — a major new development containing an art museum, ceramic workshops, and weekend market, which was expected to boost the sales of local creators.
Jing drifters have tried to make up for these losses in the same way as small businesses all over China: by riding the country's livestream boom. Many now host live shows on e-commerce platform Taobao and the Chinese version of TikTok, Douyin.
"Livestreams on Taobao or Douyin have become our new sales channel," says Jiao.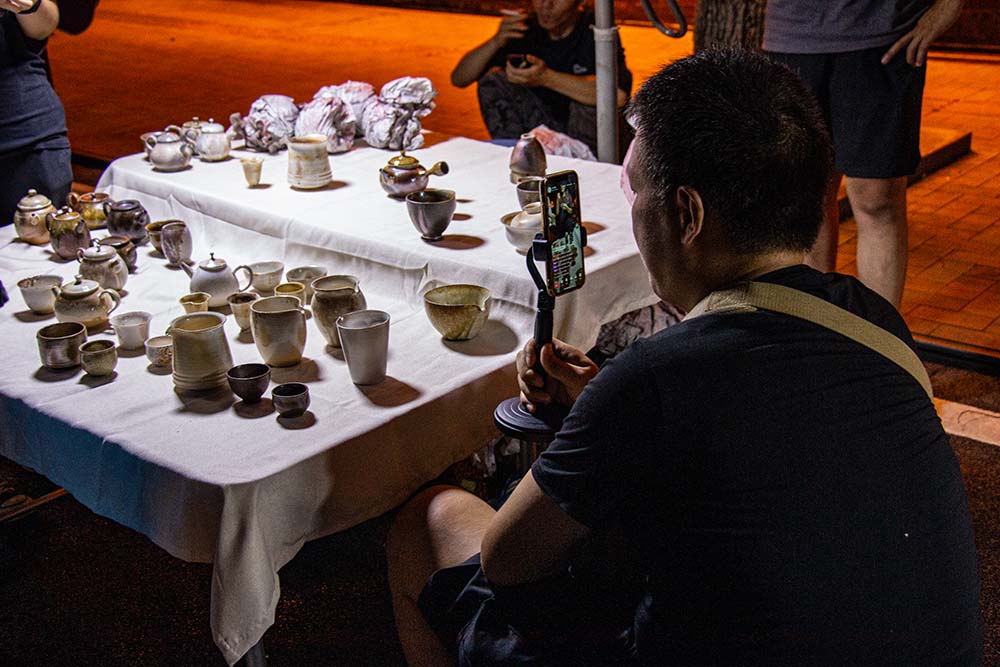 A man hosts a livestream at an outside stall selling pottery in Jingdezhen, Jiangxi province, July 2021. Huang Sha and Li Jinrui for Sixth Tone
The Jingdezhen government is actively driving this transition to online sales. Last July, local officials agreed on a deal with ByteDance — the parent company of TikTok — to open a livestream base in the city. The base contains a series of studios with professional broadcast equipment, which local creators can use to host shows. More than 1,200 merchants now make use of the studios, selling around 10 million yuan of products a day, according to official data.
But some Jing drifters are wary of the project. The livestream base recently introduced new rules stating that only vendors with monthly sales of at least 50,000 yuan can use the facilities, effectively shutting out most individual artists, says Jiao. There's a feeling that livestreaming favors the bigger players, she adds.
"The top merchants have already captured most of the market, and it's difficult for newcomers to get a share of the pie," says Jiao.
The artists who spoke with Sixth Tone, however, are determined to hang on to their dreams. Zhao, the 23-year-old, is focusing on the thing she can control: her work. 
Last month, she created a range of tiger-themed pieces to celebrate the arrival of the Year of the Tiger. She excitedly shows Sixth Tone the positive comments they received from her contacts on the social app WeChat.
"You should continue to be yourself and keep your own style," says Zhao. "The buyers can see it."
Editors: Dominic Morgan and Fu Beimeng.
This article has been published as part of a collaboration between Sixth Tone and IMMJ, an International Multimedia Journalism program co-run by the University of Bolton and Beijing Foreign Studies University.
(Header image: Portraits of young creatives living in Jingdezhen, Jiangxi province, July 2021. Huang Sha and Li Jinrui for Sixth Tone)