Every year, Zhai Guangsheng's spine gradually gets stiffer and more painful. The hunch on the 41-year-old's back has reached a 75-degree angle, making it difficult for him to live a normal life or continue his career as an artist.
"My illness has greatly impacted my work," Zhai told Sixth Tone. "I don't have the strength to complete large paintings."
Zhai is one of over 4 million people in China affected by ankylosing spondylitis  (AS) — a degenerative disease that causes the joints in the vertebrae to become inflamed. Sometimes, small bones fuse together, making the spine less flexible.
It's a serious condition that leads to disability in 15-20% of patients — though this rises steeply if they do not receive timely treatment. There is no cure. Most patients receive medication to ease their pain, but this often fails to control the symptoms in the long term. In severe cases, patients' only chance of a better life is surgery to ease the pressure on the spine.
Patients with ankylosing spondylitis (AS) discuss their fight to access treatment for their debilitating spinal disease. Zhao Zixuan and Lü Qianyuan for Sixth Tone
But in China, where the health system is severely imbalanced, few have access to the treatment. Only a handful of elite hospitals in major Chinese cities are able to perform this kind of orthopedic surgery. Patients are often forced to sit on long waiting lists and travel thousands of kilometers to undergo a procedure.
Others simply can't afford it. The surgery typically costs 100,000 to 150,000 yuan ($16,000-$24,000), says Wang Yu, a surgeon in Beijing who specializes in the procedure. Yet AS patients are often from impoverished backgrounds: Around 100,000 are registered members of low-income households, meaning they earn just a few thousand yuan a year.
The most impoverished patients can access financial support from a government-run poverty-alleviation program and a handful of charity schemes. The subsidies, however, sometimes aren't enough.
Zhai is one of the lucky ones. Just weeks after seeing a video about surgical treatments for AS on Douyin, China's version of TikTok, he traveled to Beijing to undergo an operation. He was able to pay for it through a mix of public insurance payments, donations from nonprofits, and gifts from his family.
Zhang Tiancai, an ankylosing spondylitis patient, stands at 1.6 meters tall after his first spinal operation, Beijing, 2021. Zhao Zixuan and Lü Qianyuan for Sixth Tone
The surgery required a 1,400-kilometer round-trip from his home in Xuzhou, Jiangsu province. Zhai was only able to spend two weeks in the hospital due to the shortage of beds, leaving little time for recovery post-operation. But he didn't care; he knew many patients were unable to book a procedure at all.
"During my stay in the hospital, I met many fellow patients with different circumstances," he said. "I saw people leave here with joy, and people come here with hope."
Other patients, however, don't enjoy the same advantages. Zhang Tiancai occupied a bed on the same ward. A native of rural Jiangxi, a province in eastern China, his AS was more serious than Zhai's. His spine was curved at an over 90-degree angle.
Zhang said the stigma he faced due to his hunchback had affected his entire family. He had been single and unemployed for several years, and he relied on his relatives to support him financially.
"I rarely went out because when I did, the stares from passersby made me uncomfortable," said Zhang. "And employers were afraid to hire me because of my deformity."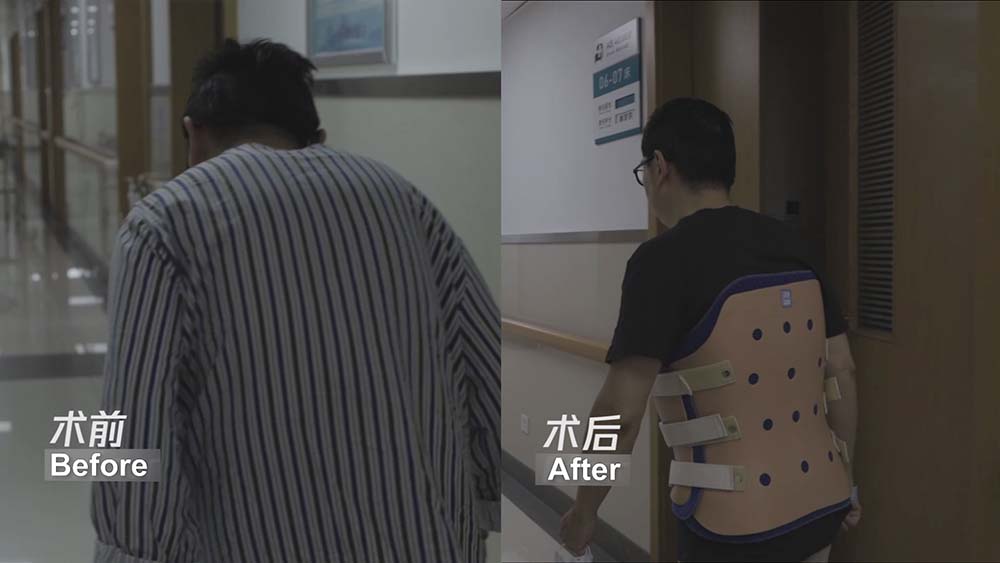 Zhai Guangsheng is pictured before and after his spinal surgery, in Beijing, 2021. Zhao Zixuan and Lü Qianyuan for Sixth Tone
Doctors in Beijing said Zhang would require two operations to straighten his back due to the severity of his condition. The total cost would be 150,000 yuan, with half the fees covered by poverty-alleviation subsidies.
Zhang, however, still felt having both procedures would put his family under too much financial pressure. In the end, he decided to have just the first. It was far from ideal, but he said it would at least allow him to live a more normal life.
Zhai, meanwhile, appears to have recovered well from the surgery. Speaking with Sixth Tone a month after the operation, he said he was delighted with his progress.
"I can take care of myself and go outside without help," he said. "What pleases me the most is that I'm now able to complete some large-scale paintings."
Editors: Dominic Morgan and Fu Beimeng.
This article has been published as part of a collaboration between Sixth Tone and IMMJ, an International Multimedia Journalism program co-run by the University of Bolton and Beijing Foreign Studies University.
(Header image: Patients attend a free diagnosis and consultation session for spinal disease patients at Peking University First Hospital, in Beijing, 2021. Zhao Zixuan and Lü Qianyuan for Sixth Tone)