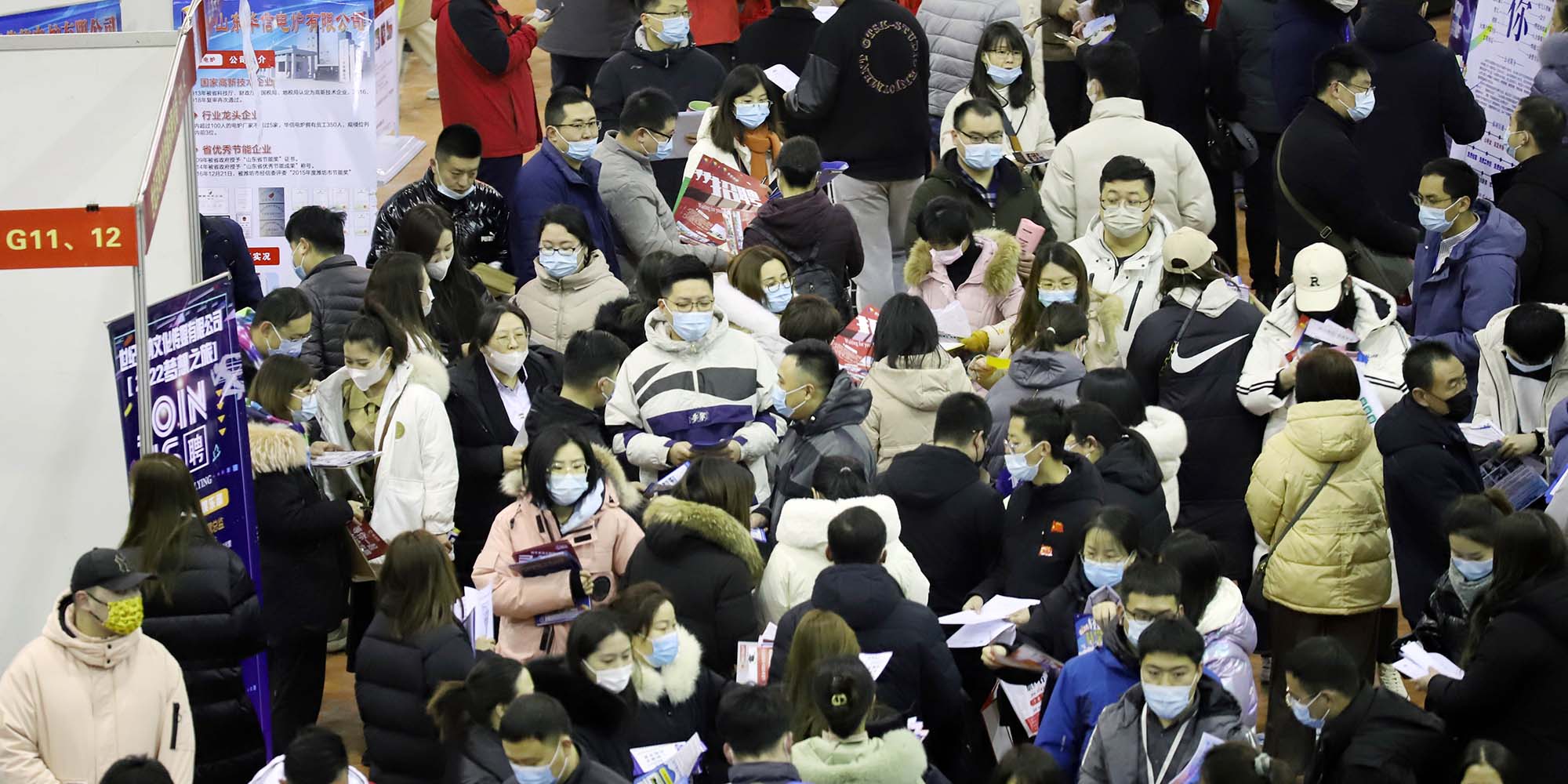 NEWS
With 11 Applicants Per Job, China's College Grads Face Tough Prospects
As the tech sector downsizes, it's looking like a rough year to be on the job market.
Facing a weak job market, Chinese college graduates are taking another look at work in the public sector, with a record number signing up for the country's national civil service exam. But the lure of tech riches is still strong for those who can secure a declining number of jobs.

China's peak recruiting season kicks off after the Spring Festival holiday, as university students begin their last semester of study. But this year, three weeks into the season, the talent market looks slow.
In the last few months, China's internet giants, including Baidu, Didi, Zhihu, Weibo, and ByteDance, have reportedly been cutting staff.
In a weak market, record numbers of people are applying for government work. The number of people who applied to take the national civil service exam held last fall exceeded 2 million, up 34% from last year, and over 1.83 million people have passed the initial screening. Both figures are new records. They're competing for a record high 31,242 openings, a ratio of 60 applicants per post.
A record number of nearly 11 million people are expected to graduate college in China by June, an increase of 1.67 million year on year.
Meanwhile, COVID-19 continues to affect employment, as the employment market is facing uncertainties and the situation is "grim and complex," the Ministry of Education said at a press conference in December.
The economy still faces widespread disruptions from the pandemic, with small and medium businesses hit especially hard. The internet giants, meanwhile, have been scaling back in the face of a wave of regulatory enforcement. Campus recruitment activities have also been hindered by outbreaks that occur sporadically.
As a result, employers are releasing fewer jobs. The number of job openings dropped 4.5% year over year during the first week after the Lunar New Year holiday, according to a report by Zhaopin, the country's leading online recruitment portal. The holiday ended Feb. 6 this year. On average, each job posting received about 11 résumés, about twice as many as last year.
Human resource service provider 51job.com also reported a rapid increase in people looking for new jobs after the Spring Festival as the total number of résumé submissions on its platform climbed by 19.4% compared with the same period last year.
In terms of new jobs created after the Spring Festival, 51job.com's top three sectors were computer software, electronics technology, and machinery. The internet and e-commerce sector, which ranked first in openings in 2021, slipped to fourth place this year.
A current ByteDance intern, who gave Sixth Tone his surname, Wang, said he underwent four rounds of interviews before starting his internship in January. One friend, he said, did nine rounds before landing a ByteDance internship. The majority of his colleagues, he said, are graduates from top universities.
"The company doesn't lack people with strong educational backgrounds, and they are competing for opportunities," Wang said, adding that he was appalled by his colleagues' self-abasement. "People PUA themselves," he said, using an expression that describes playing on insecurities to manipulate people, derived from the English phrase "pick-up artist."
He still wants a job at ByteDance, "if they will take me," he said.
What underlies the craving for internet company jobs is, no doubt, the rewards, said Xiaotu, an employee with Tencent who used a pseudonym to speak with Sixth Tone for privacy.
"The best path to be a self-made man is to work for the internet giants," he said. "Other than relying on your parents or finding a high-achieving partner, only big internet companies can help you buy an apartment and a car if you want to get married by 30." Many Chinese families believe that a man needs both to be an eligible husband.
The internet industry remains one of the country's highest-paying sectors. The average salary is estimated to be 18,500 yuan ($2,931) in 2022, up 7.5% from the same period last year. Shanghai internet companies topping the list at 22,600 yuan, according to a 2022 spring recruitment salary report on the internet industry released by Lagou, a job recruitment website. The average monthly salary in Shanghai in 2020 was 10,338 yuan.
"There's immense pressure," said Xiaotu, adding that he knows several people who left the industry due to depression. "I plan to leave the company within two years," he said.
Editor: David Cohen.
(Header image: People look for jobs at a career fair in Weifang, Shandong province, Feb. 18, 2022. VCG)