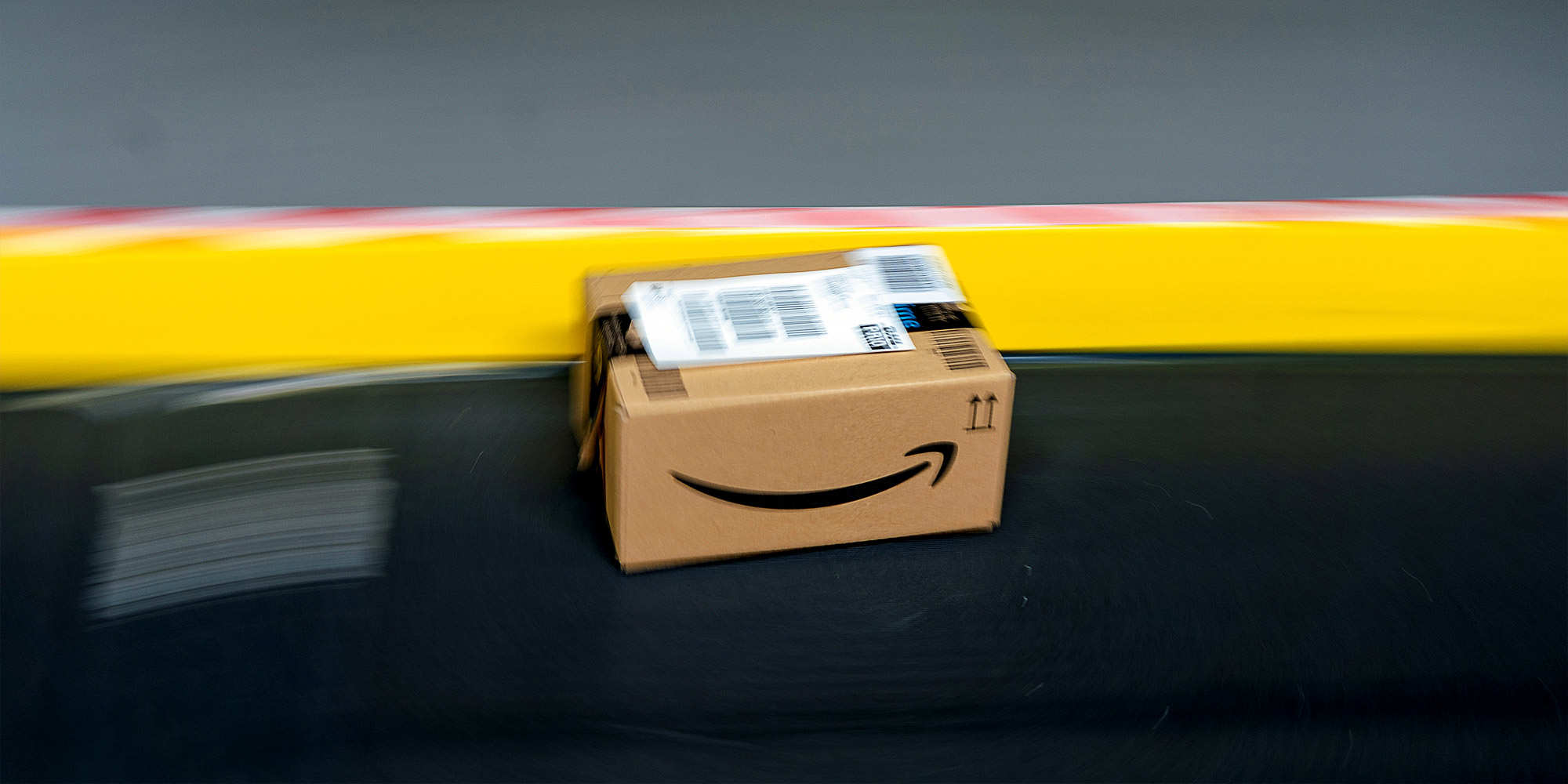 SIXTH TONE ×
As Amazon Changes Course, China's Sellers Shop for Options
Amazon is still prime. But amid rising demand and new markets, Chinese cross-border sellers are pivoting away from the U.S. giant.
Lin works for a billion-yuan cross-border e-commerce company, the largest seller of shoes on Amazon, in Changsha, the capital of central Hunan province.
Over the last few years, as the COVID-19 pandemic wreaked havoc on innumerable businesses and livelihoods, her company not only bucked the trend, but also expanded its operations.
Its total number of employees increased from around 160 two years ago to 300 and its revenues doubled in 2021. "Over the past two years, annual sales of the brands I manage have grown from 300 million yuan to 500 million yuan ($45 million to $80 million)," she says.
Data show it wasn't just her company making gains. According to a June 2021 report, as lifestyles changed amid the pandemic, the global business-to-consumer (B2C) cross-border e-commerce trade volume increased too.
The annual volume is expected to rise from $780 billion in 2019 to $4.8 trillion in 2026, with a compound growth rate of 27%. The report also stated that around 26% of global B2C cross-border e-commerce transactions take place in the Chinese mainland, which ranks first ahead of the U.S., U.K., Germany, and Japan.
An operations professional in Hunan, an entrepreneur from Shanxi, a tech-company founder, and a cross-border seller with annual sales of $100 million in Guangdong all point to how Chinese companies have entered a new phase in overseas ventures.
The meteoric growth hasn't been without its own obstacles. In May 2021, Amazon closed numerous stores in China causing large industry-wide fluctuations. In response, Chinese companies actively opted to shift to new platforms.
In March last year, Walmart opened an official channel for Chinese cross-border sellers on its U.S. e-commerce platform to attract investment. According to Marketplace Pulse, Walmart added 5,000 Chinese sellers by October 2021.
Bai Xiaosheng, who specializes in European and U.S. markets, joined Walmart's platform after two of his Amazon stores were closed in 2021. "Compared to Amazon, Walmart requires reduced operations and is simpler," he said.
Despite the crackdown, data from Marketplace Pulse show that as of Feb.17, 44% of sellers on Amazon Marketplace were based in China, up from 16% in 2017.
The rise in this industry has also driven the development of innovative overseas service enterprises both upstream and downstream. Bing, one of the founders of SuperBrowser — a cross-border e-commerce server — says his company launched the product in 2018, and now supports more than 140,000 sellers and 1.7 million stores across platforms like Amazon and eBay.
Bing also points to another problem: China's "circuit breaker" policy — where civilian flights are suspended if too many passengers test positive for COVID-19 on arrival. And with the limited number of cargo aircrafts, goods can now only be transported by sea.
"Having just a single channel carries systemic risks; cargo has accumulated at major ports and ships are unable to dock, creating a vicious cycle. While goods used to take one month, they now cannot even arrive in four months. The situation has not improved, so shipping now takes longer and its costs are 10 times higher."
Quiet surge
On Jan.1, 2018, Xiang noticed that e-commerce was rapidly expanding in Southeast Asia. Soon after, he quit his job to co-found a cross-border e-commerce company.
Starting out with little experience, Xiang and his partner didn't know which platform to choose or what goods to sell. So they registered several stores on Amazon, selling a variety of products.
Xiang says, "At the time, when we received an order, we placed our own order on Taobao. After receiving the goods, we contacted a cross-border logistics company to send them abroad. Slowly, we found that the volume of certain categories of goods increased rapidly, so we closed the stores that were performing poorly and kept the two or three accounts with good sales."
He found that among all their products, home furnishings sold the best and fastest. So they decided to specialize in selling similar products. "Perhaps our products fit well with the climate and environment of Southeast Asia. For example, it's very hot and often rains there, so products that offer protection against the sun and heat proved very popular," he says.
As they became more familiar with the markets there, they also discovered that the top two platforms in Southeast Asia were Shopee and Lazada, and so pivoted to them and away from Amazon.
Today, Xiang's development and operation teams comprise nearly 20 members, and the company has a small factory with around 10 workers in his home province of Shanxi in northern China.
"We purchase products directly from manufacturers and then carry out some secondary processing in our factory according to our store's needs, tailoring the products to the market," says Xiang.
His company currently operates six stores in six countries in four languages, with a monthly sales volume of more than $300,000. Following Alibaba's platform expansion, the team also moved into the South Asian market in 2021.
Chinese sellers are not limited to Asia and are now looking to strike it rich in the European and American markets. Bai Xiaosheng, who boasts annual sales of $100 million, is still classed as a mid-tier seller, while top-tier sellers are able to make $1 billion a year.
Bai got into the cross-border e-commerce sector late in 2015 when he joined a foreign enterprise in Shenzhen. There, he was in charge of product development and operated the company's Amazon store.
In 2016, after researching the European and American markets, he decided to release a cellphone data cable based on market demand. His company found suppliers in Taiwan to make 12,000 cables, investing $90,000 in capital.
When the product hit stores, he also posted promotions on discount websites and worked with foreign influencers, eventually selling 10,000 items on Thanksgiving Day in just one hour, which also drove sales of other items in their store.
The development of this sales model earned Bai recognition in the industry. He began sharing his experience with other teams and resigned at the end of 2016 to start his own company.
Initially, his business revolved around lectures and conducting training, but the company ran into trouble in 2018. "I decided to return to cross-border e-commerce, so I opened a store on Amazon with my girlfriend," he says. "I was responsible for product development, and she dealt with operations."
At the time, the couple got up every day at 8 a.m. and worked until almost midnight. "My girlfriend and I both forgot my birthday in January 2019 — we were working overtime and only realized when my family called me," he says.
But their hard work paid off. In September 2019, the factory over-produced a particular product, which they did not want to waste. The couple instead chose to send it all to a warehouse overseas.
According to their previous sales, the batch should have lasted until spring 2020. However, they hadn't anticipated a run on the item. Bai says, " In only one month, we made $1 million. In the past, even during a sale for members, we'd take in $200,000 at the most. At the time, if you include three workers hired by the factory, our team only had five people."
In 2020, Bai expanded his team to 10 employees. The store targeted European and American markets, selling products such as home furnishings, sports goods, clothing and accessories, with annual sales above $10 million.
Lin entered the cross-border e-commerce industry in Changsha after graduation. In 2016, she joined Anker Innovations, Changsha's biggest and among China's top ten cross-border e-commerce companies, as a management trainee.
She worked there for three and a half years, participating in running the company's Amazon store, managing the whole process from product launch to promotion and global cargo transfers, as well as meeting the quarterly sales targets.
Lin says: "At the time, the company only had one Amazon store, with regular product sales growing at around 20-40% a year." After listing on the Shenzhen Stock Exchange in August 2020, Anker's annual sales reached $1.5 billion.
In late 2019, Lin quit Anker. She originally planned to go abroad to study, but the COVID-19 outbreak led her to her current job at a cross-border e-commerce company selling shoes.
The company sells three brands, including products for men, women, and children. "In 2021, I started setting up a separate site on Shopify and no longer managed the Amazon store, but the brands I currently manage now have annual sales of more than $79 million."
Market risks
Despite the surge in China's cross-border e-commerce industry amid the pandemic, uncertainty in the market still poses risks in 2022.
"We're among those who have benefited," says Xiang. "The penetration rate of e-commerce in Southeast Asia was originally relatively low, but the pandemic accelerated the market, which sped up the development of e-commerce in the region. In 2020 and 2021, our business grew extremely fast — doubling or tripling each year."
In 2021, Xiang's team also opened a company in Malaysia, where they rented a warehouse and recruited workers to carry out localization. "In 2022, we also hope to expand to Thailand and Vietnam," he says.
Xiang underscores that the pandemic has actually had a positive effect on most of their business because more people started shopping online and had more diverse demands.
However, it has also negatively influenced them in Southeast Asia over the past couple of years as people have had less disposable income, thereby decreasing their ability to consume.
"On the whole, it is growing, but we can also see the phenomenon of weak demand, such as with some people making fewer purchases or lower-cost purchases," he says.
But for Chinese cross-border merchants that operate Amazon stores in the U.S., the closures in 2021 have had a huge impact.
On Sept. 17, 2021, Cindy Tai, vice president of Asia Global Selling at Amazon, said in an interview that Amazon was closing around 3,000 online merchant accounts, backed by about 600 Chinese brands, all of which repeatedly abused the platform's review function.
The move directly affected China's top-tier cross-border e-commerce companies, such as Aukey and Youkeshu, forcing many to cut staff after closing their stores, resulting in significant industry-wide fluctuations.
Two of Bai Xiaosheng's Amazon stores were also shut down during the wave, while some of his other stores performed below par.
"In 2021, the volume of sales by Amazon's sellers in China declined on the whole," he says. "In addition to many big stores closing, stores were no longer able to place fake orders to boost rankings. The old tactics can't be used anymore, and the market won't grow during this period. It is a process of adaptation."
He points out that Amazon's cross-border e-commerce sales volume has declined. In addition to the store closures, as well as the fall in people's purchasing power and demand, stores on Amazon faced more fierce competition and even vicious price wars in 2021.
"Everyone knows that Amazon is easy to use — even vegetable sellers and cleaners know the company. In 2021, the competition was really fierce, with many new sellers appearing and selling at low prices and even at a loss, leading to many old sellers losing out," says Bai.
He cites an example. Normally, a table in the U.S. sold for $50, while in China, an ordinary folding table sold for around 100 yuan ($10-$20), which amounts to at least $20-$30 with shipping.
"After some sellers entered the U.S. market, they'd sell a table for $10 or even $5. The price is even cheaper than back in China. This led to chaos in the market and no one making any money," he says.
According to an expert in overseas promotion, more Chinese sellers are flocking to cross-border e-commerce every year and competition is intensifying. "Last year saw explosive growth, with many sellers making profits on various platforms. So 2022 will see more sellers wanting to get a piece of the action," says the expert.
As a top-tier brand seller, Lin says her company won't be affected by the price wars. According to her analysis, new sellers will engage in a "race to the bottom," using low prices to seize the market.
"Because their products aren't competitive, the stores haven't accumulated a customer base, plus their operation methods aren't innovative," she says. "So, that's all they can do — build up reviews to improve the ranking of their stores. But our store is different. We already have thousands of reviews, so as long as we're careful not to infringe on big brands, generally speaking, no one can affect us."
In 2021, Lin marked a new milestone — she got one of her company's products onto the Amazon top-five in its category. "Shoes and clothes are very competitive. Generally, they are all local American sellers, with first-party products selling better," she says. "Our product reached number one among third party vendors, which is something the company has never done before in the category ranking."
She believes the pandemic had only a limited impact on their store. "Our company now has a lot of former Anker employees working here. Compared with Anker, the internal management is getting better and better, store sales are up, and our market share is increasing, but not because of market changes."
While shoes for parties, the outdoors, and work have not been selling as well, those for the home were up and boots were also selling well due to the extreme cold.
Increasing competition in the cross-border e-commerce industry has driven tech innovation companies to seek out financing.
According to Bing, SuperBrowser is now valued at several hundred million U.S. dollars. Data show that SuperBrowser's parent company, Fujian Zixun Information Technology Co., Ltd., obtained strategic investment in June 2021 from Gaorong Capital and Gaocheng Capital, although the specific amounts were not disclosed.
Fight for survival
Though the window of opportunity is closing, executives believe that the cross-border e-commerce industry is still worth investing in.
"Amazon started wooing Chinese sellers in 2012, with 2013-2016 marking a period of explosive growth. This dropped off in 2018, and then the past two years have seen a new explosive period, but I don't think it will last long," says one specialist in overseas promotion.
Lin believes that cross-border e-commerce over the last two years has been more difficult than in 2015 and early 2016, and many of her colleagues who set up their own businesses failed.
"The market is more saturated now, and there are higher requirements in areas such as products and operations. New sellers encounter greater resistance than they used to. They must comply with regulations and improve their operations, while their products also need to be competitive, otherwise they can't get a foothold in the market," says Lin.
Starting in 2021, Lin has been in charge of helping her company set up an independent website from scratch. "After the wave of store closures, everyone realized that they couldn't rely so heavily on Amazon and put all their eggs in one basket," she asserts.
"Companies need to get sales through multiple channels, multiple countries, and multiple sites." At present, her company still gets 90% of its sales through Amazon, but that may well change after their own site goes live this year.
Government officials in southern Guangdong province's Shenzhen, known as the "cross-border capital," have also reacted. On Aug. 5, 2021, the city's commerce bureau issued a notice offering financial support to cross-border e-commerce enterprises that develop overseas markets through independent sales channels: 2 million yuan for each project, as well as up to 3 million yuan in awards.
Major cross-border e-commerce company Youkeshu has also stated that, while developing mainstream third-party platforms such as Amazon, eBay, AliExpress, and Wish, it will also actively promote on emerging platforms such as Shopee and Lazada.
Lin believes China's cross-border e-commerce industry will grow in 2022, which will come with more industry requirements and more competition.
"Because the strength of China's supply chain is here, a lot of goods are exported, but it depends on sellers' overall strength. Companies like mine will definitely experience growth this coming year," says Lin.
In 2021, ByteDance opened an e-commerce business on TikTok. Shortly after, a raft of Chinese sellers began ditching Amazon for TikTok.
Earlier the same year, the stores function launched on TikTok, first in Indonesia, then the U.K., and finally the U.S., while a new TikTok Seller app launched in Indonesia in November.
Also in November, Tiktok Shopping initiated a strong policy to attract businesses in Guangdong. For example, newly joined cross-border e-commerce shops selling to the U.K. could enjoy free commissions on all orders for 90 days, were only charged 1.8% commission on payments, and were provided free shipping, freight subsidies, and other benefits.
Xiang believes the Southeast Asian market still has 5-10 years of growth, but competition will become increasingly fierce, with many brands going overseas considering the potential.
He says that Chinese sellers are relatively competitive in Southeast Asia. "China's huge supply chains and demand for products put us at an advantage when moving into the Southeast Asian market."
He says: "For example, there may be 100 million styles of women's clothing on Taobao. When you include sizes and colors, that makes perhaps hundreds of millions of products. For Malaysia, with a population of 30 million, that means several different styles for each person. That's why some local women's clothing companies can't compete with us."
But he also underscores that to achieve better growth in the future, it may be necessary to work on building brand effect, enriching operation methods, optimizing supply chains, and attracting investors.
He says, "When the window of opportunity becomes smaller and the markets have matured, it'll be difficult to survive by relying simply on fighting over who has the lowest costs."
Lin, Bing, Xiang, and Bai Xiaosheng are pseudonyms.
A version of this article originally appeared in Chain Truth. It has been translated and edited for brevity and clarity, and published with permission.

Translator: David Ball; editors: Xue Yongle and Apurva.
(Header image: A parcel at an Amazon fulfillment center in Frankenthal, Germany, Oct. 13, 2020. Thorsten Wagner/Bloomberg via VCG)