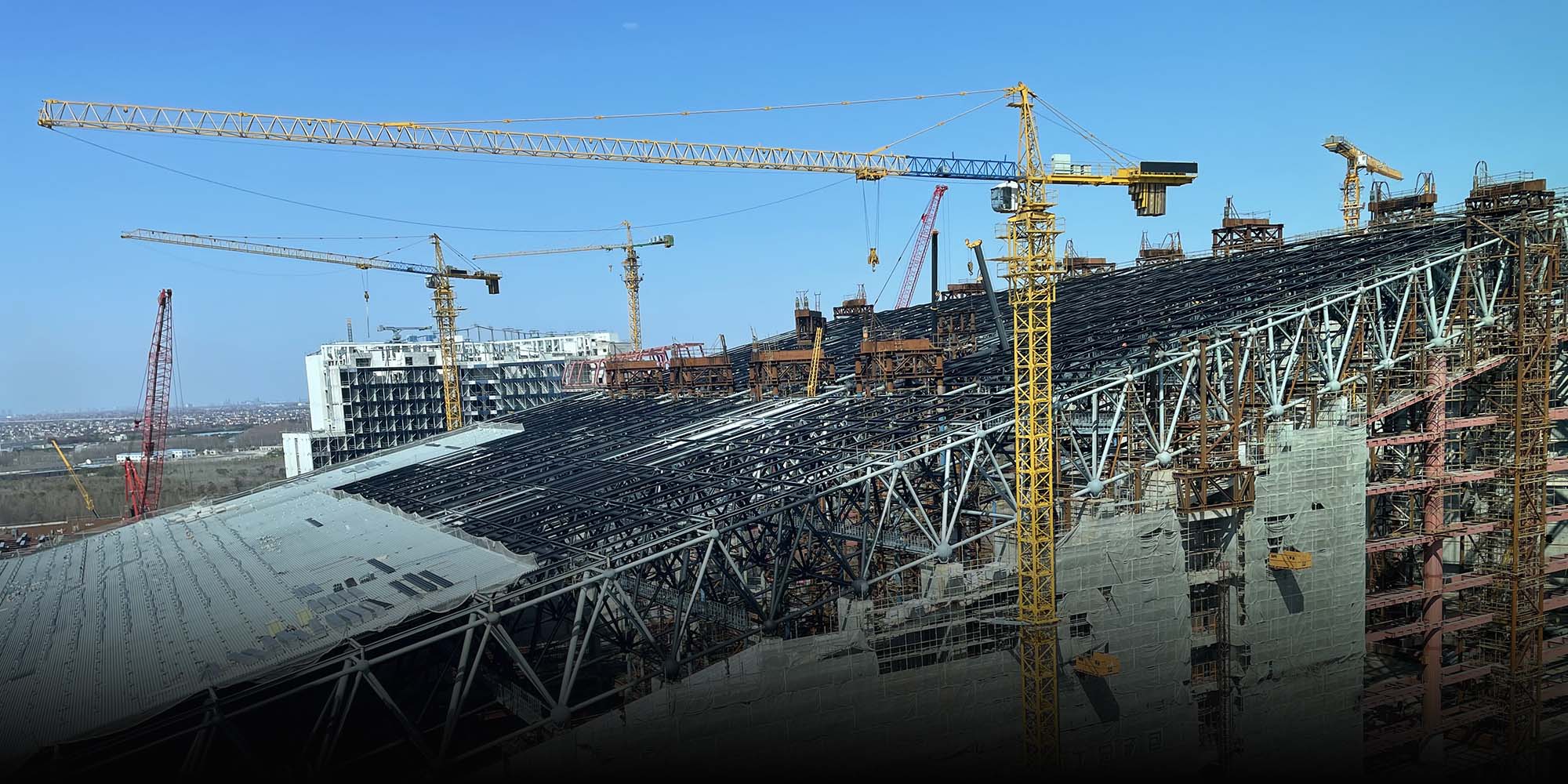 NEWS
The Games Brought Crowds to China's Ski Slopes. Will They Come Back?
As the Winter Olympics end, the winter sports industry is counting on fickle consumers to stay interested in skiing.
SHANGHAI — As the Beijing Winter Olympics concludes, the world's largest indoor ski resort is taking shape in Shanghai, moving closer to its estimated opening around mid-2023.
Standing in front of a huge steel skeleton, it looks no different at first from any other construction site in China. Then you might notice that the edifice slopes downwards toward the south for hundreds of meters. In a year, it'll be a snowscape the size of over a dozen soccer fields.
The slope is part of Ice World, a project that also includes a water park and an ice rink. It is expected to attract around 3 million visitors per year from Shanghai and nearby provinces, a spokesperson of its developer, Snow Star Properties, told Sixth Tone. It will be Shanghai's first indoor ski slope, located in an eastern suburb nearly two hours from downtown by subway.
Its a huge bet that China won't get over "snow fever" any time soon.
In the seven years since Beijing won its bid to host the Winter Olympics, official data showed some 300 million people have tried winter sports, with hundreds of ice rinks and ski resorts opening nationwide.
Han Jixiang, founder of ski brand Spaders Lab, told Sixth Tone sales at his two Shanghai-based equipment stores are on track to hit up to 25 million yuan ($4 million) in this year's snow season, up about 70% from last year.
But what about next year?
State support got the winter sports fad off the ground, but industry insiders, analysts, and participants are betting that the trend is now ready to fly on its own power.
Han expects sales to "jump exponentially" this year, and plans to expand from eight stores to about 30 in two to three years.
"Anyone with a little bit of athletic ability who has tried 'white opium' a few times will get addicted to it," he said, using an industry nickname for skiing. "You don't need to force them into it."
"We will nurture ski enthusiasm in one or two years by promoting the sport at local schools and communities," said the spokesperson of Ice World. "Once people get used to skiing as a regular pastime, we'll rely less on external factors … they will come to us naturally."
Meanwhile, enthusiasm for winter sports is driven by stars in the Games like Eileen Gu and Su Yiming, analysts said.
"(They showed) it's a fun and cool sport, not old and boring," Mark Dreyer, a sports analyst specializing in the Chinese market and author of the book "Sporting Superpower," told Sixth Tone. "The mass market is the younger generation, which is the future. If you can get those kids wanting to be Eileen Gu or Su Yiming, that is a huge part of the battle."
Han of Spaders Lab said ski equipment sales saw a notable jump after the two young athletes won gold medals, and the number of customers who joined the store's weekly skiing trip to a nearby city doubled the following weekend.
Still, analysts warn that it will be a challenge to get first-time skiers to come back next year. More than 80% of the estimated 13 million Chinese skiers are beginners, according to a 2021 report on snow and mountain tourism by Switzerland-based ski industry expert Laurent Vanat.
"If the industry does not manage to make the first experience of a skier a pleasant one with some satisfaction of having achieved something, beginners will not come back and the market will lack a substantial core of experienced skiers that practice several times each season," Vanat told Sixth Tone.
Han said that about 30% of his customers are beginners, up from 10% in previous years. Some come in and buy a complete set of professional-grade equipment for their first ski trip, he told Sixth Tone, spending as much as 20,000 yuan.
"Driven by the Winter Olympics and national policy, skiing has become a craze," said the 46-year-old, who has been into skiing since 2009. "Previously, they may have hesitated to buy equipment and go for their first try at skiing… acceptance is growing."
In one good sign for the industry, more amateur skiers are putting in the time to develop their on-slope skills.
In Shanghai, where there is no indoor ski slope currently in operation, a growing population is stepping on ski simulators for training. On Sunday, parents milled around waiting for their kids at one booked-out center in downtown Shanghai, while the waiting area was packed with trainees afraid of missing their 30-minute window.
Zhang Peng, store manager at a branch of the indoor skiing simulator chain Snow 51, said weekend crowds had tripled year on year.
Han Qin, deputy general manager at Sheercool, another Shanghai ski simulation chain, told Sixth Tone she expects enthusiasm to last at least to May this year.
"We aim to give more people the opportunity to ski in places without snow, but their ultimate destination is the snowy mountains," said the 42-year-old. "If they learn the skills in advance and then participate in the sport, they'll have fun and do it regularly."
A Shanghai-based software developer, surnamed Dai, told Sixth Tone that she had been training on ski simulators for half an hour per week since last October, and recently bought a second 20-lesson package, spending around 20,000 yuan in total so far.
"Before, I just fooled around at ski resorts," the 29-year-old said. "I want to learn to ski more professionally, not just go up and slide back down."
Another key component as to whether winter sports will take off will be easy access to ski resorts, experts said. Skiing usually means long-distance travel to northern China. The once-niche activity needs to be more accessible to the wider public, in terms of convenience and cost, if it's going to catch.
Vanat said larger ski resorts could partner with urban ski learning centers to offer affordable packages to young urbanites, bundling indoor lessons with a weekend stay at the ski resort that includes transportation, a ski pass, gear rental, and accommodation.
The government also needs to do more to support the continued growth of the winter sports industry, according to analysts.
"China needs to learn from some of the legacy mistakes of 2008, whereby many of the Olympic facilities lay idle after the Games. Facilities will need to be adapted for public use," Mark Thomas, a China-focused sports industry consultant, told Sixth Tone, adding that lifting China's border controls for international events and activities will also be vital.
Meanwhile, following authorities' initiatives to introduce skiing lessons in schools, several people in the ski business told Sixth Tone they are assisting district governments in Shanghai to train teenagers at the competitive level and set up professional athletic teams.
In the longer term, analysts are confident about its success. "It is only a matter of when China would become the world's largest winter sports market, not if," Thomas said, citing the sheer scale of the population and natural resources, and an increasing middle class seeking new opportunities for health and leisure.
The number of people participating in ice and snow sports is expected to surpass 50 million by 2025 in China, according to a development plan for ice and snow sports released by the central government. The current leader, the U.S., totaled 59 million ski visits for the 2020-2021 season.
"We are just at the turning point where winter sports should not be considered just as a leisure activity to try once, but a regular practice," Vanat said.
Ju Yiwen, a Shanghai resident, told Sixth Tone she spent around 3,000 yuan on a two-day skiing trip last week to a resort in the northeast province of Jilin and plans to return to the snowy slopes in the next winter season.
"Through skiing, I can step out of my comfort zone, explore bit by bit, learn skills step by step, and experience the thrill of fast speed," said Ju. "I just like adventure — no matter whether it is in vogue or not."
Correction: A previous version of this story misspelled the name of Olympic snowboarder Su Yiming. A photo caption also referred to the Ice World development as Wintastar, using a previous name for the same project.
Editor: David Cohen.
(Header image: An indoor ski slope at Ice World, under construction in Shanghai on Feb. 25, 2022, will be the world's largest when complete. Luo Meihan/Sixth Tone)