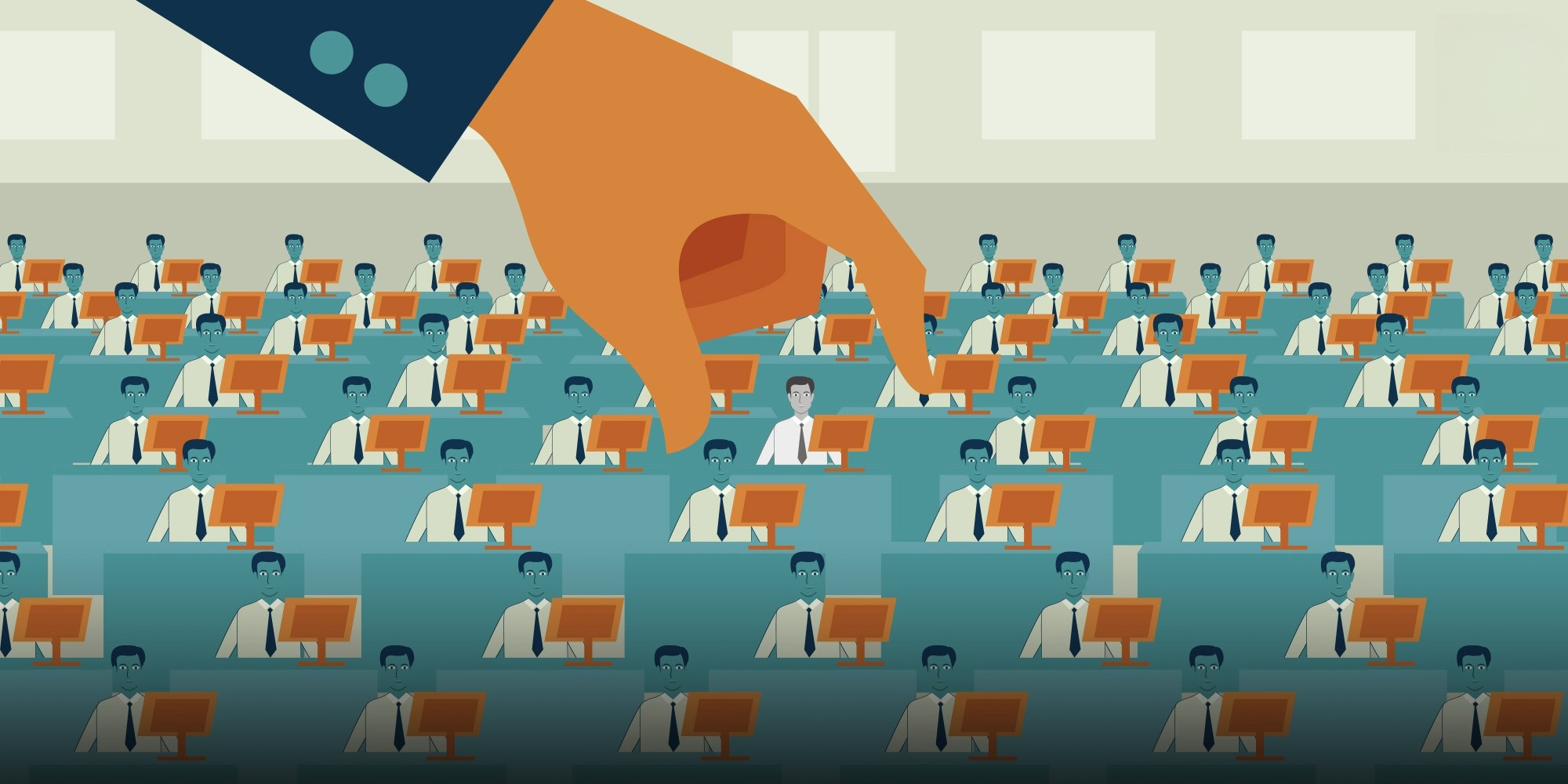 FEATURES
China's Content Moderators Are Overworked and Chronically Stressed
Several former employees complained of long work hours, minimum pay, and limited professional development.
China wants to keep its cyberspace "clean" — and there's an army of workers tasked with sanitizing the country's virtual world.
Hired by top domestic internet companies, the so-called content moderators spend excruciatingly long hours scrubbing anything associated with horror, violence, pornography, and information deemed politically sensitive or offensive. They review a barrage of user-generated content — including videos, comments, photos, and user profiles — staring at their screens relentlessly and often working overtime at the cost of their physical and mental health.
Six former employees in the content moderation department at major Chinese tech firms told Sixth Tone that their job required them to monitor online content at all hours of the day, in shifts that sometimes stretched up to 14 to 15 hours. Many of them, fresh university graduates attracted by working for the country's biggest companies, said they were weighed down by long schedules, stressful performance assessments, and unattractive career prospects.
"We are like workers at an electronics factory," Chen Xiaowen, a former content moderator at China's leading internet company ByteDance, told Sixth Tone using a pseudonym for privacy concerns. "The only difference is that we work in an office building."
The overtime culture at Chinese tech companies — notoriously known as "996" or 9 a.m. to 9 p.m., six days a week — has been a longstanding issue, even as authorities last year stressed it was illegal. In the past five months alone, an online campaign to underscore worker's rights and a viral resignation post have projected familiar unhealthy working conditions, which have also been blamed for deaths at domestic tech companies.
Then on Feb. 4, the death of a Bilibili content moderator nicknamed Mu Se Mu Xin, allegedly due to overwork, served as an ominous reminder of the potential risks of excessive work hours — though the video streaming platform denied he had worked overtime. The company said in a statement that the 25-year-old, who had joined its Wuhan office in May 2020, only worked eight-hour shifts during the Lunar New Year holiday.
But the employee's death, attributed to cerebral hemorrhage, sparked a flurry of public anger and sympathy. It also provided a peek into the personal and professional lives of tens of thousands of content moderators — an indispensable but often neglected role at Chinese internet companies.
Round the clock work
The surging popularity of online content sharing platforms and stricter government scrutiny over the past years have led to companies swiftly expanding their content moderation teams. Firms like ByteDance, parent company of the Chinese version of TikTok, called Douyin, reportedly has over 20,000 content moderators, while Bilibili employed more than 2,400 by the end of 2020.
At Bilibili — the platform that rose from a niche anime and gaming community to a mainstream video sharing site with 267 million monthly active users — content moderators accounted for 28% of its total staff by the end of 2020, according to the company. It was up from 21% in 2018 when the Bilibili app vanished from mobile stores for a month after publishing content authorities deemed inappropriate.
Zhang Jun, a former team leader at a Bilibili content moderating center in a third-tier city, said his unit grew from a dozen workers to about 200 in just a year's time after 2019. The 27-year-old, who used a pseudonym to protect his privacy, said a moderator is required to process around at least 1,600 video clips in a 12-hour shift — roughly two videos per minute — adding that some handled up to 2,900 videos in a shift.
A 23-year-old content reviewer, surnamed Hou, at Bilibili's Wuhan office confirmed the 12-hour shifts, which are followed by a break the following day. He said all employees were assigned a month-long graveyard shift, working from 9 p.m. to 9 a.m., every three months.
The situation only worsened during the early days of the pandemic in 2020, when tens of millions of people turned to social and video platforms as they remained indoors. In the first quarter of 2020, Bilibili's monthly active content creators and their content submissions more than doubled compared with the same period in 2019.
During the first few months after the initial outbreak in January 2020, daily video uploads on Bilibili were up by a quarter than what all moderators combined could manage, Zhang said. That resulted in a backlog of over 1 million unreviewed videos for a week, adding extra hours for the content moderators, even during holidays.
"(Night shifts) wore me out … your eyes are open, but the mind is blank," Cui Yu, another Bilibili employee who joined the company in late 2019, told Sixth Tone. "My menstrual cycle became irregular after one-month night shifts. I felt like my brain stopped working during the shifts and I had blurred vision, which led to an increase in errors and thus a salary cut."
Employees at ByteDance and another short video platform Kuaishou also shared similar work experiences.
Chen, the 26-year-old in charge of monitoring short videos at ByteDance's Chongqing office, said their work shifts stretched for nine hours, including a 60-minute meal break. But the daily workload and anxieties over performance appraisals meant she was working during lunch too.
"The company thinks you can review like 2,000 video clips a day, so a certain number of people are required per shift, and they find it uneconomical to allocate more. But to reach the target, no one can rest," Chen said. "I gained 10 kilos due to an irregular lifestyle while working there … all-nighters are so tortuous that sometimes it feels like you're near to dying."
Wang Yi worked as a comment reviewer at Kuaishou's team in the eastern city of Wuxi between March 2020 and December 2021. He told Sixth Tone that he often worked 20 to 30 hours of overtime per month but only made around 6,000 yuan after tax.
"It's impossible to fall asleep during a one-hour night shift break — many have been diagnosed with psychasthenia," said the 24-year-old using a pseudonym, referring to psychological disorders often exacerbated by mental exhaustion. "Content moderators have to work round the clock. It's impossible for them to live like normal people with a regular routine."
While Bilibili declined to respond to Sixth Tone's questions about specific work conditions, the company previously said it would hire 1,000 more content moderators this year to "alleviate per capita work pressures" and strengthen monitoring of their employees' health following Mu Se Mu Xin's death. Both ByteDance and Kuaishou didn't reply to requests for comment.
Monitors being monitored
While moderators review user content on their screen, the company simultaneously monitors their efficiency. Former content moderators told Sixth Tone that a computer system analyzed their moderation based on number and speed, which ultimately impacts their performance appraisals and pay.
Chen said ByteDance rated moderation employees with grades ranging from A to D every month, depending on their daily work activity. While those at the top of the grading system had the potential to earn tens of thousands of yuan extra annually, employees slapped with the lowest grade twice in a row were asked to resign.
"It's like making components at an electronics factory. If you make more, make well, and make fast, you are the best," Chen said, adding the assessment system inevitably led to "involution" — a viral phrase referring to the feeling of being in a rat race with little possibility to succeed. "If you lag far behind or quit the competition, it means you've been working in vain," Chen said.
Gong Qin, a former Chengdu-based content moderator for Douyin, told Sixth Tone that during the first month, trainees who reviewed at a slower rate and with lower accuracy would be required to stay overtime or assigned with extra paperwork after their shifts.
"(The ranking) invisibly adds a burden on you, in the same mood as an academically poor student who is tested and ranked every day," said the 24-year-old, using a pseudonym, who quit only after working for two months last year.
Though ByteDance didn't respond to Sixth Tone's interview request, the company said in November that it was only ordering employees to work from 10 a.m. to 7 p.m. The tech giant also introduced specific overtime rules and related compensation schemes for additional hours worked, though the new rules didn't single out content moderators.
Meanwhile, at Kuaishou, Wang said the company strictly limited their break to 40 minutes — down from around 60 minutes previously — during an eight-hour shift starting from last November. He said their mealtimes were also reduced to 30 minutes, and a computer system would automatically start tabulating their break time if the employee's monitoring screen stayed idle for a minute.
Road to nowhere 
Many big internet companies have either outsourced content monitoring or moved their entire departments to less metropolitan cities such as Tianjin, Ji'nan, and Xi'an, where salaries and rent are typically lower than top-tier megacities, to cut operational costs. The strategy has attracted fresh graduates from smaller cities seeking to find placements in bigger firms, though they soon realize the limited professional growth opportunities, multiple former workers said.
About 20% to 30% of moderators at Bilibili would leave in the first three months, with many of them opting for the same positions at other companies, Zhang said. But the post doesn't demand high qualifications or skills, which means employees have little chance of climbing the corporate ladder.
"As long as you are a college graduate with the normal comprehension abilities, you can be a content moderator," he said. "As anyone in the sector can be easily replaced, they have low bargaining power in the labor market … Roughly 3% of front-line content moderators can be promoted to team leaders."
After spending more than a year at ByteDance, Chen said she quit in late 2020, but wasn't able to diverge into a new career path. Her content moderation job didn't equip her with any new skills.
"My CV is no different from that of a fresh graduate," said Chen, who graduated with a journalism degree in 2019. "When looking for jobs, it's like you're in an information cocoon — you only end up finding content moderation-related jobs, while those in other sectors look down on you."
The past and present content moderators told Sixth Tone that just hiring more people wouldn't improve working conditions or employee retention. They said companies must ensure reasonable work hours, better salaries, and benefits for their peers, though many doubt it would happen soon.
Exhausted by his job, Zhang in 2020 traded his role at Bilibili for a similar managerial position at a relatively smaller internet company. But he's still dissatisfied and plans to resign in a few months to go back to school for further education. He also wants a change of pace compared with the fast and often intense content moderation work he's been doing since 2017, and to spend more time exercising and reading.
"Content moderators have to cope with dull content and rules every day," said Zhang, who wants to be a psychological counselor or human resources manager in the future. "What I am doing now is not the job I want to do in life."
Editor: Bibek Bhandari.
(Header image: Fanatic Studio/VCG)