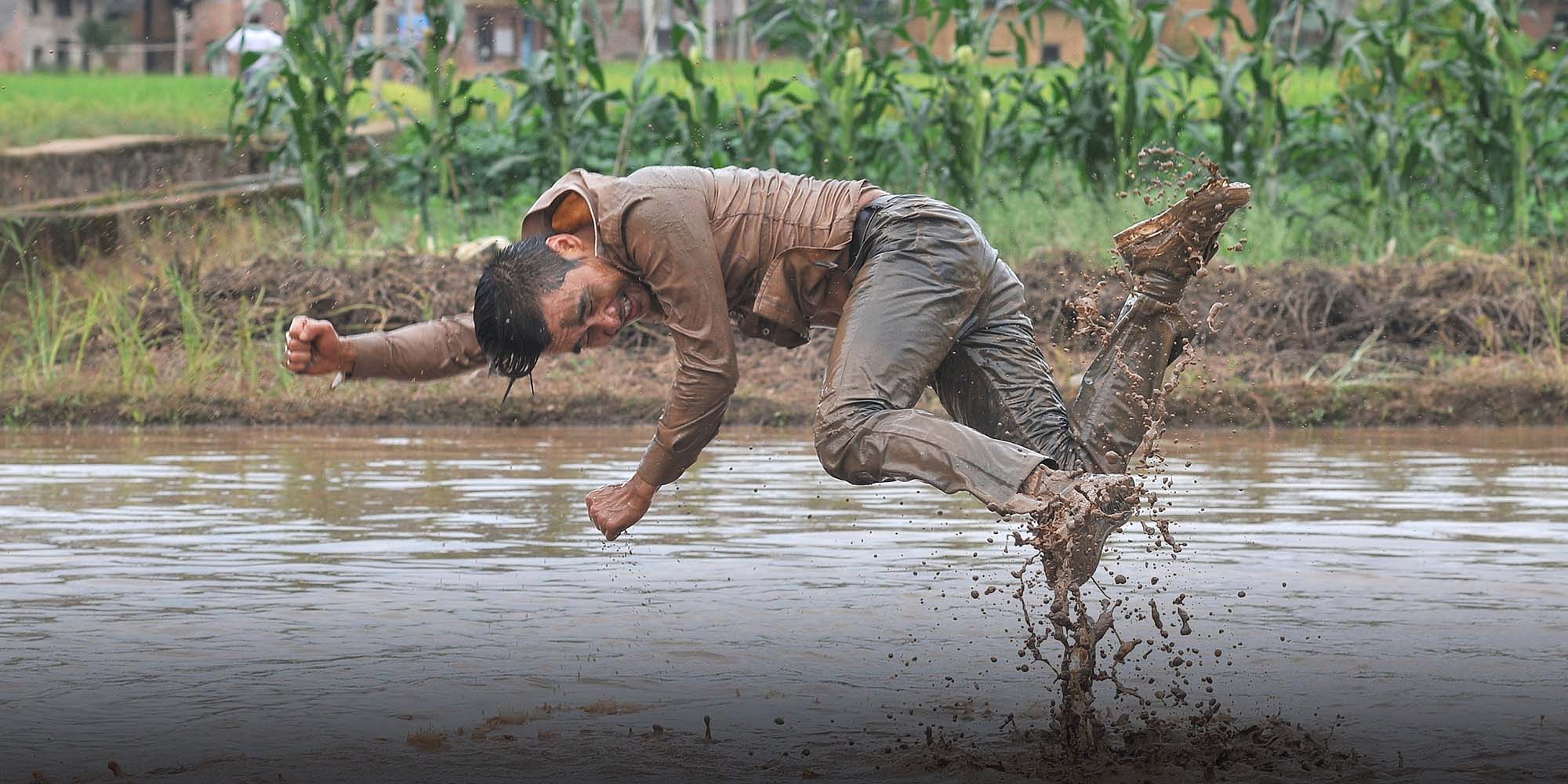 MULTIMEDIA
Li Binyuan's Art is Violent, Futile Labor
"They think I am suffering. I think it's like a kind of redemption."
"On March 30, 1999, my father, who worked as a security guard at a factory in Dongguan, sent his last letter home. A few days later, he died unexpectedly. He was 36 years old. I remember that he studied Cantonese in order to better find work in Guangdong. In 2020, I was going to be 36 years old. I took my father's letter back to the place where he last lived, split the contents of it into 36 paragraphs, and found 36 security guards working there to teach me these 36 paragraphs in Cantonese. Finally, I read this letter entirely in Cantonese."
— Li Binyuan
As China experimented with private enterprise in the 1990s, countless workers went south to look for job opportunities.
Li Binyuan's father was among them. He traveled more than 500 kilometers south, from Hunan's mountainous Lanshan County, to Dongguan, one of the emerging manufacturing hubs of the Pearl River Delta, and found work as a security guard.
At that time, Li was in Yongzhou studying at a rural primary school. His life had nothing to do with art, he says, until his middle school began to offer a painting class. Every day after school, he would look in the window of the classroom from outside and follow the lessons. Noticing his interest, the teacher encouraged him to join. It would cost a few dozen yuan, which was enough to buy a new pair of shoes.
Li's mother said that he should talk to his father when he called from Dongguan in a few days. At that time, there was only one telephone in the village, in another villager's home. A few days later, Li and his mother went there to wait for his father's call.
When the phone was handed to him, Li said, "I want to study painting — can I?" His father replied, "Well, if you're interested, go ahead." These were the last words Li and his father said to each other. A few days later, he heard that his father had died.
Li's father was 36 when he passed away. When Li turned 36, he went to Dongguan as an internationally recognized artist and dedicated a piece to his father using the medium he'd built a career on: his own body.
Li told Sixth Tone: "Now that it's done, I feel like something I wanted to say for a long time has finally been said."
Physical experience
From high school art classes, Li went to the Central Academy of Fine Arts in Beijing. He majored in sculpture. He said that what he focused on were materials and creative possibilities.
Li began to use his body as a medium. In 2009, his junior year, he was assigned to create a work in five minutes. He saw two stones on the ground and immediately decided to smash them together for five minutes.
"I was shocked by the physical sensation after smashing them. When I went to the canteen to eat, I couldn't hold chopsticks steady. It felt like I had opened a channel. Since then, I've been fascinated by physical experience."
He seems to be infatuated with these exhausting experiences, and returns to them in his performances.
One year after his graduation, Li participated in the academy's 2012 Sculpt China exhibition. The show had 161 sculptors, so Li bought 161 hammers. He sat in the middle of the exhibition space, using one hammer to smash another until there was only one hammer left.
He called it "Deathless Love." It was a hit. It was shown as a video at Art Basel Hong Kong in March 2015, and in May 2015, he was brought to Manchester, England, to repeat it with around 100 hammers for the University of Salford's Centre for Chinese Contemporary Art.
He won online notoriety as well. In 2013, he began running naked on the streets of Beijing's Wangjing area late at night, carrying a cross or an inflatable doll. People called him the "Wangjing Naked Boy" on the internet, and he was invited on TV, where a guest criticized him for "corrupting the social atmosphere" and called him "mentally impotent."
It left Li feeling that there was little point trying to reach the broader public. "They use their own logic to define you and regard you as a tool to exploit, which is meaningless," Li said. "What I do looks silly, but it actually takes some courage. Not everyone can give yourself over completely."
'Freedom Farming'
Like millions in his generation, Li left the countryside as China rapidly urbanized over the past 40 years. It created wealth and modernization, but it also disintegrated relationships between people and their land.
In 2014, he returned to his hometown. When his father died, he inherited the right to cultivate a rice paddy. The certificate carried the arresting phrase "freedom farming" (ziyou gengzhong). He went there, climbed into the mud, and spent hours throwing his body into it in a performance he called "Freedom Farming."
"For many years, my hometown was a painful memory. My mother suffered alone there, so I loved and hated the place." Li said.
On that day, the field ridge was full of onlookers, as if they were watching a movie. A camera crew came to record the performance for international exhibitions.
The villagers watched him jump up and fall down heavily, over and over in the paddy. Mud covered his body and his face, Li had to stop to vomit.
"They may not understand me, they think I am suffering. I think it's like a kind of redemption," Li said.
Li's works often involve futile, impossibly stressful activities. In an article from The Art Newspaper, contemporary art curator Yang Beichen wrote: "Almost every piece of his work is 'sculpting' the irresolvable contradictions of this era, as tragic as Sisyphus."
"Freedom Farming" appeared at a two-artist show called "Land: Zhang Huan And Li Binyuan" at New York's Museum of Modern Art in 2018, alongside 13 of Li's other works. A photograph of his body falling into the mud in rural Yongzhou appeared as the poster on the streets of New York.
Li says, "There is no difference between art and farming. Just like the farmers I saw when I was a child, it is a simple expression."
An injury
In May 2021, Li decided to jump naked from a waterfall in Lanshan County, near his home village. He worried about getting cold, so he coated his body with a layer of lard before jumping. But things went wrong as he was climbing for his seventh jump.
"My hands and feet were slippery. The stone was wet. When I was halfway up, I couldn't get a grip. Suddenly, I fell. I felt my body tremble, but I didn't know I'd broken any bones. I even thought I could go jump again," Li told Sixth Tone.
The injury broke his lumbar transverse vertebrae. In September 2021, when Li came back from a follow-up at Jishuitan Hospital in Beijing, he said, "The doctor said that the bone would never grow and recover. In this life, the two bones will remain separate."
It wasn't the first time he'd been hurt in his work, but it was the most serious. The pain is likely to follow him for years.
But, Li told Sixth Tone, he doesn't plan to give up dangerous art: "I don't preset a trajectory in my work. Even after the injury, the condition of my body was affected, but it will not affect what I want to express. I can minimize the occurrence of dangerous accidents, but I won't give up this kind of act. When I feel that something must be expressed with a strong physical language, I will take risks to do it."
While recovering, he went back to his home village, where he could spend time with his mother. He is also building a new house there.
He said, "There are many people in our village who go to cities as migrant workers. After they earn money, they come back and build a house. It's almost like the way I do art."
At home, he's had time to reflect on his past in the wild and mountainous land of Lanshan County. "I grew up in a pretty wild way," he said.
Once, when the river was flooded, he and his childhood friends went diving.
Li jumped first, and his feet became entangled by the roots of the tree under the water, but no one dared to go down to save him. In the end, he swallowed a lot of water and struggled, but managed to break free.
"What I'm doing now doesn't feel any different from when I was a kid," Li said.
Translator: Matt Turner; editor: David Cohen.
(Header image: Freedom Farming, 2014. Courtesy of Li Binyuan)