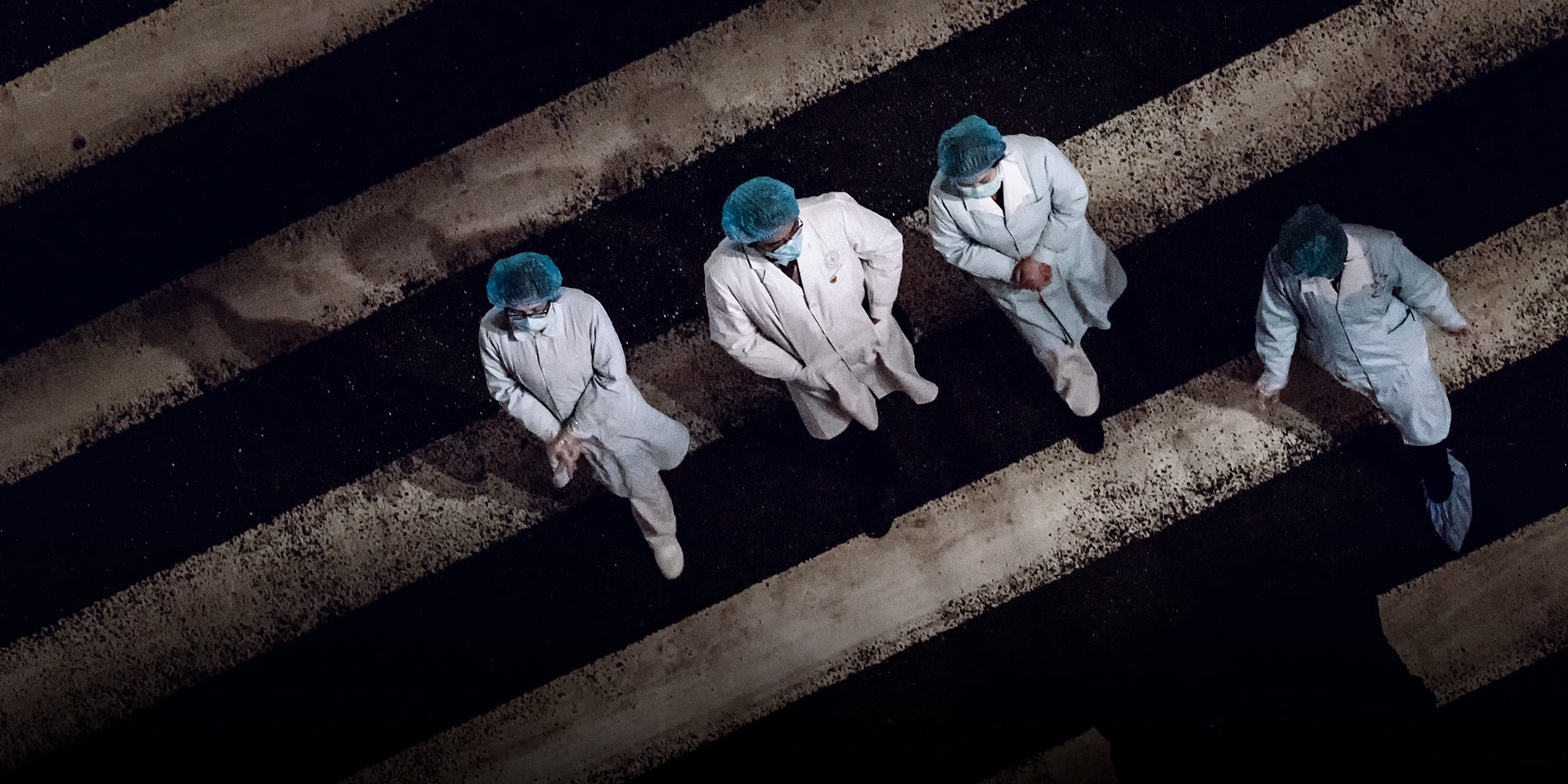 SIXTH TONE ×
How China's Medical Personnel Deal With 'Zero COVID'
An infectious diseases doctor talks about her experience fighting four coronavirus waves in Zhengzhou.
On Jan. 4, the year's first snow fell in Zhengzhou, central Henan province, whitening roofs and trees. In the house of Liu Qing, the pink camellias were in full bloom.
But just like last year, Liu wasn't home to enjoy the flowers. Her husband sent her some photos, and asked her to make sure to take care of herself.
Liu, 51, is the director of the Department of Infectious Diseases at Zhengzhou People's Hospital. She took a quick glance at her husband's messages but had no time to reply. A day earlier, COVID-19 had reappeared in Zhengzhou, and the number of confirmed infections surged over the following days in a 17-day outbreak that would end up totaling 139 cases.
Such a caseload for a city of 12.6 million people is comparatively low. On Jan. 3, the day Zhengzhou's latest outbreak was first noticed, similarly sized New York City was in the middle of its own COVID-19 surge and recorded 38,000 positive tests. There, as in much of the rest of the world, medical personnel have been under immense strain to deal with towering waves of infections.
But despite low case figures, China's doctors and nurses aren't strangers to the stresses of pandemic-era health care. The country's strict "zero-COVID" policy, which has achieved remarkably low infection figures through drastic measures, puts medical workers under enormous pressure to contain outbreaks. Any mistakes can hurt careers, including those of superiors up to the level of a city's political leadership.
Such scrutiny exacts a toll of its own. In a recent interview, Zeng Guang, an epidemiologist and a member of an expert panel advising China's national health authority, called for a more rational approach to pandemic prevention to relieve pressure on medical personnel. "I have heard that in some places, COVID-19 patients didn't die, but the attending staff died of exhaustion," he said.
Zeng was apparently referring to a striking contrast in China's COVID-19 casualty statistics. Though nobody on the Chinese mainland has died from COVID-19 for over a year, medical personnel are succumbing to high workloads related to containing the virus. In January 2022 alone, a 55-year-old doctor in Zhoukou, also in Henan province, died of exhaustion, and a quarantine center worker in Xi'an, in central China, died from cardiac arrest.
During outbreaks, people who live in areas with recorded infections but seek regular medical care have also suffered. Because they did not have a recent negative test result or the correct QR code on a health tracking app, two pregnant women lost their unborn children, and a man with chest pain died after being denied medical care during a recent outbreak in Xi'an.
Zhengzhou's January COVID-19 scare was Liu's fourth round fighting the pandemic. During the initial outbreak of COVID-19 in January 2020, the People's Hospital of Zhengzhou was designated the city's hospital for COVID-19 patients. In three later waves — in July and November of 2021, and January this year — Liu's hospital was responsible for providing care to people living in areas with outbreaks or living in quarantine centers.
On Jan. 6, the news of the hospital "receiving 200 patients from locked-down and monitored areas within two days" was widely shared online, with social media users quick to point out the apparent difference in attitude compared to the Xi'an hospitals who had denied care.
As infectious diseases doctors, Liu and her colleagues are closely involved in emergency procedures to prevent in-hospital infections. During the most recent outbreak, she was only able to rest three to four hours a day. Sometimes, she didn't eat dinner until 9 p.m., and was still attending patients in emergency care after 10 at night. "Too busy with work, too much physical exertion," she said during an interview, her voice hoarse on the other end of the phone.
One time, she only slept for two hours. Feeling her body pushed to the limit, she experienced chest pain. "Every time I say I'll never do that again, but every time I do it again." Liu said, "This is my responsibility. I can't just say I quit, and walk away, can I?"
The following is Liu Qing's story, as told to The Paper.
On Jan. 3, 2022, a local confirmed case once more appeared in Zhengzhou. Having just experienced two waves of the pandemic in 2021, we didn't even have time to catch our breath. We entered battle mode and knew that all the work we did before would need to be repeated.
Since August last year, our hospital has been a designated hospital for people in locked-down and monitored areas, as well as for people in quarantine centers. When the pandemic was stable, patients would mainly come in with fevers or be from medium- and high-risk areas. The number was relatively low, and only one floor of the isolation ward was open.
Once local cases appeared in Zhengzhou, however, not only patients with fevers but also those with various illnesses would come to our hospital. In January, the pandemic spread particularly rapidly. In the first few days, over 20 cases were added every day, and the scope of locked-down and monitored areas continued to expand. In addition, it was winter, with a high incidence of cardiovascular, cerebrovascular, respiratory, and other diseases, so patient numbers surged. The isolation ward began using 10 floors.
There were many ambulances at the gate to the hospital. Last August, ambulances brought in as many as 90 patients a day, which doubled this time around. On one day in early January, 186 patients were brought in. We arranged for three doctors to receive them.
The fever clinic was also crowded, with over 200 fever patients a day at most — two or three times as many as before.
At present, the government requires that if a fever patient from a locked-down area does not have a negative nucleic acid report from within the last 24 hours, they must undergo a test. Before they can leave the fever clinic, we will place them under observation and wait for the results, which generally come back in a little more than two hours.
In cases of acute and critical patients, we treat them first, test them simultaneously, and keep them in the emergency transition ward while waiting for the results. Doctors know that there can be no delay for critical conditions. They must not refuse to treat someone because their nucleic acid results have not come back.
Recently, there were too many patients coming in every day, especially for cerebral hemorrhages (which are more common during winter). In the first few days, over 400 emergency patients were admitted.
There was an old man in his 70s who came with severe gastrointestinal bleeding, abdominal pain, and shock. The possibility of rescue was very small. A CT scan found an intestinal perforation. After an emergency operation, he underwent intestinal resection and was put on a ventilator. Fortunately, we saved his life in time.
There were also many pregnant women. On Jan. 4 and 5, 10 pregnant women were received from locked-down areas.
The arrival of pregnant women is of great concern. We want to arrange things as soon as possible. Sometimes their water breaks and the baby is about to come out. In those cases, emergency personnel will call us while they are on the way. We will quickly contact an obstetrician and send them to an isolated delivery room when they arrive.
There was a high-risk pregnant woman who had to be quarantined while she was about to give birth to her first baby. She showed up by herself, totally unprepared. The baby's clothes and supplies were all arranged with the help of our medical staff. Medical staff also helped with nursing her baby, and putting it to bed.
Every patient sent here, regardless of the severity of the illness, may be COVID-19 positive — so we have to treat each patient as if they are a positive case. Once a positive case is identified, it needs to be reported and cross-checked, and the patient needs to be transferred to a designated COVID-19 hospital.
Fear and anxiety
This year is my 28th year in medicine.
After I graduated as a respiratory disease major in 1994, I entered the People's Hospital of Zhengzhou and worked in the ICU of the emergency ward.
In 2019, the hospital reconstituted the Department of Infectious Diseases and expanded the team of doctors. Before that, the department was very small, with only three or four doctors and few patients. Doctors here mainly looked at simple measles and chickenpox cases, and had annual incomes of only thousands of yuan (hundreds of dollars).
After the reorganization, there were more than a dozen infectious disease doctors. In ordinary times, they would mainly look at unexplained fevers, infections of various systems such as in the lungs, abdominal cavity, and urinary tract, as well as manage antibiotics.
Only a year after its establishment, COVID-19 broke out, and the hospital immediately opened its isolation ward. The work of the isolation ward and fever clinic has been mainly undertaken by our department.
At first, we mostly received fever patients. After they arrived, we checked for COVID-19. If two nucleic acid test come back negative within 24 hours, we can transfer them to the general ward. It was relatively simple, and there were not so many patients. Since then, the hospital has gradually established a reserve team for epidemic prevention, including cardiovascular, cerebrovascular, respiratory, and other specialists.
In the beginning, COVID-19 was not widely known to people, so fear was widespread. One colleague actually trembled when he heard that the patient he received had been diagnosed as positive. I said, "You wear protective clothing, and everything is in order; don't be afraid." He replied, "I know I shouldn't be nervous, but I can't stop myself." This January, when he received another confirmed case, he didn't even flinch.
The patients also didn't know much about the disease at first. They were isolated into single rooms, unlike before when they could walk around and have family visits. Thus, some developed various psychological problems and needed counseling from our medical staff.
I remember a woman in her 60s who had returned to Zhengzhou from Wuhan. She was positive. She was in a bad mood initially and called me several times a day because it was the only thing that would calm her down. Later, after she recovered, she knitted a sweater for me, and always sent me greetings during holidays.
Another patient and his wife came back from abroad and tested positive at the airport. He was sent to our hospital for treatment. His wife was seriously ill and, for reasons I'm not aware of, was sent to another hospital in Baotou in northern China's Inner Mongolia Autonomous Region. Unable to contact his wife, he was very anxious. We tried every means to contact the prevention and control office in Baotou to find his wife's attending doctor, and then were able to contact his wife and learn that she was out of danger. The man's mood improved immediately, and his condition recovered quickly.
"Everyone has cried"
After becoming a designated hospital for locked-down and monitored areas in 2021, the infectious diseases team came into contact with various diseases and various acute and critical patients. The workload surged instantaneously. We couldn't all adapt to the physical and psychological pressure it brought in the beginning.
First, there was the pressure of treatment. There are risks in treating emergency patients, and some patients may not make it. In the isolated operating room, everyone wears level-3 protection, including a face shield, which makes operations more difficult.
Meanwhile, there are corresponding national policies for prevention and control, some of which include red lines that cannot be crossed. For example, if a patient is diagnosed as a positive case, medical staff will have to review the surveillance to see if there were any omissions in the reception process.
In terms of pandemic prevention, no one cares about winning honors — what we want is to make no mistakes. If something happens, someone may bear legal responsibility. Sometimes it involves not only yourself, but also your superiors. So that's a heavy burden.
The government's requirements are constantly changing, and we need to be able to adjust to them in a moment's notice. In the past, when a patient was admitted, they first saw the doctor, and then we checked their blood and administered a nucleic acid test. Now they take a nucleic acid test first, and only then can they see the doctor.
Not all patients understand these policies. For example, some fever patients just want us to prescribe some medicine. According to state requirements, if a patient comes to the fever clinic, they can't leave until their nucleic acid results come out. If someone loses their temper, they must be comforted.
Some patients need to be hospitalized, but the beds in the ward can't be arranged immediately. Some patients need radiotherapy, and sometimes that can't be provided. Some dialysis patients come without making an appointment through the community clinic, but dialysis resources are also limited. You explain this to them, but they don't understand and begin to yell at the staff.
In addition, since the workload is extremely heavy, there are bound to be instances where we can't cater to a patient's every need, and they complain. And when you wear a protective mask, you already feel suffocated. Sometimes when you see a long line of anxious patients, you'll get anxious too.
Everyone has cried, especially when the workload surged. Sometimes you feel like you're going to collapse, but some young medical staff say they can't take it anymore, and you need to cheer them up.
When some colleagues cry, we buy them a little cake or order takeout to ease their mood. The hospital also gives us a lot of fruit. Some colleagues had to spend their birthday in the isolation ward, so we sent them a birthday cake. Colleagues who are not in the isolation ward send us homemade food. The hospital also organizes psychologists to work with frontline medical staff.
For us, seeing a patient turn the corner, from being unable to eat or sit to being able to communicate with you — their gratitude and recognition give you a great sense of achievement. This harmonious doctor-patient relationship is the greatest reward for our work, and a great comfort when we are tired.
Some young doctors and nurses said they were afraid to tell their parents about what happens at work, for fear that they would worry. I told them, "When you go back with honors (given in recognition for their work during a COVID-19 outbreak), your family will be proud."
There is a saying I particularly like: There is no wasted road in life, and every step counts. Once you've experienced it all, you'll feel like you've grown up and have become more competent. We used to feel very bulky in protective clothing, but now we're used to it. Our work experience has also increased.
But this process is really painful, because there are many more physical and psychological challenges than normal. The virus changes rapidly, and many medical staff are still afraid.
Inner power
During this time, I got up at 6:40 every morning and was generally busy until 9 or 10 p.m. At any time in the middle of the night, there can be work calls about patients in critical conditions, beds that need to be coordinated, newly transferred patients, and so on.
You have to be able to go in at any time. We only had three or four hours to rest every day. And you can't remember the date. I never knew what day of the week it was. The staff was on their toes all day long.
Last August, we didn't rest for the first 20 days of the outbreak, which lasted until Sept. 12. The November wave also lasted nearly a month. The first few days were full of energy. But after a while, I couldn't bear it. I thought I had reached my limit last August. This January, the workload doubled. Each time I think, I can't do it again. But every time I do.
No matter how exhausted I was, I always went back to work like a little Superman the following day. You don't know how much power you have in yourself. Once you get going, you feel like you have endless strength.
My husband says, "take care of yourself," every time. My parents, both 90 years old, know I'm working, and seldom call for fear that I'll worry about them. My brother sometimes says, "If you have time, call our parents — they're very worried about you." Of course I know that. But when I'm in the midst of things, I can't find time to take care of my loved ones — and anyway, they're used to it.
We counted the days with our fingers. When would the locked-down and monitored areas be unlocked and unmonitored? Zhengzhou's outbreak was finally declared over on Jan. 29. My biggest wish is for an end to the pandemic, to just live a normal life, and to go home to rest and be with my family.
A version of this article originally appeared in The Paper. It has been translated and edited for brevity and clarity, and published with permission.

Translator: Matt Turner; editors: Xue Yongle and Kevin Schoenmakers.
(Header image: Medical staff walk between two quarantined areas in Dazhou, Sichuan province, Feb. 25, 2020. Liu Yi/VCG)