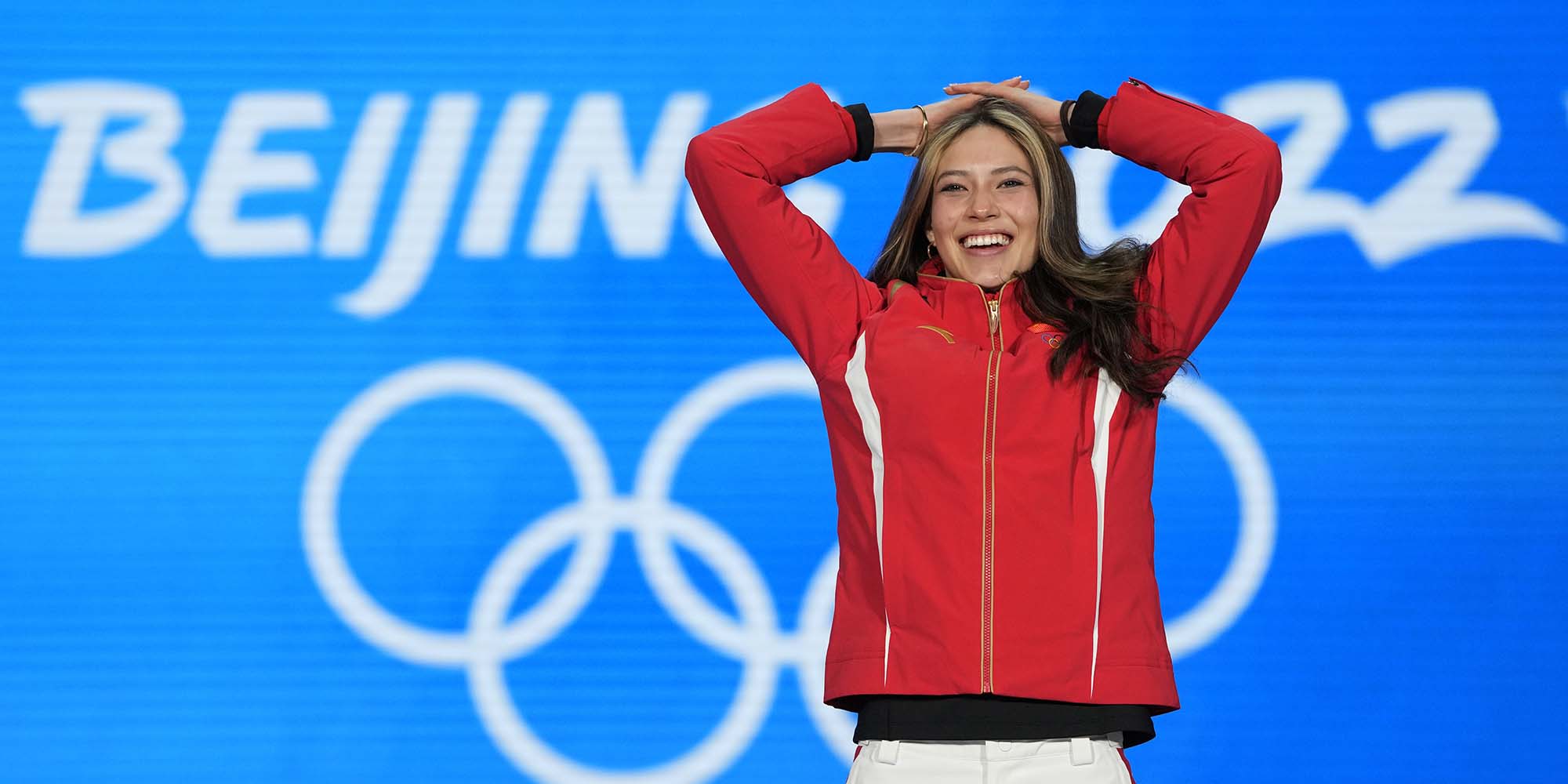 NEWS
Eileen Gu's Win Raises Profile of Her Former Tutoring Center
Beijing-based Gaosi Education went viral after the freestyle skier claimed her first Olympic gold for Team China.
When 18-year-old Eileen Gu won the women's freeski big air competition at the 2022 Beijing Winter Olympics on Tuesday, little did a private tutoring center know that its name would be thrown into the spotlight too.
Beijing-based Gaosi Education tutoring school instantly went viral on social media after fans of the U.S.-born freestyle skier who competes for Team China discovered their idol's connection to the facility. Gu, known in China by her first name Ailing, trained for the math Olympiad at the school during her annual visits to her mother's birth city.
"My mother told me that having math classes in China for 10 days would be equivalent to an entire year's worth of learning in the U.S.," Gu once told a domestic media outlet. She had also shared her experiences of learning math and other subjects at the tutoring center between 2013 and 2019 on her Weibo microblogging account.
Following Gu's first Olympic gold, some of her former classmates and teachers at the tutoring center shared their photos with the now sports idol who has captivated China. Gaosi Education declined to comment when contacted by Sixth Tone on Wednesday, adding the public should instead focus on the athletes competing in the Winter Games.
A managerial team member, however, said that the company was "happy to have accompanied the growth of our champion," according to screenshots circulating online. They added that the Gaosi center where Gu had attended classes shut in July 2021 amid the "double reduction" education clampdown.
The tutoring center Gu attended was located in the Huangzhuang area of the capital's Haidian District, and nicknamed the "universal center for academic training." During the height of private tutoring in 2018, the area housed as many as 105 schools within a 500-meter distance, according to media reports.
Meanwhile, Gaosi, which had 50 centers in Beijing by the end of 2019 and taught 80,000 students, now only has 11 remaining schools, according to the company's website.
Editor: Bibek Bhandari.
(Header image: Gold medalist Eileen Gu celebrates during the medal ceremony for the women's freeski big air event at the 2022 Winter Olympics in Beijing, Feb. 8, 2022, People Visual)