YUNNAN, Southwest China — At the coach's command, Huang Xinyi explodes onto the ice, weaves through a series of obstacles, and fires the puck into the goal.
Though only 9 years old, Xinyi is already a formidable ice hockey player. She skates faster, turns tighter, and is a better stickhandler than the boys she's training with in Kunming, a city in southwest China. One day, she hopes to play at the Olympics.
"It feels great to be better than boys," Xinyi tells Sixth Tone. "They get upset sometimes, but then it feels even better."
China isn't known as a hockey nation, but that is changing as the country hosts its first home Winter Olympics. Chinese kids are taking up the sport in record numbers — even in subtropical Kunming, over 2,000 kilometers from Beijing's Olympic venues.
It's a trend that has largely flown under the radar due to the struggles of China's national men's team. Though ranked just 32nd in the world, they qualified automatically for Beijing 2022 as host nation and are due to face the United States later this week. Some hockey experts gleefully predict a massacre on ice. The sentiment is that the Chinese team doesn't belong at the Olympics.
Yet, at the grassroots level, Chinese hockey is flourishing. The sport has a longer history in the country than many realize, with the earliest Chinese teams forming a century ago. Now, fueled by a growing middle class and a massive government campaign to promote winter sports, the game is spreading far beyond the frozen lakes of northern China.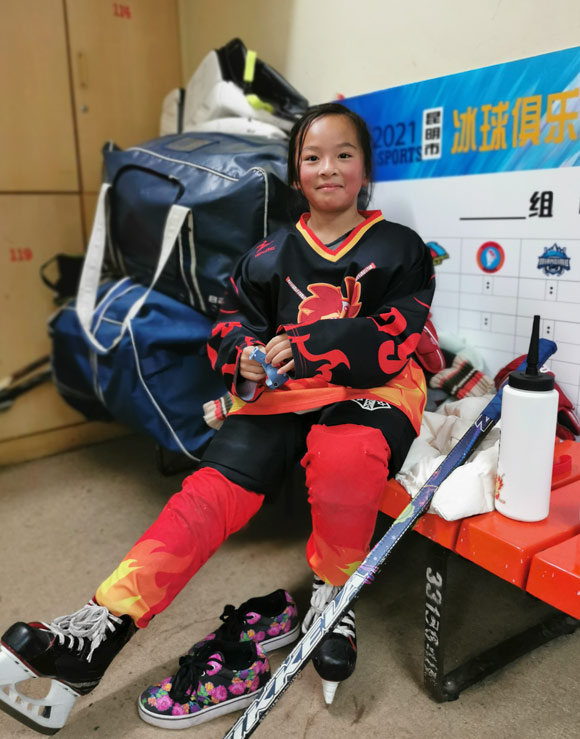 Huang Xinyi poses for a photo at an ice rink, in Kunming, Yunnan province, Jan. 23, 2022. Li Pasha for Sixth Tone
A forgotten history
The origins of Chinese ice hockey can be traced back to January 1905, when foreign residents in the northern city of Tianjin established the Tianjin Ice Hockey Club and held their first game on a frozen pond. In 1925, students at Tianjin Nankai University set up their own team: the Polar Bears.
When the People's Republic of China held its first Winter National Games in 1953, ice hockey was one of the events included. Three years later, a Chinese hockey team competed at the World University Winter Games in Poland. A year after that, two national ice hockey leagues, as well as a junior league, were set up. The sport was centered in China's frigid Northeast, and teams from the cities of Harbin and Qiqihar — near the Russian border — dominated the leagues for decades.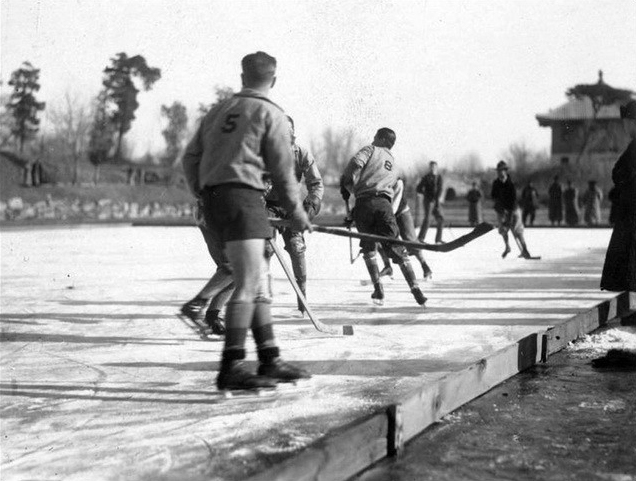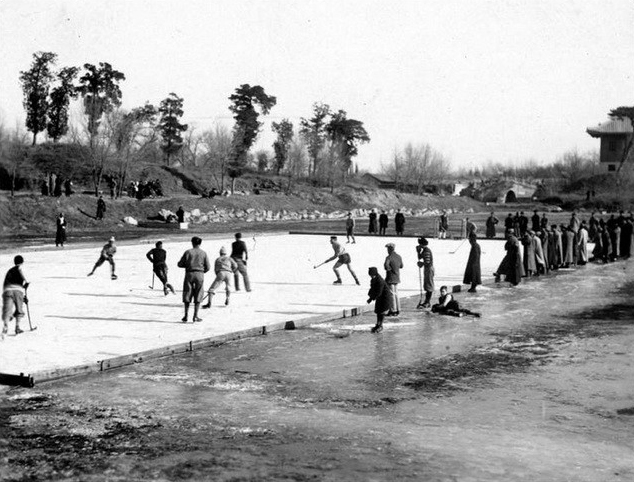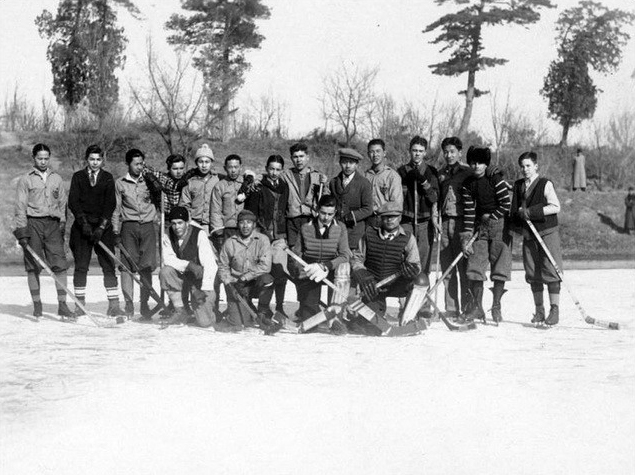 China's move to reform and open up its economy in the late 1970s turbocharged the sport. A Canadian coach was invited to China to teach the country's hockey team the latest skills and tactics. What followed is still known to every Chinese hockey player.
In 1981, Beijing hosted the Ice Hockey World Championships Group C, and the Chinese side played like a team inspired. In front of a roaring capacity crowd, they won by double digits against Great Britain (12-2) and France (10-2), before going on to beat Hungary, Bulgaria, and North Korea. Their only loss came against the eventual champions, Austria. 
The second-place finish earned China its highest-ever world ranking of 15th, but after that, Chinese ice hockey gradually went into decline. At the time, the country was overhauling its economy, and people migrated in vast numbers to cities. Grassroots participation in many sports, including hockey, was deeply affected.
The Chinese women's team, which has historically outperformed the men, continued to do well through the 1990s, winning two Asian Games and placing fourth at the 1998 Nagano Olympics. Yet, by the turn of the century, the rankings of both the men's and women's sides were in freefall. Grassroots hockey, meanwhile, was almost unheard of.
"Times were difficult," said one amateur player in Kunming, surnamed Chen. "That generation had it hard."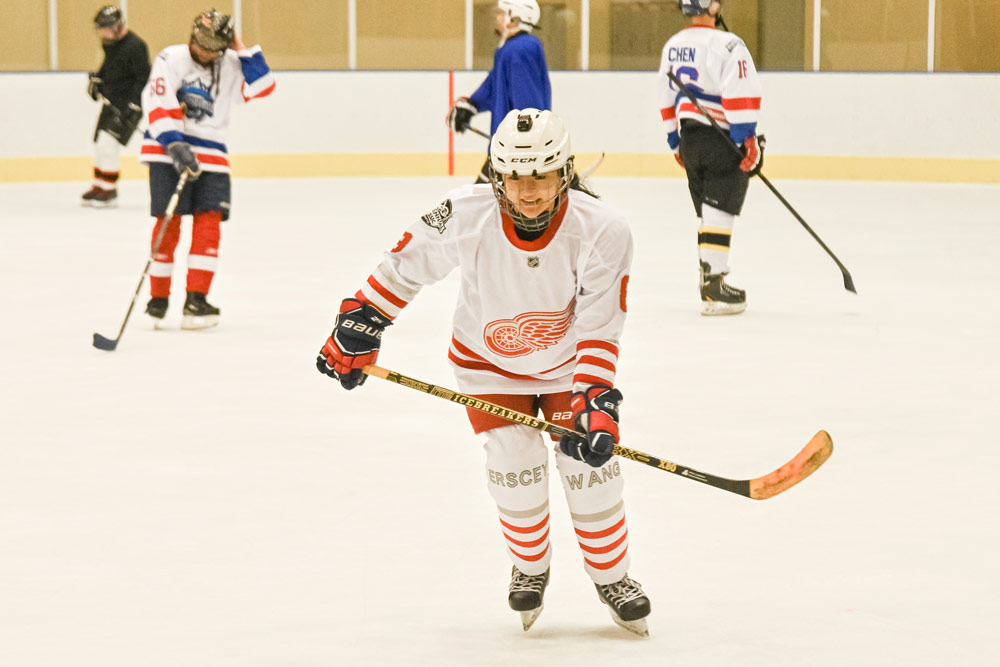 Wang Xiaoyue, an amateur ice hockey player from Kunming, reacts during a training session, in Yunnan province, 2021. Courtesy of Chen Fang
Skating in the subtropics
But then came the massive government investment in sports that transformed China into an Olympic powerhouse in the 2000s. Winter sports were less of a priority at first, but that has changed since Beijing won its bid to host the Winter Olympics seven years ago.
Ahead of this year's Games, Chinese authorities set an ambitious target to get 300 million people involved in winter sports. Hundreds of ice rinks and ski resorts have been built across the country in just a few years.
The campaign has paid off. Since 2000, more than half a billion people have entered China's middle class, and millions of them have started using their growing leisure time and disposable income to take part in sports, including skiing, snowboarding, and ice hockey.
Now, China has many of the foundations in place to become a hockey power. In the cold northern provinces, there's a growing winter pond hockey scene. A network of world-class ice rinks stretches across the country. Thousands of middle-class families are signing up their kids for ice hockey classes, hoping the game will teach them strength, speed, and teamwork.
The changes are being felt even in Kunming, a mountainous city just over 200 kilometers from the Vietnamese border. The ice hockey scene here is much smaller than in the north, but the sport is attracting a diehard following.
At Hongta Ice Rink, the city's oldest skating center, a group of adults are slapping around a puck on the ice. Chen Fang, one of the players, is a 30-something who works for a local pharmaceutical company. He only learned to skate a few years ago, but he's now a regular player.
"We're all grassroots players who really love ice hockey, and we come here every weekend to play," says Chen. "I used to play football and basketball, but they can't compare to ice hockey — you need more stamina, teamwork, speed, all kinds of different skills."
There are now around 50 adults who play hockey regularly in Kunming, says Chen. They have to buy all their equipment online because there are still no specialist stores in the city. Yet things are developing quickly, he adds.
"It's not like Canada or northern China, where there are natural ice rinks on lakes," says Chen. "Here, nothing freezes! But you can skate here too — there are now five ice rinks in Kunming."
The adults are sharing the ice with kids like 9-year-old Xinyi, whose skating is clearly in a different league. The children are being coached by Xinyi's father, Huang Hao, a former speed roller skater who transitioned to hockey around 20 years ago.
"One day, I was rollerblading in a parking lot in Kunming and an ice hockey coach saw me," says Huang. "I used to speed roller skate, so I could only turn left … Learning to turn right and do tight turns, that took me a while. But I fell in love with ice hockey."
For adults like Huang, there are still few opportunities to play competitively. Unlike in the north, there are no amateur ice hockey leagues in southwest China. He has flown across the country to play against teams in northern China a few times, but the players there are far superior, he says.
"In southern China, we started really late. In the north, the amateur teams are now really good because they were built by ex-pros," says Huang. "We went to Beijing once to play, but some guys thought they were too good for us, so we stopped going."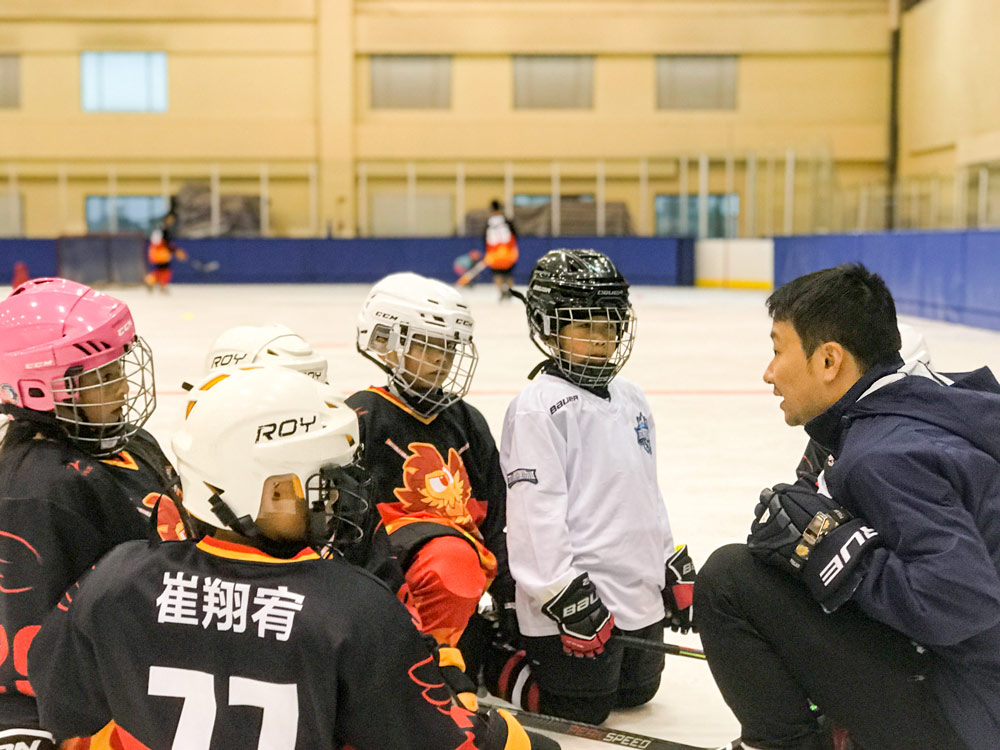 Coach Huang Hao talks to the Fire Chick players during training, in Kunming, Yunnan province, May 2021. Courtesy of Wang Xiaoyue
Rising stars
But for the kids, it's a different story. Huang alone has over 200 ice and roller hockey students. 
Now a full-time professional coach, Huang has high hopes for the youngsters. He has named his kids' team the Fire Chicks, a reference to rebirth. "I want them to grow up to be like a phoenix!" he says.
His daughter Xinyi especially has the potential to be a future star. She has been skating since she was little, and Huang has encouraged her to focus her energy on ice hockey.
"Before she went to elementary school, I said, 'The school will now set standards for you, and I will do the same. What do you want to learn — figure skating or ice hockey?'" says Huang. "After three days, she said, 'I would like to learn hockey with you, Dad.' I was very happy."
Zhang Bin, another coach in Kunming, is also upbeat about the future of Chinese hockey. Things have come a long way since he was a child: A member of the Yi ethnic minority, he grew up in a remote mountain hamlet that was only connected to the outside world by a single dirt road.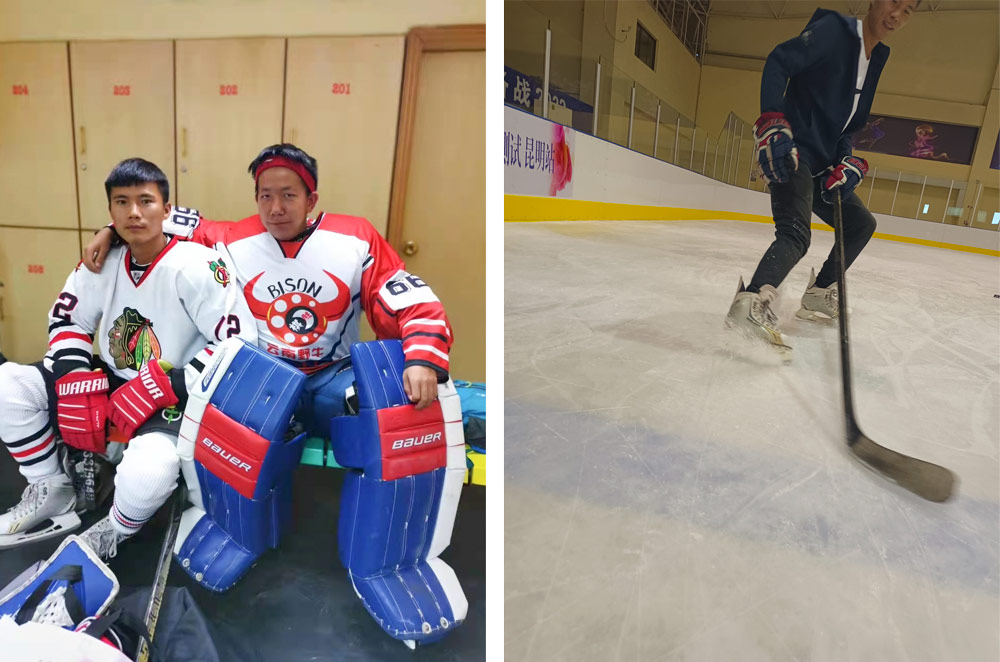 Left: Zhang Bin (left) poses for a photo before ice hockey practice at Hongta Ice Rink, in Kunming, Yunnan province; Right: Zhang Bin during training. He thinks the hardest part about transitioning from roller hockey to ice was learning how to stop. Courtesy of Zhang Bin
He started in-line skating as a student in Kunming, then took up roller hockey and found work coaching kids. In 2019, he taught himself to ice skate by watching others at the rink. "The only problem was stopping — it's completely different on ice," says Zhang. Now, he's a certified coach at a roller hockey club run by Zhao Jing, a former provincial-level goalie.
At the club, anticipation for the Winter Olympics is running high. Zhao has the Chinese national ice hockey teams' rosters saved on her phone. She hopes they can outperform expectations — a good performance will inspire more kids to take up hockey, she says.
But whatever the result, Zhao is confident China will become more competitive in the future. She proudly shows Sixth Tone the domestically made hockey equipment being used at her club, before bringing up the government's "300 million people on snow and ice" target.
"You can see how fast the changes are," she says. "Now, there is even an Olympic ice rink in Tengchong!"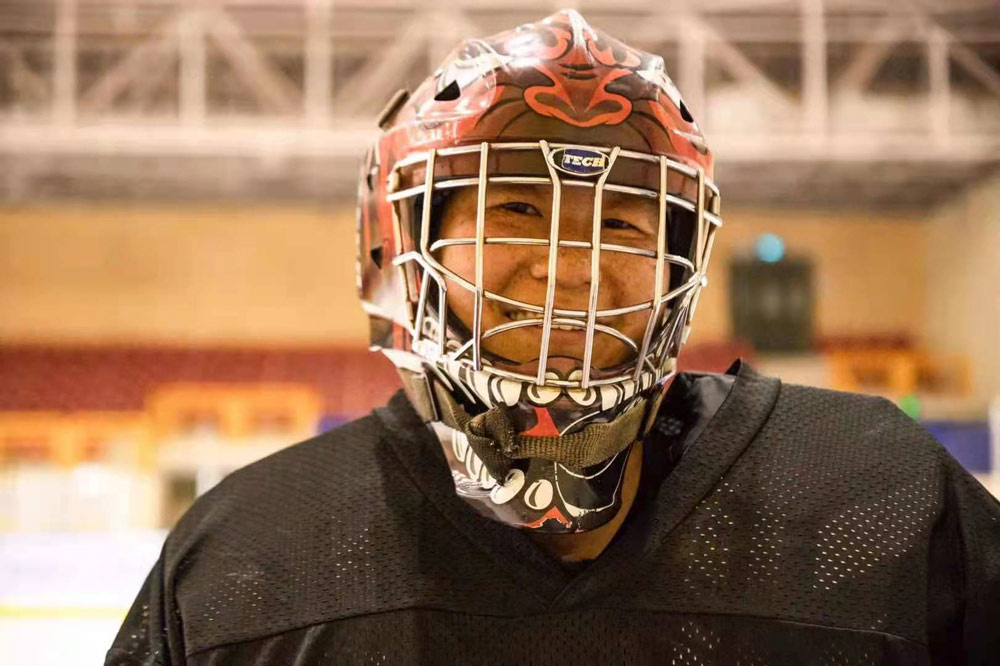 Zhao Jing poses for a photo in Kunming, Yunnan province. She is a former provincial-level roller hockey player who now plays as a goalkeeper in both roller and ice hockey. She also coaches children professionally. Courtesy of Zhao Jing
A lush, subtropical city near the border with Myanmar, Tengchong is famous mainly for its hot springs and jade markets. But in 2020, China held its national ice hockey championships in the city after building a brand-new stadium there.
Zhao says she feels hurt when she hears people express the view that Chinese ice hockey doesn't belong at the Winter Olympics. "I hope there can be less of such prejudice," she says. "I think sport has no national boundaries — we're all pushing this sport forward together."
Corner Smith, an American who used to play ice hockey professionally in China, says he's been impressed by the hockey talent coming through here. Now working as a coach in Beijing, he says there are 30 children's teams in the capital alone. At least three of the girls he trains have the potential to compete for the national team in the future, he adds.
"I would say at 6-10 years of age, skill-wise, Chinese are better than the U.S. players," says Smith, who speaks fluent Mandarin with a heavy Beijing accent.
In just a few days, the Chinese and U.S. men's national teams will face off at Beijing's Wukesong Sports Center. In Kunming, 9-year-old Xinyi will be watching.
"She asked me if our team was good," says her father, Huang. "I said, 'You need to train hard to make Chinese hockey good.'"
Editor: Dominic Morgan.
(Header image: Huang Xinyi (wearing a purple helmet) plays ice hockey with her local team, the Fire Chicks, in Kunming, Yunnan province, 2021. Courtesy of Huang Hao)