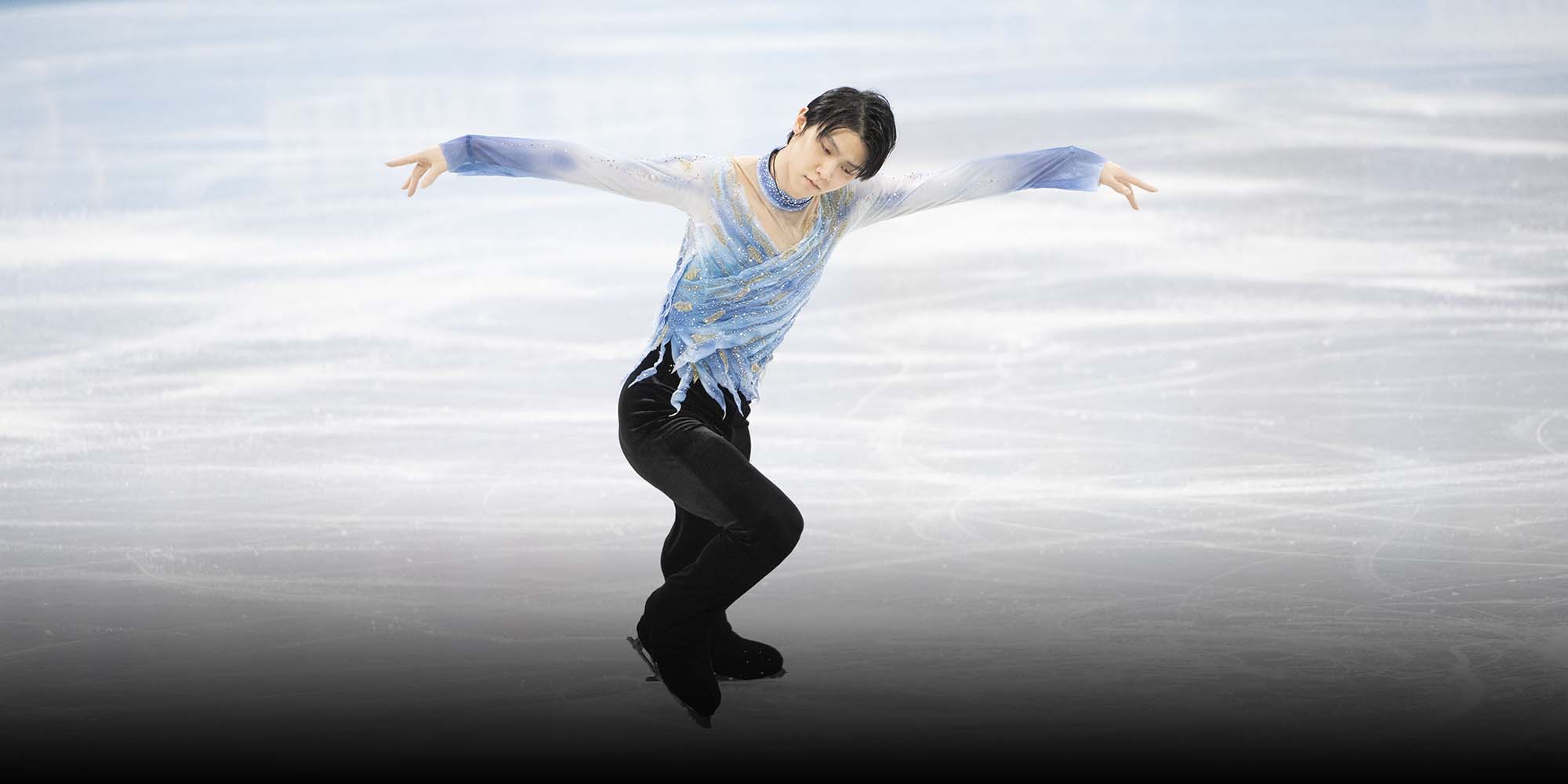 NEWS
Chinese Fans Cheer Beloved Japanese Skater After a Slippery Start
Yuzuru Hanyu came eighth after his first ice event at the Beijing Winter Olympics.
Chinese fans of figure skater Yuzuru Hanyu cheered their Japanese sports idol in a bid to lift his spirits after securing eighth position in the men's singles short program Tuesday.
The two-time Olympic champion was 18.82 points behind his rival Nathan Chen from the United States, who set a world record in the category's first event at the Beijing Winter Games. The medals for the competition will be decided Thursday, and Hanyu's fans are hoping their beloved star will rise then.
"Bad luck has passed, good luck will come at the free skating," one user on microblogging platform Weibo wrote after the competition results were announced.
Lovingly called the "Ice Prince" by his supporters, the 27-year-old figure skater enjoys enormous popularity in China, with millions tracking the athlete's performance online. Hashtags involving the star skater — including his conspicuous absence before the Games, competition schedules, and finally his arrival to Beijing on Sunday — have attracted tens of millions of views in the past weeks.
Many Chinese sports enthusiasts initially noticed Hanyu after he became the first Asian men's single skater to win gold during the 2014 Sochi Winter Olympics. But it wasn't until a viral video in 2017, showing him helping a fellow Chinese winner turn the latter's backward-facing national flag, that led Hanyu into the hearts of millions in China.
Hanyu's fan following only expanded after he defended his title at the 2018 Games in Pyeongchang. Veteran Chinese sports commentator Chen Ying then used a poetic analogy to compare the skater's moves.
"His face is like jade, body like pine, fluttering like a wild goose, curling like a swimming dragon," Chen commented during a live broadcast.
On Tuesday, Hanyu appeared in a sparkly sky-blue gauze top and performed to a rendition of "Introduction and Rondo Capriccioso," originally by French composer Camille Saint-Saëns. But he failed to complete his first quad salchow, which he said was due to a "hole on the rink."
"I'm struggling to get a hold of this more than anyone right now," he said after the event. "Honestly, it feels like I didn't even make a mistake. I don't know, is it bad karma? Did I do something to be disliked by the ice? That's how I feel, standing here being interviewed."
But Hanyu's fans rushed to support him online, with many voicing their hope that he would be on top form to defend his title Thursday. Hanyu's victory would make him the first male figure skater to win three consecutive Olympic gold medals in recent history.
"He is not competing, he is appreciating and creating art," one fan wrote in an uplifting comment, in stark contrast to the vitriol directed toward U.S.-born female figure skater Zhu Yi, representing China, after she finished last during the women's short program team event Sunday.
Meanwhile, many of Hanyu's devotees not only admire his artistic skating skills but also praise the athlete for showcasing his feminine side through his appearance or by incorporating moves of fellow female skaters.
Such displays are a rarity among Chinese male athletes, though entertainers are increasingly ditching the traditional notions of masculinity despite criticisms for being effeminate.
"It is unlikely to see male athletes with a feminine side in China," a Hanyu fan surnamed Sun told Sixth Tone. "People associate femininity as a sign of weakness and find it hard to associate with national pride. Hanyu proves this prejudiced notion is wrong."
Over the years, Hanyu's popularity has only soared alongside a growing love for winter sports in China in the lead up to the Beijing Olympics. On Weibo, Hanyu has amassed 1.9 million followers and other athletes, including Chinese figure skater Jin Boyang, see him as their idol.
"I have been admiring Hanyu since childhood," Jin said in an interview after the 2018 Winter Olympics. "When I was in the youth group, he was already the top skater in the adult group. I've aimed to be like him ever since."
Editor: Bibek Bhandari.
(Header image: Yuzuru Hanyu competes during the men's short program figure skating competition at the 2022 Winter Olympics, in Beijing, Feb. 8, 2022. Enrico Calderoni/AFLO SPORT/People Visual)