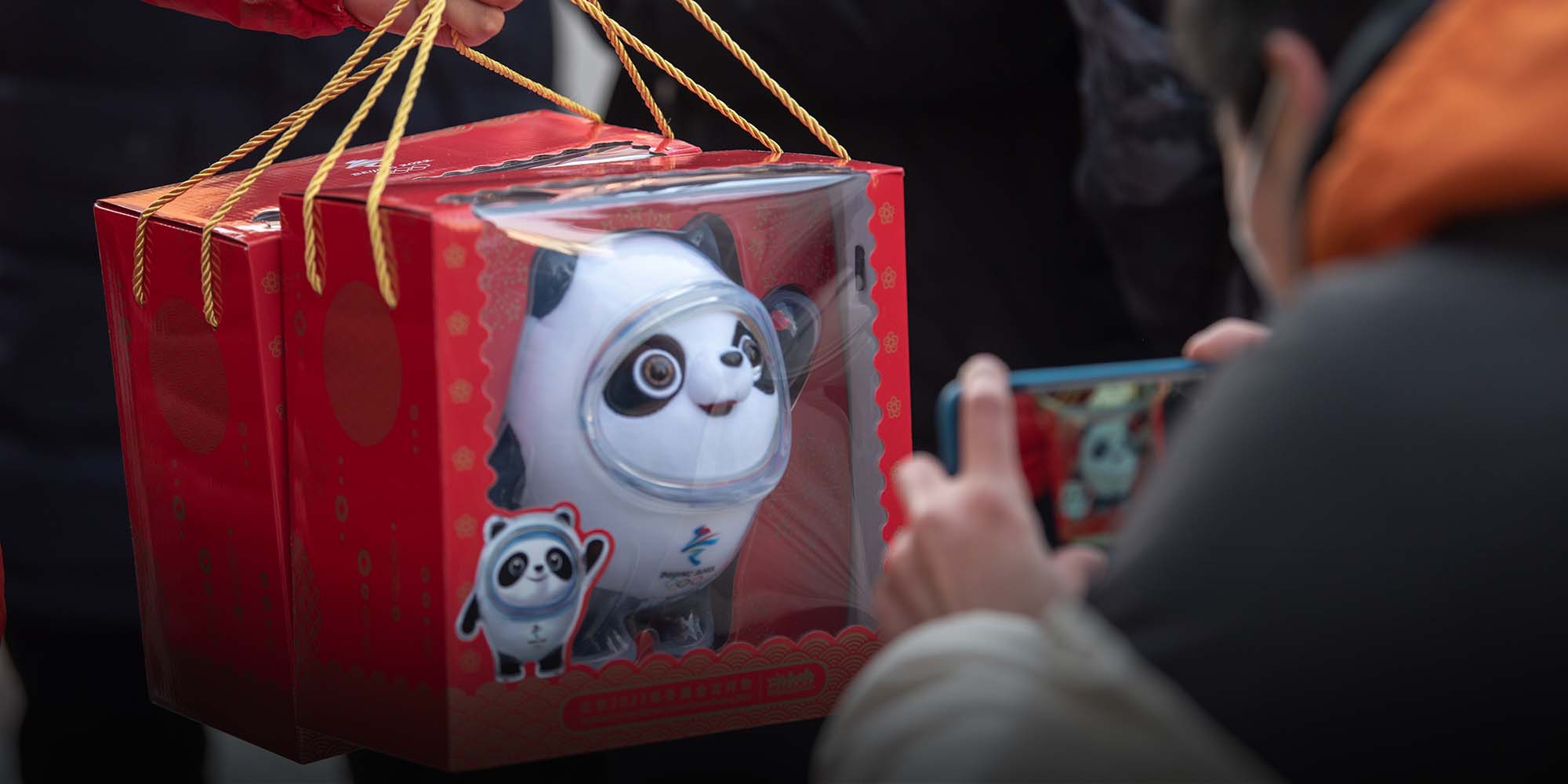 NEWS
Panda Mascot Emerges as a Breakthrough Star at Beijing Olympics
Souvenirs featuring Bing Dwen Dwen sold out within a day of the opening ceremony.
An unlikely figure is overshadowing the popularity ofathletesat the Beijing Winter Olympics — the Games' official mascot.
Bing Dwen Dwen, the dewy-eyed panda in an icy body shell, has become so popular that many souvenirs featuring the beloved bear sold out within a day of theopening ceremonyFriday, domestic mediareported. Daily sales of Bing Dwen Dwen — including miniature figurines and lapel pins — amassed a whopping 3 million yuan ($470,000) within hours on authorized sales platforms as the Winter Games kicked off in the Chinese capital.
"As factories are closed for the Spring Festival holiday, there is currently a shortage of supply to handle the burgeoning fervor," Zhao Weidong, a spokesperson for the Beijing Olympics organizing committee, said during a press conference Sunday. He added that Shuey Rhon Rhon, the mascot for the Paralympic Games, was still available.
Bing Dwen DwenandShuey Rhon Rhonwere selected from 5,800 proposals from China and elsewhere, according to the International Olympic Committee. The icy panda and the red-cheeked Chinese lantern were designed by teams from the Guangzhou Academy of Fine Arts and Jilin Academy of Arts, respectively.
On Saturday, facing supply shortages, both flagship shops in Beijing and the authorized Tmall store capped purchases on some of the most popular items like stuffed toys. The Beijing Olympics organizing committee also promised to increase the supply of merchandise.
On Chinese social media sites, some fans in Beijingsaidthey lined up for more than 10 hours to bring Bing Dwen Dwen home, while othersflaunteditems they purchased on high-speed trains, a lesser-known sales outlet for Olympic merchandise.
Apart from locals, the panda mascot has also won over attending athletes and foreign journalists reporting on the Winter Olympics. Videos of Japanese journalist Gido Tsujioka showing off his collection of Bing Dwen Dwen items during a live broadcast have gone viral on Chinese social media sites.
"Bing Dwen Dwen is lively, funny, witty, and of course full of positive energy," Christophe Dubi, Olympic Games Executive Director at the International Olympic Committee,saidduring Sunday's press conference. "She has to be part of my collection, but (also) yours, and all the kids across the globe."
Editor: Bibek Bhandari.
(Header image: A man takes photo of Bing Dwen Dwen toy in Beijing, Feb. 7, 2022. People Visual)