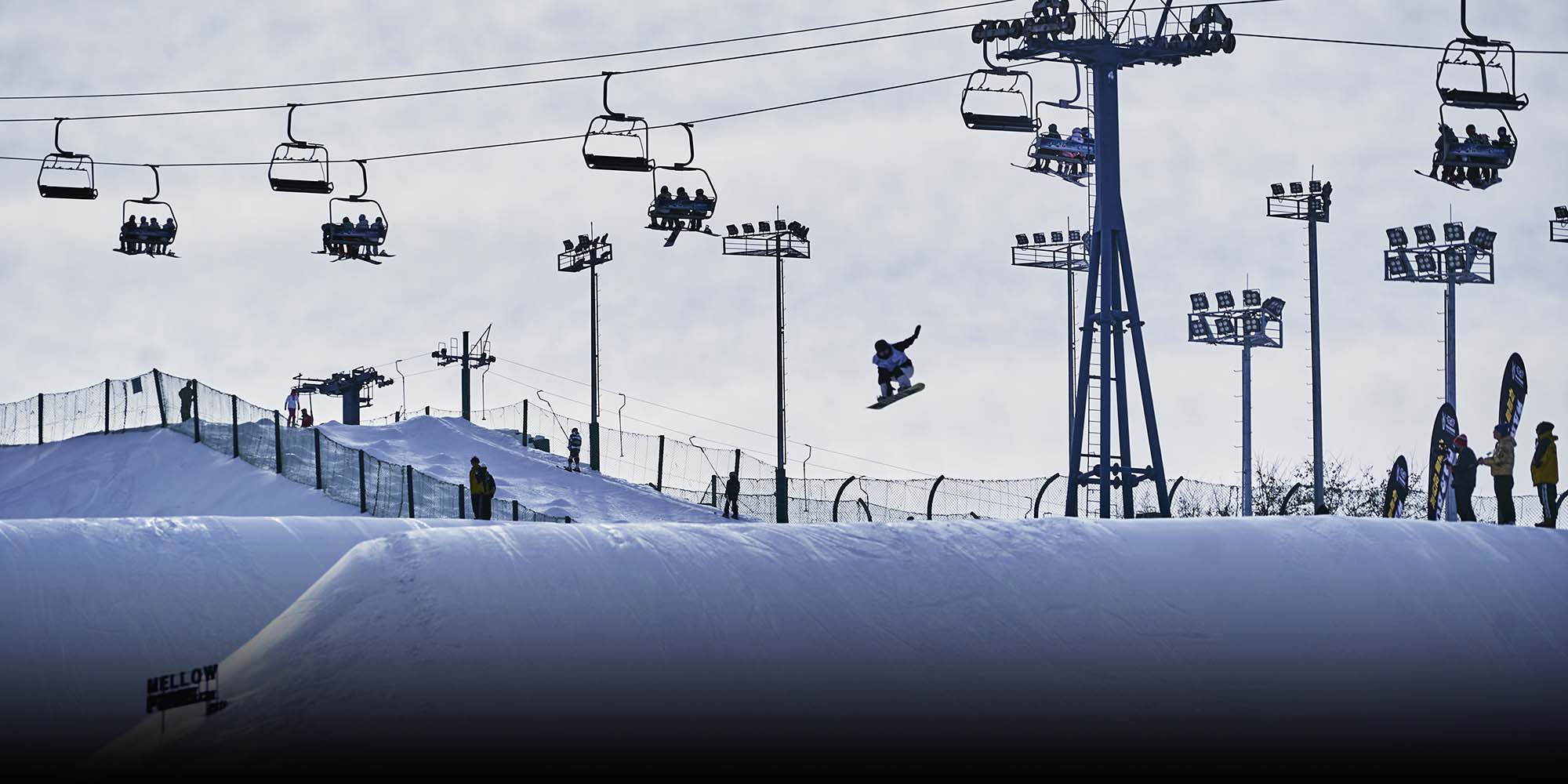 MULTIMEDIA
Ahead of Winter Olympics, 'Snow Fever' Grips China
With international travel practically impossible, snowboarding has become one of China's hottest lifestyle trends.
For Yan Ziqi, enjoying his hobby increasingly means waiting in line.
For nearly two decades, Yan was one of the relatively few to visit ski resorts around China to go snowboarding, a pastime that few in the country could afford or aspired to.
But interest in winter sports has rapidly risen in China, in no small part because the next Winter Olympics, kicking off on Feb. 4, will be hosted by Beijing.
When, this January, Yan returned to Songhua Lake Ski Resort in the northeastern province of Jilin, the chairlift to the top of the piste had a line some 200 meters long. He realized at once that his hobby was no longer niche.
State-run press agency Xinhua said the country has easily surpassed its Olympic goal of engaging 300 million Chinese people with winter sports. Though skiable mountains are mostly located in northern China, there has been a building boom of indoor resorts in the rest of the country. China now has 36 of these venues, the most in the world.
Yan, a chemistry lecturer at Shanghai Maritime University, first tried snowboarding in 2004, when he attended university in Jilin's capital, Changchun. He already liked skateboarding, and, considering the northeast's icy winters, wanted to give its snowy variant a try.
Because there were no teachers back then, he, like everyone else who first tried the sport back then, went through a lot of bruising trial and error before mastering the basics. "This made the achievement of tricks all the more exciting and fulfilling," Yan tells Sixth Tone.
Despite later moving to Shanghai, far away from any snow, he couldn't forget about snowboarding. He'd spend at least three weeks a year at ski resorts around the country. "I miss the feeling of snowboarding every year when winter starts," Yan says. "I have never missed a single snowboard season."
Usually the slopes would be quiet, but during last year's snow season, crowds had already begun swelling at some of the largest snow parks across China, even during weekdays, Yan says.
The China Ski Industry White Book published in July shows the same trend. Ski resort visits in China have increased three-fold since 2010, reaching over 20.6 million in 2019, the last year before COVID-19 control measures cut into visitor numbers.
Su Shiliang, a snowboarding coach based in Guangzhou, in south China's Guangdong province, draws a direct line to the upcoming Winter Olympics. After they were awarded to Beijing in 2015, "the demand for skiing and snowboarding began to surge," the 32-year-old tells Sixth Tone. Ever since, he's been showing beginners the ropes at Sunac Snow World, an indoor ski report in Guangzhou, and in Chongli, an area with many ski resorts located a two-hour drive north of Beijing.
In Chongli, Su has noticed how the increase in visitors is supporting all kinds of enterprises, from coaching and shops that rent out gear to hotels in the area. Novice snowboarders pay 30,000 yuan ($4,710) for a 10-day introductory course, with roughly one third of the cost going to the basic snowboarding gear, Su says, adding that the price of hotel rooms near winter sport resorts is surging.
Bai Yifan, a blogger who promotes skiing and travel on Xiaohongshu, a lifestyle-focused social media app similar to Instagram, thinks China's strict border control measures during the pandemic, including weeks-long quarantines for anyone returning to China, have also contributed to the growing number of visitors at winter sport resorts.
"Snowboarders who used to go overseas are now confined to domestic snow parks and resorts," Bai tells Sixth Tone. "Even those from the south will go all the way to those snowy areas in the north specifically to get the thrill of winter sport."
Similar to how "glamping" — a portmanteau of camping and glamorous — took off on the app, users are increasingly posting about their wintery getaways. Xiaohongshu listed "Snow Fever" as one of its top ten lifestyle trends for 2021. Many users post videos of snowboarding tricks or share tips on winter sport fashion. More recently, videos featuring users complaining about hours-long lines to use resort chairlifts have become common.
Bai thinks "snow fever" exists because snowboarding is, to many, no longer just a sport, but a lifestyle. "A lifestyle is something many young people are searching for," he says.
Veteran snowboarders like Bai and Su also see many growing pains. "The development we have now in snow sports, which we achieved in just about five years, is kind of frightening," Bai says. "Like many other new developments, we as a country always stride too fast."
Su uses Xiaohongshu to attract new clients, sharing tutorial videos with his more than 22,000 followers. But he has also noticed a lot of hustlers flocking to Xiaohongshu. "A lot of coaches on Xiaohongshu are not credential holders and are not qualified for coaching," Su says. "They might advertise with videos demonstrating the coolest tricks, but that doesn't mean they can teach others to snowboard."
Though there are no official Chinese coaching qualifications, Su himself trained at Chongli and received credentials from the Professional Ski Instructors of America and American Association of Snowboard Instructors, or PSIA-AASI.
There are also constraints on space. Natural snow is hard to find, with many resorts relying on artificial snow. Mountains with good snow conditions are located far away from China's population centers, Su says. Existing resorts mostly cater to beginners. "The variety of slopes is limited for advanced snowboarders and skiers," he says.
There is also often little space for sports other than skiing and snowboarding. "Thrill seekers who hope to try their hands at other winter sports like snowmobiling, alpine skiing, or winter hiking might be disappointed," Bai says.
With just several days to go until the Winter Olympics commence, skiing, snowboarding, and other winter sports have become much-talked-about topics on Chinese social media.
But maintaining this enthusiasm after the Games end will be a challenge, Bai thinks. Will snowboarding be replaced when a new lifestyle hype inevitably rises? "Despite the Winter Olympics being a major boost for winter sports in China, I think figuring out how to make enthusiasts who have the most spending power stay, will be difficult," Bai says.
Editor: Kevin Schoenmakers.
(Header image: A skier practices in Nanshan Ski Resort, Beijing, Jan. 8, 2022. Wu Huiyuan/Sixth Tone)