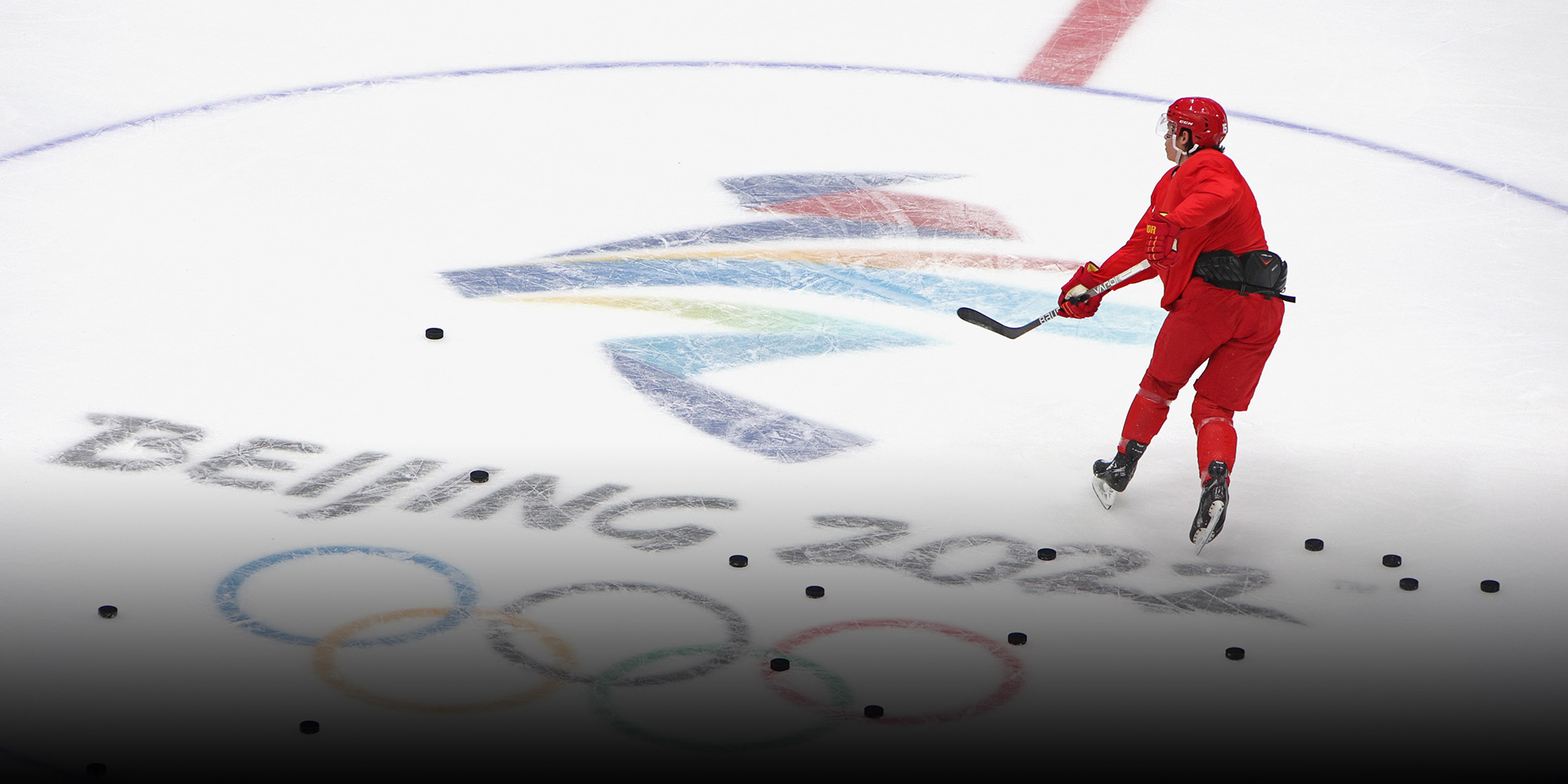 NEWS
Which Chinese Athletes Have a Shot at Gold at Beijing 2022?
China has assembled a formidable squad for its first home Winter Olympics — and might even be a contender to top the medals table. Here are the Chinese stars to watch out for.
Since the turn of the century, China has never finished lower than third in the Summer Olympics medals table. In the Winter Games, however, it has been a different story.
The country's best-ever result was a seventh-place finish at Salt Lake City in 2010, when four of its five gold medals came in the same event: short track speedskating. In 2018, China won only one gold — again in the short track — and finished 16th in the medals table.
But the 2022 version of Team China is in a different league to its predecessors. Booming grassroots participation in winter sports, combined with massive state support, has produced a team of both strength and depth for China's first home Winter Olympics. There's far more to this squad than superstar skier Eileen Gu. 
China's sports authorities haven't announced a medal target for this year's Games, which begin on Feb. 4, but Chinese athletes are strong contenders to claim gold in more than a dozen events. Beijing 2022 could even see China top the medals table for the first time — in the past eight Winter Olympics, the country placing first has never needed to win more than 14 golds. 
Here are the Chinese athletes to watch out for at the Games:
Liu Jiayu — women's snowboard: half pipe 
At the age of 31, Liu is already a pioneer of her sport in China and a three-time Olympian. She is the first Chinese snowboarder to win the World Cup and World Championships, and her silver at 2018 PyeongChang was the first Chinese Olympic medal in the sport.
Born in the bitterly cold coal-producing city of Hegang in China's Northeast, Liu was enrolled into a martial arts school as a child. At 11, she was selected to become part of China's first elite snowboarding squad. Just four years later, she won silver at a World Cup event. 
In Beijing, one of Liu's main rivals for the gold medal will be a fellow Chinese world champion, Cai Xuetong.
Sui Wenjing and Han Cong — pairs figure skating 
Sui and Han already have 14 gold medals from the world's biggest competitions, three junior world championship titles, and two more at the senior level. The only major honor they don't have is Olympic gold.
At PyeongChang 2018, after missing out on the gold medal by a razor-thin margin, the pair couldn't hold back tears. The silver they did win, however, was a remarkable achievement: a series of surgeries had left Sui in a wheelchair for part of the season. 
This year, Sui and Han are coming into the Olympics in great form, having won the 2021 Grand Prix Figure Skating Final ahead of their compatriots Peng Cheng and Jin Yang, who will also challenge for gold in Beijing.
Su Yiming — men's snowboard: big air, slope style
World Cup winner, film star, and now a contender for Olympic gold — all by the age of 17. Su was born in northeast China's Jilin province, where snowboarding and skiing are now the local sports of choice. He first stepped onto a snowboard at 4 years old; landed a film role —, skiing in the Chinese action blockbuster "The Taking of the Tiger Mountain" at 9; and started training with the Chinese national team at 14.
Last December, Su destroyed his rivals to claim the big air World Cup title, becoming the first Chinese athlete to do so. "Su Yiming's riding is evolving faster than an internet algorithm," his sponsors declared in the wake of his victory. 
Geng Wenqiang — men's skeleton
Skeleton is a very new sport in China. It was given the Chinese name gang jia xue che — "steel frame snow cart" — and Geng became one of the country's first "snow cart" racers.
Before converting to skeleton in 2015, Geng — who comes from a village in the Inner Mongolia Autonomous Region — was an elite long jumper. It took him only two months of training to win China's first international medals in skeleton. 
At PyeongChang in 2018, Geng finished 13th, but he has continued to improve since then. In 2020, he placed third in a World Cup race. Last year, he made history by winning a first World Cup event in Innsbruck, Austria. 
Wu Dajing — men's short track speedskating: individual 500m, relay, mixed relay 
Wu was China's only champion at the last Winter Olympics, where he won 500m gold and set a world record that still stands. Though still only 27, Wu is already a four-time world champion and acts as a mentor to his much younger teammates. 
Wu himself was inspired to take up the sport at the age of 10, after watching China's earlier generation of star speed skaters, such as Li Jiajun, a 12-time world champion between 1996 and 2003. Currently ranked second in the world, Wu will need to find a way past his teammate Ren Ziwei — ranked third — to take home the individual 500m gold.
Ning Zhongyan — men's speedskating: 1,000m, 1,500m, team pursuit
China has long been one of the leading players in short track speedskating, but couldn't replicate the same success on the longer track, where racers compete in pairs against each other. That was before Ning, 22, broke through. 
Ning showed pre-Olympic form with World Cup stage victories in both the 1,000m and 1,500m, becoming the first Chinese athlete to win in the latter event. Ning's teammate Gao Tingyu will also challenge for gold in the 500m, having won bronze at PyeongChang 2018.
Gu Ailing — women's freestyle skiing: big air, half pipe, slope style
When American-born skier Gu Ailing (Eileen Gu) chose to represent China, she became an instant superstar in her mother's country of birth. Her fame will reach stratospheric levels if she achieves what some expect her to — and walks away with three golds in Beijing.
Gu has the potential to do it. Though only 18 years old, she is already setting records on the highest stage. In 2021, Gu became the first rookie to win multiple medals in the X-Games, the first freestyle skier to win two golds at a World Championships, and the first athlete to go undefeated for an entire season in half-pipe competitions. She is also the only woman in the world who has landed a move called the double cork 1440.
Xu Mengtao — women's freestyle skiing: aerials, mixed team aerials 
Aerials, a freestyle skiing discipline, has long been a rich source of medals for China. The country's female athletes have won five Olympic silvers, but never a gold, in the sport.
Xu, the 2014 bronze medalist, will be aiming to break the jinx in Beijing. Currently ranked first in the world, Xu could take two golds, as she's also taking part in the mixed team aerials, a new discipline where teams of men and women compete.  
Xu's male teammates are also in fine form ahead of the Games — and even have the potential to fill all three places on the podium. In January, the Chinese men's aerials team took first, second, and third at the World Cup in Utah. Wang Xindi, the champion, will aim to join Xu on top of the Beijing podium. 
Dark horses
Women's ice hockey team 
China's women's ice hockey team was once ranked as high as fifth in the world. Its heyday came in the 1990s, when the side finished fourth at the 1998 Nagano Games and the 1994 and 1997 World Championships. After that, however, the team's performance dropped off.
China has spared no effort to revive the country's ice hockey sides ahead of a home Olympics. Chinese teams were taken to play in Canada and Russia, and foreign coaches and players were brought to China to raise the level of competition in the country's domestic leagues. Some of these players stayed on as naturalized Chinese citizens, and will represent China in Beijing.
A remake of the "Miracle on Ice" — when the U.S.'s amateurs took out the seemingly invincible Soviet Union team at the 1980 Olympics — may be possible.
Jin Boyang — men's individual figure skating 
No Chinese male skater has won an individual Olympic or world title, but Jin Boyang is getting closer and closer. He finished third at the 2016 and 2017 World Championships, and in 2018 became the first Chinese male to win the Four Continents Championships — a competition for top non-European skaters. 
Jin placed fourth at PyeongChang 2018, but skating on home soil may be enough to lift the Harbin native to the top of the Olympic podium in 2022. 
Editor: Dominic Morgan. 
(Icons: From Beijing Organising Committee)
(Header image: The Chinese men's national ice hockey team practices at the National Indoor Stadium ahead of the 2022 Beijing Winter Olympic Games, Jan. 29, 2022. Bruce Bennett via People Visual)