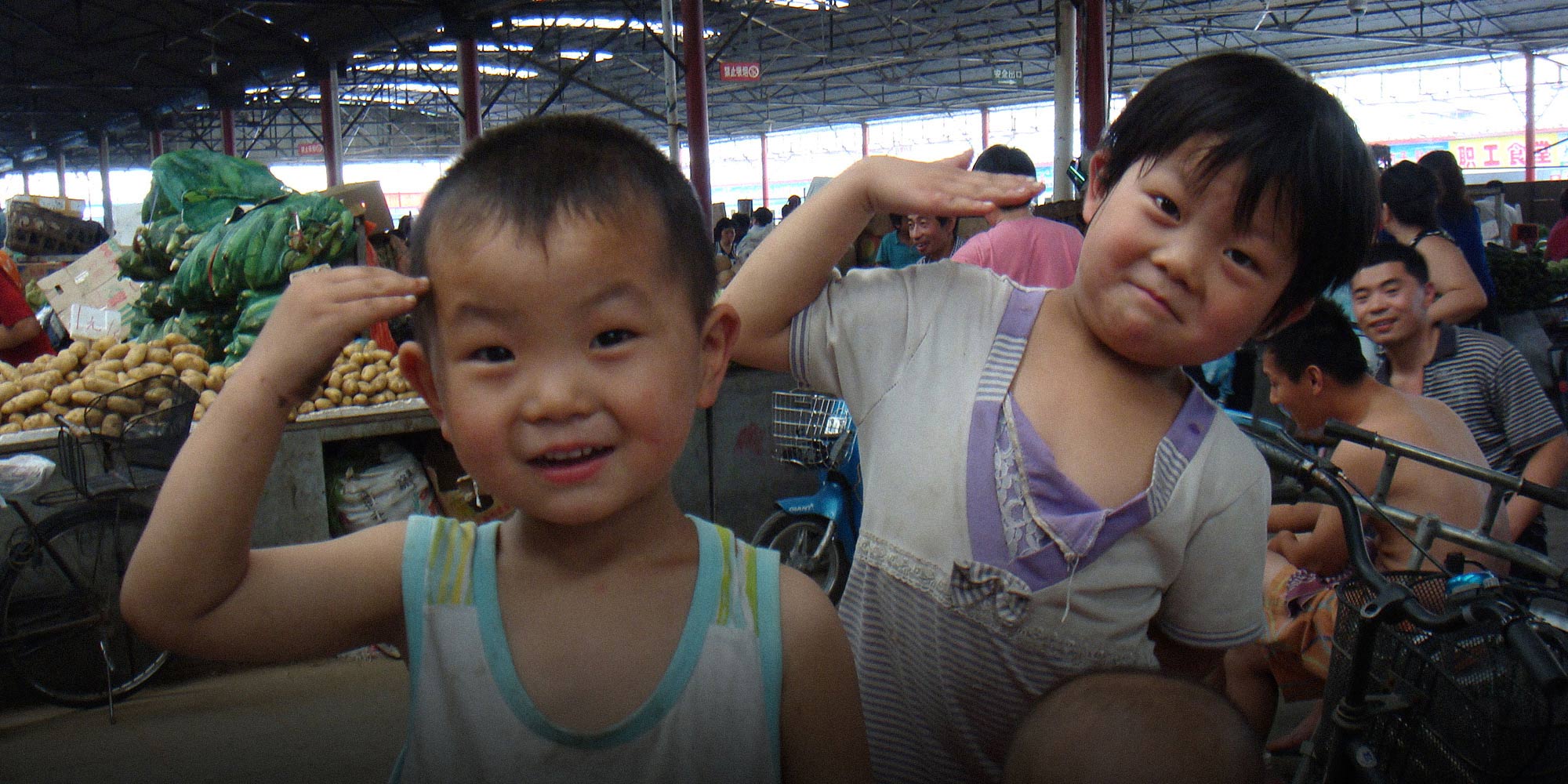 SIXTH TONE ×
Deep Inside a Beijing Market, a Preschool for Migrants Thrives
For 17 years, an informal kindergarten run by volunteers and market stall owners has helped migrant children get a headstart.
Yang Guangyu's years in preschool were unlike any other.
Her principals were stall vendors selling spices or toys, the owner of a steamed bun stand composed the school song, and Yang's mother was a teacher, who often stayed up late every night to prepare lesson plans.
Welcome to the Fourth Ring Playgroup. Deep in the bowels of Beijing's Fourth Ring Road Wet Market, this was an informal kindergarten staffed by market stall owners, most of whom are migrant workers. Its purpose: provide each other's children with the care and social environment they need.
In the spring of 2004, a group of teachers and students from Beijing Normal University surveyed the wet market and discovered that the children of vendors faced an uphill task in getting into local kindergartens. Their solution was self-sustaining playgroups.
For 15-year-old Yang, whose parents often traveled from the neighboring Hebei province to China's capital for migrant work, the playgroup proved life-altering. It's where she grew up, met most of her friends, and helped Beijing become her second home.
In the 17 years since it was established in 2004, Yang wasn't the only child of migrants to benefit from the wet market kindergarten. Today, more than 600 children have graduated from the playgroup; among them, the oldest are currently in university.
But over the last few years, amid the ever-evolving Beijing urban landscape, shifting regulatory mechanisms, and changing migrant patterns, the wet market kindergarten is struggling to cope.
Beginnings
In the depths of the Dabanjie hutong inside Beijing's Second Ring Road is a courtyard measuring about 100 square meters. Through the inconspicuous main entrance marked only by a street number, under the shade of a locust tree, is the Fourth Ring Playgroup.
Its gate is never closed; parents take turns watching over the children, and are encouraged to actively take part in their education.
It started 17 years ago, when things were very different.
At the time, Zhang Yan, a professor of preschool education at Beijing Normal University, was researching community education, where parents raise each other's children. "In this concept, communities of parents can assume complete responsibility for their own children's upbringing," says Zhang.
When some students they met told her there were many children at the Fourth Ring Road Wet Market, Zhang and her graduate students visited the market to investigate.
Cheng Min, a second-year graduate student, saw most children just scurrying around. One child was sound asleep on a produce stall. It was March at the time, and a chill still hung in the air across Beijing.
She asked the child's parents, "How can he sleep here?" They replied that he had a fever, and since there was no one to take care of him at home, they brought him to the stall.
Eventually, the research team discovered there were more than 700 migrant worker households at the market, with more than 80 preschool-age children accompanying their parents to work. Of these children, only a small fraction attended kindergarten.
The children had few options. Public kindergartens have hukou, or household permit, restrictions, while private kindergartens are too expensive.
That was when Zhang recalled the concept of "playgroups." They were conceived by middle-class parents in 1960s England to meet the needs of families unable to find formal preschools for their wards.
Zhang wondered if it was possible to encourage migrant parents to look after each other's children and provide them with preschool education.
Initially, the research team's logic was simple. The vendors at the market were often introduced to Beijing through hometown acquaintances and lived close to one another near the market, so forming a playgroup should be relatively straightforward.
As long as Zhang's research group took the lead in organizing some activities, they figured it would only take a week or so for parents to catch on. For instance, husbands and wives operating a stall together could delegate — one would sell wares and the other would take care of kids in the playgroup.
On April 7, 2004, the playgroup organized its first activity — a few games and sharing parenting experiences. Nobody showed up.
Cheng Min said the parents didn't understand what their research team was attempting to do at the time. However, after consistently organizing similar activities over a week, both parents and their children warmed up to the idea. Soon, a sizable group came every day of their own accord.
Then they hit a new snag: most parents were too busy running their businesses from dawn to dusk, and few were willing to take part in lessons. Cheng says, "These people come to Beijing to make money. If someone else offers to take care of their kids, they would be happy to accept it. But they think children can still grow up without proper care."
If parents didn't have time to attend the playgroup, volunteers — students from Beijing Normal University — visited their stalls to keep them in the loop. The volunteers designed promotional flyers every day, comprising bedtime stories, puzzles, mini-games, as well as stories about children in the playgroup.
Volunteers also met parents to discuss their children's progress, get a sense of how they normally related to their children, and chat about their businesses and hometowns.
A volunteer said about those early days: "We showed goodwill in exchange for goodwill."
Volunteers then began arranging shifts for parents so they could, at the very least, attend the group for half a day, once a week. Simultaneously, they set up parent conferences, book clubs, and large-scale activities such as spring and autumn excursions, parent-child sports fairs, and story contests.
To convince parents to attend meetings, volunteers occasionally even helped them sell produce and steamed buns while they were gone. Even then, some apprehensive parents still avoided the activities, saying they weren't up to the task.
Cheng Min recalls that she and other volunteers made an effort to discover what different parents excelled at. For example, if a parent was well-versed in crops and animals, rural nursery rhymes, or small handicrafts, they would ask them to share this knowledge with the playgroup.
They wanted to show parents that you don't necessarily need a degree to be a good teacher. Cheng Min says, "After all, parents are the first teachers that children have."
Playing in secret
Most of the time, parents and volunteer teachers had to find secluded, discreet spaces for the playgroup's activities.
Initially, the Fourth Ring Road Wet Market allowed the playgroup to use an abandoned warehouse with a large courtyard for free. But whenever a major public health or safety incident occurred in Beijing, the playgroup risked getting shut down.
Volunteers were constantly worried that, if the activities stopped, it would be more dangerous for children to return to the playgroup, which would make it even harder to organize them again afterward.
As a result, the group went nomadic: from abandoned gym storerooms to open spaces in front of the market stalls, and from the mouths of the hutong to even Houhai Park in Beijing's northwest. Wherever they went, they'd place newspaper on the ground, and sit down to tell stories, make origami, or do physical exercises.
But a large group of children is rarely quiet. So when the playgroup drew stares or the ire of residents, they had no choice but to pick up and move elsewhere.
Xiao Jinsheng, a parent who later became one of the playgroup's principals, recalls that they were also afraid of run-ins with chengguan — China's notorious urban management officers — so they had to hide whenever they saw them.
In May 2010, the group experienced its most serious shutdown when a dog belonging to the market manager mauled a child playing in the market.
At this point, the market management woke up to the risks of the playgroup and decided to pull the plug. After that, the playgroup stayed on the fly for three months, until they finally rented a private residence.
Xiao Jinsheng was very pleased with this new set-up. He says: "It was a single dwelling with its own courtyard; once the door was closed, it was safe from outsiders."
But they ran into problems on the first day they reopened. Volunteer Yang Jianyu says that an old man next door stood on the roof and yelled at them. "Would you keep it down? You're making life miserable for us."
After that, he began calling the police every day to complain that the children were "disturbing the peace." For nearly a month, the police came around at the same time, every day. And Yang Jianyu would stand outside and wait for them to arrive before apologizing.
About a month later, the playground's problems made it to the news. One report on a local TV station even inspired a samaritan to anonymously donate 10,000 yuan ($1,600) so all four neighbors could install sound-proof glass.
Finally, the playgroup stopped living in fear. Since then, they have carefully maintained a harmonious relationship with their neighbors — for instance, giving them gifts on Lunar New Year.
Usually, while in the yard, volunteers tell the children not to make any noise, often saying: "If you don't keep your voices down, we might not be able to play here anymore."
Legally, the playground is a community service center registered with the civil affairs department. "But we find ourselves torn between the civil affairs and education authorities," says Li Yuanxiang, a legal representative and volunteer of the playgroup.
"Both departments want to manage us at the same time, and they can't seem to agree about how. Every year that we're able to keep this group alive, we feel blessed."
Building bridges
It is not just the children who learn in the playgroup, but also their parents. Every Thursday evening, after the children finish for the day, the parents meet with the research team.
At one such meeting, a father named He Xiang, who later became a principal of the group, spoke about how he used the parenting experiences he'd acquired to communicate better with his children.

"Today, when I finished work, I went to my stall and discovered my daughter had spilled a bag of peanuts on the ground. I almost screamed in anger. But I reminded myself that yelling or smacking wouldn't undo what had already been done, so I restrained myself," says He Xiang.
"I had actually just read a book called 'The Right Way to Give Your Children Criticism.' I figured that it was a good opportunity to teach my daughter."
His daughter told him she had accidentally knocked the peanuts while playing hide-and-seek. He then asked her to clean it up and went about his own business. Later, he came back to ask if it was difficult to clean up the mess.
His daughter realized that she shouldn't hide in the stall. He then comforted her: "You may play outside if you want. Daddy is just worried that the things on the shelf might fall and hit your head if you aren't careful in the stall."
Another parent, Wei Zhihong, vividly recalls a life lesson the playgroup taught her. Once, the playgroup held a story competition. Every time they practiced at home, her daughter recited her story very well, but when on stage, she only managed to utter a couple of sentences before clamming up.

Feeling humiliated, Wei dragged her daughter off the stage. When they got home, both mother and daughter were so furious with one another that they went to bed without saying a word.
The next day, volunteer Ma Nan came to visit and had a candid chat with Wei. Ma made her realize that she shouldn't be too impatient to see her child succeed; instead, she needed to listen to her child's point of view.
Wei admits to being short-tempered and says she was rough with her child. Afterward, she admitted to her daughter that she was in the wrong. The daughter also explained that she wasn't able to speak because she was afraid.
Since this incident, Wei has always ensured that she asks her daughter's opinion about anything they do together. Now, the two are closer than ever; she finds her daughter now trusts her and is willing to confide in her about everything.
Zhang Yan often reminds her graduate students: "We must activate parents' sense of initiative. The truth is that they're capable people — they've made the huge journey from their hometowns to Beijing, and while their accomplishments may not seem all that great on the surface, they've been through a lot to get to where they are today. They're very brave and hard-working."
Teacher-moms
In 2011, Zhang Yan, then 60, was preparing to recruit the last batch of graduate students before her retirement. She suddenly realized that without her, the playgroup might no longer have any volunteer teachers.
So she reconsidered one of her research group's past proposals: train the mothers. In the years that followed, the playgroup trained eight "teacher-moms."
Volunteer Ma Nan recalls that, during their regular meetings, they discussed the mothers best suited to the job. They zeroed in on two criteria: first, they must be enthusiastic and willing to prepare lessons; and second, that they're full-time mothers or without stable employment.
One name stood out: Yang Guangyu's mother, Ding Fengyun.
At the time, Ding was only 27, and her daughter was four. When Yang was born, Ding's husband was busy working in elevator maintenance while she stayed at home to take care of their infant. "I felt like I didn't have any goals in life, but I didn't want to keep living like that," recalls Ding.
Ding's grades in junior high school weren't all that bad, but as the eldest daughter, she abandoned all dreams of higher education to find work and help her younger siblings go to school.
But she still "longed to accomplish something." Later, despite her parents' objections, she took a 2,000 yuan loan to open a restaurant, which barely broke even. The year it shuttered, she got married.
Her daughter Yang Guangyu initially went to a kindergarten for children of migrant workers. Yang still recalls an incident when she was three. She raised her hand and asked to go to the toilet. Her teacher responded coldly, "No, you can't. Hold it in."
Yang says that the kindergarten had impressive facilities; the playground was twice as big as that of the playgroup's, and all the teachers wore uniforms. Yet, she found it oppressive. "It sucked the joy of being children out of us," says Yang.
Over just three months, Yang frequently fell ill. Later, because of how expensive it was and how far away it was from their home, Ding decided to transfer her daughter to another kindergarten.
Yang's parents rode around in circles with her on their electric scooter, looking for a kindergarten close to their apartment. That's when she spotted a group of children around her age all leaving a hutong at the same time.
The family followed them into a courtyard and saw them all having fun with their teachers. They had stumbled upon the Fourth Ring Playgroup. Soon, Yang Guangyu became the first child in the playgroup whose parents weren't market stall-owners.
After being invited to work for them as a teacher-mom, Ding Fengyun was delighted to hear the small children address her as "Teacher Ding." Initially, she did simple tasks like preparing resources and making sure that everyone was well behaved.
But after a month, the volunteers let Ding lead lessons. Every day, she came up with lesson plans before class, and recorded the events of the day in a teacher's journal in the evening.
At first, Ding says, she "didn't have a clue" about these things. She had to learn everything from scratch — even typing on a computer — and would only send her lesson plans to Zhang Yan after working well into the night.
She didn't know any children's songs or finger tricks either, so she spent extra time each day committing them to memory. After dinner, her husband washed the dishes to give her more time to work and learn.
In addition to teaching, Ding's daily duties also included helping children with personal matters. Once, when two students were fighting, Ding directed another student to check what they were up to.
The third student went over, handed each kid a bar of candy from his pocket, and told them: "Don't fight again after this." To Ding's surprise, the students stopped fighting.
Since then, whenever conflicts arose between children, Ding — so long as there was no risk of anyone getting seriously hurt — always sent another child to resolve things while she observed from the sidelines.
Brimming with life
On the outside, the playgroup's doors and windows are a little battered, while the concrete floor has a few potholes. Hanging on a wall across the classroom are white styrofoam plates with drawings representing the 24 solar terms of the lunar calendar.
To the side, a tree trunk is decorated with flowers and leaves made from colored paper and knitting wool. These are the playgroup's toys and teaching aids, which the teachers, children, and parents all made together.
With the onset of spring, the children use colored paper to make flowers and trees; in summer, as bees and butterflies arrive to collect pollen, the kids start an insect class. During the transition to autumn, the teachers plan one day where everyone gets up very early to observe the dewdrops that form with the cooling air.
One entry in Ding Fengyun's journal documents a particularly vivid lesson on nature. One day, after their morning exercises, she took the children to observe the shape of poplar trees at the entrance to the hutong.
The children touched the trees with their hands, and everyone provided surprising observations. One child said the bark of the tree was "lumpy and bumpy"; after running her hands along its knots and burls, her hands suddenly "felt smooth." Another said that, with all its wrinkles, the bark of the tree looked like an old man's face.
Ding then asked the children to observe the tree from further away. Some noticed that there were two nests in the tree, and began to speculate that there were probably little chicks inside. On returning to the classroom, everyone made drawings of the big tree they'd just observed.
Zhang Yan said that the reason the playgroup places such an emphasis on local nature classes is because, though these migrant children come from rural areas, they rarely return to their hometowns and are often far away from nature.
However, what worries most parents is that pinyin, arithmetic, and handwriting are not taught in the group. "Why don't you teach them just a little bit?" they ask Ding Fengyun.
Ding says that parents want visible, tangible evidence of what their kids are learning, such as how much homework they've done and how many Chinese characters they recognize. She explains to parents that if she starts teaching them "dead" things now, such as how to read, it will dull the children's imagination.
Fractures
Since 2014, children in Beijing are required to produce "five certificates" to study at a public elementary school. For the stall-owning parents of the Fourth Ring Playgroup, the most difficult certificates to obtain by far were proof of residence in Beijing and proof of continuous social security payments.
On Sept. 30 of the same year, the Fourth Ring Road Market announced that the market would be demolished within a month to comply with the city's plans to enhance its urban environments.
Most parents from the playgroup chose to take their children with them back to their hometowns; for instance, Principal He and Principal Xiao both sold off their produce, packed up, and left with their families.
Some parents still struggled to give their children a chance to stay in Beijing for school. Chen Yizhou's mother "wanted to give her son the best education." However, because he wasn't eligible for public elementary school, Chen Yizhou ended up in an elementary school that specifically catered to children of migrant workers.
Originally, Ding had planned to take Yang Guangyu with her back to their hometown in Hebei, but at the last moment, she managed to borrow a property ownership certificate from her neighbor, which allowed Yang to get into a local public elementary school.
Only a few years later, around the time these children finished elementary school, their parents ended up deciding to take them home anyway, as they lacked the necessary hukou that would allow them to take the college entrance examination in Beijing.
Upon leaving the playgroup, the children quickly realized how different things were in the world outside.
At elementary school, almost all the children in Yang Guangyu's class were from the city. For the first time, she developed the concept of money and understood what people meant when they talked about the gap between rich and poor.
She observed that urban children who had the money to attend cram schools tended to perform better at school; while out-of-town children spent their time after class trying to fit in with locals.
Though these discoveries upset Yang, she didn't dare tell her mother how she felt. "My mom was already very exhausted; it would have only made things harder on her," says Yang.
When she was in sixth grade, she sat down with her parents and discussed the possibility of returning to their hometown in Hebei alone for junior high school, while they continued to work in Beijing.
Unlike Yang Guangyu, Chen Yizhou noticed few differences between himself and the other kids at the elementary school for migrant children. With his good grades, he even went on to become class president.
Nonetheless, he, too, had some difficulty adapting. "I didn't know anyone well, and I didn't take the initiative to strike up conversations," he says.
In 2015, Chen's parents, who had worked hard in Beijing for 15 years, decided to take their son back to Hebei province so he'd have more time to adapt to the different local education system.
Chen Yizhou said that, for a while, he couldn't accept the fact that he was leaving Beijing. On returning to his hometown, he felt like he "was in a foreign land," and suffered from extreme mood swings.
Born and raised in Beijing, these migrant children naturally thought of themselves as Beijingers. But, after being uprooted from the city and taken back to an unfamiliar "hometown," they have all had to forge new identities.
At the elementary school in her county seat in the southeastern Fujian province, all of Xiao Can's classmates regarded her as a Beijinger. In class, whenever their textbooks mentioned Beijing's landmarks and historical sites, the teacher asked her to tell the class what Beijing is like. Now in junior high school, other students immediately ask her whether she's from Beijing the moment they hear her accent.
The return of many of the wet market's migrant workers to their rural hometowns has translated into a drastic loss of students for the playgroup. To cope with the rent, the group has begun to manage enrolments in the same way as a private kindergarten.
Every week, they hold meetings to discuss possible methods of recruitment. When volunteers take the children to Houhai Park for activities, they bring brochures with them and hand them out to anyone they notice watching them.
Though some local Beijing parents who approve of the concept of playgroups have decided to enroll their children, now, the number of children is still the lowest it has ever been in the group's existence.
Echoes
Last September, the children were busy with activities in the playgroup's courtyard. Zhang Yan sat on the small bench with some of the parents and looked at the children in sympathy. Occasionally, she got up to take photos of them jumping around.
Though retired, Zhang Yan has continued to read the teacher-moms' lesson plans and journal entries and still gives them feedback. Meanwhile, her weekly educational seminars have never stopped.
She has always told people: "The Fourth Ring Playgroup isn't perfect — it's just a form of mutual aid education. As long as both the children and their parents are happy, then it's appropriate education."
Chen Yizhou is in the eighth grade back in his home county seat. He still cherishes memories of the time he spent in the playgroup. Once, when he lost a tooth, the volunteer teacher laughed as they threw it up onto the roof.
Another time, when skipping rope with slightly younger children on the bank of Beijing's Houhai Lake, he took care of them like a big brother. He still recalls the teacher-moms' gentle smiles, as well as some less clear memories of games and mischief.
Yang Guangyu remembers that, after school in the summer, they picked cucumbers and gave them a quick wash in the sink before biting into them. On Lunar New Year, though they often didn't stop working, many parents from the wet market gathered together to make dumplings.
She recalls how one of the teacher-moms held her hand when she gave presentations; her hands "were so soft to the touch." The same hands would later teach her to tie her shoelaces.
The parents, too, have fond memories of the playgroup.
In early 2021, after she moved home, Ding Fengyun found work as a teacher at another kindergarten. Over the years, her salary has always been funded by various foundations. It rose from only 500 yuan a month in the beginning to more than 4,000 yuan now.
One of Ding's relatives asked her, perplexed: "Why migrate to Beijing only to make such a small amount of money?
But what Ding values are personal growth, validation, and those moments of childhood innocence. She still remembers that on Teacher's Day one year, children were asked to paint their teachers, and one girl asked to paint her.
Ding took her request very seriously, being careful not to move as she posed for her portrait. But, for a long time, the girl didn't even look up once. She asked her in surprise, "How come you won't look at me?" The girl replied, "Teacher Ding, I don't need to look at you — I always have you with me in my heart."
After graduating from Beijing Normal University, the vast majority of Zhang Yan's students — the playgroup's former volunteers — have chosen to continue their careers in preschool education, either teaching the subject at university or becoming kindergarten principals.
Since graduating, they have hardly ever received news from their former playgroup students. When Yang Jianyu heard about how nostalgic parents and children were for the playgroup, he smiled.
He says: "I think what we did was quite worthwhile. The truth is that all we wanted was for them to recall this time fondly. When challenges arise later in life, these positive memories will act as a solid foundation that will help keep them resilient."
Yang Guangyu, Chen Yizhou, and Xiao Can are pseudonyms.
Reporters: Chen Yuanyuan, Shu Yuyan, and Liu Geng.
A version of this article originally appeared in The Paper. It has been translated and edited for brevity and clarity, and published with permission.

Translator: Lewis Wright; editors: Xue Yongle and Apurva.
(Header image: Children pose for a photo at Fourth Ring Road Wet Market in Beijing, 2009. Courtesy of the interviewees)