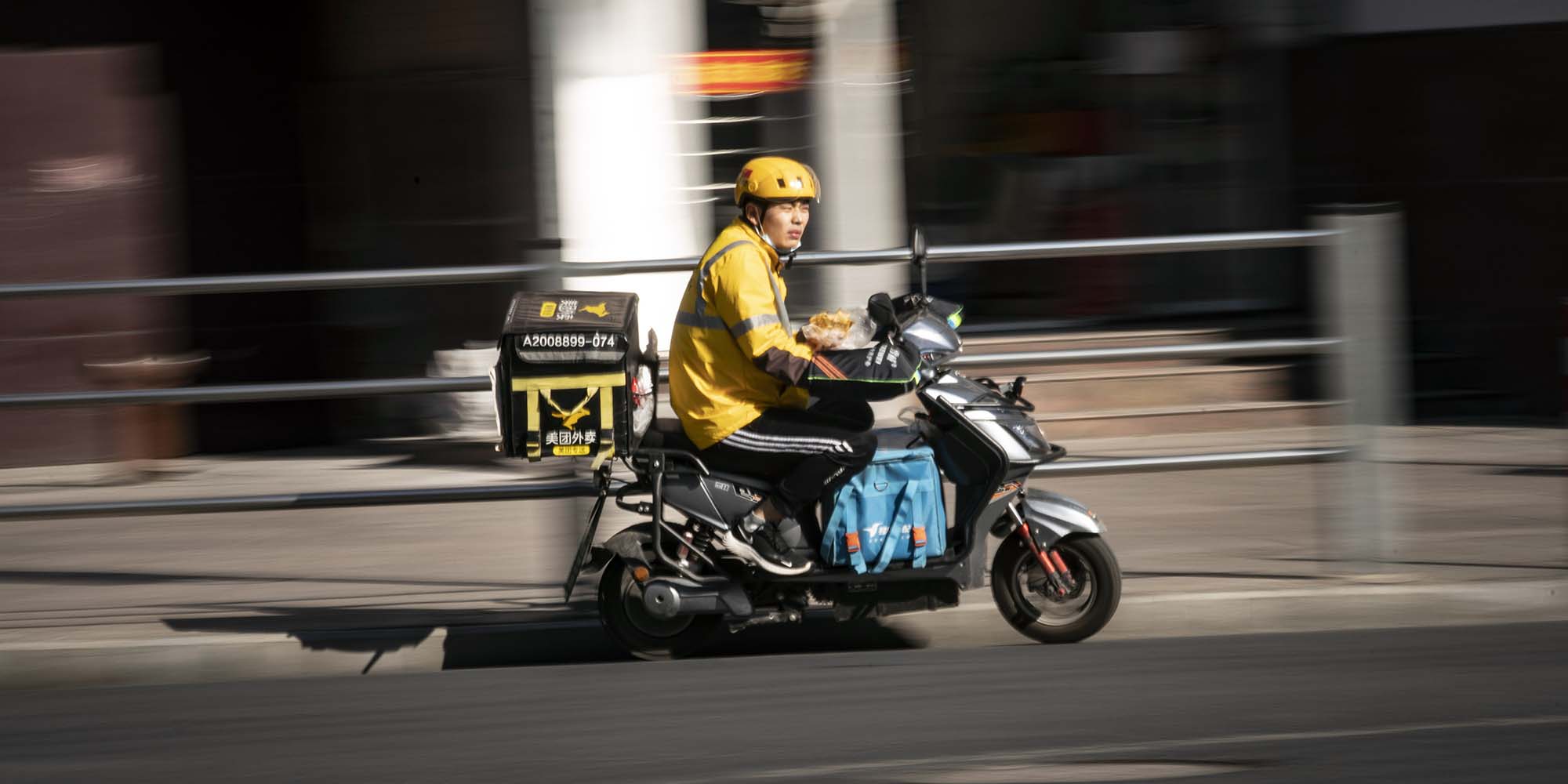 NEWS
Delivery Drivers Can't Figure Out Who Their Boss Is, Lawyers Say
Gig economy workers seeking compensation find themselves playing "guess who" with multiple companies.
Suppose you see a person on a scooter, carrying a box of take-out lunch, dressed in the yellow livery of Meituan or Ele.me blue. Who does this driver work for?
It's a hard question — so hard, in fact, that a legal aid nonprofit spent two years researching it. They found that China's gig economy workers are managed through a labyrinth of cross-cutting contracting companies and jurisdictions that leaves them with no boss to sue.
When Xu Miao and Chen Xinyi presented their team's findings at a TED Talk-like event in Beijing Sunday, they set off a national conversation about labor rights in the gig economy.
In China, and around the world, traditional labor relationships are being challenged by online platforms that provide labor-intensive services like food deliveries or taxi rides without — to hear them tell it — employing any of the people who do the servicing.
Xu and Chen said that this employment relationship is first outsourced to a contracting company, and then further attenuated. Some drivers' jobs were split up among as many as five employers; other drivers were registered as small businesses providing a service. This paper labyrinth got so complex the legal researchers called it a "dark web" of employment.
One of the first public interest legal organizations in China dedicated to providing assistance to migrant workers, Xu and Chen's group says it has helped 17,000 migrant workers to claim a total of 300 million yuan ($47 million) in compensation for issues like wage theft and injuries since 2005.
However, as the rising food delivery industry restructured the labor market, the group found filing cases for workers more and more difficult.
The group started their investigation after taking on a case from a driver named Shao Xinyin in 2019. Shao, a 45-year-old migrant worker from Hubei province, worked for a contractor called Diyasi (Chongqing) Logistics Ltd. After he was hit by a car while delivering food in Beijing for Ele.me, the compensation he received from the insurance company was lower than expected. He sought legal help.
As the team dug into Shao's case, they realized what seemed like a one-to-one labor relationship had been broken into many segments. While the Ele.me driver app showed that Shao had signed a contract with a logistics company in Chongqing, Shao's wages were paid by a restaurant in the same southern municipality. His personal taxes, meanwhile, were paid by a construction company in northern Tianjin and a dispatching company in eastern Shanghai.
"The food delivery platforms not only use algorithms, they also hide numerous contractors. These companies are intricately intertwined, forming a complex network of legal relationships that binds the riders tightly," Xu said in the talk. "When Shao wanted to file a claim, none of them had a close enough relationship to be his employer."
As the research went deeper, the team noticed another strange pattern: Some flexible recruiting platforms asked drivers to register themselves as small business owners in return for increasing their salaries.
"It involves both tax and social security avoidance operations," Xu said. "If you are a self-employed businessman, the court will consider it a deal with the company, rather than a labor relationship. This means you are a small businessman with your own risk, profit, and loss."
Using business data platform Aiqicha, the team identified 1.6 million small businesses that were likely riders registered as sole proprietors. Their names followed a pattern, all including five-digit numbers written using a less common form of Chinese characters.
The team first published their research as a social media post on the evolution of food delivery platforms in September, receiving strong public attention.
Two days after the post, Meituan and Ele.me, China's leading food-delivery companies, announced they would no longer ask riders to register as self-employed businesses. The companies did not respond directly to the report, but cited a July government document encouraging companies to improve labor rights for gig workers.
According to Xu, the team checked the relevant data on Aiqicha, finding the growth had basically stopped in the months following the announcement.
However, it remains unclear whether the food delivery giants took any steps to address situations like Shao's.
As of the end of Thursday, neither Meituan nor Ele.me had responded to Sixth Tone's requests for comment.
(Header image: A food delivery courier for Meituan Dianping travels along a road in Shanghai, Nov. 29, 2020. Shen Qilai/Bloomberg via Getty Images/People Visual)