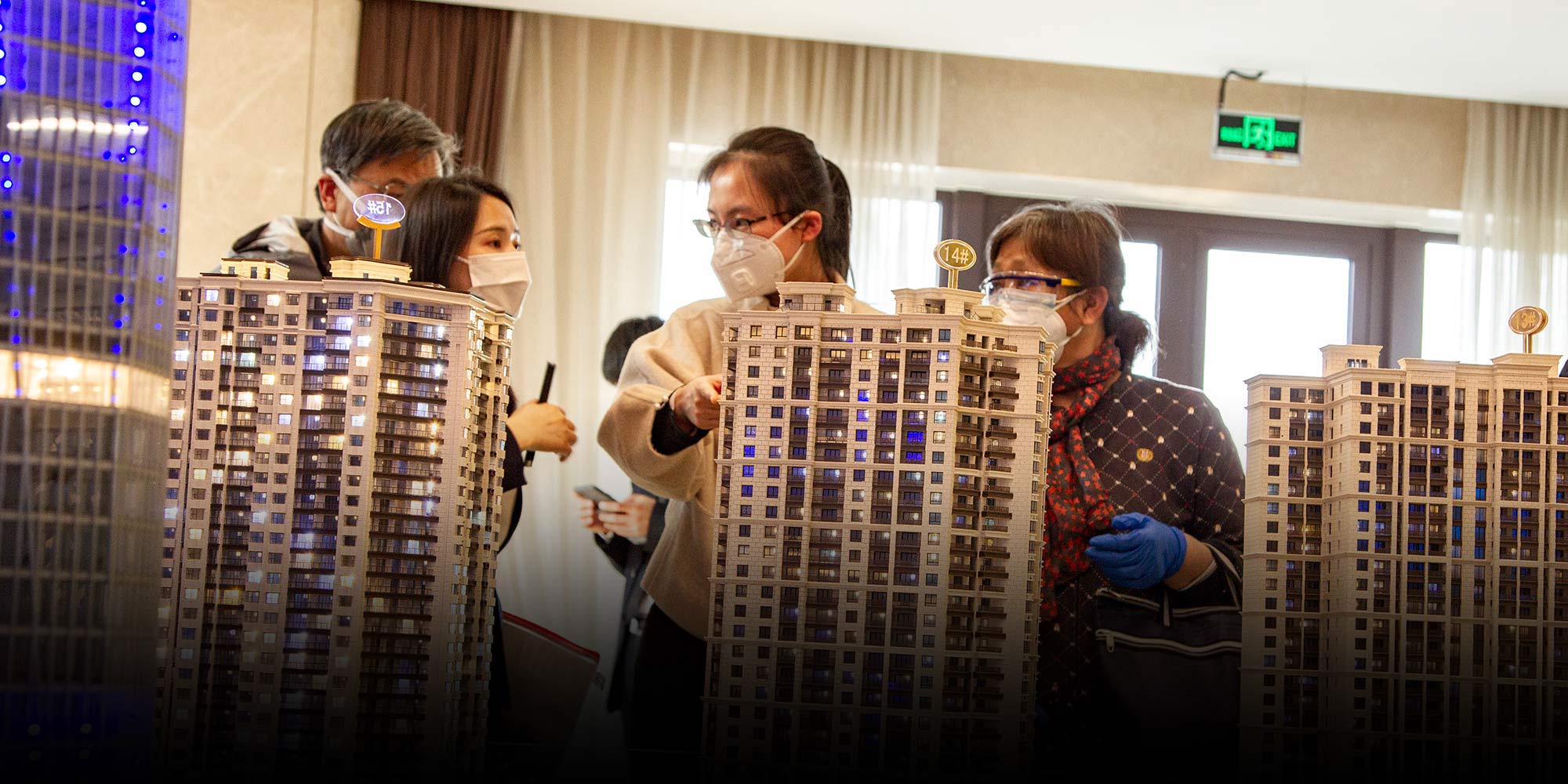 FEATURES
Want to Buy a House in a Big Chinese City? Try Winning the Lottery First
A short supply of new houses has would-be buyers struggling to find developers willing to take their money.
SHANGHAI – "It was like a blow to the head, dragging us out of our fantasy," Tong Wei said. The Shanghai woman had the money she needed to buy a new home, but she didn't have the luck. In Shanghai, as well as a few other big Chinese cities like neighboring Hangzhou and Nanjing, chances to buy are so scarce that the developers auction off opportunities to bid, and she'd just lost. It could be months before she could try again, with no guarantee of success.
From March 2021 to January 2022, real estate developers have offered 81,830 new apartments in Shanghai, a record high in the past three years, domestic media reported. However, the supply was far from meeting the demand.
A decades-long real estate boom has made property in China's cities hugely expensive, and has prompted fears of a bubble. Despite years of effort to control the market, which has pushed some debt-ridden developers close to failure, Shanghai property prices soared in 2020, with prices in central districts jumping 8 percent in a year.
The local government responded with price caps: A new house in a good location can cost no more than 80,000 yuan ($12,600) per square meter, while in the same area on the resale market, houses can cost more than 100,000 yuan per square meter. Sales must be approved by the local government, which limits the rate at which houses go onto the market.
With houses priced below markets rates, the outcome is shortages. Each new development sees thousands of applications to buy homes. Only those who pass a complicated scoring system are chosen to compete for a chance to buy in a lottery. Winners really do win the lottery: they get homes hundreds of thousands of yuan below market rates.
In early March, Shanghai's housing and urban construction authority urged district governments to "guide real estate developers to properly price their new properties and make timely adjustments to projects that have been overpriced" — ramping up enforcement of price controls for new houses.
The authority said the initiative is an effort to ensure the stable and healthy development of the local real estate market. It is common to see new properties asking for 20,000 yuan less per square meter than the surrounding existing homes.
Tight market
After working in Shanghai for 15 years, Tong's family owned a small one-bedroom apartment in the Pudong New Area. After she got married and had a child nearly six years ago, her family of five have been struggling to cope with life in the narrow 50-square-meter space. Although Tong and her husband, both working decent jobs, have a combined annual salary of over 800,000 yuan, the property prices in the city have deterred them from making a move.
But the family had been thinking of improving their living conditions for years. The sudden leap in prices of existing homes in 2020 helped them make up their mind to take immediate action: they started planning to sell their property and find a new home.
"The prices of existing homes downtown are way beyond what we can afford — even old and run-down apartments fetch over 100,000 yuan per square meter," said 40-year-old Tong.
With a budget of around 6 million yuan, Tong's family turned to the suburbs. "We were aiming for a 90-square-meter home." They checked out existing homes for sale in suburban Songjiang, Qingpu, and Jiading, which offered good schools and a chance of appreciation.
Tong and her husband spent most weekends in the first few months of 2021 driving hours to visit developments in the suburbs. The long trips made the couple worry about their commute.
In May last year, the family sold their only apartment for just over 3 million yuan. The buyer suggested that now that they didn't own an apartment, they should give new properties a try.
"We hadn't dared to think about new apartments, assuming they must be super large and expensive. But we were wrong," Tong recalled.
Points system
In late January 2021, the Shanghai government published a plan to stabilize the property market, in part by making sure the people buying houses are using them, rather than speculating. One of the initiatives was a crackdown on second homes: Among other rules, the measure states that families with no apartment should be given priority to buy new homes.
It created a two-step system. First, you get scored on your need for an apartment, and then, the highest-scoring applicants are entered in a lottery to bid on the homes.
Those who have no apartment in Shanghai and haven't bought one in the last five years get 20 points, while those who own an apartment and haven't bought one for five years get five. Other rules place families at an advantage: couples get 20 points, whereas single or divorced people get none. You also get points for each month you've paid into Shanghai's social security system.
"Basically, these requirements make sure that 'rigid demand' — families with a real urgent need to get a home — can enjoy the priority in purchasing new homes," Shanghai-based analyst Lu Wenxi from Centaline Property told Sixth Tone.
Tong's family was excited to hear about the policy.
"It's particularly in our favor because we have pretty high scores in the new system. New properties are really popular because they have a big price advantage," Tong said. "But there are also cons. For new properties, they won't be ready to live in for a year or more. Also, it's not clear which school district your kid will wind up in."
The family spent quite some time hesitating between an existing property in the suburbs, or a new but not immediately ready home.
Other couples acted fast in response to the points-for-marriage policy: 29-year-old Yang Zhao made up his mind to propose right after the policy announcement.
"Honestly speaking, it's just a rational decision to make," he told Sixth Tone. "It's the best time for newly-weds to purchase a new home."
Yang had been putting off marriage, while his girlfriend's family pushed the couple to buy a house.
"Putting so much money into an apartment is a very hard decision because I'll probably be using up my parents' life savings," Yang said. "But at the price guaranteed by the March policy, it won't be a failed investment."
Taking your chances
Yang and his wife registered their marriage quickly, but have so far failed in their two attempts to purchase a new apartment.
Due to the rebounding pandemic, Tong's family waited until early October until their first choice — a new compound in Hongqiao, a rapidly developing business hub in western Shanghai — was finally open for sales.
The procedure for new home sales in Shanghai is complex.
First, Tong's family had to borrow around 1 million yuan from their relatives and friends to afford a new home. People who have previously owned an apartment in Shanghai have to make a 70% down payment.
If the number of potential buyers exceeds the number of new apartments offered by a certain percentage (80% in Tong's case), the points system is used to decide who can buy. The Minhang compound had around 700 apartments, and thousands of families wanted to purchase them. Only the 1,260 families with the highest scores were eligible to enter the next round, a lottery.
"The new homes offered were more than 20,000 yuan per square meter cheaper than the surrounding buildings. That means you've made nearly 2 million yuan once you secure a two-bedroom apartment there," said Tong.
Although their credits got them into the lottery, their name was drawn after over 1,000 other potential buyers.
"The sales staff deleted us from the online group chat soon after the result was announced. The reality was so harsh," she recalled.
Two days later, the family was back on their way visiting new compounds about to hit the market. But their second attempt, made the next month, was an even more devastating blow — their score wasn't even high enough to enter the lottery.
"We thought we had one of the highest scores. It turned out we were wrong. Those two experiences completely destroyed our confidence," said Tong.
The family started to wonder if they should give existing homes in the suburbs another try. It was already the end of 2021, and Tong had been holding the borrowed 1 million yuan for half a year. "It's been huge pressure just having this money in our pocket but not being able to purchase an apartment," Tong said.
"Life is not totally up to you if you're in debt. Even though my relatives and friends didn't push me to return the money, it's an invisible pressure on me."
Help from above
In January, they decided to give new apartments a third try. They passed the first round this time.
Before dawn on Jan. 17, two days before the lottery, Tong and her husband visited a local temple, praying to the Buddha that her family could get a new home.
"We don't know what else we can do. Showing our greatest sincerity to the Buddha was the only thing we could think of to help," she said.
Tong Wei remembers the morning of Jan. 19 clearly.
"I didn't even dare to check the result, which was released on WeChat," she said, referring to a popular Chinese social networking app. "I pretended to be occupied with work."
When she found her name placed at No. 5, Tong couldn't believe her eyes and checked a few more times. Her prayer had been answered. "My family was thrilled to learn this result. Thinking of all the struggle, hesitation, disappointment, and anxiety we experienced in the past year, we were grateful that fate was finally on our side."
The 90-square-meter new apartment near the Outer Ring Road in Pudong New Area cost the family 6.3 million yuan. But it will only be delivered in two years.
Tong is preparing to visit the temple again to thank the Buddha for the blessing.
"I was thinking about the high returns of new properties at the very beginning," Tong said, looking back at the past experiences. "The two failures in a row brought me back to reality. It's hard enough just to have a decent home in Shanghai."
Now living in a rented two-bedroom apartment, Tong said she couldn't wait to plan the arrangements in her future home so that the family could live more comfortably. "Home is ultimately where a family can enjoy a better life."
Editor: David Cohen.
(Header image: Home buyers view a sand table model at a sales center in Shanghai, April 2020. People Visual)