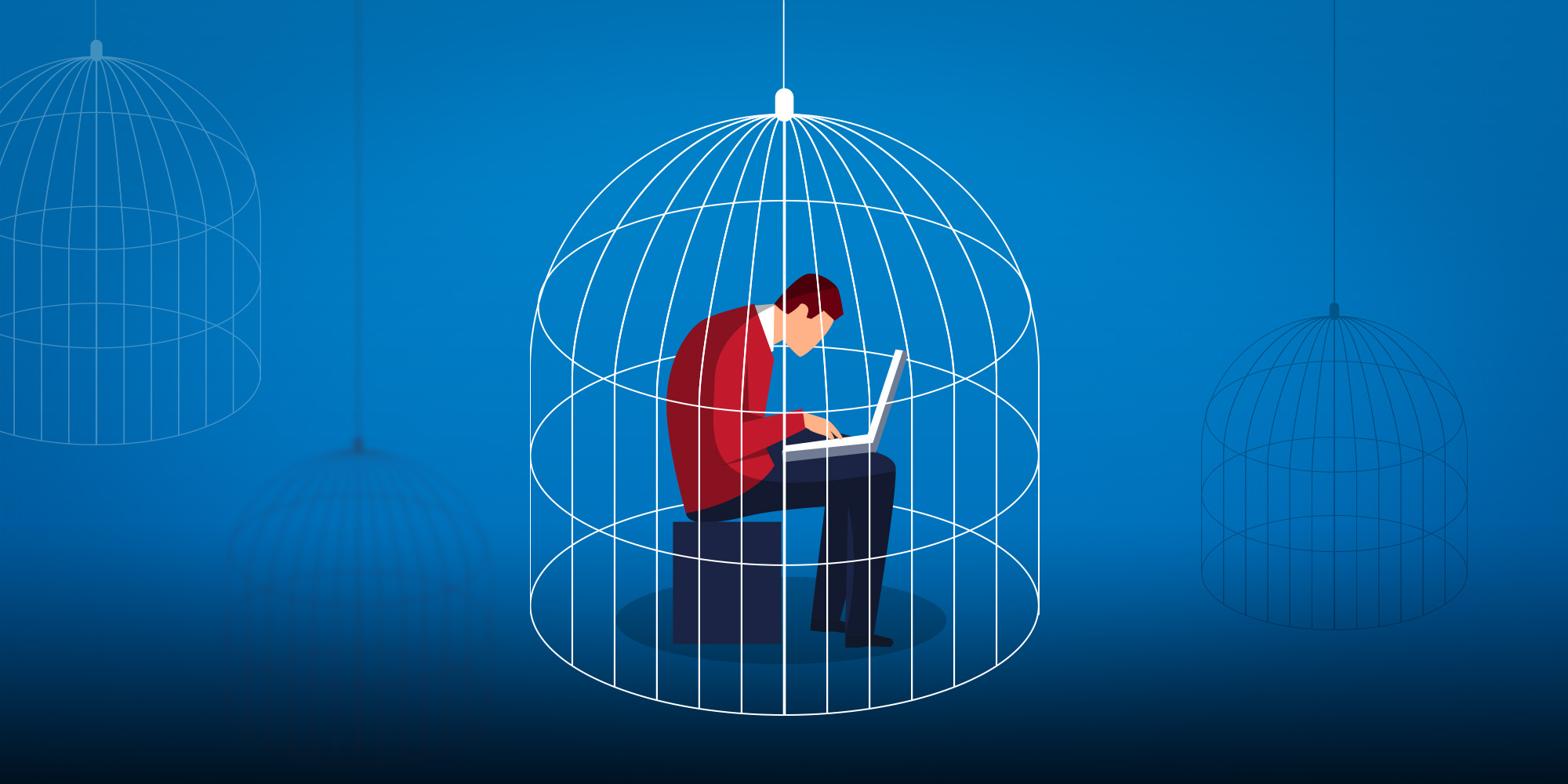 SIXTH TONE ×
How Chinese Companies Force Employees to Stay
Once only signed by executives, non-compete agreements are upending the careers of China's young workers.
After graduating from university in 2018, Chen Mingming had to pass four rounds of tests and interviews before being offered a job at one of China's most esteemed internet companies.
Leaving that same job some two years later proved even harder.
When Chen handed in her notice of resignation, she was told to sign a non-compete agreement that would forbid her from working with a long list of first- and second-rate internet companies located throughout China, as well as the companies in which they invested. In other words, she would effectively be barred from the entire industry for the duration of the agreement. For someone just out of university, with little work experience, signing would have grave consequences for her career.
But Chen — who, like all employees interviewed for this article, requested the use of a pseudonym to not harm her career — also had good reasons to sign. If she didn't cooperate, her company could harm her reputation throughout the industry and refuse to give her an "end of employment certificate," which she would need to show to any future employer.
After informing her company of her intention to resign, Chen was summoned by various superiors and human resources staff, who, one after the other, tried to change her mind. It was an unending pressure campaign that left her feeling drained. She tells LatePost that she couldn't get to sleep at night. During the day, her mind was completely blank. Once, after getting back to her apartment, she sat quietly until about one o'clock in the morning, when she finally couldn't hold it anymore and broke down into tears.
After nearly two months, Chen joined an HR representative in a conference room who took out a non-compete agreement and told her: "It's all been finalized. Once you've read it, sign at the bottom." After a careful reading, Chen did just that. In that instant, her torturous dispute finally ended. She sat quietly in the office and savored the feeling of relief.
In 2019, LatePost reported on how China's internet industry had nearly universally begun using non-compete agreements (NCA). Based on interviews as well as court cases uploaded to China Judgments Online, the country's database of court verdicts, NCAs have only become more common and more restrictive in the two years since, and have spread to other industries. In its annual report on the rule of law in China, the Chinese Academy of Social Sciences' Institute of Law noted that in 2020, there had been 316 court cases involving NCAs, of which just 93 were related to the tech industry.
They are also increasingly being imposed throughout entire company hierarchies, extending to recent graduates like Chen and even interns. More and more, such base-level employees are being threatened with an NCA, and being sued if they breach their agreement after they quit. They often have no way of paying any penalties.
NCAs are by no means new. For companies, there is a reasonable need to restrict top executives from moving to competitors because they need to protect their most valuable business secrets. But using the same methods on entry-level workers and interns — who presumably would not have access to such information — can arguably be seen as an abuse of power.
From the early '90s, factories had already begun "blacklisting" employees following their resignation so they could not find work at other factories in the region. Nowadays, companies snatch up the best candidates on the job market, and use NCAs to ensure that they have no other place to transfer.
Non-compete as deterrent
Chen's resignation went swimmingly at first, making her think there would just be a few more formalities. But a few days later, she suddenly received a call from HR that, in hindsight, she realized was a meticulously planned hostile negotiation.
It began with glowing praise. They told her that her department felt that her overall performance was excellent. Then, they told her that, if she had any grievances, she could turn to HR for help; that, if she didn't like her current position, they could transfer her to any other department in the company. They also offered a raise.
Finally, they said, "This is the best we are willing to do. If you still insist on leaving, we will consider imposing non-compete restrictions."
They had already come to a verbal agreement regarding her resignation — why had they suddenly brought up these new stipulations? Chen was perplexed.
"The senior vice president of HR has seen your notice. He says we don't want employees with your potential to leave. Do you know how high up an SVP is? Do you realize how small the internet industry is?" HR pressured her. "Think this over carefully," they said, before abruptly hanging up.
Chen was at a loss for words. Once she'd collected herself, she began to seek advice from coworkers, friends, and acquaintances: What are NCAs? Why is one being imposed on me?
As negotiations with her company reached a stalemate, Chen also consulted lawyer friends on how to hedge against the risk of possible future litigation. A friend suggested that she take screenshots of her chat logs with HR as well as record her negotiations, as they may be useful evidence should there be a court hearing.
After that, Chen carefully recorded every discussion and weighed her words before each response. As she did these things, she felt very nervous. "This was all new territory to me," she said.
She held no high hopes. Confronting such a big company, an entry-level employee "has virtually no bargaining power." Her lawyer friend simply told her, "I don't have any better advice for you, because this is not something you can change."
In the month that followed, summons came to occupy a large chunk of her daily schedule. In total, she met eight or nine times with six supervisors from different departments, including HR.
Therefore, despite having announced to everyone that she was leaving, she ended up returning to her former cubicle. Though she knew her coworkers all felt it was a little strange, company policy forbade her to discuss HR issues. She couldn't tell them that she'd been threatened. It was extremely awkward. She also found it difficult to focus on work. The company seemed like a leviathan casting a dark, oppressive shadow over her life. What she wondered most was: did I really do something wrong?
The world of the internet industry is indeed small. Chen worked in operations; if she works elsewhere later on, chances are she'll still run into them in a professional capacity. "I had no choice but to consider just what kind of an impact this event would have on me down the line."
Chen didn't understand. "Was I that important to the company?" It was only later that she realized: perhaps, at that time, the turnover rate for her department had gone up, and non-compete measures were the company's way of cowing employees. Generally, NCAs are only imposed upon the most outstanding young employees — not just to stop them leaving, but also to deter other staff.
Hao Fang is a good example of the vast majority who are discouraged from leaving.
For the last three years, she has worked as a technical analyst at a major internet company. After an employee, who came to the company a year later than she did, handed in their resignation, only to be threatened with an NCA, Hao reconsidered her own plans to resign. Reports online of companies not hesitating in the slightest to pursue former employees for millions of yuan (hundreds of thousands of dollars) in penalties also made her uneasy.
Hao came up with all manner of excuses that could help her resign smoothly. For example, that she was moving back to her hometown, that she was planning to buy a house in another region, that she was sick and needed to take time off. She tried to think of all kinds of details that would make each story sound more genuine — and tell them with enough emotion, even squeezing out tears, to pull it over superiors.
But when she shared these ideas with her boyfriend, he replied, "Have you lost your mind?" Ultimately, she decided not to follow through.
Hunted
Legally, monthly compensation for employees under an NCA should be no less than 30% of their salary on the job for the duration of the non-compete period. With entry-level young employees, such compensation is barely enough to make ends meet.
And they can't bear to be barred from an entire industry that offers relatively more attractive salaries and work environments, merely because they're giving up one job. So, hunted, they have to be creative with "countersurveillance."
Lin Hui, a former entry-level employee at a gaming company, described to LatePost what his life was like during the term of his NCA. Every day before he left the house, he would put on sunglasses, a face mask, and a wig. On his morning commute, he'd get off one stop earlier and mingle with the rush hour crowds as he left the station, before riding a rented bicycle to his new office. He'd then walk around the block for about 10 minutes, making sure that there were no suspicious people at the door of the building before entering. At the end of the day, he'd leave from the underground parking lot on foot.
Employees under an NCA who secretly accept jobs have to develop a brand-new identity before starting, including a new phone number, a new account on ubiquitous social app WeChat, and a false name on their new jobs' internal communication software, interviewees said. They don't show their faces during online meetings, and cannot appear in social media photos of any of their coworkers. Office elevators are best ridden solo.
They should also avoid having packages or food delivered on the job. Deliveries to former employees is one way for companies to hunt for violations. An ex-employee of e-commerce company Pinduoduo with an NCA was tracked down by the company's HR department using several courier services, sources familiar with the case told LatePost. Pinduoduo also encourages its employees to contact former coworkers and inquire about their recent career choices.
Some companies offer to reimburse overtime taxi rides, but people who are subject to NCAs from former employers must use their personal ride-hailing account, rather than the company's, and can't geolocate to the office building. "What if (ride-hailing giant) Didi sells their data to your former employer?" Lin joked.
But it's not unthinkable. In 2017, meal delivery company Meituan sued a former manager who had joined competitor Ele.me, thus breaching their NCA. As part of its lawsuit, Meituan provided to the court data from travel booking app Ctrip that showed Ele.me had bought a flight ticket for the former manager. This piece of evidence helped Meituan win the case.
The Civil Procedure Law says, "The People's Court has the right to investigate and take evidence from the relevant organizations or individuals, and such organizations or individuals may not refuse to cooperate." A number of lawyers representing cases of data security and personal privacy protection believe that third-party companies cooperating to provide user data information does not constitute an infringement of user privacy.
So ex-employees are running out of ways to hide. Hypervigilance and paranoia shadow almost every day of their NCA-affected lives.
In June, Chen received an email from her former employer: "In order to protect the company's trade secrets and safeguard its legitimate interests, a list of resigned employees who are subject to NCAs will be made accessible to all current employees. Should they discover that a former employee has joined a rival or is competing with the company in any way, they are encouraged to send evidence to the company. Rewards will be given once the evidence is verified."
Ming Hao, who signed an NCA after leaving a job in operations at an e-commerce company, felt for quite some time that there was no one in his life he could trust. He always worries that someone was watching him covertly and reporting his every move to his former employer. Someone in the subway glancing at him more than once was all it took to trigger his anxiety. He used the selfie camera on his cell phone to look behind him, which on one occasion caused a passenger to accuse him of being a pervert.
When he walked down the street, he constantly looked in all directions; in the space of just a month, he had his ID checked by the police three times. When he was stopped for the third time, Ming said, "You've already checked me twice this month. I am a law-abiding citizen; I haven't broken the law or committed any crimes." The policeman chuckled and responded, "Why is it, then, that you look all around you while you walk, instead of just straight ahead like everyone else?"
Ming only worked for that company for five months, and yet now has to wait out a non-compete term of one year. If he breaches his agreement, he has to pay the equivalent of two years in average monthly wages.
Being followed is not a paranoid delusion. According to verdicts made available on China Judgments Online, internet companies have sometimes gone as far as filming former employees walking around and greeting people in elevators in a rival's office building for consecutive days.
One afternoon, Lin bought coffee at a café downstairs from his new office. It was too hot out that day, so he didn't wear his usual hat and mask cover-up. While standing in line, he spotted a man nearby taking a photo with his mobile phone pointed in his direction.
In that moment, Lin thought to himself: it's over, they've caught me. His first reaction was to make him delete the photo. He went up and grabbed the man's phone, who, understandably startled, refused to oblige. They tugged the phone back and forth and nearly threw fists. One of the café's employees came over and asked what was going on. Unable to disclose his true fear that his former employer was stalking him, Lin instead accused the man of photographing women without consent.
After all that, it turned out that the man had simply forgotten his glasses and couldn't read the menu, so he'd taken a photo to get a better look at the text. Out of shame, Lin paid for the man's coffee. But since then, he's sworn off fresh coffee and instead gets his caffeine fix from canned beverages. "I can't do this half-assed and risk screwing everything up," he said.
Xie Zhenhua, a lawyer at Kingpound Law Firm in Guangzhou, southern China, says that, according to China's labor laws, non-compete clauses are only applicable to executives and high-ranking tech workers, as well as employees who hold the company's key trade secrets. Making ordinary staff members or even interns sign NCAs would not stand up to being challenged in court, he said.
Xie advises ordinary employees not to be too worried. But Ming is still on edge. "That's all very easy for a lawyer to say," he says. "If I get caught, will he pay my penalty or provide me with free representation?"
Non-compete in other industries
Older internet companies whose growth has stagnated and who have failed to adapt to change, as well as traditional financial institutions, state-owned enterprises, and small businesses, have all adopted NCAs to stop their best employees from leaving.
Baidu is a perfect example of a company that has expanded its non-compete policy because of anxiety regarding sluggish growth. One Baidu employee showed LatePost their NCAs from 2017, 2018, and 2020. Over the course of four years, the list of companies that employees could not work with as part of the agreement grew from 31 to 131. That number doesn't include these companies' subsidiaries and invested interests, which are also forbidden. For instance, it would be forbidden for an employee working in the development of autopilot systems to transfer to a role as a developer at an e-commerce company.
Usually, HR and operations both compile their own lists of companies, which are then combined into one. A former entry-level employee at Baidu recalled that, when signing an NCA upon their resignation, they noticed the name of a company that they themselves had contributed. "Had I known how things would play out, I might not have been so compliant," they said. "Joke's on me."
Mo Ying was once an employee at a state-owned construction company in Beijing. In 2019, leadership announced that the company would be taking inspiration from the internet industry and demand that all staff members working at the company headquarters sign an NCA.
Curious to see what kind of innovations tech companies had come up with, Mo took the initiative to apply for a position on the task force where she'd help communicate the changes to the wider company. The speeches she had to write were full of corporate internet jargon like "focusing, back feeding, ecosystem, and internal horse racing," and every time she wrote a communiqué, she had trouble making sense of them. At that time, Mo didn't suspect that she would be the first employee to be hit with a non-compete agreement.
When she handed in her resignation, HR told her, "Many of the projects you've been involved with are confidential, so you have to enter a one-year non-compete agreement."
It struck her as surreal: all of these projects' files had already been archived. Even interns had free access to them. How had her job come to be viewed as confidential? What left her really gobsmacked was the following clause in her agreement: "Non-compete subsidies have already been included in the salaries. Upon resignation, employees need to perform their obligation to protect the company's trade secrets, while the company has no obligation to provide further remuneration."
Thus Mo was forced to work part-time at coffee shops and bookstores for a period of time following her departure. Then, one day, she made friends with a lawyer, who told her that the company's stipulations were against the law. It was only then that Mo plucked up the courage to look for another job in her field.
There is no industry consensus regarding the standard form of NCAs.
In June of this year, the tech department of Shanghai Pudong Development Bank demanded that all of its employees sign NCAs with a term of six months. In addition to traditional banks, securities traders, online finance companies, and Pudong Bank's suppliers, the list of rivals in the agreement also included the likes of Microsoft, Baidu, Tencent, Alibaba, Lenovo, and Dell.
Personnel close to the matter explained that the reason was that Tencent's WeChat and Microsoft's Office suite were installed on office computers, that the bank regularly used Alibaba's cloud services, and that the office computers were all from Lenovo and Dell. These companies therefore potentially had access to the bank's confidential information.
Domestic automobile brand Great Wall Motors, which employs more than 60,000 people throughout the country, began to implement NCAs in July 2021. Employees have revealed more than 130 companies are included on GWM's non-compete list, including automobile brands, parts manufacturers, autopilot developers, and internet companies in both China and abroad. Although signing the agreement is not mandatory, certain employees have been told by their heads of department that not signing is tantamount to giving up their option bonuses.
A Great Wall Motor spokesperson stated that, although the company is indeed implementing non-compete agreements, signing is not mandatory and no employees have had their option bonuses withheld as a result of not signing.
Yang Jing used to work in a cross-border e-commerce company in Suzhou, in eastern China's Jiangsu province, with a payroll of 100 or so employees. When he saw that the cost of the penalty for breaching the company's NCA was one million yuan ($157,000), Yang — who had just completed his first year on the job — felt suffocated. It was equal to 11 years of his current salary.
At the end of 2020, the company began to require all employees to sign NCAs. After leaving their jobs, employees would, for one year, not be allowed to join any companies that produce similar products or provide similar services. The scope of the agreement: worldwide.
At that time, HR told Yang and his colleagues that it was just a formality, so he and coworkers complied. Half a year later, when Yang proposed to resign, the company told him that it would provide him with a monthly non-compete compensation of 2,300 yuan – one-third of his monthly salary – for one year.
Yang felt that this was ruining his career; the money couldn't even cover the costs of food and rent in Suzhou. Meanwhile, the consultation fees for a lawyer are around 5,000 yuan, and the outcome is not guaranteed. After hesitating for a few days, he gave up on the idea of fighting.
Law isn't clear
Laws and regulations related to non-compete disputes have not been updated to reflect the various issues that have emerged in recent years.
For example, in internet companies, what constitutes a trade secret or a direct competitor? There are no details that courts and arbitral bodies can refer to. Ultimately, the outcome of court hearings depends on the judge's personal experiences as well as their knowledge of the internet industry.
Tech is a varied sector, but in NCA cases, business scope can be defined very broadly. There have even been labor arbitrations in which it was determined that someone had breached their NCA because both their former and current employers were "internet technology companies," or whose businesses were officially registered as "computer technology development."
A number of lawyers who have represented such cases told LatePost that courts only rule in favor of employees about two or three times out of 10. One lawyer also pointed out that "if a company is a large local taxpayer, the results of arbitration and court judgments may be even more biased in their favor."
Beijing-based attorney Xu Chunjiang, who has helped employees win non-compete disputes, believes that workers are at a disadvantage from the moment they sign an NCA. Even unreasonable contracts are difficult to invalidate, he said. And every time a company wins a dispute, the deterrent works a little bit better.
Non-compete at the next job
Companies have come up with clever ways of not only enforcing, but also getting around NCAs. On the one hand, they spare no effort in tracking down former employees who they've subjected to their own NCAs — while on the other, they help new employees evade the non-compete obligations imposed by their rivals.
In order to protect new employees, many companies will relegate their labor contracts to a small subsidiary whose main business activities don't appear to be relevant to the employee in question's former workplace.
HR departments will also teach new recruits to adopt a fake identity, to avoid frequently gathering with coworkers, and to hide their faces in virtual meetings. However, when sharing these methods, the company will not leave any written evidence. A candidate for a position at TikTok owner ByteDance confirmed that all of this was communicated verbally.
When presented with the hypothetical of joining a big company that would hit her with an NCA on the way out, Chen replied she would take the opportunity. "I have to remember that big companies are the only ones who can truly help me realize the potential that I so dare to think I have."
She tried to sum up her feelings after this turbulent chapter: "Big companies feed you a lot of delusions, but at the end of the day, you're just a tiny ant who relies on their colony for protection and safety. It's only when you're abandoned that you realize just how limited your capabilities are."
Ming would also have trouble resisting the lure of a big company, having worked for an internet company that offers its employees an attractive salary. "It's easy to become fickle after you leave," he said. "You start to look down on those companies that don't pay as much money or which are not as prestigious." In spite of their stringent non-compete agreements, large companies still have several perks: cushy employee benefits, business opportunities, internal training, and clout. "Other companies just can't compete," Ming said. "It's hard to turn down that olive branch, even if its thorns are sharp."
After speaking with LatePost, Chen found a new job at a company with under 300 employees, whose labor contracts also include a non-compete clause. She carefully read over the conditions. Then she signed at the bottom.
A version of this article was originally published by LatePost. It has been translated and edited for length and clarity, and is republished here with permission.
Translator: Lewis Wright; editors: Zhi Yu and Kevin Schoenmakers.
(Header image: z_wei/iStock/People Visual, reedited by Sixth Tone)