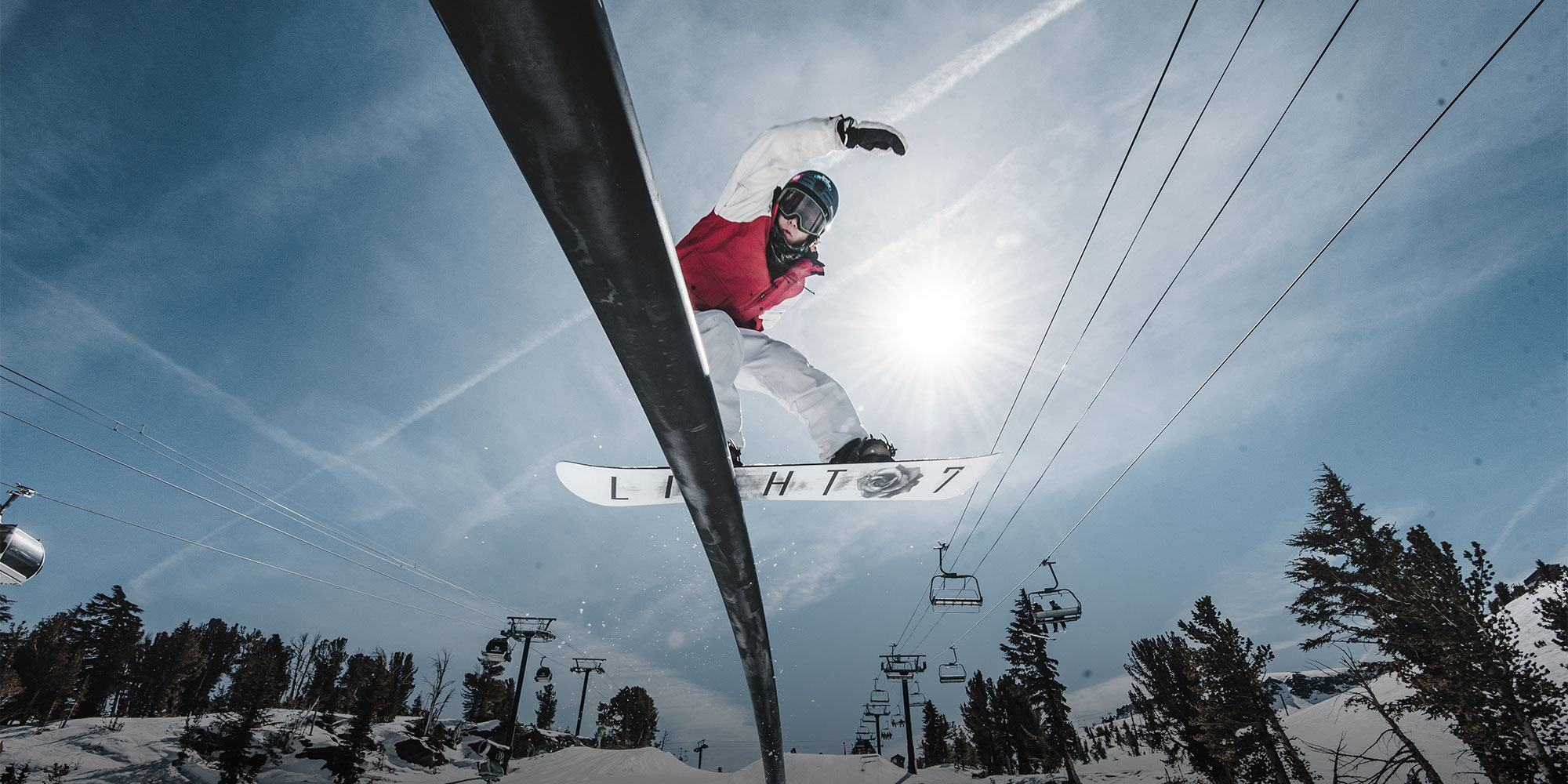 FEATURES
The Twists and Turns of China's Snowboarding Underdog
Zhang Jiahao first hit the slopes at age 17. Then he set his sights on the Olympics.
What really sets Zhang Jiahao apart from other Chinese snowboarders, he says, is that they were selected to become professional athletes by the country's extensive sport system, enrolling in regimented training from a young age.
When Zhang, now 26, graduated school, he was focused on becoming a baker. But then he discovered snowboarding, and set out head-over-heels on an adventure that ended up taking him into the ranks of professionals. "They were chosen, but I chose for myself," he says.
In 2016, just four years after first gliding down a snow-covered hillside, Zhang decided he wanted to compete at the 2022 Winter Olympics. The games had been awarded to his hometown Beijing a year earlier.
Since then, Zhang has traveled the world chasing an Olympic berth. Though he missed his ultimate mark, his underdog story made him one of China's most famous and beloved winter athletes.
The odds weren't in Zhang's favor. And he knew his Olympic ambitions would surprise the people around him. At the time, he worked in a hotel kitchen and had only sporadically received any form of snowboarding training. He'd first tried the sport at the age of 17 — not ideal considering his competitors all began their athletic careers as little kids.
"I just wanted to find out," Zhang tells Sixth Tone. "If I try my best to fulfill this dream, how far will I get?"
His aim for the 2022 Beijing Winter Olympics, which will kick off next week, on Feb. 4, and conclude on Feb. 20, was to join the big air and slopestyle events. In big air, snowboarders gather speed until they jump off a big ramp and attempt complicated airborne tricks. Slopestyle takes place on a downhill course with obstacles which athletes use to perform twists, flips, and grabs. Both events are judged, with juries evaluating the complexity and execution of a trick.
Despite his late start, Zhang faced a relatively level playing field: China had only just formed its national snowboarding team. He didn't try out, thinking he was too old and would not be given a chance over athletes who had long been embedded in the government sport system. Instead, he planned to earn his spot by competing in championships around China and the world.
Enchanted
Throughout his youth, Zhang had shown talent in a lot of hobbies considered unworthy of a serious person by his father — online gaming, roller skating. He did attain his father's approval when he chose to be a baker; he landed a job in the same kitchen his father worked. Zhang describes his life at the time as "muddled."
But then Zhang's roller skating coach introduced him to snowboarding. He had tagged along to a ski park and, during his first attempts, fell many times. But Zhang felt enchanted. Snowboarding ended up taking up all his time, money, and thoughts. His friends thought he'd gone mad. But his fanaticism produced rapid progress.
"I can't describe the buzz I felt the first time I completed a backflip followed by a 360," Zhang says. "Nothing or nobody can give you that sense of achievement." It's the trick that earned him ninth place at the 2014 Nanshan Open, one of Asia's largest slopestyle competitions that is held near Beijing and sponsored by Red Bull.
Zhang signed himself up for many national competitions. Along the way, his performance earned him a place in the provincial team of northeastern China's Heilongjiang province. He wasn't required to do on-site training, but his coach, Dong Mingjie, remained in close contact to help him improve. In 2016, Zhang quit his job. Three years later, he won the national championship at the Nanshan Open.
His next stop was New Zealand, where he trained on the best slopestyle venues in the world. He crashed at friends' places, hitchhiked to snow parks when his car broke down, and had one bottle of shampoo he used to wash his hair, socks, and clothes. But none of it mattered, he says, "As long as I could still go snowboarding."
The same thought would flash through Zhang's head whenever he injured himself. Over the years, Zhang experienced broken legs and hands, a ligament tear, concussions, and a collapsed lung. Luckily, the setbacks would never sideline him for long. By 2020, he ranked third among Chinese athletes for slopestyle and big air according to the International Ski Federation (FIS).
Getting to 50
His star rising, Zhang went all-in on making the Olympics. In order to qualify as an athlete from the host nation, Zhang needed 50 FIS points and a world ranking of at least 30th. In September of 2020, Zhang posted a video on social media announcing his decision. "I'm going to do something big," Zhang said to the camera.
Without the best preparation, but also without any hesitation, Zhang set out on a solo mission. However, many of the competitions he'd have to join were held abroad. As the COVID-19 pandemic made international travel a puzzle, getting to 50 points would be a challenge.
The following March, he boosted his confidence by winning sixth place at the Klappen World Series in Sweden. But for a subsequent FIS competition in Argentina, his visa was withdrawn due to the pandemic. "Let's just say I was this close to hopping on a boat and smuggling myself to South America," Zhang says, laughing.
Luckily, Chile did grant Zhang entry to compete at another snowboarding event, where he won one gold, one silver, and two bronze medals. His point total now stood at 44.45, ranking him third among Chinese snowboarders for the two events he competed in.
Along his Olympic qualifying journey, Zhang shared videos of himself practicing around the world. In October, media stories about him went viral. People called him the "snowboard lunatic." Some coverage depicted him as a heroic figure out to defend his motherland. "I don't think I'm that grand of a person, going to fight for the country and all that," Zhang says. His main objective is finding out where the limits of his abilities lie. "I just want to give myself an answer."
In November, Zhang finally got a long overdue entrance permit to Switzerland for the Glacier 3000 (SUI) snowboarding competition. A good result would get him one step closer to 50 points and allow him to qualify for more tournaments. But Zhang's execution was subpar, and he didn't make it to the finals.
Zhang changed plans and quickly prepared for another FIS competition held at an indoor slope in the Netherlands. Success was a must if he wanted to stay in contention for Olympic qualifiers. In order to score the points he now desperately needed, Zhang chose a more difficult trick than he usually attempted; he planned to do a frontside 720 followed by a backside 900. His risky bet didn't pay off, as he was unable to complete the movement before he landed. At a subsequent competition, Zhang again ran out of airtime before completing his trick.
At that point, Zhang realized he faced the end of his Olympic dream. He checked the FIS schedule regularly, hoping another championship would pop up that would allow him to earn more points before the deadline. But when two December competitions were canceled because of COVID-19 concerns, Zhang had run out of options. Acknowledging defeat, he returned to China.
"Regretfully, my journey to qualify for the Winter Olympics has come to an end," Zhang wrote on social media that month. "I don't regret all the daydreaming I did. I still believe in the impossible." During the big air and slopestyle events, China will be represented by female athlete Rong Ge and male athlete Su Yiming.
Zhang had said earlier that he saw his Olympic quest as a search for the meaning of life. This search, he says, will continue. As a child, he was never the best at anything at school. It's that experience that doesn't make him scared of failure, he says. "At least I didn't lose the passion to pursue what I truly love."
"Because of snowboarding, I got to go to lots of places around the world," Zhang says. "I could talk for several days and nights about the fun things that happened along the way and still not be done talking."
Contributions: Fang Yun; editor: Kevin Schoenmakers.
(Header image: Zhang Jiahao is seen during a training session, 2020. Courtesy of Zhang Jiahao)