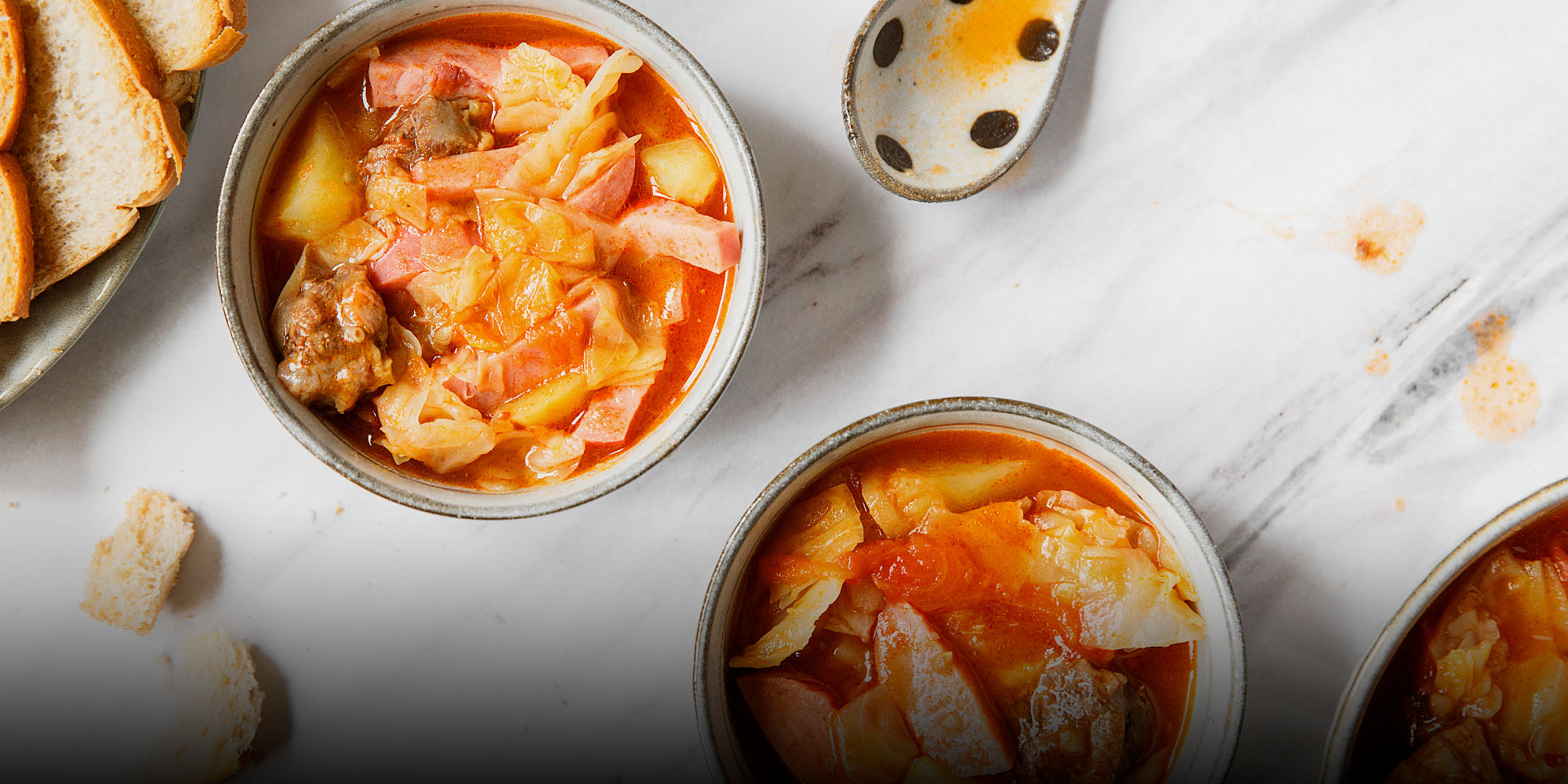 SIXTH TONE ×
Borscht on the Bund: The Russian Diaspora of Prewar Shanghai
Fleeing revolution at home, White Russian émigrés left an indelible mark on China.
1917's October Revolution not only, eventually, brought Marxism-Leninism to China; it also brought a Russian culinary feast to Shanghai.
After the fall of Russia's last Tsar, anti-communist White Russian nobles, former military officers of pre-revolutionary Russia, as well as some intellectuals and artists, fled one after another to Northeast China, settling in cities such as Harbin and Changchun. Some of them then headed south and made Shanghai their new home.
This journey was often paved with danger and turmoil. For instance, the "Stark" fleet of 30 refugee boats brought more than 1,900 White Russian émigrés to Shanghai — more than the total number of foreign nationals in the city's concessions at that time — leading to tensions with the locals. Two years later, the Okhotsk, a naval cargo ship belonging to the Cossacks' Far Eastern Army, arrived in the city port with hundreds more on board. In this way, a succession of refugees fleeing southward joined the White Russian adventurers who had long been working and living in Shanghai to form a lively Russian community in the French concession.
At that time, the authorities of the French concession implemented relief measures and offered free medical treatment for these distressed Russians, as well as setting them up with employment opportunities. They also allowed them to build Orthodox churches on some of the concession's most valuable plots of land and assisted them in the construction of church schools.
Because the new Soviet regime revoked citizenship from all political exiles, Russian émigrés in China became stateless. Even though some of them held Nansen passports, which League of Nations member countries issued to stateless refugees, they nonetheless differed in status from other foreigners in China and couldn't enjoy the extraterritorial privileges granted by treaties China had signed with other countries. If the French concession authorities hadn't allowed them to establish a series of autonomous institutions, who knows how they would have survived?
After settling in Shanghai, the displaced White Russians opened stores along what is today called Huaihai Middle Road. At that time, this bustling commercial street was named "Avenue Joffre" in commemoration of the famous French general Joseph Jacques Césaire Joffre's visit to Shanghai. However, after it became the heart of the Russian expat community, one segment of the road came to be known by Shanghai citizens as Luosong Road (luosong being the Shanghainese transliteration of the English word 'Russian'), while local Russians called it the "Nevsky Prospekt of the East" after one of the main arteries of Saint-Petersburg.
By 1936, the number of Russians living in Shanghai had reached 21,000. On Avenue Joffre, Russians set up jewelers, clothing stores, hair salons, pet stores, furniture stores, fashionable menswear stores, department stores, bookstores, pharmacies, restaurants, bakeries, and cafés. They opened toy stores and candy stores for children. At one point, they owned more than 100 businesses on this famous commercial street, accounting for 85% of its foreign-owned companies. Today, commercial icons of Shanghai such as the Lady Fashion Department Store, the Hujiang Hair Salon, the Laodachang Bakery, the Harbin Food Store, the Gujin Bra Store, the Zhengzhang Washing and Dyeing Company, the Siberian Leather Goods Store, and the Xinyi Pharmacy were all, when they were originally opened, Russian businesses.
Of course, not every Russian expatriate arrived in Shanghai with capital. After spending what little savings they had, some less affluent White Russians struggled to make a living on the bottom rung of Chinese society. White Russian women taught dancing in clubs, became ushers in movie theaters, or worked in hotels. As for men, those who were strong and healthy went to act as bodyguards for wealthy and influential families. Those who didn't have what it took instead resorted to repairing leather shoes, sharpening scissors, pulling rickshaws, and even busking on the street. Some in the city derided them as "Luosong bums."
Others were engaged in more clandestine lines of work. In 1929, foreign concession police estimated that 85% of foreign criminals in Shanghai were Russians. In 1935, a League of Nations survey found that, of Russian women aged 16 to 45, 22% were engaged in sex work. White Russian-owned bars, where customers could buy erotic services, were called "ham shops" — a reference to thighs.
But among the Russian businesses on Avenue Joffre, the restaurants were particularly famous.
First, let's provide a bit of context. After the opening of Shanghai's ports, the city's first Western restaurant was opened by Chinese people in 1882. By the beginning of the 20th century, there were more than twenty of them. However, initially, Shanghai's Western dishes were heavily adapted to local tastes and differed significantly from their original versions. For example, one could find shark fins, abalone, edible birds' nests, and even assorted stir-fried vegetables on the menu in Western restaurants. Nonetheless, this international environment created the conditions necessary for the emergence of a local Russian culinary culture.
The chefs of Russian restaurants included both White Russians as well as Chinese chefs recruited from Harbin by White Russian restaurant owners. These Chinese chefs were mostly Shandong natives who relocated to Northeast China to escape poverty as part of a movement called the "Rush into Manchuria." From there, they migrated to Russian settlements such as Vladivostok, Khabarovsk, and the Russian concession of Harbin, where they learned to prepare Russian dishes.
At that time, the people of Shanghai referred to Western cuisine as "big dishes," so eating Russian food was called "eating the big dishes of Luosong."
Russian cuisine is heavy in oil and flavor, frequently incorporating ingredients such as salt-cured meats and smoked fish. Dishes like Kiev steak, Kiev meatballs, Kiev fried chicken, lamb kebabs, Stroganoff beef patties, smoked sausages, marinated salmon, caviar, and baked potatoes were served year-round in local restaurants, while the most popular soup by far was borscht, known as "beetroot soup" in Chinese, due to its main ingredient, which gives it its striking shade of red. However, beetroot only grows in alpine regions and cannot be found anywhere south of the Yangtze. Shandong chefs therefore ingeniously altered the recipe according to the tastes of Shanghai locals, either partially or entirely substituting beetroot for tomato sauce. This expedient change of ingredients not only successfully reinvented borscht, but it also made Russian cuisine famous throughout China, allowing it to compete with European and American cuisine.
Today, borscht is still the favorite Russian dish of Shanghai locals. Almost every family knows how to prepare it: onions, cabbage, tomato sauce, and red sausage slices are added to a pot and allowed to simmer until they form a rich broth that is especially loved by children and the elderly. Cafeterias in schools and companies often supply it, and some Shanghai restaurants have it as a permanent fixture on their menus.
The Russian cuisine of Avenue Joffre not only alleviated the homesickness of Russian expats — it also satisfied the appetite of ordinary Shanghai residents. The white-collar locals of old Shanghai (known as lao kele) and college students alike would often go to Avenue Joffre to enjoy cheap and delicious Russian meals. In this area alone there were more than forty Russian restaurants.
The oldest, largest, and most upscale restaurant was the Tkachenko Brothers' Café located on Sinan Road. This establishment not only prepared freshly ground coffee, but also traditional Russian dishes just as they would have been served to nobles at the Winter Palace in Saint-Petersburg. Original oil paintings by Russian artists hung in the dining room, while works by famous Russian composers such as Tchaikovsky and Rimsky played on a record player. There was also a large terrasse with a garden, which could fit one hundred small tables and accommodate four to five hundred people. After the founding of the People's Republic of China, this restaurant was converted into a post office, which is still in operation to this day.
The Renaissance on Avenue Joffre was a café run by White Russians. Older generations of writers who had lived in Shanghai for a long time had a particularly strong nostalgic bond to this establishment. In his book "Shanghai Chronicles," author Cao Juren wrote: "You could find so many talented people at the Renaissance. On any given night, you could pick out a few patrons at random and end up with what would have made an excellent team of advisors for the Army of the Russian Empire. There, you could meet dukes, princes, generals, and colonels.
"At the same time, the café would also have been the ideal place if you wanted to assemble a Moscow song and dance act. Whether you were looking for a bass, an alto, or a string player, you'd have no trouble recruiting any musical talent — so long as you could pronounce their name. And even if you took a bunch of them with you, the place would still have been swarming with all kinds of geniuses. These balding, barefooted nobles immersed themselves in memories of the past to escape the terrible present. Their immense mansions and tall carriages, gorgeous clothes, and opulent decorations all went up in smoke overnight with the sudden revolution. They fled certain death to lead lives as destitute vagrants, causing anyone to feel infinite sorrow at the mere sight of them."
The growth of the Russian community in Shanghai would not have been possible were it not for the city's distinctly cosmopolitan and multicultural nature. To meet the demands of their compatriots, White Russian expats also opened a Viennese sausage factory on Nanchang Road to produce Southern European-style sausages, which are known for their thickness and succulence. The Titanica Brewery was opened on Jiashan Road, while the Maltsev Vodka Distillery later opened nearby. After all, how could the Russians live without their rye bread, sausages, beer, and vodka?
The late Shanghai writer Shu Fen was an authentic lao kele during the golden days of Shanghai. In his book "The Last Dream of Shanghai," he writes about his experiences visiting Western restaurants as a child: "Russian meals consisted of one soup, one dish, a cup of black tea and unlimited bread. At that time, in those kinds of restaurants, it wasn't rare to see an elderly White Russian man who played music or hawked wares on the sidewalk come in, sit down and order a bowl of borscht, in which he soaked copious quantities of complimentary bread. Though it may have seemed out of place elsewhere, this behavior was never looked down upon by the owner or waiters."
He writes: "They would serve a thick slick of beef in the rich borscht, and their main courses were also very substantial, usually consisting of two fried pork ribs, two beef patties, or three fried prawns. This dish cost more or less as much as typical Chinese fare, such as a bowl of noodles with various toppings, or two small dishes with a bowl of rice, so it appealed to many people of different income brackets. On holidays, you sometimes had to visit multiple restaurants before you could find a seat."
Another elderly author also told me that you could eat authentic black caviar and foie gras in these Russian restaurants. The curtains were made of navy velvet, decorated with long tassels that brushed against the teak wood floor. The tables were adorned with brightly polished silver tableware. At both ends of the long dining tables were silver candelabra, while tiered crystal chandeliers dangled from the ceiling. Upon nightfall, these glittering ornaments produced a truly magnificent display.
By the 1930s, Shanghai had hundreds of Western restaurants serving British, French, Russian, American, Italian, and German cuisine. The number of Western restaurants peaked at close to 1,000 in the late 1940s. A considerable percentage of these restaurants specialized in Russian cuisine. The dishes they served, such as borscht and rye bread, defined the cultural and gastronomic experiences of many of Shanghai's older residents.
On August 6, 1947, the Ilitch passenger ship sent by the Soviet government anchored on the bank of the Huangpu River just as the fate of the Russian community in Shanghai was about to undergo yet another abrupt change. As the ship whistled to signal its departure from Shanghai's Wusongkou Wharf, a first group of about 1,100 White Russians, which the Soviet Union once more recognized as citizens, tearfully waved goodbye to their second home. Some returned to their hometowns in Russia, while others relocated to the United States and the Philippines. The relationship between the Russian émigrés and the Western restaurants on Huaihai Road thus came to an end.
Today, Shanghai's dining scene is just as prosperous as ever, and you can still find "big dishes" from all over the world, but it's increasingly difficult to find authentic Russian cuisine. This is undeniably a shame.
Of course, the White Russians left behind much more than borscht in Shanghai — they also had a profound influence on the city's character.
Russia is a literary nation. The White Russians who settled on the banks of the Huangpu River not only opened restaurants, bars, cafes, and fashion stores, but also schools, hospitals, banks, clubs, and libraries. The intellectuals among their ranks put aside money to found Russian radio stations and the Russian Law and Business School, as well as close to two hundred newspapers and magazines over the course of only a few decades.
Russian painters set up studios along Avenue Joffre and acted as mentors to a vast clique of Chinese oil painters. Highly accomplished musicians from the Russian community also formed easy listening and jazz bands, performing several times a week in high-end venues such as the Lyceum Theater, Astor House Hotel, Sassoon House (then called Cathay Hotel), and Paramount Ballroom. They brought easy listening, ballet, and lounge music to the city of Shanghai. Later, White Russian musicians became core members of the Municipal Orchestra and Band, which was renamed the Shanghai Symphony Orchestra after 1949. The Russian Theatrical Troupe formed by expat performers also put on productions of famous plays by Chekhov, Gogol, and Turgenev.
The Pushkin Monument in the triangular garden on Fenyang Road was erected by White Russians in 1937. To this day, whenever a high-level Russian delegation or cultural group visits Shanghai, they unfailingly lay a flower basket under the poet's bust.
Without the White Russians, there would be no Shanghai Symphony Orchestra and no Shanghai Dance School. Sokolsky — the teacher of Hu Rongrong, "China's first ballerina" and the first vice principal of the Shanghai Dance School — was a White Russian émigré. The same goes for the teacher of famous Shanghai soprano singer Zhou Xiaoyan, Vladimir Shushlin. In his youth, Shushlin was famous throughout Saint-Petersburg for having the voice of a nightingale. Later, he performed operas together with the world-renowned bass singer Feodor Ivanovich Chaliapin before emigrating to Harbin in 1924. In 1929, he came to Shanghai at the invitation of Xiao Youmei, the president of the National Conservatory of Music, where he served as a vocal professor for 26 years. After 1949, Shushlin continued to teach at the conservatory (which by then had changed its name to the Shanghai Conservatory of Music) until May 1956, when he and his wife permanently returned to the Soviet Union. Before leaving, he held four farewell concerts at the conservatory.
This conservatory was founded by Cai Yuanpei. Among the 17 professors that initially made up its faculty, 10 were Russian émigrés. One could say that the White Russians were the pioneers of modern music education and ballet education in China.
Amid the collision and fusion of different civilizations at the beginning of the modern era, many Chinese intellectuals derived inspiration and fulfillment from Russian culture, especially the spirit of the October Revolution. There was even a group of young Chinese progressives who learned Russian at cram schools run by émigrés and then traveled to the Soviet Union to further their studies. Back home, some of them would go on to play major roles in China's own revolution.
A version of this article originally appeared in Shanghai Tan, a magazine published by the Shanghai Local Chronicles Library. It has been translated and edited for brevity and clarity, and published with permission.
Translator: Lewis Wright; editors: Lu Hua and Kevin Schoenmakers.
(Header image: Bowls of Borscht on display in Shanghai, 2020. People Visual)