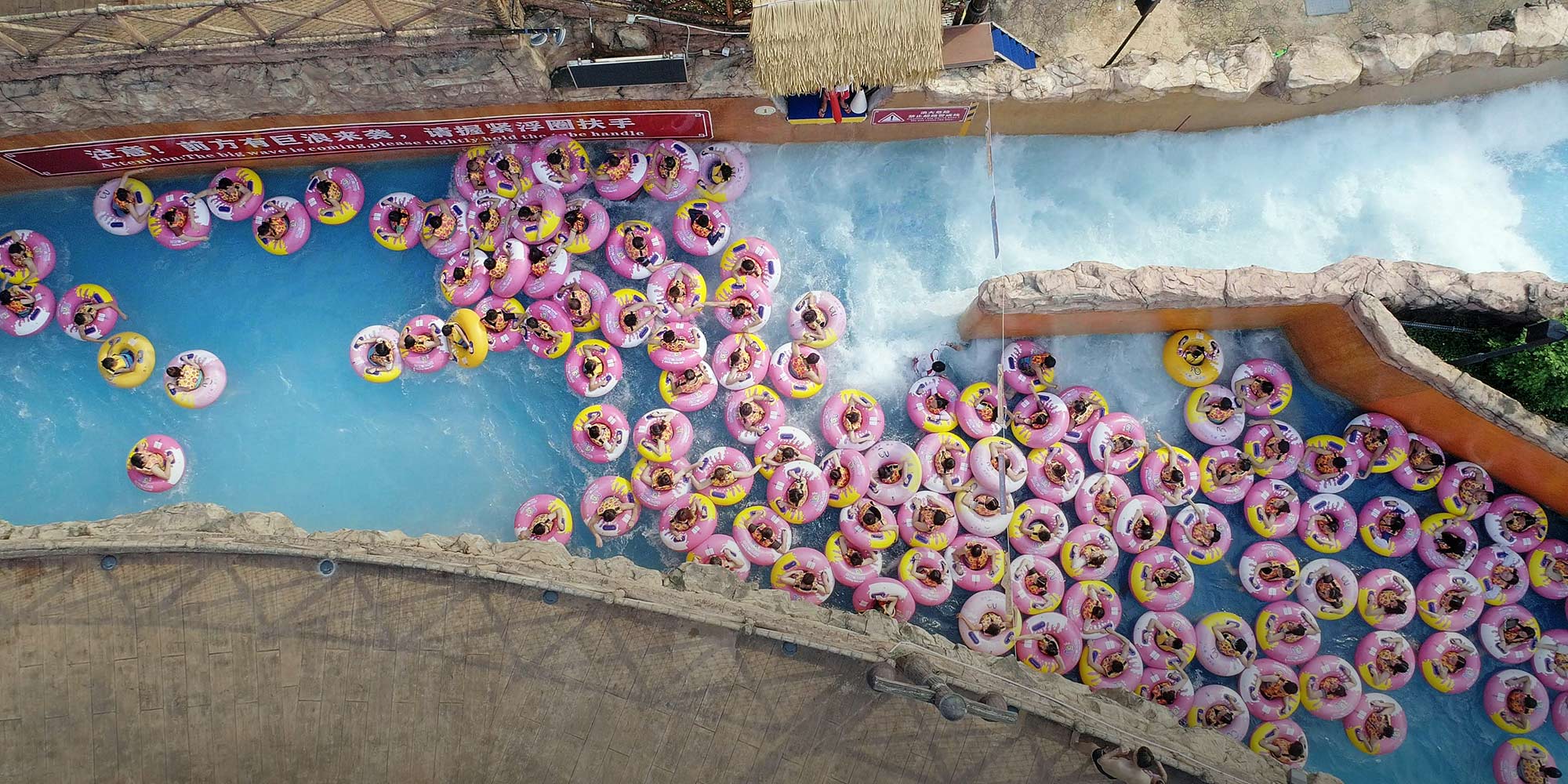 FEATURES
How 'Ascension' Became the Must-Watch China Documentary of 2022
There are butlers, bodyguards, and hyperreal sex dolls. But Jessica Kingdon's Oscar-nominated documentary is really an exploration of something more profound: the meaning of the Chinese dream.
Outside a five-star hotel on the tropical Chinese island of Hainan, a young model wearing a flowing white dress and an oversized sun hat is complaining bitterly about having to work in the afternoon heat.
"I'm dying under this sun," she says to her photographer. "Oh god, I can get a heat stroke here."
As the woman strolls back toward the shade, the camera lingers on a middle-aged worker squatting in the sun just a few meters away. She continues weeding the lawn by hand, silent and unseen.
The shot is one of many telling moments in "Ascension" — Jessica Kingdon's documentary exploring class and labor in today's China, which has emerged as a surprise Oscars contender.
Shot in over 50 locations across China, "Ascension" is a sprawling yet often intimate portrait of a nation in transition.
Over 97 minutes, the film whisks viewers from factories making Trump hats and sex dolls for export to the Western market, to business schools where students are taught to "manifest" their goals, and academies training bodyguards and butlers to serve China's swelling super-rich elite.
In the process, it weaves a picture of a country that — despite the current geopolitical tensions — is grappling with many of the same issues as the United States: rising inequality, growing economic insecurity, and a younger generation that is increasingly fed up with both.
"China is definitely a kind of mirror for America," Kingdon tells Sixth Tone. "These questions about what economic progress means and its unintended consequences — a lot of them are magnified in contemporary China."
Debuting on the festival circuit in mid-2021, the indie production has been a smash hit with critics. It has already claimed several awards, including best documentary feature at the Tribeca Film Festival, and racked up a 98% certified fresh rating on Rotten Tomatoes.
Next week, "Ascension" will face off against the likes of Questlove's "Summer of Soul" for the ultimate prize: the best documentary feature Academy Award.
The nomination is a remarkable achievement for Kingdon, a Chinese-American director who had never previously made a feature-length film. She's been more amazed than anyone by the movie's success, she says.
"We explicitly said at the beginning, 'This isn't the kind of film that would go to the Oscars or something,'" says Kingdon. "We would literally have those conversations."
For the director, China had long been a source of fascination: a place both familiar and remote. Her great-grandfather, Zheng Zi, had been a well-known poet in the central Chinese province of Hunan. His son, Kingdon's maternal grandfather, served as a diplomat under Chiang Kai-shek.
But as a child growing up in New York, Kingdon had little connection with her Chinese roots. Her grandparents fled the mainland in 1949 as the Kuomintang's defeat in the Chinese Civil War became certain, eventually migrating to the U.S. via Japan. The family had lived in America ever since.
Filming in China was partly a way to untangle her relationship with the country, Kingdon says. Her first project on the mainland came soon after she graduated from film school. In 2017, she shot a short, self-funded documentary about Yiwu — an eastern Chinese city that has become a giant trading hub connecting Chinese factories with buyers around the world.
"I had this fascination and curiosity about cultural heritage, and wanted to be connected to a place that my family is from," recalls Kingdon. "But I also wanted to understand what China meant in the American national consciousness. Everyone was talking about China as this global superpower."
The film, "Commodity City," bore many hallmarks of the style she'd later perfect in "Ascension," exploring China's role in the global economy through the lives of the Chinese traders who knit the supply chain together.
Kira Simon-Kennedy, producer of both "Commodity City" and "Ascension," recalls seeing the early cuts for "Commodity City" after being introduced to Kingdon at a dinner in New York. She was immediately impressed.
"I've seen so many films and documentaries about Yiwu, but this really felt like it got at the essence of what a day in the life of this place was, what it was like to be there," she says.
After "Commodity City" received warm reviews, Kingdon began dreaming bigger. She envisaged shooting a feature encapsulating the entirety of China's relationship with the global economy, with one part focusing on production, one on consumption, and another on waste.
But "Ascension" was initially a tough sell. It was not only a highly abstract concept; Kingdon was also determined to shoot the project in an experimental style: there would be no linear narrative, main characters, or even a narrator. A string of meetings with investors went nowhere.
Eventually, a chance meeting at a bar helped Kingdon secure a meeting with a sales agent, who agreed to loan her enough money to get some initial footage. And so Kingdon and Simon-Kennedy began a series of four epic shoots, which saw them criss-cross China for five or six weeks each time.
Filming did not go smoothly. Kingdon quickly realized her image of China as a dump for the world's waste was outdated: the country had started restricting imports of foreign recycling in 2017. She began to have serious doubts about the project.
"It was just a hodge-podge of different things that didn't feel like it would come together into a final film," says Kingdon. "I was very lucky that Kira and my other producer Nate (Truesdell) both saw some vision in the film and had faith."
Kingdon's solution was to focus the film more narrowly on China's relationship with late capitalism. As an American, she was fascinated to see a country adapting to the system and its values essentially from scratch.
"I think seeing it operate outside of the States helps give capitalism a different context," she says. "When you can see it in a different operating system, a socialist or communist country, what does capitalism look like?"
The answer defies easy categorization. Throughout "Ascension," we see salespeople taking smiling lessons (the key, we learn, is to show exactly eight teeth); budding entrepreneurs confidently predicting they'll be millionaires within a year; and a nouveau-riche family attending a fine-dining course — literally learning to use the right fork.
The effect is often comic, but Simon-Kennedy stresses there is a serious point here: The film reminds viewers that there is nothing natural about the modern economy; it is a system that imposes a whole structure of norms, beliefs, and disciplines on individuals.
"One of the things that Jessica is very astute at noticing is how much of this is interiorized," says Simon-Kennedy. "A lot of the entrepreneurial thing is about self-exploitation: be your own boss … You're supposed to do your own branding and become your own marketing person. And that evolution of work is terrifying and fascinating."
In "Ascension," there are occasional glimpses of workers resisting the system. A factory recruiter struggles to attract applicants, despite offering enticing perks such as seating and air conditioning. A young executive tries to avoid having to do shots with his boss at a corporate banquet. 
But Kingdon says she consciously tried to avoid focusing too much on labor disputes. She was more interested in exploring the allure of the "Chinese dream" — and the faith people are willing to place in it, she says.
"The film isn't saying that resistance to power doesn't exist, but in this film, I was just leaning into that quest for upward mobility," says Kingdon.
"We're not trying to pass judgment on whether that's good or not," adds Simon-Kennedy. "But fundamentally, we know that not everyone is going to end up at the top."
During shooting, the film's creators had no idea how topical these issues would become. They finished the final location shoot in December 2019. Just days later, Wuhan reported its first coronavirus infections, and the world changed.
In the age of COVID-19, anti-capitalist sentiment has exploded on both sides of the Pacific. As "Ascension" was premiering last year, America was gripped by a wave of workers quitting their jobs, dubbed the "great resignation," while young Chinese were declaring en masse their intention to "lie down" — or drop out.
Simon-Kennedy suspects this context may have been a factor in how much the film has resonated with Western audiences.
"Those things are happening simultaneously in both places in a way that's really interesting," she says. "The coverage about them has been different, but I think our generation is pretty equally fed up."
In China, the reaction to the film has been muted. "Ascension" is not yet available on the Chinese internet or in theaters.
Yet Simon-Kennedy is hopeful the film will eventually reach Chinese audiences. "Ascension" is due to be screened at several Chinese festivals in the coming months, and the team has "a few potential leads" on Chinese streaming distribution deals, she says.
A follow-up to "Ascension," however, appears unlikely — at least for now. Kingdon and Simon-Kennedy haven't been able to travel to China since 2019, and most of the film's Chinese field producers won't be at the Oscars parties next week.
Even if international travel opens up, the pair suspect it would be difficult to shoot a similar project in China now. In 2018 and 2019, it was surprisingly easy to organize most of the location shoots, they say, but conditions have tightened in recent years.
"I definitely wouldn't want to ever cut myself off from filming in China, and there are so many stories," says Kingdon. "But I think the film kind of found a sweet spot in terms of timing … To make something else in China, it would have to be the kind of topic where it's not going too far."
Editor: Kilian O'Donnell.
(Header image: A still from the documentary "Ascension" shows visitors drifting along the lazy river at the Chimelong Waterpark in Guangzhou, Guangdong province. Courtesy of MTV Documentary Films)