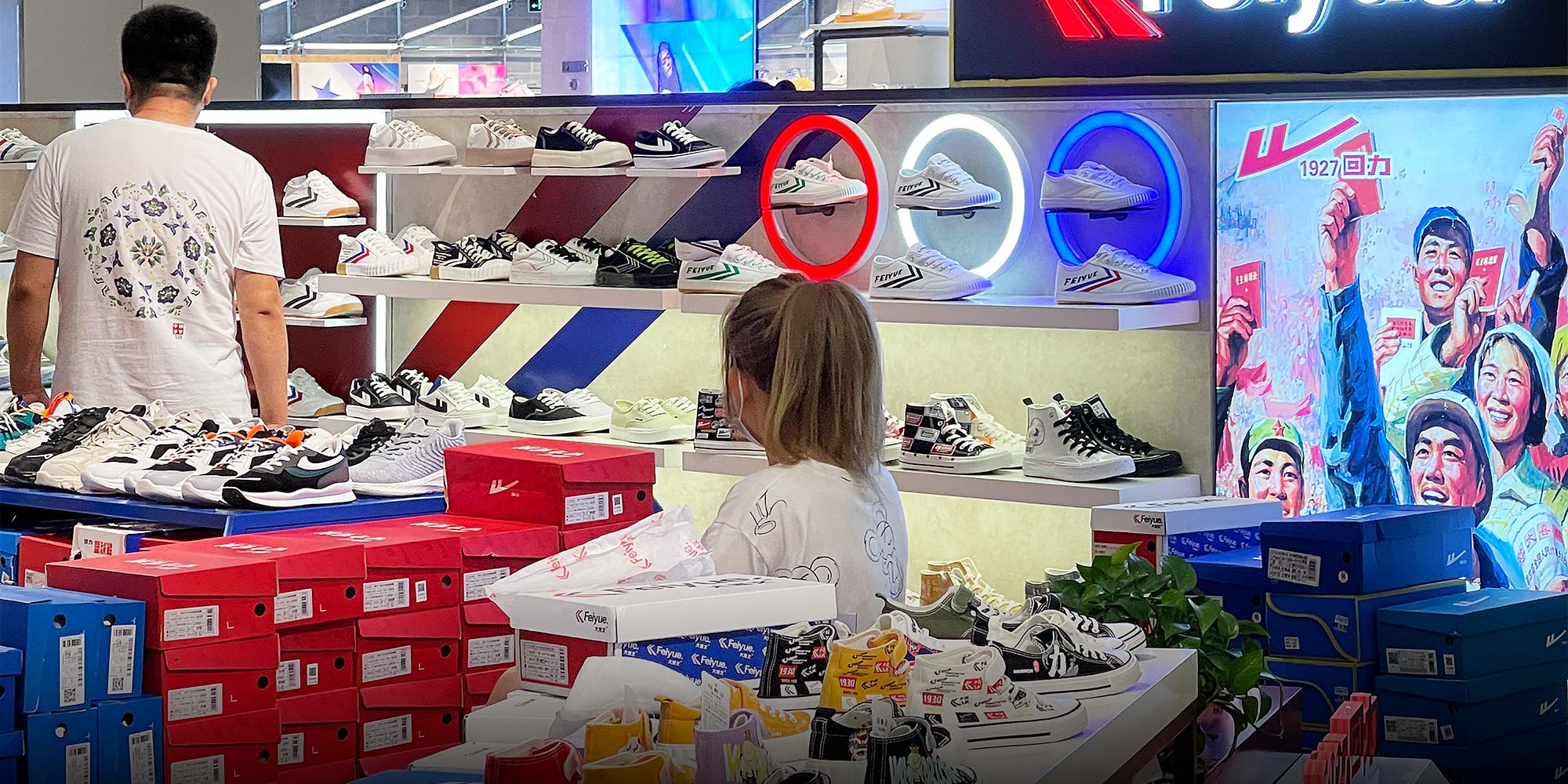 VOICES & OPINION
Why Young Chinese Are Turning Their Backs on Western Brands
For many middle-class Chinese, "Made in China" has gone from critique to chic.
Last year, when I first video chatted with Lilly, a master's student at a Shanghai university, she was wearing a long colorful dress made by a domestic designer and a pair of Shanghai's own Feiyue sneakers, clutching a cup of coffee from a local café in her hand.
As a Ph.D. candidate studying foreign enterprises and entrepreneurs in China, the travel restrictions of the past two years have posed unique challenges to my work. Unable to visit China myself, I've relied on people like Lily to virtually guide me through major marketing events like last year's Prada pop-up at a Shanghai wet market. But I've increasingly found that Western luxury brands like Prada are no longer particularly attractive to Lilly or many of her peers. Instead, their eyes are trained on domestic brands and a rising cohort of Chinese designers.
This isn't a simple matter of personal preference. What intrigued me was Lily's reasoning: Consuming domestic brands makes her feel "different" and shows her authentic self. Many of these young consumers are members of the country's middle-class, rather than the wealthy elite. Often characterized as highly individualistic digital natives who perform alternative or "hipster"-ish lifestyles, they are drifting away from the consumption patterns of their parents' generation and mainstream preferences for Western luxury products. As one of my interviewees, 20-year-old Shanghainese Nian, told me: "Nowadays, if you want to look cool, just buy from Chinese designers."
For decades, mainstream Chinese consumers with money to spend flocked to international "big brands" — not just luxury brands like Prada or Gucci, but also Western chains like Starbucks. The legitimacy Western brands conferred upon higher-income consumers was a product not only of the idea that those brands are higher quality and technically superior, but also of the equation of international brands with higher social status.
In recent years, however, there has been a shift in this mindset, especially among consumers born from the 1980s to the 2000s. To understand how this shift took place, you first need to know how China's domestic market has changed: To start, these generations have grown up in an era in which "Made in China" is associated with blazing manufacturing growth, technological advancement, and digital innovation — rather than poor quality control.
Meanwhile, local brands have boomed in cities like Shanghai, as consumers flock to local cafés, designer shops, markets, and pop-ups instead of big chains like Starbucks or luxury fashion brands in high-end malls.
The rise of local brands, in turn, is closely connected to the growth of e-commerce and targeted online marketing. Pandemic-related travel restrictions have resulted in increased domestic consumption. Chinese designers report that domestic boutiques have increased sales on brands produced in China during the pandemic. Digital tools are also making it easier for these boutiques to draw consumers. New rating platforms act as guidebooks for urbanites looking to visit trendy spots in their cities, while the rise of livestreaming has drawn young consumers' attention to local products. The famous livestream seller Li Jiaqi, known as "China's Lipstick Brother," has started urging young Chinese to consume more domestic goods, for instance.
But ultimately, what's really changing Chinese consumption patterns are the country's economic and social environments, which are shaping young people's mindsets and consumption values.
When I ask young consumers why they're choosing domestic brands, the first answer that often pops up is an appreciation for "Chinese style." This is a broad category, including not just designs with traditional Chinese cultural elements, but also products associated with contemporary Chinese life. They're attracted to designers and brands like Perfect Diary and influencers like Li Ziqi that do not assume Western superiority, and which produce goods for Chinese shoppers on their own terms. And when they do visit a chain, it's more likely to be a HeyTea branch or a coffee shop selling beans from the southwestern Yunnan province than a Starbucks.
This shift is in line with President Xi Jinping's calls for increasing China's "cultural confidence." Societal support for a Chinese cultural renaissance has started to influence young people's consumption choices. After decades of mass consumption of Western cultural goods, consumers are creating new individualistic identities and consumption habits, often colored by nationalistic sentiments and a belief in China as an emerging economic and political superpower. This new generation admires and recognizes China's rising status, and extends that admiration to the country's products.
China's younger generation also wants to distinguish itself from its forebears. For young consumers, purchasing expensive luxury products no longer represents their "unique self." Instead, it marks them as a materialistic follower of mainstream trends. Evan, a 23-year-old intern at a consulting company, told me: "I want to look different from my parents (when) buying luxury goods. I am enthusiastic about creating my own lifestyle and not copying old-school ideas like buying and investing in a famous, expensive brand." His preference, he says, is to consume locally produced sustainable products and wear more eco-conscious clothes.
Growing consciousness of the ecological costs of consumption is also a factor in the rise of local brands. Many of my interviewees stressed their desire to consume locally produced or upcycled products, which they saw as more sustainable. Although China is home to some of the world's largest fast-fashion brands, many middle-class urbanites I interviewed said local, eco-friendly luxury companies like Icicle were causing them to think critically about fast-fashion and realize the importance of investing in local businesses.
For Lina, a master's student in management, sustainable consumption choices were a dividing line, differentiating a new era of producers and consumers in which people like her construct a personal identity distinct from mass materialistic choices. In the process, young consumers like her are creating a new national image of China as "cool" and fashionable — all while reshaping global consumption patterns.
For young Chinese, the availability of Western brands calls to mind China's tremendous economic growth, but also more problematic trends like mindless consumption and the fetishization of Western lifestyles. My interviews gave me the sense that, among this group, there is a prevailing sense of alienation with existing patterns of consumption and a desire for a new kind of Chinese production and consumption, one defined by a new spirit, an appetite for personal autonomy, and a desire to be "cool."
Editors: Cai Yiwen and Kilian O'Donnell; portrait artist: Wang Zhenhao.
(Header image: A view of a shoe store selling popular local sneaker brands like Feiyue and Warrior, Beijing, July 2021. People Visual)