Sixth Tone is publishing interviews with the judges of its China Writing Contest, in which they share their personal takes on the contest's theme of "generations" and the value of nonfiction writing. To learn more about the contest, click here.
When Zhou Yijun first arrived in Gaza as a reporter for the state-run news outlet Xinhua in 2002, she wasn't just the only woman in the bureau, she was the only correspondent, period.
But Zhou, an Arabic major who had studied as a university student in Egypt, hit the ground running. She would spend two years reporting from Gaza for Xinhua, her work forming the basis of her 2005 nonfiction collection, "The Closest Place to God." The next year, she started working for the famed independent outlet Phoenix TV as an international correspondent and commentator based in Hong Kong.
Between 2006 and 2014, Zhou traveled widely, covering the Arab Spring, the rise of populism in Latin America, and tensions in Ukraine, experiences that would form the basis of another book: "Out of the Middle East: Reveal and Reflect on the Wave of Global Democratic Protests." In addition to her work at Phoenix TV and Xinhua, Zhou has contributed to FT Chinese, Modern Weekly, and Tencent Dajia, all while establishing herself as one of China's top international correspondents and commentators.
Beginning in the late 2000s, Zhou became a fixture on what is now "Table Pi," one of the country's biggest and longest-running talk shows. Gradually, she refocused her attention on her own country. In 2019, Zhou released the documentary "Childhood Elsewhere," which documents the lives of children in six countries, including China.
A language major, Zhou considers herself a "very old-fashioned editor," with a demanding eye for simplicity and dynamism. As for the much-touted idea of "China stories," she is cautious. "I don't think there's a need to elevate this thing called the 'China story,'" she says. "Rather, it's about giving people a turn to tell their (own) story."
The following interview was conducted in Chinese. It has been translated and edited for length and clarity.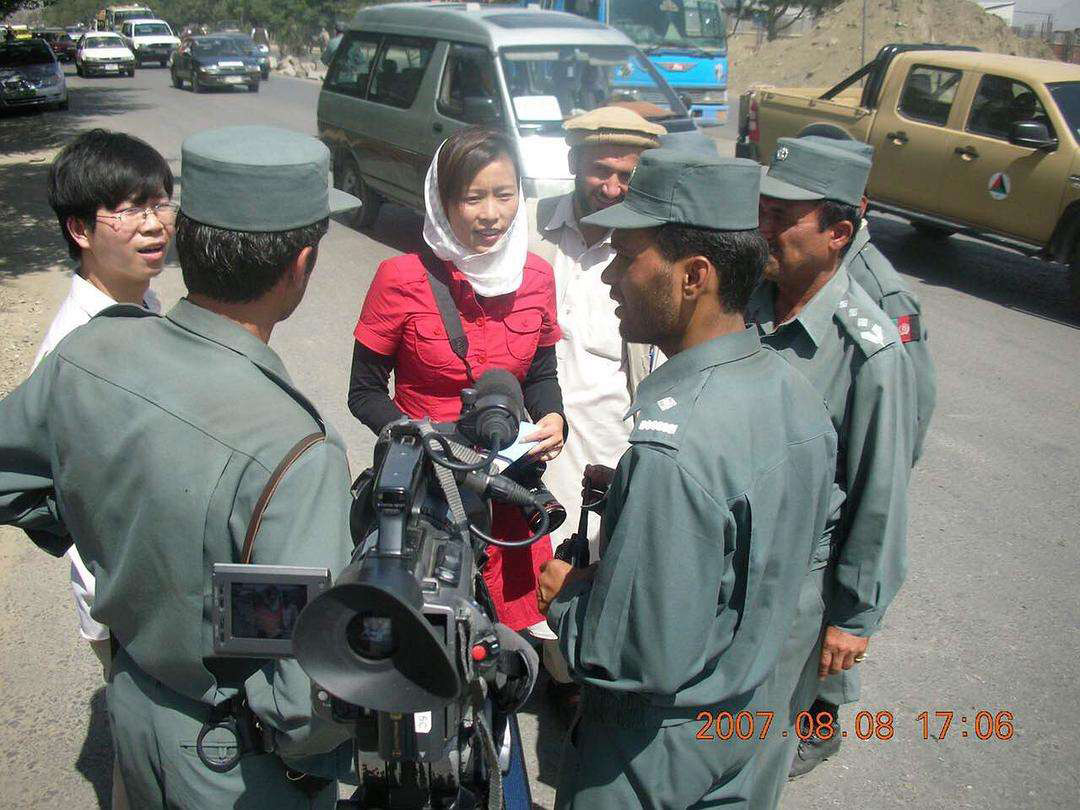 Zhou Yijun at work, 2007. From Douban
Sixth Tone: How would you define your generation?
Zhou Yijun: I was born in 1976, a time of change. Compared to Chinese born in the 1980s or '90s, I think we're a bit different. We were exposed to a lot of different values. I think our generation might not be the most confident, but we also faced the most doubts. For example, the Cultural Revolution had just ended when I was born, followed by the reform period and globalization. You're taught one thing, and then that changes or gets broken down, so you slowly become cautious about jumping to conclusions.
Sixth Tone: What do you think your children and other members of the next generation will be like?
Zhou Yijun: I think the most distinct thing experienced (by the next generation) is the widespread availability of technology. I would say that, beginning with Gen Z, they have had a very clear idea of what they look like at a very young age, even from the moment they first started to see things. When we were kids, we rarely saw ourselves, except in the mirror, whereas (new generations) are used to seeing themselves and being seen by others from such a young age, and that will change them, psychologically and behaviorally.
Sixth Tone: Is there a Chinese generation whose stories you feel are underappreciated outside the country? What kind of stories do you hope to see more of in English?
Zhou Yijun: I can't say that I've read enough to know. I can only say that I think there are some recurring story elements, such as historical wounds, struggles, and pains. You still see quite a lot of them. What I haven't seen yet is the narrative of this generation. Going out onto the global stage, they may not have experienced the same pains and struggles. So what kind of encounters do they have with the world?
Sixth Tone: Can you share some of your writing habits with our writers?
Zhou Yijun: My writing habits aren't that great. The people I've met with better habits always do one thing: They write at a fixed time and without interruption. Another thing is that they don't talk as much as I do. They observe more.
My friends say that my way of observing is eavesdropping on other people's conversations. In cafés and restaurants, I always listen — intentionally or otherwise — to the conversations at the neighboring tables, like I'm at the theater.
Sixth Tone: What are your thoughts on the idea of telling "China stories"?
Zhou Yijun: I'm just putting my own thoughts on the table here, but what is a China story? It's just China as it appears in stories. For example, are Bollywood stories "India stories"? Or are they merely stories through which you can discover India? So I don't think there's a need to elevate this thing called the "China story." Rather, it's just about giving more people a turn to tell their story.
Sixth Tone: When you were a war correspondent, your perspective was more oriented toward local conditions where you were. Later, when you started doing documentaries and TV programs, you often included an angle for comparison. You'd have one eye on China's problems and present events in a more and more Chinese-oriented context. How do you see this shift in your work?
Zhou Yijun: That's accurate. This is a function of changes in China's influence over the past decade or two. When I first studied abroad in Egypt in 2000, I wrote an article called "Finding Chinese Stories Under the Pyramids" or something like that. At the time, my impression of Chinese stories was all about the "made-in-China" narrative. People there thought of China as a distant country, where people go and sell stuff, and their impression of us — not that we necessarily integrated all that much or interacted in a significant way — was that we were friendly. Nothing more.
Then, gradually, I noticed a sea change in China's weight in international affairs from the perspective of international reporting. During my interviews with people in Europe, they themselves admitted having felt this reversal in the balance of power.
At the personal level, even if you go to Venezuela, people mention how some villages still don't have electricity; yet there are Chinese people there who have already opened small stores and supermarkets. That kind of tenacity is just phenomenal.
When China's influence is increasingly being felt by others, people can't help but look more carefully at it. And at the same time, I realized that, although I am Chinese, I also need to constantly re-examine my country.
Interviewers: Cai Yiwen, Fu Beimeng and Xie Anran; translator: Katherine Tse; editors: Zhi Yu and Kilian O'Donnell.
(Header image: Visual elements from People Visual and Douban, reedited by Sixth Tone)