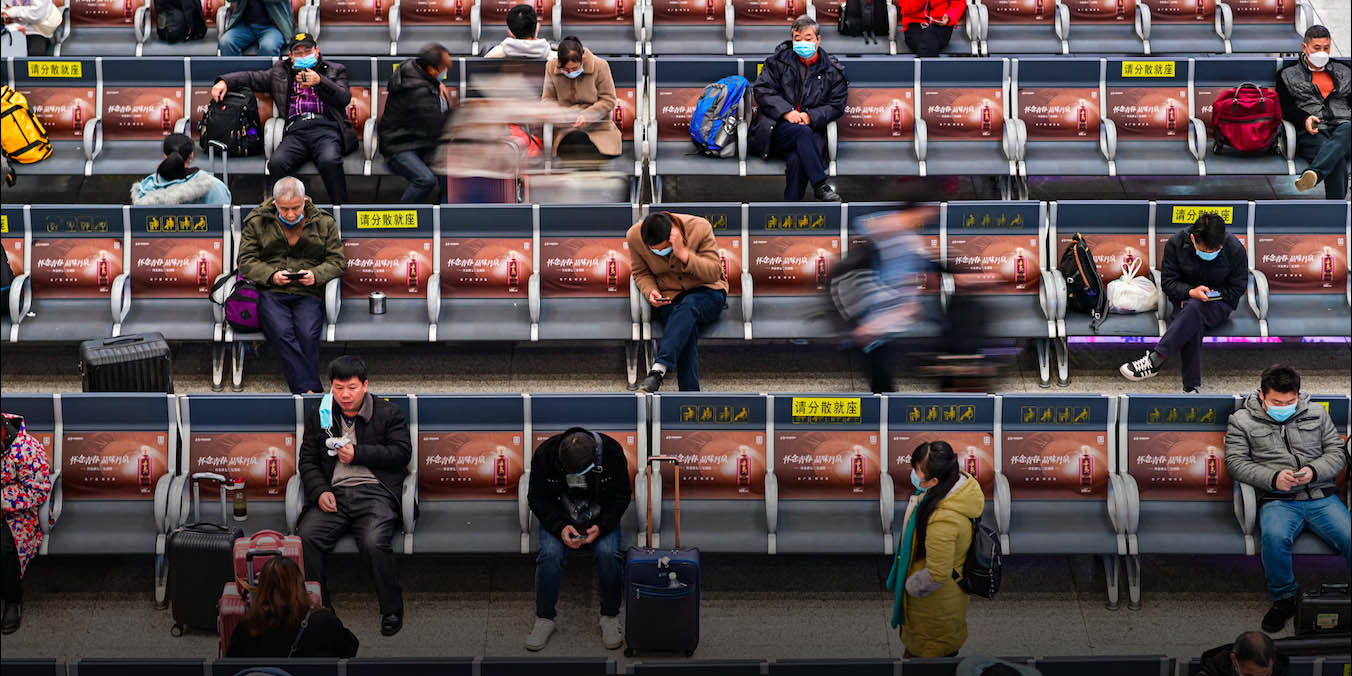 NEWS
Spring Festival Travel Muted Amid COVID-19 Worries
Expectations are up for holiday travel this year, but many travelers are rethinking plans as cities restrict travel.
The world's largest annual human migration is off to a slow start this year, with crowds staying away from Shanghai's railway stations as China's Lunar New Year travel season began.
Train stations are usually mobbed in the run-up to the country's most important holiday. But in livestream footage today from Shanghai Hongqiao Railway Station, the city's main railway station, it looked like an ordinary Monday.
In pre-pandemic years, as many as 3 billion trips were made during the 40 days around the Lunar New Year, a time when people traditionally travel home to visit family. The holiday will take place Feb. 1 this year.
China's railway authorities estimate that a total of 280 million trips will be made by train in the next 40 days, a year-on-year increase of 28.5%. In 2020, 210 million train trips were made during the same period, while in 2019, before the pandemic began, the number was recorded at 410 million.
But amid COVID-19 outbreaks and widespread limits on travel, many people are rethinking holiday plans.
On Monday, around 174,000 people will depart from railway stations in Shanghai. This number is predicted to total 9.1 million in the upcoming 40-day travel rush, 66.5% higher than last year.
Local railway authorities told Sixth Tone's sister publication The Paper that peak travel is expected Jan. 29, when around 450,000 travelers are forecast to leave Shanghai by train.
"Migrant workers heading home to the southwestern provinces of Yunnan, Guizhou, and Sichuan, the most common destinations for migrant workers in Shanghai, have planned their travel much earlier than in previous years," The Paper quoted authorities as saying.
Some students made their way to railway stations on Monday as many local schools ended their fall semester early due to the rebounding COVID-19 epidemic. The semester would normally last until Wednesday.
Travelers say that while the challenge in the past was the difficulty in securing a train ticket home, now it is the uncertainty brought about by the epidemic situation.
Gong Fen was preparing to board a train at Shanghai Hongqiao Railway Station this morning with her 9-year-old grandson when spoken to by Sixth Tone, heading for Lianyungang in the eastern province of Jiangsu, around 500 kilometers from Shanghai. "We decided to return home earlier, fearing that pandemic control measures might get tighter," the 63-year-old told Sixth Tone.
Lianyungang currently requires people from cities where there is a medium- or high-risk area to provide a negative nucleic test result taken in the 48 hours before arrival.
Since new cases were discovered on Thursday, one location in Shanghai's Jing'an District had been declared a medium-risk zone, and the entire city had been marked by an asterisk in the national xingchengma travel history tracking system, which is used to track COVID-19 risk based on a two-week travel history. Shanghai residents are mostly coded green, the lowest level of risk, unless they have been identified as a close contact, but many cities restrict travel for anyone who has been to a city with a risk zone.
Meanwhile, China's train ticket booking application provides the latest epidemic control measures from all destinations.
Ding Xinxin, a university student in Shanghai, may not be able to travel home, as her hometown Nanjing, also in Jiangsu, adopted strict epidemic control measures.
"People who have passed by Jing'an District will be placed under 14-day centralized quarantine and then seven-day home quarantine — that means I can't spend the Lunar New Year's Eve with my family," she told Sixth Tone. The rules listed in the ticket booking app say that "people who have passed by areas where there has been a confirmed patient or a symptomatic case should quarantine at government-designated accommodation for 14 days and then stay at home for further observation for another week."
Ding dined in Jing'an District on Saturday. She said her plan now is to wait and hope that the district is declared COVID-free before the new year, which will probably allow her to go directly home with only a negative nucleic test result.
State railway authorities told The Paper that they'll provide more than 10.5 million train seats per day throughout the spring migration period, a 10% increase from 2019, before the outbreak of the COVID-19 pandemic.
With rules that are sometimes difficult to understand, the best solution can be talking to local authorities at home. "I've added community workers on my social networking app to closely follow the pandemic control and prevention measures in my hometown," said Fu Danni, who has booked a ticket Jan. 26 for her hometown in Zhejiang province, southwest of Shanghai.
Railway authorities told The Paper that once the epidemic breaks out in a certain region, they'll suspend operations or reduce the number of trains to control personnel flow.
Additional reporting: Zhu Jingyi; editor: David Cohen.
(Header image: People wait at Liuzhou Railway Station in Liuzhou, Guangxi Zhuang Autonomous Region, Jan. 17, 2022. People Visual)