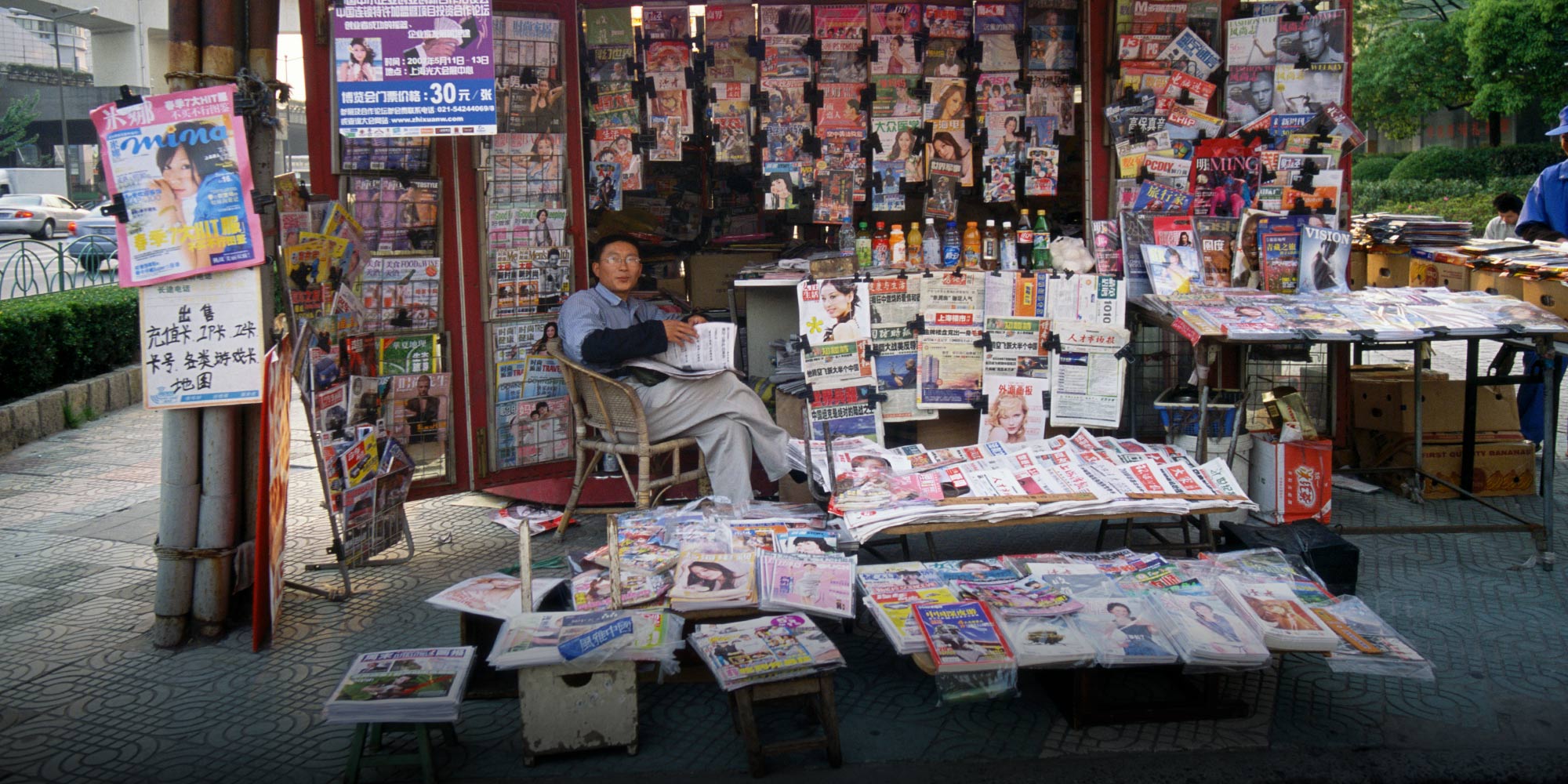 SIXTH TONE ×
Across China, Fading Newsstands Signal the End of an Era
The pandemic has only hastened the decline of China's newsstands. Today, just a few dozen are left.
Growing up in Zhanjiang, a small city in the southern province of Guangdong, newsstands were ubiquitous. Most were near schools, and for my generation, offered windows into the world outside.
Newsstands were at once a means to get news and inspiration for essay assignments. For us, going to the newsstand after school was as natural as playing soccer.
Whether they were into sports, in-depth reportage, novels, philosophy, or culture, students had their favorite magazines, newspapers, and TV serials. They gave us a steady stream of things to write, and think, about.
But with time, the newsstands in my hometown gradually diminished. Sometimes, I went several months without seeing even one.
This decline is not limited to small cities alone.
According to a media survey, Shanghai once had more than 3,000 newsstands. As of 2019, only 200 remained. The COVID-19 pandemic has only hastened this downturn, and today, just a few dozen are left.
Considering Shanghai's prolific readers and wealth of cultural resources, how then, have newsstands been gradually rendered irrelevant?
To answer this question, I searched for information online and spoke to newsstand owners and friends who have long paid attention to Shanghai's cultural issues.
New hope
Newsstands have existed in China since the Republican era (1912-1949). Then, they served the dual purpose of selling newspapers and basic sundries. The rapid growth, and subsequent decline, of contemporary newsstands in China have spanned just the last two decades.
In 2000, to alleviate the social unrest following a wave of mass layoffs, authorities such as the Central Civilization Office, the Ministry of Construction, and the Ministry of Public Security adopted a variety of measures to resettle the working population.
Establishing newsstands in cities of all sizes was one such measure.
In the mid-1990s, following societal transformation and the restructuring of state-owned enterprises, thousands of employees working for the state were laid off. They lost employment security and benefits, going suddenly from being part of a tightly knit "unit" to lone members of greater society.
Rehabilitating laid-off workers required an immediate solution.
Hit hardest by this phenomenon was the Northeast, known as "the eldest son of the Republic," which encompasses Liaoning, Jilin, and Heilongjiang provinces. During the honeymoon period of Sino-Soviet relations, the Northeast was an important industrial hub with a booming economy.
During this time, work units were like second families to state-employed workers.
They would often greet each other with "Which factory are you at?" or "What's life like at your factory?" But, with the wave of turbulent change that ushered in the 1990s, newly laid-off workers discovered that their generation's stability had been sacrificed for the sake of change.
Consider the heartfelt testimony of one man, who was laid off at the time: "We couldn't afford our insurance, and our children's tuition cost an arm and a leg. We weren't yet old, but we weren't young, either. The only jobs left for us were back-breaking."
Back then, many opened stalls, spent their days idly eating watermelon seeds, or turned to a life of crime. Though this was common particularly in the Northeast, a similar state of affairs coursed through the northern city of Tianjin, surrounding Hebei province, and Northwest China, too.
Among the laid-off workers, those reemployed by the government at newsstands were considered "lucky in their misfortune."
In the late 1990s, Shanghai launched the "4050 Project" to help laid-off workers find new employment. Among such workers, most women were aged around 40, while the men were around 50.
During my research, one name cropped up over and over again: Oriental Newsstands.
In November 1998, the city's municipal government established the Shanghai Oriental Book and Magazine Service Company. The Shanghai Post Bureau owned 60% of shares; Wenhui Xinmin Group, Jiefang Daily, and the Press and Publication Bureau accounted for the remaining 40%.
In the year after its establishment, the company's newsstands raked in more than 62 million yuan ($9.7 million).
The phenomenon spread rapidly across the country.
In 2002, 500 unemployed workers became the owners of Tianjin Daily's New Newsstands, where more than 1,000 previously unemployed workers were part of their actual operations.
Simultaneously, Tianjin Daily specially established the Daily New Media Development Company. One of this company's activities was to recruit laid-off workers and people with disabilities to operate 500 newsstands.
In June the same year, Anhui Daily Newspaper Group organized a provincial newspaper and magazine retail network. Within four years, they planned to build more than 5,000 chain newsstands — partly to offer new employment to dismissed workers.
From reports in provincial newspapers at the time, this was clearly a common practice. In a letter from 2016, the owner of a newsstand in Changsha City said: "The owners of these newsstands are all former laid-off workers and disabled people." On this basis, he appealed to the Changsha municipal government to keep these newsstands alive.
Back then, publicizing the re-employment of laid-off workers at newsstands also allowed local governments to demonstrate their concern for people.
For example, Anhui Daily reported in 2002 that Li Yanqiu, a laid-off worker, lived in a 12-square-meter home with her husband, who suffered from kidney disease, and her young child still in elementary school.
When her husband fell ill, the exorbitant monthly costs of dialysis and medication fell to her. Her finances were stretched so thin that she had to depend on friends and relatives for help.
Then, she acquired the operation rights to one of the newsstands that Anhui had constructed. This, along with additional government subsidies, considerably improved her life.
It is in this particular context that Shanghai's Oriental Newsstands stepped onto the scene.
As China's economic center, Shanghai and its municipal government were somewhat more effective in rehabilitating workers who had been fired. At the turn of the millennium, Shanghai wasn't affected as strongly by the wave of layoffs as Northern and Northeastern China.
Between 1998 and 2008, Shanghai's newsstands enjoyed a relatively stable decade of growth. However, from 2008 onward, the Oriental Book and Magazine Service Company's profits steadily declined, and its newsstands failed to reinvent themselves to keep up with the times.
By 2018, most of Shanghai's newsstands had already been demolished. On April 15, 2018, the last Oriental Newsstand on Huaihai Road was finally torn down.
That year, 2.2 billion periodicals and 33.7 billion copies of newspapers were sold nationwide — a decrease of 8% and 7%, respectively, compared to 2017. In 2019, 2.189 billion periodicals were sold nationwide (down 4.48%), while the number of periodical staff workers nationwide dipped to 93,000 (down 2.4%).
In 2014, a newsstand owner said: "There are fewer and fewer people reading printed texts." At his newsstand, one of Shanghai's morning newspapers "originally sold 200 copies every morning, now, it sells only 20 copies."
The fall
The disappearance of newsstands in Shanghai cannot be simply blamed on cultural change alone.
Shanghai's publications, media outlets, and bookstores are among the most lucrative in the country. Take bookstores. Among the largest stores with a broad range of products is the Shanghai Book Mall, while establishments like Zhongshuge and Sisyphe have become essential check-in points for aspiring social media influencers.
Shops like Sinan, which hosts literary events, as well as Dayin, known for its emphasis on traditional culture, have also attracted their own loyal clientele. Recently, Lone Island Bookstore opened its doors, becoming the first detective-themed bookstore in Shanghai — and China.
Despite the surge in the popularity of books, newsstands are still struggling. And those that remain fight an uphill battle to stay relevant even among the most voracious readers.
People are more inclined to read articles online, while the hard copy publications they choose are generally books or magazines bought online and delivered by express couriers, rather than purchased through newsstands.
The majority of media outlets have seemingly come to an agreement that their survival depends on a transition from offline to online — printed word to digital multimedia.
While media such as The Paper and Jiemian make available their high-quality articles free on the internet, Caixin and others use a paywall to ensure a steady stream of revenue.
According to a 2019 media report, "Judging from the evolution of daily newspaper reach rates, more than 40% of readers abandoned newspapers from 2012 to 2017. In Shanghai, the sales of newsstands are gradually declining. Sales in 2011 were 46.32 million yuan, falling to 44.97 million yuan in 2012 and then to only 35.18 million yuan in 2013."
Shanghai isn't alone. From 2008 to 2020, newsstands have shut up shop across the country.
For example, in 2009, Wuxi City decided to demolish 1,241 newsstands in its central districts. And in July 2014, 72 newsstands were shut in Chaoyang District, Beijing, on the grounds that they encroached on important road space, near subway entrances or overpasses. Later, shared bicycle stands replaced them.
In 2015, newsstands in the eastern city of Hangzhou received a notice from authorities: In order to beautify the city and ensure unimpeded traffic, it ordered more than 100 newsstands on main streets in the central urban areas to close.
In 2018, the local authorities of Jingzhou ordered the demolition of 158 China Post newsstands in the city's central districts. The justification: severely affecting the image of the city. Authorities believed the stands had lost their original function, had been converted into small snack shops, were rundown and obstructed traffic, or were chaotically placed and violated business regulations.
It is arguable that the decline of traditional paper media is a key reason for the fall in the number of newsstands, but this cannot be used as the fundamental explanation for their disappearance.
There are many factors that have sealed the fate of newsstands.
Paper media is no doubt an important factor, but their disappearance is also related to the cultural literacy of the city, the state of forums for public discussion, the diversity of media, the degree of governmental support, as well as the stands' location and storefronts.
A way forward
The freefall, however, can still be arrested. Despite the downturn in the production of paper media and the rising popularity of online literature, newsstands still have the opportunity to win back their former clientele, and glory.
But only if they can significantly transform.
Newsstands were more than just vendors. They were once small public spaces in communities and schools — offline channels which promoted interpersonal communication.
Engaging in small talk and discussing public issues at newsstands allowed people to form specific but very real connections. Such shops may have been humble, but they could be of great significance to some people, whether children, teenagers, elders, community workers, or even just city dwellers with a sentimental attachment to the printed word.
Newsstands cannot just be reduced to the purely economic standpoint of profit and loss.
In a letter to the media last July, a seventh-grader in Pudong New Area, Shanghai, made an impassioned plea for the restoration of newsstands.
"I hear that, more than 20 years ago, where I live was still fertile farmland. Now, it is a large international community with 18 real estate projects and more than 12,000 residents. Our community boasted an Oriental Newsstand, which accompanied my growth from a child reading Children's Pictorial to a teenager reading thick magazines. But the newsstand was demolished in July last year. I watched it being hoisted onto a truck and transported away."
"Shanghai once had nearly 3,000 Oriental Newsstands. These uniformly designed kiosks with their glass panes framed by bold red lines were very beautiful and once thought of as Shanghai's calling card. They have made indelible contributions to the development of Shanghai's culture… Now, there are hardly any stands left on the streets of Shanghai."
The final few sentences of his letter were most relevant to me.
"In addition to students like me, there are also many adults willing to buy newspapers. Those with poor eyesight, casual readers, readers often away from home, and the elderly for whom sitting down to read the paper with a pot of tea is a lifelong routine."
The student also underscored that their decline wasn't purely economic. "Adding greenery to streets requires public finances. As a cultural oasis for residents, are newsstands less worthy of subsidies from the government? Although the beauty of the city is important, it shouldn't become a hindrance to residents' spiritual wellbeing," the student wrote.
Imagine: If there were more newsstands in our neighborhoods, the young and elderly would be able to purchase the latest paper only a short walk away from their doorsteps.
They could chat with the owner of the newsstand, or just linger around and discuss the latest stories with other locals. Over time, these newsstands will form small intimate communities; they can offer a way for people to break through the isolation of the city.
With high walls and massive iron gates, there is no lack of physical barriers in today's cities. What they lack is intimacy and a sense of community. People are far more estranged from their neighbors than in the past.
These matters cannot be quantified in terms of economic profits. The market is indeed important, but when the same market's cruel logic affects vital aspects of life, people have to take a stand.
When I went to the former sites of old newsstands and stood on these bustling downtown sidewalks, I asked myself: Where did these stand owners go to, and where are they now?
In their stead now are high-rise buildings, shopping malls, bars, and spas. Though these establishments may contribute to the city's glamorous image, the question remains: Can they reflect its human soul?
A version of this article originally appeared in Youthology. It has been translated and edited for brevity and clarity, and published with permission.

Translator: Lewis Wright; editors: Xue Yongle and Apurva.
(Header image: A vendor looks out from his newsstand in Shanghai, 2007. After the mid-2000s, newsstands went into sharp decline around the city. People Visual)