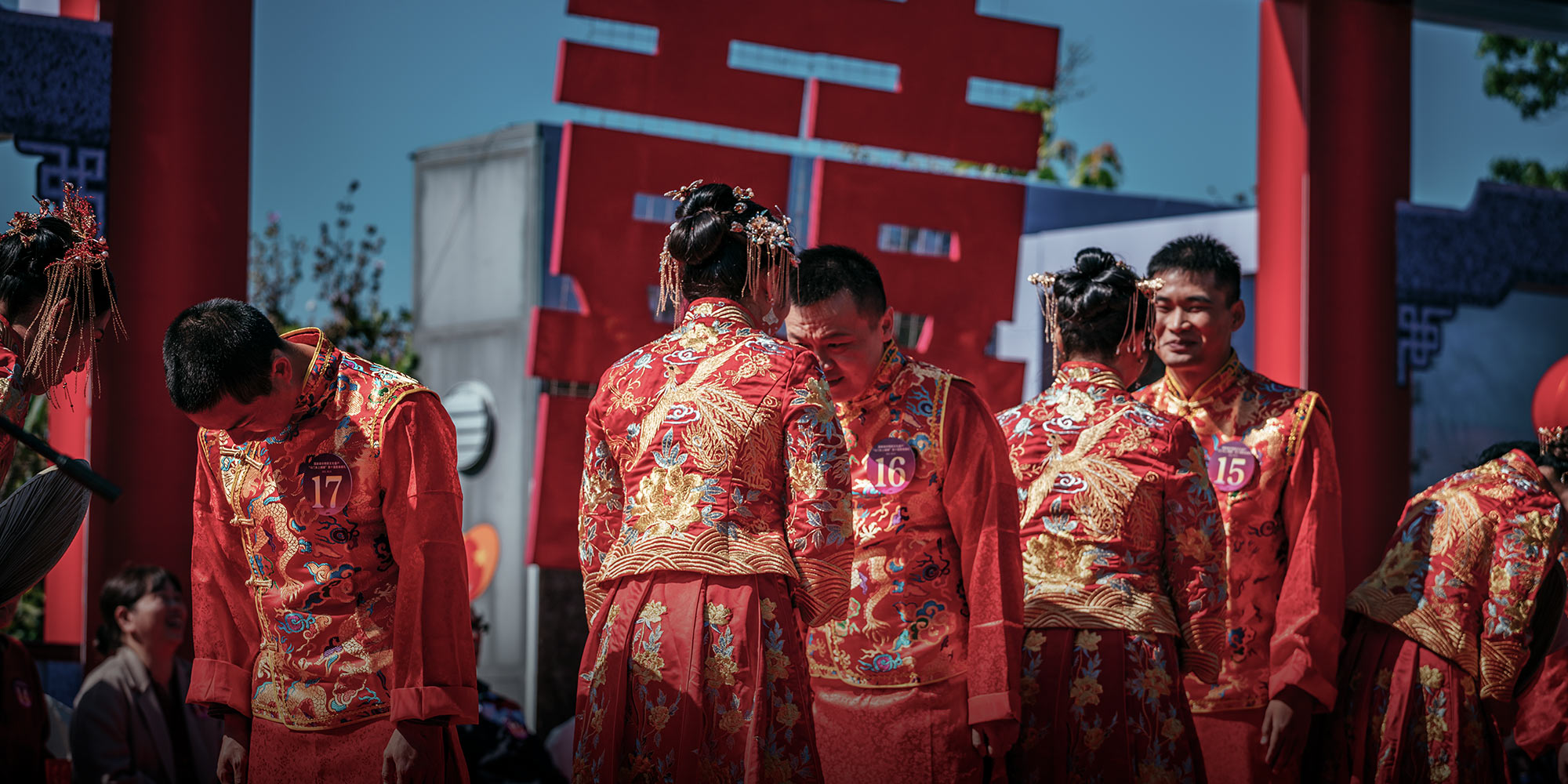 NEWS
State Media Says Gen Z Ready for Marriage. They Say, Not Really.
Marriage registrations hit a 17-year low in 2020, as fewer people tied the knot.
China's state-run Xinhua News Agency shared a celebratory post of a young couple getting married over the weekend, with a message: "Post-'00s have reached legal marriage age."
But users on microblogging platform Weibo, where the news outlet shared the five-second clip, were less enthusiastic. Many saw the viral post as a means to pressure Gen Z Chinese to tie the knot amid dramatic decline in the country's marriage and birth rates.
"Nagging the post-'00s to get hitched in disguise? Leave them alone, they are just kids," a user commented under Xinhua's post. "The marriage rate among the new generation will only go down."
"As a 19-year-old, I am still worrying about whether I will fail the exams," another user wrote.
Chinese law stipulates the legal age of marriage as 22 and 20 for men and women, respectively, but an increasing number of career-focused and free-thinking young people are not willing to settle down. A national survey involving 2,905 unmarried urban youth aged 18 to 26 last year indicated that about 44% of women said they do not plan to get married, compared with 25% of men in favor of nuptials.
In 2020, only 8.1 million couples in China tied the knot, an estimated 40% drop from a peak in 2013, while the number of marriage registrations also hit a 17-year low, according to official data. Authorities are also encouraging couples to have more children, as the country reported its lowest birth rate since 1978 that year, while its aging population continues to grow.
"I keep an open mind toward marriage," said Su Ling, a 22-year-old student in Shanghai, adding they shouldn't be pressured to find life partners as soon as they hit the legal age for marriage. "Marriage is like running a business venture, and it is hard to find the right person to walk down the aisle."
A 21-year-old beautician surnamed Tang said she ran away from her home province of the southwestern Yunnan to avoid getting married and bearing children at the age of 17. In some remote areas, parents still get their young children engaged, and then register the relationship after they reach the legal age.
"I know my parents would have forced me to marry someone I don't love had I stayed," she told Sixth Tone. "By now, I would probably be a mother of two children, just like many of my friends back home."

Editor: Bibek Bhandari.
(Header image: Couples attend a traditional group wedding in Zhuhai, Guangdong province, Oct. 24, 2021. People Visual)