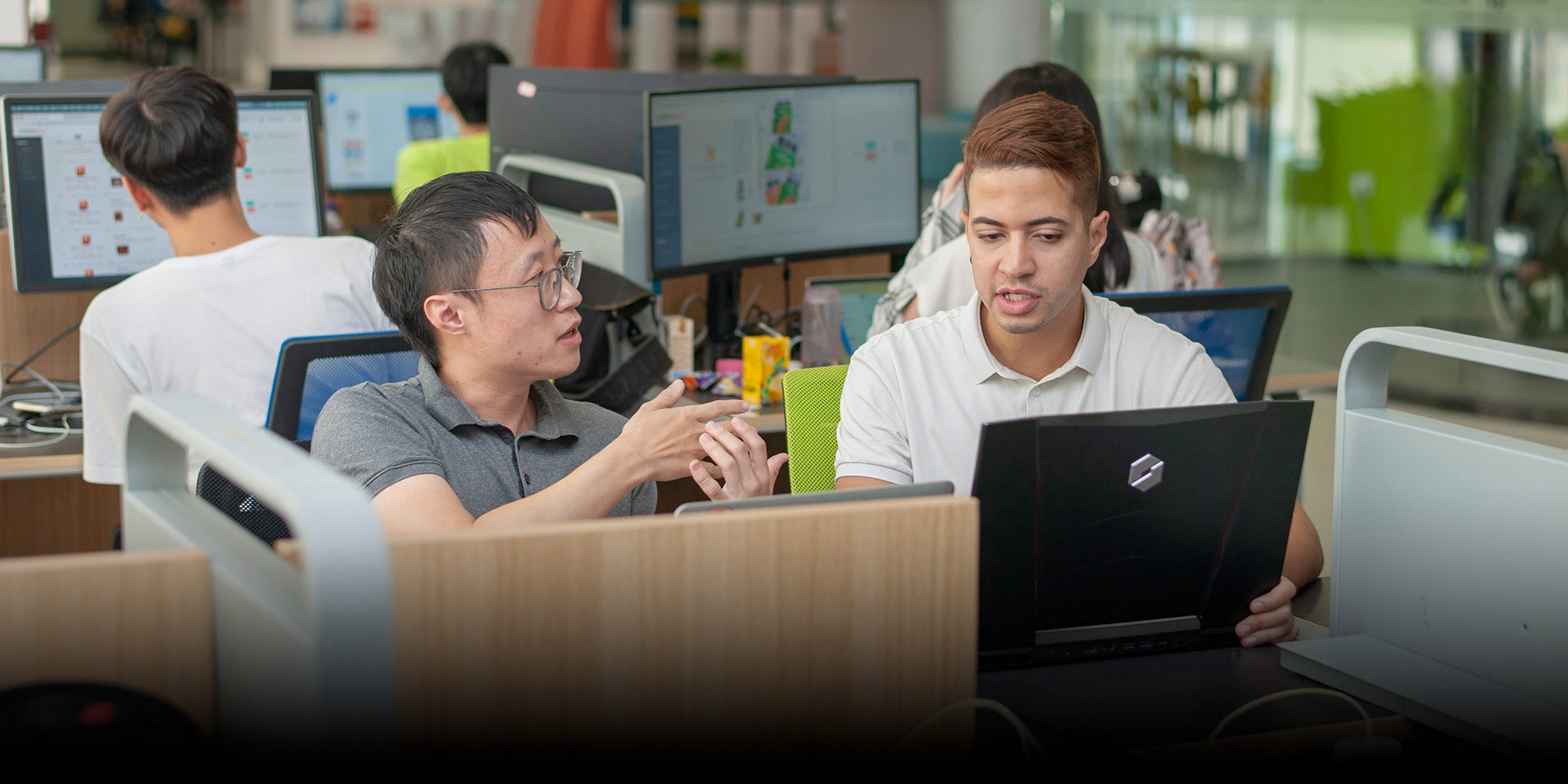 FEATURES
China's Foreign Firms Are Running Out of a Key Resource: Foreigners
Nearly two years of strict border controls have led to a growing shortage of foreign talent in China. Some worry it could become permanent.
After 16 years running a rail components manufacturing firm in Northeast China, Majdi Alhmah has dealt with all sorts of supply problems. He never expected that a shortage of foreign workers would be one of them.
That, however, is exactly what he's facing two years into the pandemic. One by one, he has lost all four of the overseas executives who used to work under him at the company. Alhmah says the impact has been devastating.
Local hires lack the international experience the firm needs, he says, but recruiting foreign professionals has become impossible. The company has tried everything — attending job fairs, using a headhunting agency, posting ads "everywhere" — but they haven't found a single qualified candidate.
"I'm already desperate because of this," the 46-year-old tells Sixth Tone. "It cannot kill the business, but it harms your efficiency, your profitability."
The company is one of thousands of businesses in China struggling to deal with the effects of an unusual supply crunch: a growing lack of foreign talent.
China's foreign population has plunged during the pandemic. As the coronavirus began spreading across the country in early 2020, hundreds of thousands of overseas nationals fled to what they assumed were safer parts of the world. Many have never returned.
In March 2020, China introduced a near-total ban on foreign nationals entering the country. Nearly two years later, border restrictions remain extremely tight, as Chinese authorities pursue a "zero-COVID" strategy and focus on preventing imported infections.
Student and tourist visas are still almost entirely suspended. Work permits are much harder to obtain, as applicants now need to provide an invitation letter from the Chinese government. Traveling to China, meanwhile, remains challenging due to disruptions to international flights and mandatory centralized quarantine periods.
The strict policies have left large numbers of expats effectively stranded outside China. As many as 100,000 foreigners may be waiting for permission to return to Shanghai alone, local media outlet SmartShanghai estimates.
It's unclear exactly how many foreigners remain in China. In 2020, a government census estimated there were around 850,000 overseas nationals living on the mainland, but this data includes an unspecified number of former Chinese citizens who have taken another nationality. Several websites serving China's foreign community told Sixth Tone they've experienced steep drops in traffic since 2019.
The expat shortage is causing businesses — and multinationals especially — some serious headaches. Foreign staff often have skills that are hard to replace: from language teachers with native speaking ability to international sales executives with experience and established networks in overseas markets.
In some sectors, companies have begun offering massive wages to attract international talent. In others, hiring from overseas has become so difficult, many firms have simply given up.
Instead, companies across China are racing to localize their operations: training up Chinese employees and adjusting their operations so they can survive almost entirely without foreign staff. 
But localization is often a far from ideal solution — and could be difficult to reverse in the future. Multinationals worry the trend may lead to a growing disconnect between their China businesses and operations overseas.
In a recent survey, British firms based in China named the country's tight border controls as their number one concern. Representatives from other international chambers of commerce in China say their members share similar views.
"If it's not the number one issue, it's definitely in the top two," Ioana Kraft, general manager at the European Union Chamber of Commerce in China, tells Sixth Tone.
Even Chinese authorities appear to be worried. In December, a senior official in Shanghai told a forum that the city "is longing for global professionals more than ever." This month, China's Ministry of Finance abruptly announced it would extend tax exemptions for foreign workers till the end of 2023.
Living in limbo
Though foreign workers are thin on the ground in China, there's no lack of expats willing to move there. Online, dozens of groups each containing thousands of users have formed, where members share tips on how to get a Chinese visa. But in the age of COVID-19, this is easier said than done.
Madeleine Leewellyn, a 25-year-old from Indonesia, was offered a job at a China-based marketing consultancy in 2020. Two years later, she's still trying to secure a work visa.
From late 2020, Leewellyn spent seven months preparing her visa application, before making the 2,000-kilometer trip from her home in northern Sumatra to the Indonesian capital Jakarta to submit her documents. But days before she was due to fly to China, a false positive COVID-19 test forced her to quarantine for several weeks.
When she was released, the Chinese embassy told her the visa documents had expired and that she'd have to start her application again from scratch. Her employer says she's unlikely to be granted permission to travel to China until after the Beijing 2022 Winter Olympics finishes in February.
Yet in some ways, Leewellyn considers herself lucky. Her employer has allowed her to work remotely from Indonesia and continues to support her visa application. But most Chinese employers aren't as flexible, she says.
"I have a lot of foreign friends who … ended up giving up jobs in China and starting their careers again because they couldn't get a visa," says Leewellyn.
Some people are going to extraordinary lengths to try and get into China. After Raviv Litman found out his work visa application for a teaching job had been denied this past October, the Canadian flew to the Caribbean: not for a vacation, but to receive a course of Sinovac COVID-19 vaccine doses.
Litman hoped getting the vaccine would help his next visa application and allow him to finally be reunited with his wife in China. Online, he'd heard stories of several people being granted visas after getting Sinovac or Sinopharm jabs.
But the vaccines aren't available everywhere: It's common for people to travel to countries as far-flung as Ecuador, Serbia, and the Dominican Republic to receive shots, Litman says. He chose the latter, and booked a flight to Santo Domingo. The 20-something ended up staying in an Airbnb in the city for nearly a month, before flying back to Canada and resubmitting his documents to the Chinese embassy.
"It was kind of a lonesome vacation," says Litman.
China's border policies aren't affecting everyone equally. Jacob Aldaco, commercial director at SmartShanghai, says that middle-aged expats appear to be finding it much easier to enter the country than millennials.
There are likely two reasons for this, Aldaco says. First, older expats have more work experience and so are more likely to be granted an invitation letter from the Chinese authorities. Second, they usually have the financial resources to afford eye-watering travel and quarantine costs.
"People in the younger age tiers generally don't have these advantages," says Aldaco.
This is making life particularly hard for employers in industries that rely on young foreign graduates, such as China's education sector.
Chinese schools were already struggling to hire foreign teachers before the pandemic, as there simply weren't enough qualified candidates to meet demand. Now, many appear to be getting desperate.
Frank Santana, an international guidance counselor at a private school in East China's Shandong province, says he regularly sees job postings by Chinese schools offering "absurd" salaries these days. This is especially common among institutions based in less-fashionable Chinese cities, he says.
"They'll offer the foreign employee a very big apartment, 35,000 yuan ($5,500) a month, and health insurance," Santana tells Sixth Tone. "But who is going to fill those positions? Probably no one, because there are no foreigners."
Education companies are willing to hike wages because foreign teachers have a unique value: many Chinese parents want their kids to be taught a new language by a native speaker. But in other sectors, businesses appear to have accepted that hiring overseas nationals is too much hassle.
Phased out
"Localization" has become a buzzword among China's foreign business community in recent months, said Kraft from the EU Chamber of Commerce. 
Companies across the economy are trying to work out ways to continue operating without bringing in more expats. Many are training up local staff while experimenting with new remote working practices to bring in extra support from staff based overseas.
In Changchun, an auto industry hub in China's northeast, the localization trend is already clearly visible, says Alhmah. Car companies in the city — particularly those with foreign investment — often used to have several international managers on staff, but things have changed dramatically since 2020, he says.
"All the companies I know have hired Chinese general managers," says Alhmah. "Many industries have adjusted themselves to hire locals."
In many cases, companies appear to be doing just fine without the foreigners. A director at a multinational corporation in Shanghai, surnamed Li, tells Sixth Tone that many of her expat colleagues have quit, but she has barely noticed the difference.
"Because of the pandemic, we have realized that we still operate well without foreign managers," says Li, who declined to give her full name for privacy reasons. "We don't seem to need them much."
In truth, the pandemic didn't start the localization trend, but simply accelerated it. These days, Chinese managers have many of the skills expats used to bring to the table, such as foreign language skills and an elite international education.
"The competitive advantage of foreigners is getting lower," says Fei Yiyi, a senior manager who handles recruitment for a Fortune 500 firm in China. "Now, the general requirement for recruitment is an overseas education, rather than a foreign nationality."
Yet foreign executives insist there are real advantages to having expats on the ground in China. Multinationals are particularly worried that localization will lead to a widening culture gap between their Chinese and global outposts, which could harm their businesses in the long term, says Kraft.
According to Alhmah, international staff also have some unique skills. This is especially true when it comes to liaising with overseas clients, he says, as Chinese managers still tend to have less "international exposure."
Though Fei is skeptical about the competence of many expats working in China, she agrees that they remain essential to many multinationals.
"We need to hire some foreign employees because they speak better English, are good at expressing themselves, and have a talent for self-promotion," she says. "They can say some awesome words and appear very powerful and confident. They're suited to communicating with foreign clients."
For foreigners in China, however, the worry is that many of the jobs that are being localized will never return.
Alhmah, who also runs one of China's leading expat jobs platforms, has noticed a strange trend in recent months: Though many Chinese companies are struggling to hire foreign staff, the number of job postings is going down, not up.
"There are far fewer jobs than before," he says. "I'm not talking about 10% or 20% less; I'm talking about two, three, or four times less."
There are several reasons why this may be the case, Alhmah says. One is that many companies simply assume they can't find the right candidate, so they don't even bother trying. Another is that once businesses get used to operating without overseas staff, reintroducing them becomes tricky: organizational and cultural changes quickly get baked in.
"When a Chinese general manager takes over a company, the company will probably get more Sinicized," says Alhmah. "The management documents, for example, will gradually become mostly Chinese, not bilingual."
For now, it's uncertain how far the localization trend will run. Aldaco, the SmartShanghai director, says the job market for foreigners in China will change significantly when China finally relaxes its visa policies, as this is likely to spark a large influx of returnees.
"But the speed at which this occurs is anyone's guess," says Aldaco. "We anticipate a slow and gradual opening up."
The thousands of people anxiously trying to get their Chinese visas processed aren't going to give up anytime soon. Litman, the Canadian, has learned the benefits of persistence.
After 16 months, three visa applications, and two Sinovac shots, he finally got the green light to fly to China in January. He expects to get out of quarantine just in time for the Spring Festival.
"I can't tell you how happy I am right now," says Litman. "It has been tough, but this does feel like a happy ending after a long ordeal. Home for the holidays, more or less."
Additional reporting: Fan Yiying; editor: David Cohen.
Correction: A previous version of this article stated that Chinese citizens with dual citizenship were classified as foreigners in the census data; this should have read former Chinese citizens who have taken another nationality. The error has been corrected.
(Header image: Two employees chat in an office in Haikou, Hainan province, Sept. 1, 2020. Yuan Chen/People Visual)