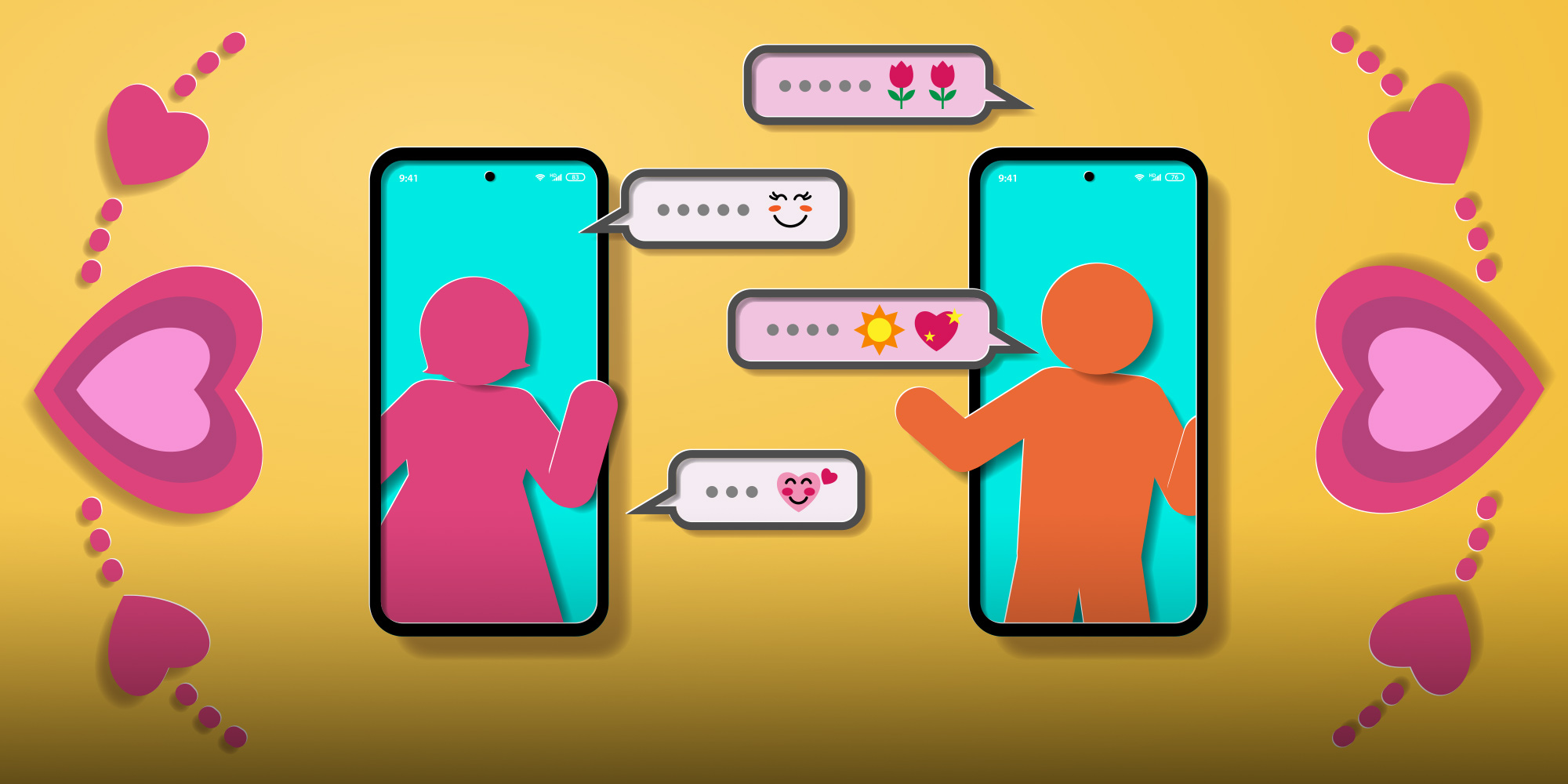 FEATURES
China's Introverted Millennials Find an Unlikely Refuge: Dating Apps
Chinese match-making apps are hotbeds for harassment, fraud, and fake news. But they offer one thing that the country's youth craves: anonymity.
When Zhang Lenian downloaded the Chinese dating app Soul a few months into her freshman year at college, she wasn't looking for a boyfriend. She just wanted someone to talk to.
Her university in eastern China's Anhui province was often a lonely place. Student events were still heavily restricted due to the country's pandemic controls. And when Zhang did chat with classmates, she rarely felt like she could speak her mind. The campus was like a fishbowl, and it was all too easy to offend someone by saying or posting the wrong thing.
"There's always something you need to hide from your acquaintances," Zhang told Sixth Tone.
But when the 18-year-old opened Soul, she felt like she'd entered a "pure land." The app matched users with similar backgrounds, but concealed their identities. Zhang began chatting with a fellow freshman, and the pair were soon gleefully exchanging gripes about college life — the kind of complaints they'd only make under the cover of anonymity. The dormmates with smelly feet. The professors who played favorites. Their constant, nagging financial worries.
For Zhang, it was a huge comfort to have a place where she could be completely herself. The app — and her unknown confidant — became a crutch that helped her get through that difficult first year.
"We chatted on and off, shared moments of joy, and grumbled about things we both disapproved of," she said. "We felt freer and weren't held back by anything."
Many of her classmates were likely doing the same thing. Anonymous match-making apps are becoming hugely popular on Chinese campuses, but they're often not being used — or, at least, not exclusively — as hook-up tools. They're also providing students with a much-needed source of emotional intimacy.
The apps — which match users and allow them to interact without revealing their identities — first took off in China with the launch of Mimi, a local version of Secret, in 2014. Since then, the market has exploded. Tantan, one of the biggest players, claims to have over 300 million users, nearly 80% of which are from Gen Z.
The platforms have seen their growth accelerate further during the COVID-19 pandemic, which has had a huge impact on the lives of Chinese college students. During the country's initial outbreak in early 2020, universities imposed campus lockdowns that lasted for months. Nearly two years later, many still enforce travel and social distancing restrictions.
Students have responded by moving even more of their social lives online. Soul's number of daily active users has skyrocketed: from 3.3 million in 2019, to 5.9 million in 2020, then 9.1 million in March 2021, according to the company. More than one-third of Chinese college students now use anonymous social apps, a category that includes dating apps and more interest-based platforms like Tape, according to a nationwide survey conducted by China Youth Daily last year.
Charlotte Yu, a sophomore at a university in Shanghai, turned to Soul after realizing that the colorful college life she'd envisioned as a high schooler was no longer possible. Her university's virus-control rules meant that student parties, excursions, and other offline activities were few and far between.
"It's totally different from what I expected," Yu said. "I'd planned to reboot my life after graduating high school, like dying my hair, getting my ears pierced, and of course getting a boyfriend."
Match-making apps weren't as fun as socializing in real life, but they did at least help Yu achieve her main goal: finding a partner. She deleted Soul soon after.
Other students, however, are more interested in using the apps to make friends and express themselves. The anonymity offered by platforms like Tantan, Soul, and their many competitors appears to hold a special appeal for China's Gen Z — a generation that is more introverted, online, and privacy-focused than previous cohorts.
In China Youth Daily's survey, nearly 74% of students who used anonymous social apps said they did so because the platforms helped them overcome their shyness and make new friends. Meanwhile, over 60% of users said they viewed the platforms as an avenue for sharing secrets and embarrassing personal confessions.
For this reason, many young Chinese now prefer to socialize on platforms that offer anonymity rather than via China's dominant social platforms — WeChat and Weibo — where the public and private realms are often blurred. On WeChat, it's common for people to be connected not only to all their friends, but also their classmates, family members, and other random acquaintances. Posting on the app can be a risky business: A joke about a midnight snack might be seen by your gym coach; a sexually suggestive image could end up on your parents' feed.
"You feel safer to moan on an anonymous social app where nobody knows you," said Zhang. "You don't have that freedom on WeChat."
College freshmen especially appear to be using anonymous social apps as a training ground where they can hone their social skills away from public view. After spending their teens cloistered inside China's strict high school system, many need time to adjust to the adult world, according to Duan Xinxing, a professor at the China University of Mining and Technology who teaches a course on the psychology of love and relationships.
"For most college students, cyber anonymity allows them to release pent-up emotions, express themselves, and even let go of some negative feelings," Duan told domestic media in November. "People will be themselves more in the online world: relaxed and free."
And in some cases, young Chinese are perfectly happy to remain inside the virtual world. For these students, match-making apps aren't a preparation for socializing in real life, but a replacement for it.
"More and more millennials who have grown up in the age of new technologies regard themselves as victims of 'social phobia': They prefer to live solitarily and insulate themselves from the surrounding physical environment," Wang Shuixiong, professor of sociology at Renmin University of China, told People's Daily in April.
Many young Chinese openly admit they prefer to avoid face-to-face interactions when possible. Over 40% of Tantan users reported varying degrees of social phobia during a 2020 study by China Youth Daily and the Chinese Academy of Sciences.
Social phobia has inspired much discussion — and a large amount of hand-wringing — in China over recent years, but the term can also be misleading. In many cases, young Chinese don't cut themselves off from real-world interactions due to fear, but as a positive choice, according to Sun Ping, an assistant researcher at the Chinese Academy of Social Sciences' Institute of Journalism and Communication. Online, they have greater control over which social situations they want to take part in — and which they don't.
For Alex Liu, a 30-something from Shanghai, that means he can choose only to chat with people who share his passion for collecting niche items, such as military uniforms. If he posted about his hobby on WeChat, he'd probably only receive snarky replies calling him a zhai nan, a nerdy man who obsesses over niche interests to the exclusion of everything else, he said. But on Soul, it's different.
"Once, I posted a picture of my collection of military clothing, and I received some very informative comments almost instantly," said Liu. "Someone even pointed out which one was a German army coat. We quickly hit it off. I must admit I've never found this kind of connection in real life."
This trend has led to worries that young Chinese are becoming deeply encased inside "information cocoons" — a concept developed by the scholar Cass Sunstein referring to the internet's tendency to create a "communications universe in which we hear only what we choose and what comforts us." Yet some students don't see why that's a problem.
"Since delightful conversations with like-minded people are easy to find, why bother dealing with the prying gazes and judgment of outsiders?" said Zhang Yin, a 22-year-old logistics major at a Shanghai university who has been using Soul since 2020.
But even the apps' biggest fans admit that they have a dark side. By granting users anonymity, the Chinese platforms have opened the door to everything that comes with it: fake news, harassment, hate speech, death threats. And they don't appear to be doing a good job of policing it.
More than 50% of respondents to the China Youth Daily survey described anonymous social apps as hotbeds of rumors and inappropriate speech, and over 54% said they worried about being targeted by financial scams on the apps. But nearly 65% said it was impossible to hold users accountable for their actions on the apps.
Xu Yunlei, another college student, said she found the behavior of some users infuriating. One time, she had arranged a date with someone via an anonymous dating app. The day before the meetup, the person sent her a threatening message: "If you don't show up, I'll send you 1,000 IEDs (improvised explosive devices)." Other female students complained of male users continually messaging them "yue ma?" — the Chinese equivalent of "you up?" 
Even Zhang, the Anhui college student, eventually decided that Soul wasn't worth the hassle. She had seen several stories on TV about fraud and financial scams affecting users on similar platforms. As her social life started to get busier toward the end of her freshman year, she deleted the app.
"The friends I've made in real life are enough," Zhang said.
Editor: Dominic Morgan.
(Header image: exxorian/iStock/People Visual)