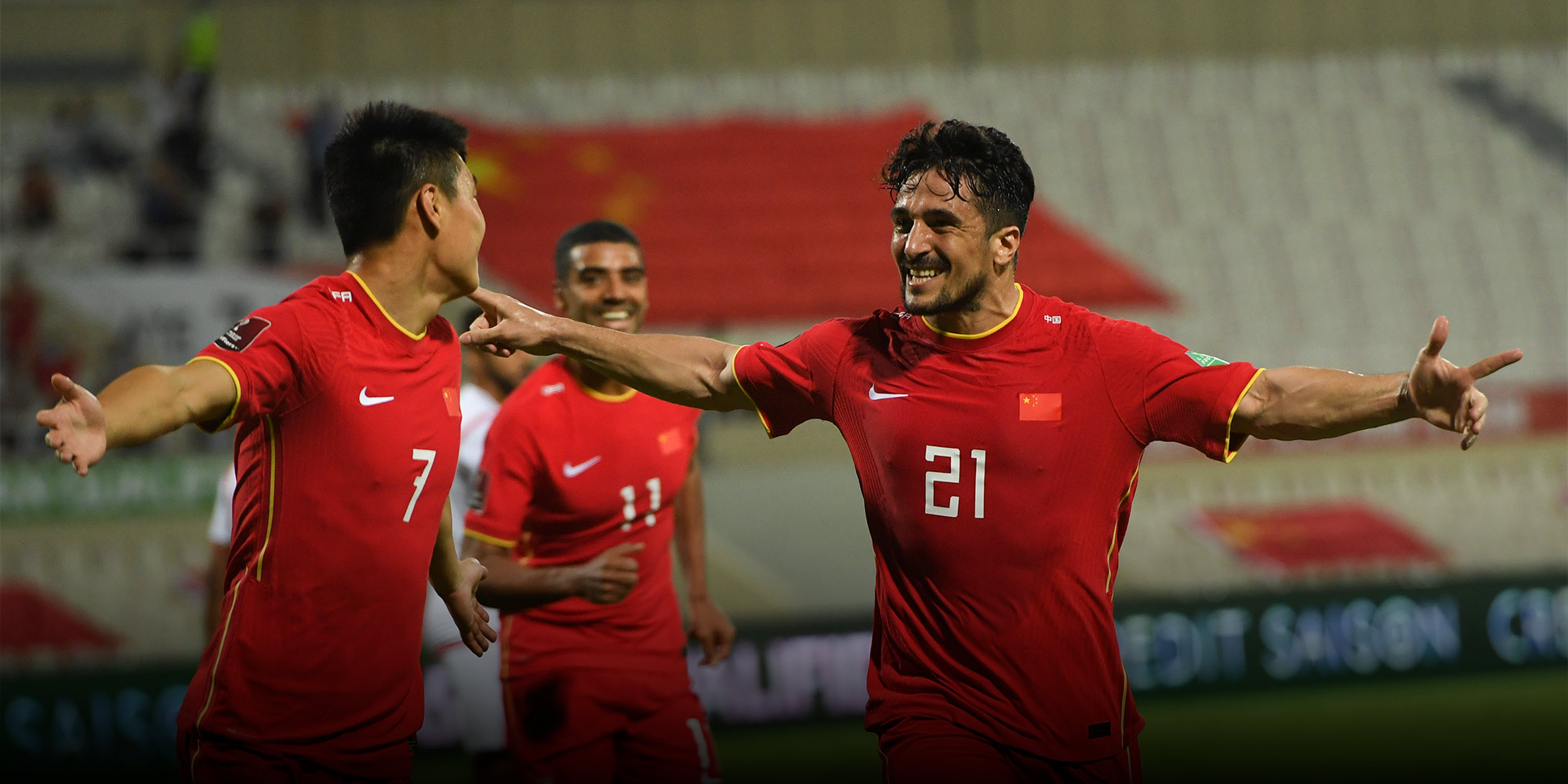 VOICES & OPINION
What's Next for China's Naturalized Soccer Players?
During the country's soccer boom, clubs were willing to pay large sums to support the national team's naturalization experiment. Then the bubble popped.
Last December, when the Chinese Super League ended a four-month hiatus, just six of the league's 11 naturalized players returned to their clubs. Of those, only four have been healthy enough to take the field.
Not so long ago, the process of naturalization — giving talented soccer players with Chinese heritage or ties to the country citizenship — seemed a viable shortcut for a men's national team looking to qualify for its second-ever World Cup. Now, with the national team all but eliminated from World Cup qualification and the country's professional clubs struggling to make payroll, the future of China's naturalization program seems to be in jeopardy.
Of China's 11 naturalized players, six have earned call-ups to the national team. Hampered by injuries and a lack of playing time, the impact of those players at the international level has been mixed, though the experiment has received mostly positive feedback from Chinese soccer fans. In particular, the Brazilian-born Aloísio — also known by his Chinese name, Luo Guofu — has been celebrated for his fighting spirit and compassion, boosting popular acceptance of naturalized players in a country that, in 2021, counted less than 17,000 naturalized people among its 1.4 billion inhabitants.
Naturalized players have had a greater impact at the club level, though their special status and high costs have led fans and media to scrutinize their conduct both on and off the pitch. When Brazilian-born Fernandinho arrived late for Guangzhou F.C.'s winter training camp in 2020 — a not uncommon occurrence in the soccer world — the club levied a record-high fine, to widespread public approval. Often labelled as mercenaries with no real sense of identity or national pride, naturalized players must undergo mandatory study of Chinese language, history, and politics, and their progress is closely monitored by fans who watch the national anthem and note naturalized players' ability to sing along.
Naturalization was never going to be an easy sell for China, a country known for its strict immigration laws and restrictions on dual citizenship — not to mention the rather ambiguous attitude towards athlete naturalization taken by China's athletic administration in recent decades. It wasn't until 2015 that the Chinese Football Association (CFA) started piloting a naturalization program in cooperation with a handful of local clubs. These pilots wouldn't produce a naturalized player until 2019, when Beijing Guoan's John Hou Sæter acquired Chinese citizenship.
China's naturalization program was further limited by FIFA's eligibility rules, which state players can only represent a different country than their birthplace if their parents or grandparents were born in the second country or if they have lived in that country for an extended period. For players older than 18, that means a minimum of five years living in China, a requirement very few non-Chinese players meet.
Constrained by Chinese law and FIFA regulations, beginning in 2018, Chinese clubs nevertheless invested large sums of money to persuade players to fulfil the criteria and switch nationalities. Having publicly pushed the program from the beginning, Guangzhou F.C., owned by the beleaguered Evergrande Group, reportedly paid 870 million yuan (roughly $130 million) to cover the transfer, resettlement, and wage fees for five naturalized players.
In interviews and conversations with club representatives, many stressed that prior to the bursting of China's football bubble, these naturalization expenditures were either directly "encouraged" by the CFA or authorized by owners looking to curry favor with the government. Since players usually don't get paid by the CFA for representing the country, the financial burden of naturalization was carried by the clubs, which used their investment in naturalized players to show their commitment to the Chinese football dream.
Once Chinese football's house of cards began to shake, however, club owners were quick to cut costs by withholding wages, leading to protests at numerous clubs. According to domestic media reports, 13 of China's 16 top-flight clubs are behind on salary payments; some clubs are so deeply in the red that they had to suspend training prior to the re-start of this season. With numerous Chinese clubs on the brink of collapse and the CFA instituting strict new limits on wages, the last two years have seen an exodus of top non-Chinese players from the league. While most native Chinese players have had to swallow the bitter pill and continue playing in the hopes of earning a transfer to a more financially stable team, many naturalized players have more options, including finding a new club in South America or Europe, even if it means accepting a lower salary.
As it is home to six of the country's 11 naturalized players, Guangzhou F.C.'s fate will have a decisive impact on the future of the program. Last November, Guangzhou F.C. player Ricardo Goulart became the first naturalized player to ask to be released from his contract with a Chinese club. He is currently in talks with Brazilian sides Fluminense FC and Santos FC. So far, none of China's five naturalized players from Brazil have returned to play for their Chinese teams.
According to media reports, at least some naturalized players want to stay in China. Given the current state of Chinese football, however, the big question is whether any club can actually afford to keep them on.
None of this necessarily means the end of China's naturalization project. While most industry experts believe there will be no more than a handful of naturalized players still playing in China by next season, all five non-ethnically Chinese naturalized players have stated their interest in continuing to represent China for the national team. Similar sentiments have been expressed by their ethnically Chinese peers. Whether they'll have the chance to do so is complicated by global travel restrictions, and it remains to be seen how many naturalized players, if any, take the field when China faces Japan later this month for the first of their last four World Cup qualification games.
With China's chances to qualify for next year's World Cup in Qatar now close to zero and many in the current cohort of naturalized players too old to represent China in the 2026 tournament, there is still a need for new naturalized players. However, due to the overall turmoil of Chinese soccer, most naturalization efforts, including for players like Shenzhen F.C.'s Wai-Tsun Dai and Alan Kardec or Tianjin Jinmen Tiger's Yangzheng Cao, are on hold. With most clubs just trying to survive, naturalization seems to have moved down the priority list, at least for the moment.
Editors: Cai Yineng and Kilian O'Donnell.
(Header image: Aloísio dos Santos Gonçalves, also known as Luo Guofu, celebrates with his teammates after a goal during a qualifying match for the FIFA World Cup Qatar 2022 in Sharjah, the United Arab Emirates, Nov. 11, 2021. Martin Dokoupil/People Visual)