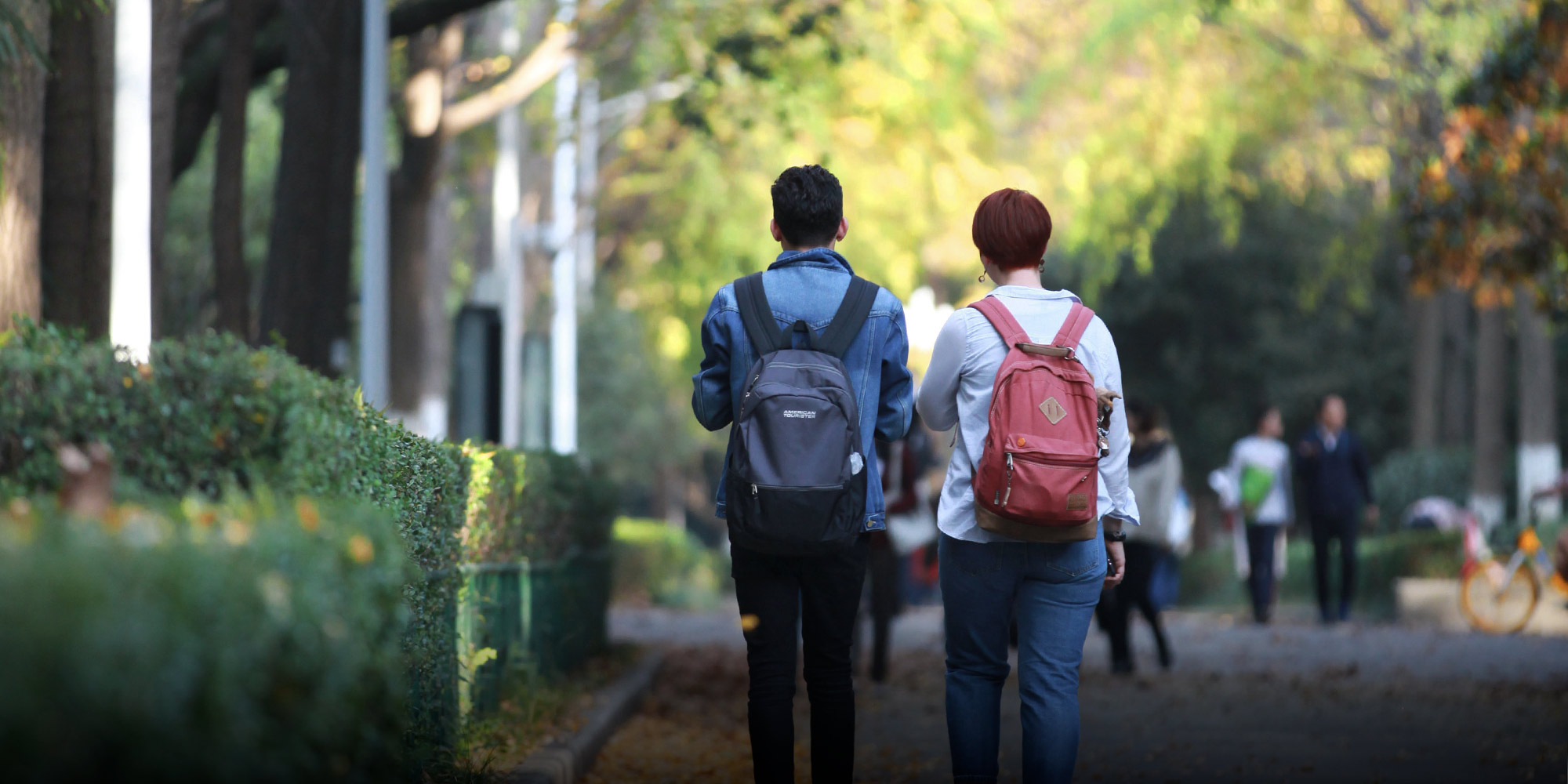 VOICES & OPINION
What Life Is Like for One of China's Stranded International Students
The author, an international student from Malaysia, reflects on spending her first three semesters of university thousands of kilometers from campus.
Next month will mark the start of my fourth semester as an international student at Nanjing University. I'm a sophomore, a journalism major, and the vice president of the Malaysian Student's Association — and I've never stepped foot on campus.
Although I grew up in Malaysia, I was raised surrounded by Chinese culture, and I set my mind on studying in China while I was in high school. In November 2019, I applied to Nanjing University's undergraduate program. It's one of China's top schools, but I was attracted to it just as much for its location as its academic reputation: As a history-lover and a foodie, there was something appealing about studying in the capital of six dynasties, not to mention the home of soup dumplings, duck blood and vermicelli soup, and the assorted colorful desserts known as gaotuan xiaodian.
It's a pity that I haven't been able to try any of them yet.
By the time I received my acceptance letter, the world was already in the grips of the COVID-19 pandemic. I was quickly notified that incoming international students would not be able travel to China. Instead, we would take online classes via VooV Meeting, the international version of Tencent Video Conferencing. Our teaching assistants and professors posted the meeting details beforehand so that we could start class on time.
Clearly, it wasn't the college life I had imagined, though I have to admit that I enjoyed this way of learning, at least in the beginning. My freshman year was primarily oriented around adapting to college, and I could sleep as late as I wanted before starting my day — provided I didn't miss any classes.
Our TAs and professors did their best to help us participate. For instance, in my modern Chinese elective course, the professor worked hard to include international students in class activities, having us recite poems in our native tongues and giving us the chance to "meet" in-person students over video calls. All of those are precious, special memories.
Even though our teachers all tried their best, online learning simply isn't an enjoyable experience. Between sudden audio and video glitches and the glare of staring at my computer screen for hours on end, it was exhausting. Not to mention, there are things that just can't be learned online. For instance, as a journalism major, we need practical training, not just the theoretical knowledge in textbooks. We are supposed to practice conducting interviews out in the field and going out with our instructors to gather news around the city. Instead, all we can do is set up a tripod in our cramped rooms, point the lens at ourselves, and start talking. Students majoring in science and engineering have it worse: They're not sure if they can finish their growing list of lab classes by the time they're scheduled to graduate.
Given the situation, it's hard not to feel anxious and depressed. I was supposed to be living an exciting college life, but instead I spend every day in antiseptic online meeting rooms where the friends I should have been making and studying with are nothing but floating heads. Desperate for any taste of the college experience, I even added my Chinese classmates on the social networking app WeChat, just to get a glimpse of their lives.
I also joined the school's Malaysian Students' Association. Our aim is to protect the rights and interests of Nanjing University's international students and promote the university to Malaysians who are interested in studying abroad. As part of the publicity department during my freshman year, my primary responsibilities were to manage the association's social media accounts, including answering questions about Nanjing University or posting well wishes during major holidays. While it was a massive challenge for a novice like me, it was also a good opportunity for self-enrichment and improvement.
I stayed with the club my sophomore year, moving up to the position of vice president. Each month, we plan online activities to build our members' connections and skills such as Powerpoint and networking.
Though a little burdensome, the work has allowed me to meet students from across China and Malaysia, and even around the world. Perhaps it's because we're all "online students" — and fellow sufferers — but it feels like everyone has banded together. All the international students in our department have a WeChat group called "Homeroom Slackers," for example, where we can share our lives or rant about our frustrations.
As I enter my fourth semester of online learning, I can't help but think whether it would be best to take a break from school. Sometimes I think to myself that it would be more practical to use this time to earn money instead of spending it on classes I can't even attend in person.
Adding to the difficulty, there hasn't been so much as a whisper about when we might be able to arrive on campus. China still hasn't opened up student visa applications, except for students from Korea. The Association of Graduates from Universities and Colleges of China in Malaysia has set up a task force to "push for a return to China and campus." It is currently in communication with Malaysian agencies like the Ministry of Foreign Affairs and the Ministry of Transport about sending students back to their Chinese universities. The goal is simple: to allow students at Chinese institutions to return to campus as soon as possible, but progress has been slow.
Whenever I come close to giving up, however, I manage to convince myself that I can hang in a little while longer. Perhaps applications for student visas will open again in a few months. Plus, given the COVID-19 situation in Malaysia, taking time off to work would increase my risk of getting sick. And taking a year off would mean delaying graduation until I'm 25, an age when most of my peers will already be established in their careers.
Over the past two years, almost no one has been living their best life, but we can't stop trying; we have to look ahead and keep moving forward. Life must go on. There's an English saying I really like: "When life gives you lemons, make lemonade." While the prospect of returning to school remains uncertain, I have still managed to make friends. Together, we've been through a lot, and I look forward to the day we can finally meet.
Recently, I saw a post on the Chinese question-and-answer platform Zhihu saying that international students would be able to go back in March. I checked back almost every day afterwards, hoping for an update. It was a spiritual support of sorts.
Then, last week, I saw that the post had been deleted. I have no way of knowing what will happen, but I haven't lost hope.
Translator: Katherine Tse; editors: Wu Haiyun and Kilian O'Donnell; portrait artist: Wang Zhenhao.
(Header image: Students walk in a campus of Nanjing University, Jiangsu province, 2019. People Visual)